RAINBOW Sprinkled Butter Cookies! These delicious cookies are easy to make and uses evaporated milk to make the cookies extra soft! They melt in your mouth! Roll them around in colored sprinkles to make them more fun! Recipe makes 2 dozen cookies.
I don't know what it is about July but I usually start thinking about holiday season around this time of the year. Between me going to the library to check out a Christmas stories book, a friend telling me she's already begun her shopping and my craving for cookies, I believe I have the "Christmas In July" fever!
Dreaming of a tin cannister of Christmas cookies led me to make these Sprinked Butter Cookies which are delicious (and very pretty!). The ingredients list is short and simple, using butter as the main ingredient that keeps them soft. The other key ingredient for these cookies is evaporated milk which is going to keep them fluffy and tasty. Roll around in your favorite colored sprinkles and you have a festive butter cookie – perfect for the holiday season or whenever you're craving a cookie!
See, I would never lie to you about cookies. They are super soft inside!

Now let's get baking!
You'll want a crumbly cookie dough mixture, it should resemble something like this.

Pour sprinkles on a plate or a shallow bowl. I used rainbow sprinkles but you can use whatever color you want depending on the occasion.

Roll each cookie into a tablespoon sized ball. Now roll it in the sprinkles so the dough is coated.

Isn't it pretty?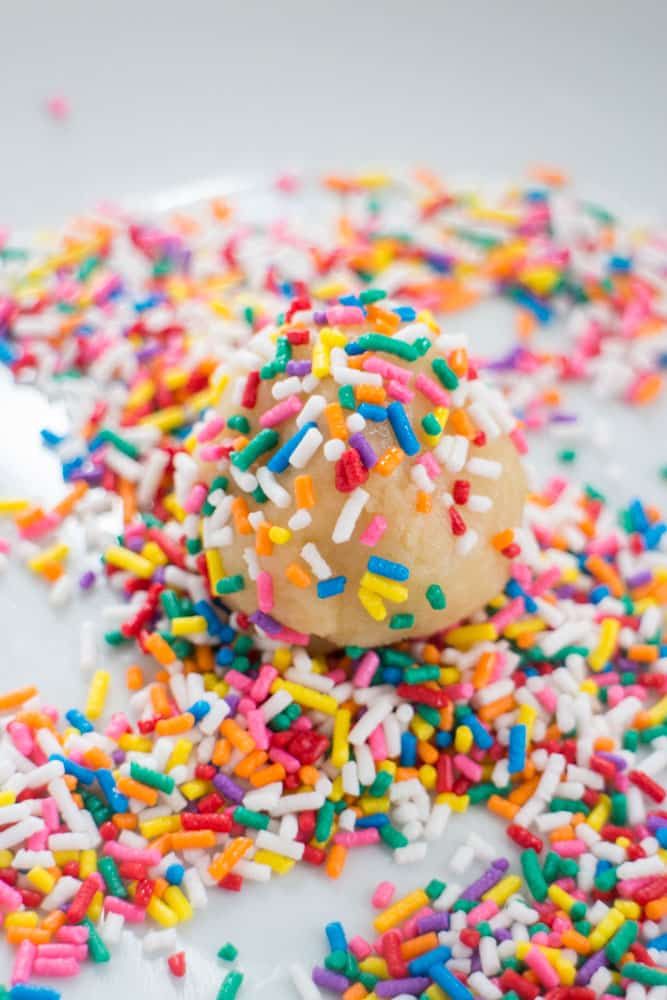 Add cookies to your baking sheet.

And then gently flatten each cookie with a back of a spoon.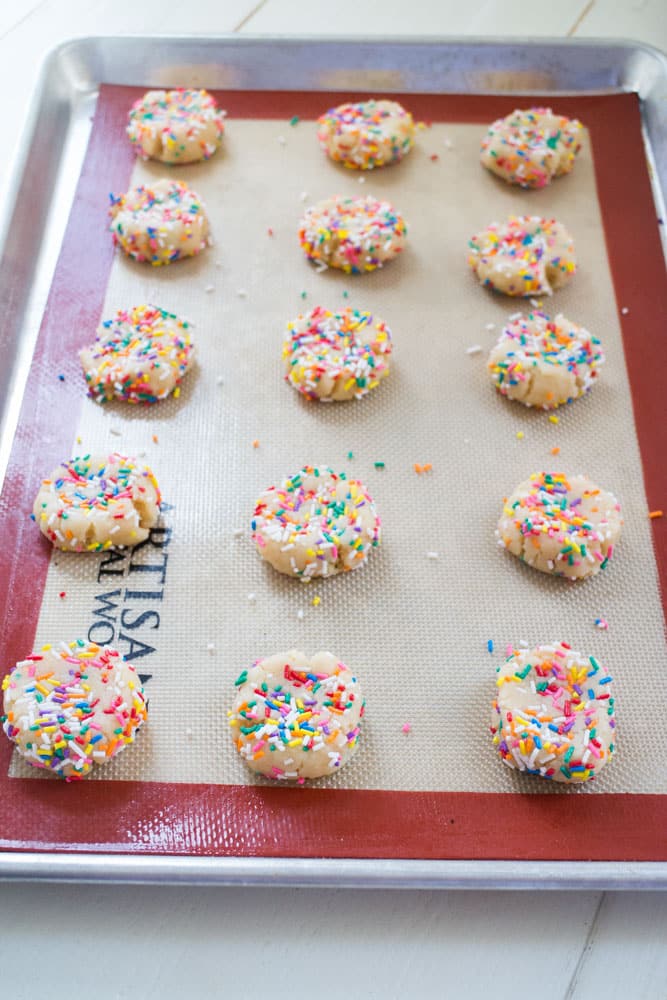 Bake at 320 degrees (not a typo, we want to bake them at a low temperature for longer) for about 17-20 minutes.
And out of the oven comes some beautiful Sprinkled Butter Cookies!

Hope you enjoy the recipe cookie lovers!
Sprinkled Butter Cookies
2016-07-19 19:34:41
Ingredients
1 cup butter- softened
1/2 cup sugar
2 cups flour
2 teaspoons baking powder
1/2 teaspoon vanilla extract
3 tablespoons evaporated milk
Rainbow sprinkles
Instructions
Preheat oven to 320 degrees.
Cream butter and sugar together in large bowl with electric hand mixer.
Add flour, baking powder, vanilla and evaporated milk. Continue to mix until crumbly.
Roll dough into tablespoon sized balls and then roll around in sprinkles to completely coat. Continue to do this until all your dough is gone. Place cookies on a cookie sheet that's been sprayed with nonstick spray or place on a silicone baking mat.
Very gently flatten each cookie with the back of a spoon.
Bake for 17-20 minutes.
Let cookies cool for 15 minutes before eating.
Notes
Makes approximately 30 cookies.
Store in airtight container for longer storage.
You can freeze this dough for later use. Just defrost before baking.
Brooklyn Farm Girl https://brooklynfarmgirl.com/