Learn how to make Homemade Baby Food Pouches the easy way! Using reusable pouches and baby food from scratch, this is the best method to keep on hand when you want to feed your baby wholesome, inexpensive meals with ease.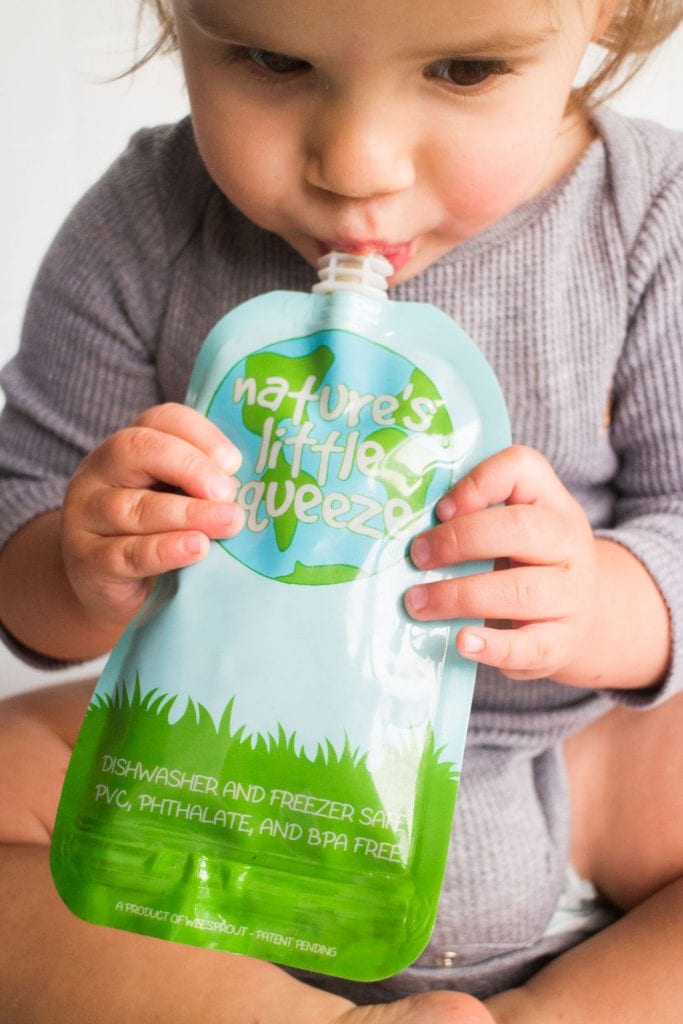 Baby food pouches
These refillable Homemade Baby Food Pouches are the best way to serve baby delicious and nutritious meals without breaking the bank. A baby food pouch is made by adding pureed food, usually from a mixture of fruit and vegetables, into a flexible pouch for easy eating. They can be refilled again and again so you can cut down on waste, costs, and time!
Feeding your baby with these reusable pouches is an incredibly popular method nowadays. The storebought version is easy to find, however, the cost starts to add up quickly. Once you try making your own baby food and refilling the pouches with any puree your baby loves, you'll never go back to storebought!
To get started, all you need are some reusable baby food pouches and baby's favorite fruit and vegetables. You can fill these pouches with my Apple Pear and Banana Baby Food, Butternut Squash Baby Food or get started with this Spinach Sweet Potato Fruit Puree recipe. It's a delicious combination that's rich in iron and vitamin C, and can be whipped up during nap time!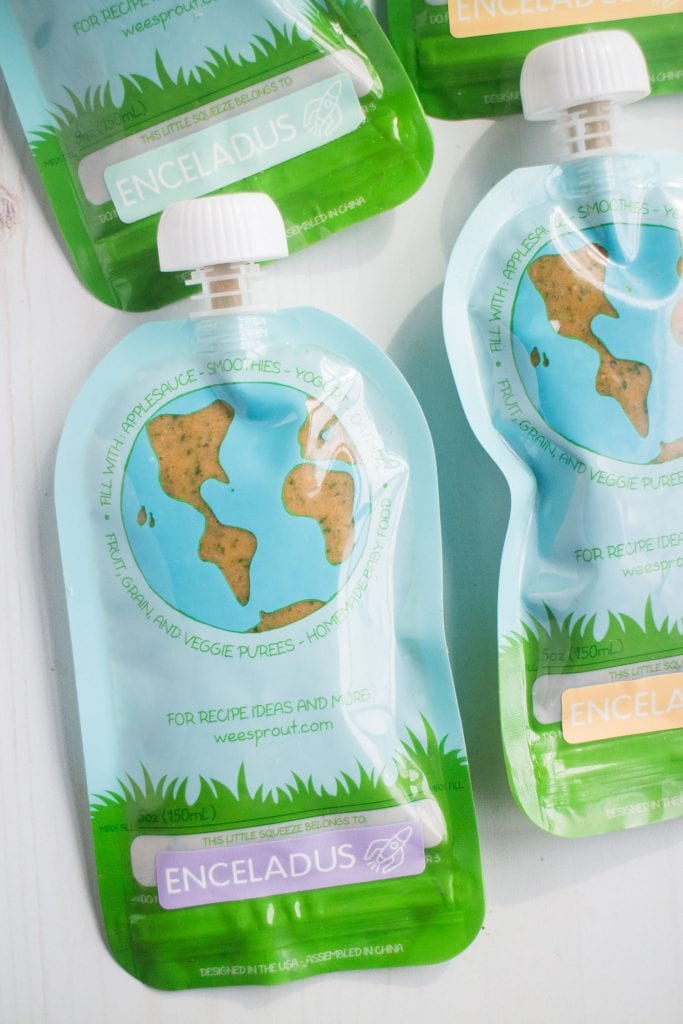 Homemade vs. storebought baby pouches
Making your own baby food pouches from scratch rather than always picking some up at the store will give baby plenty of nutrient-dense and filling meals without wreaking havoc on your wallet. These are a few of my favorite benefits:
They're flexible. You can make baby food using any combination of fruit and vegetables, making it easy to determine food sensitivities and provide a wealth of nutrients.
No added sugar. Making your own baby food gives you the chance to reduce excess sugar content in your child's diet.
They're affordable. With storebought pouches, you end up paying way more for the cost of ingredients than you would if you bought the fruits and veggies yourself. It's a fantastic money-saving toddler food.
No junky ingredients. Say goodbye to preservatives! Homemade baby food doesn't contain any weird stuff that keeps the storebought food pouches shelf-stable for weeks on end.
Equipment needed for reusable baby pouches
Reusable Baby Food Pouches – To make your own baby food pouches, you'll need to purchase a batch of reusable pouches. We like these food pouches as they are easy to reuse and come in a 6-pack. To note, we bought these in 2018 and we're still using them in 2021 with our second daughter.
Blender or Food Processor – You probably already have a saucepot at home for boiling but you'll also need something that turns the cooked fruits and vegetables into a puree that can be poured inside the pouch. A food processor or high-speed blender will do the trick.
How to make a baby food pouch with spinach and sweet potatoes
This recipe is a simple way to blend up greens with sweet potatoes to give your baby a variety of flavors, textures, and nutrition in one easy meal. Here's how it's done:
After everything is chopped and peeled, add the apples and sweet potatoes to a pot of boiling water and cook until fork-tender.
Using a food processor or blender, puree all of the ingredients until smooth.
Add the blended mix to the pouches. Seal, refrigerate, and you're all set! When baby (or toddler) want a snack, hand them a pouch!
As you can see, my daughter loves them! 🙂
Tips and tricks
Cut the sweet potatoes and apples into evenly sized cubes. This will ensure that they both cook evenly and helps the puree turn out as smooth as possible.
Add healthy fats to the puree, like coconut oil or avocado oil.
Want to double or triple the recipe? Feel free to blend the fruit and vegetable puree in batches. Afterward, pour the puree into pouches and any extra into ice cube trays to freeze.
For a boost of healthy probiotics, add a mix of fruit and yogurt to the recipe.
To fill the pouches easily, add the puree to a pastry bag and evenly distribute it into the pouches.
How to store baby food pouches
To store: Place the sealed pouches in the fridge and store for up to 24 hours. If you end up with extra pouches, pop them in the freezer so they last longer.
Can I freeze baby food?
You can easily freeze baby food if you're making large batches and won't use it all up right away. Freezing also helps retain the nutrients while making sure the food doesn't spoil.
To freeze: Add the puree to the pouches and freeze for up to 3 months. Alternatively, pour the puree into ice cube trays for easy storage. Let them both thaw completely in the fridge overnight before serving.
More baby food recipes to try
Pin for later:

Homemade Baby Food Pouches
Print
Learn how to make Homemade Baby Food Pouches the easy way! Using reusable pouches and baby food from scratch, this is the best method to keep on hand when you want to feed your baby wholesome, inexpensive meals with ease.
Prep Time: 5 minutes
Cook Time: 25 minutes
Total Time 30 minutes
Ingredients
4 cups spinach washed
3 sweet potatoes peeled and chopped
4 apples cores removed and chopped
8 ounces strawberries stems removed
2 bananas chopped
Instructions
Bring a large pot of water to a boil. Add chopped sweet potatoes into the pot and cook for 25 minutes. When there is 20 minutes left, add the apples. When time is up, drain.

Add all ingredients into your food process or blender and blend until smooth. You will most likely need to do this in a few batches. For each batch I try to make sure I get some of everything (spinach, sweet potato, apple, strawberries and banana).

Once smooth, place in pouches and feed to your baby or toddler. Alternatively you could serve it in a bowl with a spoon. This fruit puree also freezes great.