Pumpkin Baby Pancakes Recipe for babies, toddlers and parents! This easy pancake recipe is great for baby led weaning for first foods! These pumpkin pancakes are healthy and nutritious! Serve for breakfast or dinner – freeze leftovers for busy mornings or daycare!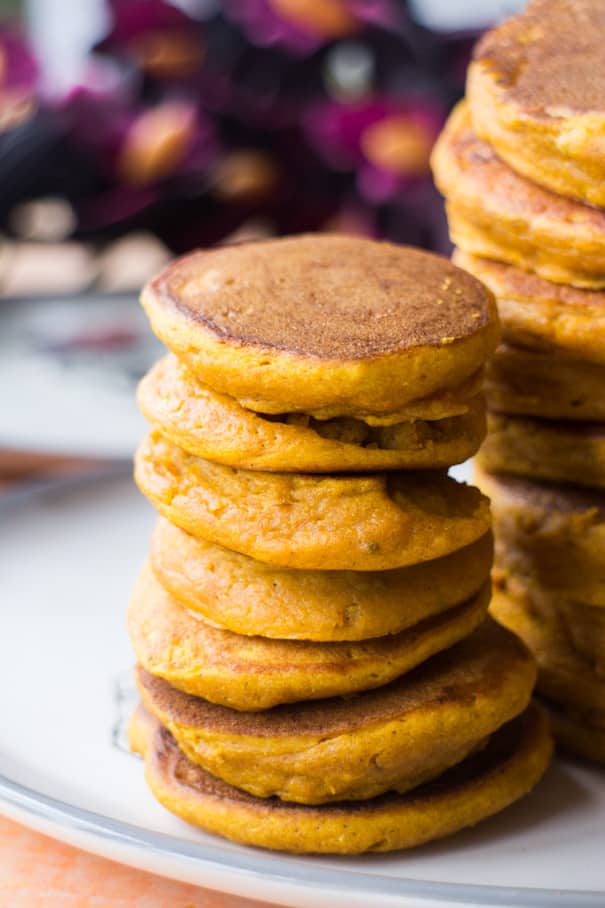 It's September… so it's officially pumpkin season! I mean ok, it's 95 degrees here, but let's pretend it feels like Fall, ok?
Baby Pancakes
Because I look forward to pumpkin recipes so much, I wanted to be able to make my baby a pumpkin recipe – perfect for those chubby little fingers of hers! So many of you loved my baby led weaning cookies and baby led weaning muffins so I figured it was time to share the baby pancakes Enceladus is currently loving – Pumpkin Pancakes!
How to Make Video
So what is baby led weaning?
A short answer to a possible very long answer is that baby led weaning (or BLW as the Moms on the playground call it!) encourages your baby to feed themselves instead of eating purees from a spoon. We started Enceladus very early with baby led weaning, and there were some learning curves in the beginning (totally normal) but I really feel that feeding herself has not only made her more independent, but also more open to tasting EVERYTHING.
Seriously, there's no food she won't try. Put a food in front of her and watch her eat it!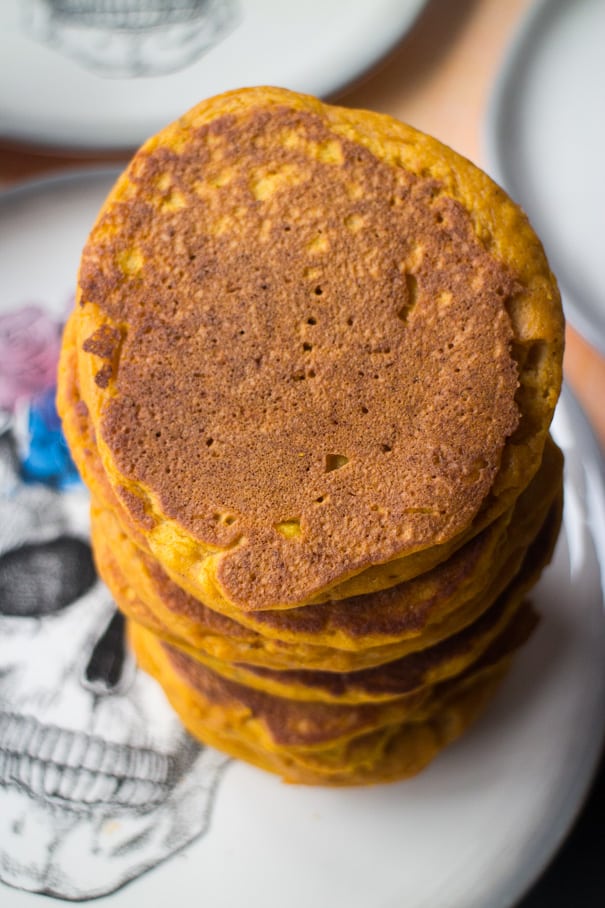 Plus now she loves cooking with Mama in the kitchen…. even though it gets dangerously messy sometimes!
When trying baby led weaning, be prepared for a messy baby until they get better hand skills. I found that these bibs are the ABSOLUTE BEST – no lie, we will never buy a another type of bib. They will serve you well through the toddler stages and they catch everything!
If you want to learn more about baby led weaning, here's a book that I checked out from the library that really goes indepth.
Baby Led Weaning Recipe
These baby pancakes are natural, easy to make and delicious – everything that baby led weaning should be about. I came up with this baby led weaning recipe idea when I thought about making myself my favorite pumpkin pancakes recipe. Then I realized that my adult pancakes weren't that much different then baby pancakes – with a few changes to the recipe.
When I started cooking for my daughter I absolutely loved it, but I also found it time consuming with everything else going on. So I set out to create recipes that the entire family could eat, along with our baby.
These Pumpkin Baby Pancakes not only are great for baby led weaning – but I absolutely swear your toddler and YOU will love them. That's right, now only are they great for baby, but they're family friendly too!
So when I make these pumpkin pancakes, I will create 2 different sizes – some for baby and some for Mom and Dad!
Baby Pancakes Recipe
These baby pancakes have all the ingredients you're used to adding when making pancakes, except they don't include any butter, milk or sugar. Instead we're adding pumpkin purees and eggs for the liquids which still make a fluffy pancake!
The ingredients include flour, quick oats, baking powder, salt, cinnamon, pumpkin puree, eggs and vanilla. When Enceladus had her first taste of cinnamon in a pancake she loved it! I think your little one will too!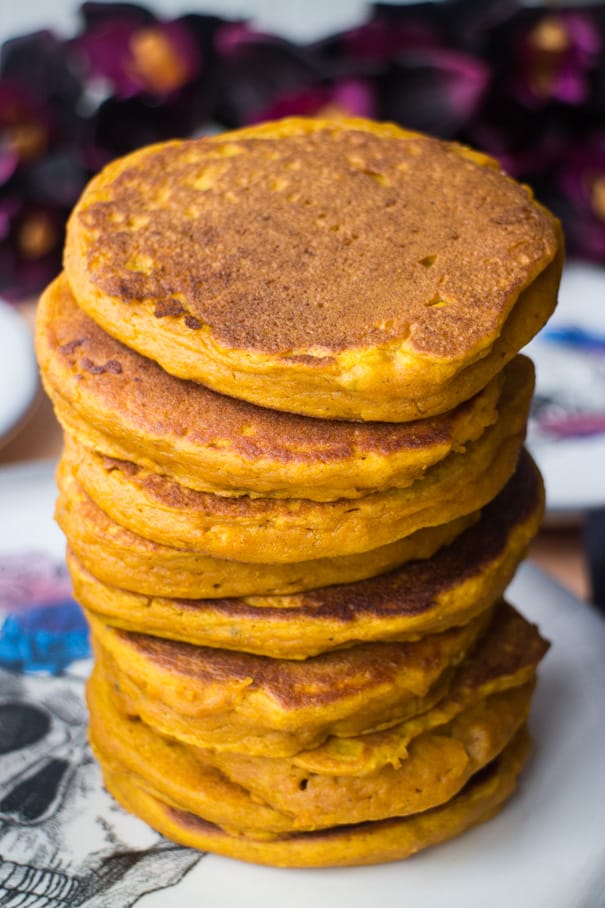 How to Relieve Baby Constipation with Pumpkin
Not only is pumpkin delicious, but it's also very nutritious! It's going to give your baby Vitamin A, protein and iron! Also because it's high-fiber, it's a great food to give for constipation problems in baby.
Egg Substitute for Pancakes
If your baby has a egg allergy, or you just don't want to give them eggs yet, substitute the 2 eggs with 1/4 cup applesauce.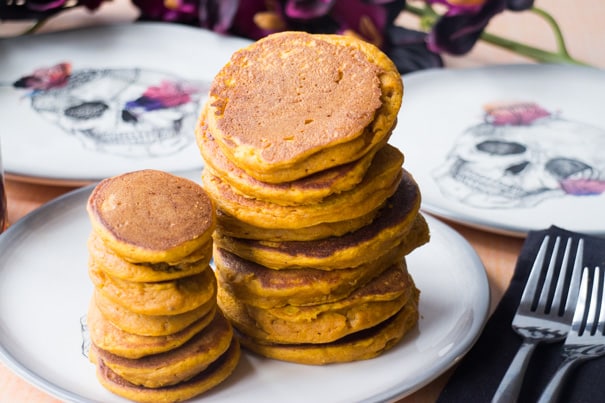 Can you freeze these pancakes?
Yes, I do it ALL the time. In the past pancakes were a leisurely enjoyed breakfast on weekends, but with a toddler now – nothing is leisurely done (real talk). Often I will make 2 batches of these pancakes – one to eat, and one to freeze for later.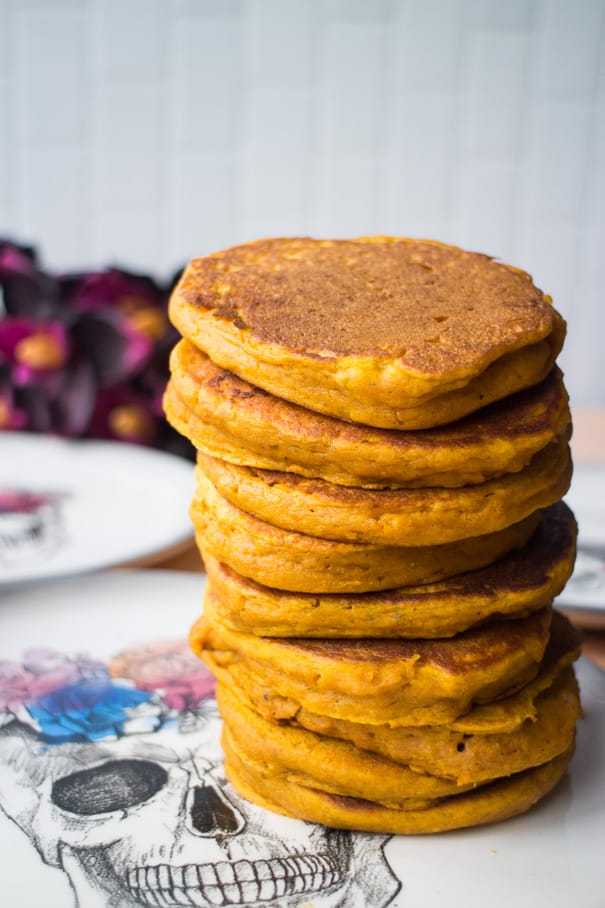 To freeze just place them in a freezer safe container and freeze. When you need them, defrost for about 15-20 seconds in the microwave. Make sure to check that they aren't too hot before serving to baby.
These are one of my favorite breakfast (and snack) foods to give to Enceladus to take to daycare! I also will serve her a couple in the morning in her high chair while I get ready. I love knowing that I can give her a home cooked breakfast, even on those week day mornings that always feel rushed.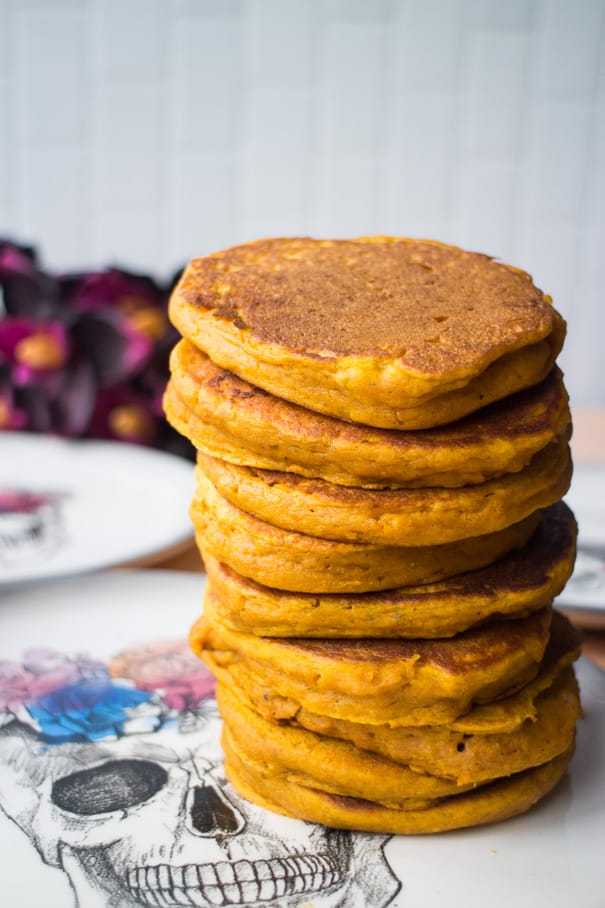 I hope you and your baby enjoy these Pumpkin Baby Pancakes!
Looking for more baby recipes? Try my Sweet Potato Fries for Baby Led Weaning and Cinnamon Carrot Fries for Baby Led Weaning.
Pin for later:

Pumpkin Baby Pancakes Recipe
Print
Pumpkin Baby Pancakes Recipe for babies, toddlers and parents! This easy pancake recipe is great for baby led weaning for first foods! These pumpkin pancakes are healthy and nutritious! Serve for breakfast or dinner – freeze leftovers for busy mornings or daycare!
Prep Time: 5 minutes
Cook Time: 5 minutes
Total Time 10 minutes
Ingredients
1/4 cup all purpose flour
1/4 cup quick oats
1/2 cup pumpkin puree
2 eggs
1 teaspoon baking powder
1/8 teaspoon salt
1/4 teaspoon cinnamon
1/2 teaspoon vanilla extract
Instructions
Add all of the ingredient to a bowl and stir with a spoon until well mixed.

Spray pan or griddle with cooking spray and put on medium high heat on your burner. Once heated, add small drops of pancake batter to pan – making the size pancakes you want. For baby pancakes this is usually 1/8 cup batter, for adults 1/3 cup batter.

Cook pancakes until golden brown (about 3 minutes) and then flip to the other side.

Allow to cool before serving to baby. Enjoy!
Notes
These pancakes freeze great! Freeze leftovers.