CHOCOLATE AVOCADO Muffins – baby led weaning recipe! These muffins are so moist and creamy because we use avocado and yogurt in them!
Do you know what I love currently about motherhood? We're starting to snack together! Looking for a treat that we could both share together I made these Chocolate Avocado Baby Muffins which are a complete hit!
They're perfect for breakfast and perfect for a snack! After she finishes her dinner at night, sometimes we both sit down and eat a muffin together! So these are great for parents, babies, toddlers or just anyone who is seeking a healthy muffin!
Baby Led Weaning Muffin Recipe
These are healthier than usual muffins because we aren't using any oil or butter. Instead we're making them moist and creamy with avocado and yogurt. Remember my avocado brownies? Yup, super creamy! So are these muffins!

To keep them more on the healthy side, I do a very light dusting of sugar on top, but it's up to you! If you are looking for a more dessert crumble on top use this crumble topping recipe because it's the best. Also, never underestimate the power of simple peanut butter! For breakfast I often have a few of these mini muffins with creamy peanut butter on top – it's filling and starts the morning off right!

Time to make Chocolate Avocado Muffins!
Mix all your dry ingredients together in a bowl. For the chocolate taste we're going to add cocoa powder. For flour we're making these muffins more nutritious and using whole wheat flour.

Grab your avocado and remove the seed and skin. We want the avocado to be creamy so make sure the avocado is ripe that you're using.

Once you mix the wet ingredients with the dry ingredients you're going to have a crumbly muffin mixture. The mixture won't be pourable, so you will need to scoop spoonfuls into your mini muffin pan.

Just like that! Now sprinkle sugar on top if you want!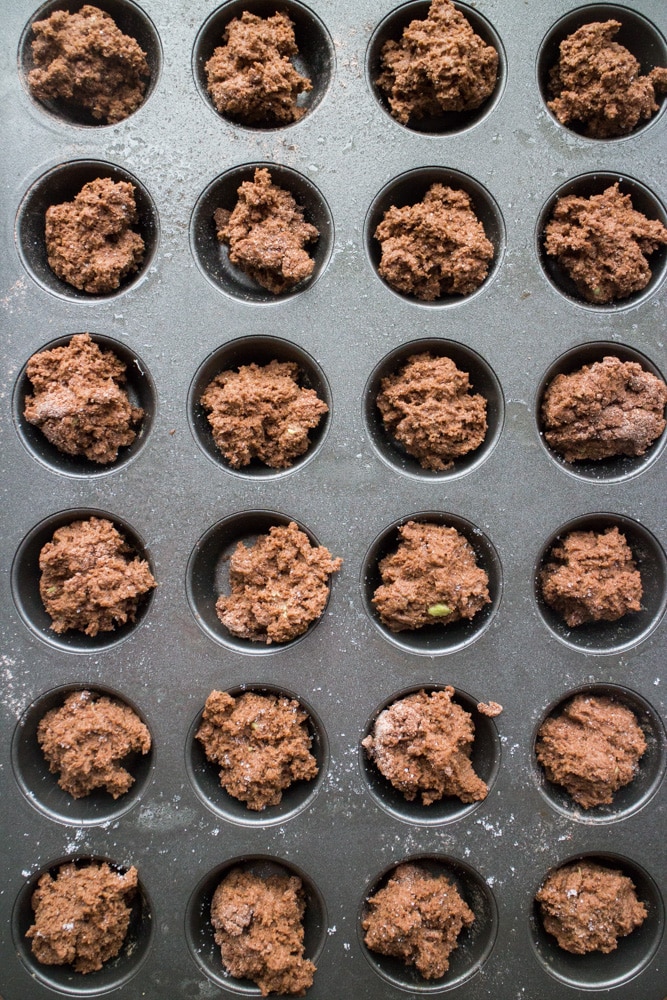 Bake for 15 minutes and then your muffins will easily pop out of the muffin pan. Seriously, they shouldn't stick at all. They will have a natural crumbly top and soft muffin inside!
This Chocolate Avocado Baby Muffins recipe makes about 40 mini muffins. If you're not going to eat them all in the next couple days, you can easily freeze them for up to 2 months. They make a perfect snack to pull out of the freezer and pack for daycare!
Hope you enjoy these Chocolate Avocado Mini Muffins! If you're looking for more baby recipes, make sure to check out my baby led weaning sweet potato cookies and Chocolate Banana Bread Muffins!
Looking for more baby led weaning recipes?
Try my Pumpkin Baby Pancakes!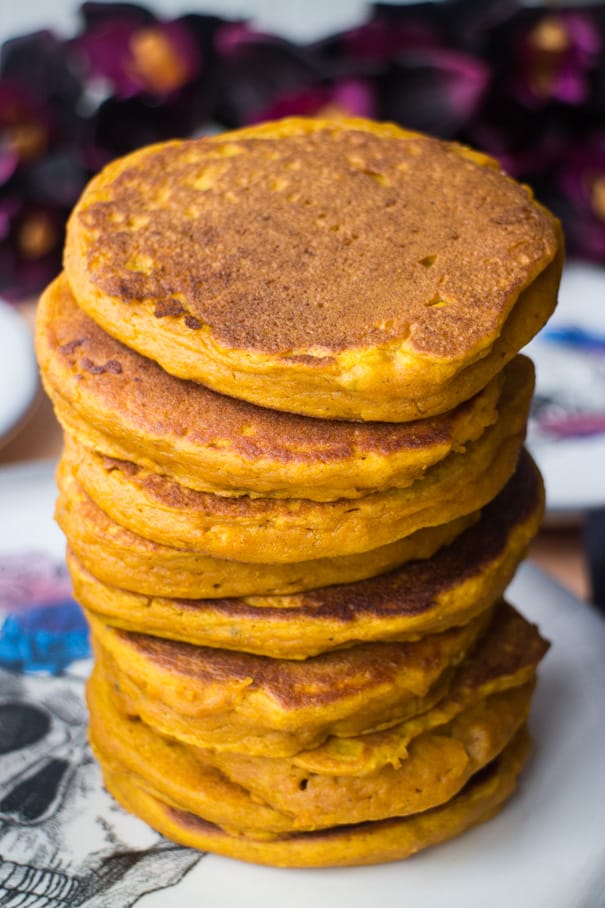 And my Sweet Potato Cookies!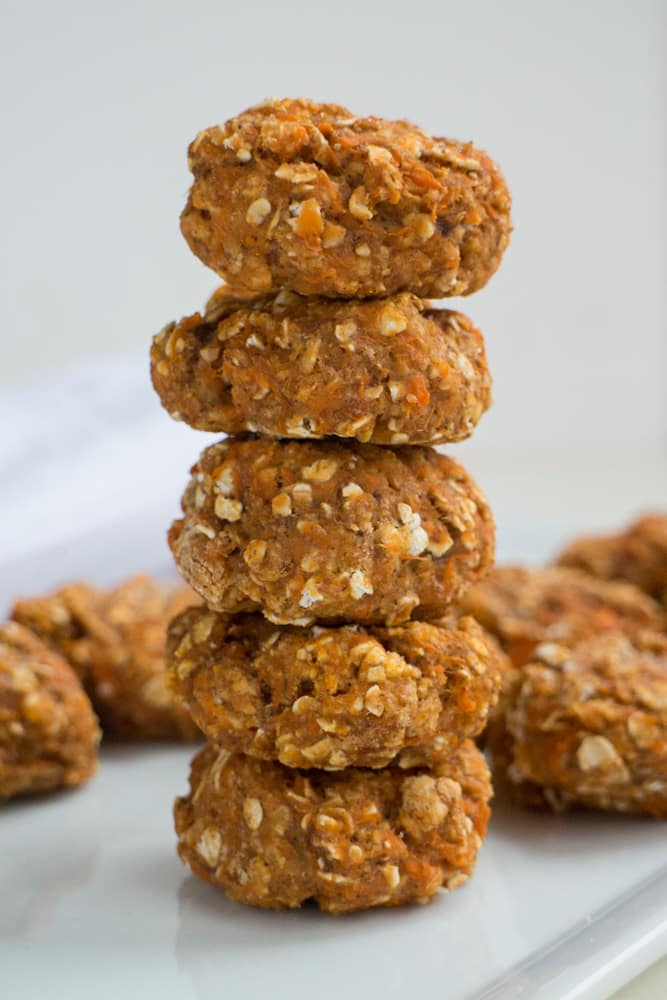 Pin for later:
Chocolate Avocado Muffins
Print
CHOCOLATE AVOCADO Muffins - baby led weaning recipe! These muffins are so moist and creamy because we use avocado and yogurt in them!
Ingredients
2 cups whole wheat flour
1/4 cup cocoa powder
2 teaspoons baking powder
1/2 teaspoon baking soda
1/2 teaspoon salt
1 ripe avocado seed and skin removed
1 cup plain or flavored yogurt
1 egg
1 teaspoon vanilla extract
1 teaspoon cinnamon
1/2 cup sugar
Instructions
Heat oven to 375 degrees. Spray a mini muffin pan with nonstick spray.

In a large bowl combine flour, cocoa powder, baking powder, baking soda and salt. Mix to combine.

In a medium sized bowl add ripe avocado, yogurt, egg, vanilla, cinnamon and sugar. Use a hand mixer and blend until smooth.

Add avocado mixture into flour bowl. Continue using hand mixer and mix.

Spoon mixture into mini muffin pans, filling up about 3/4 the way. OPTIONAL-> Sprinkle additional sugar on top of each muffin if you want.

Bake muffins for 15 minutes. They should come out of the muffin pan easily.

Let cool and enjoy! Store in airtight container. You can also freeze these, for up to 2 months.
Notes
Makes 40 mini muffins.