Easy to make apple, pear and banana baby food recipe. This is my 6 month old's favorite Stage 2 puree! This homemade recipe made with fresh fruit makes 64 ounces of baby food for only $10! Includes directions on how to freeze.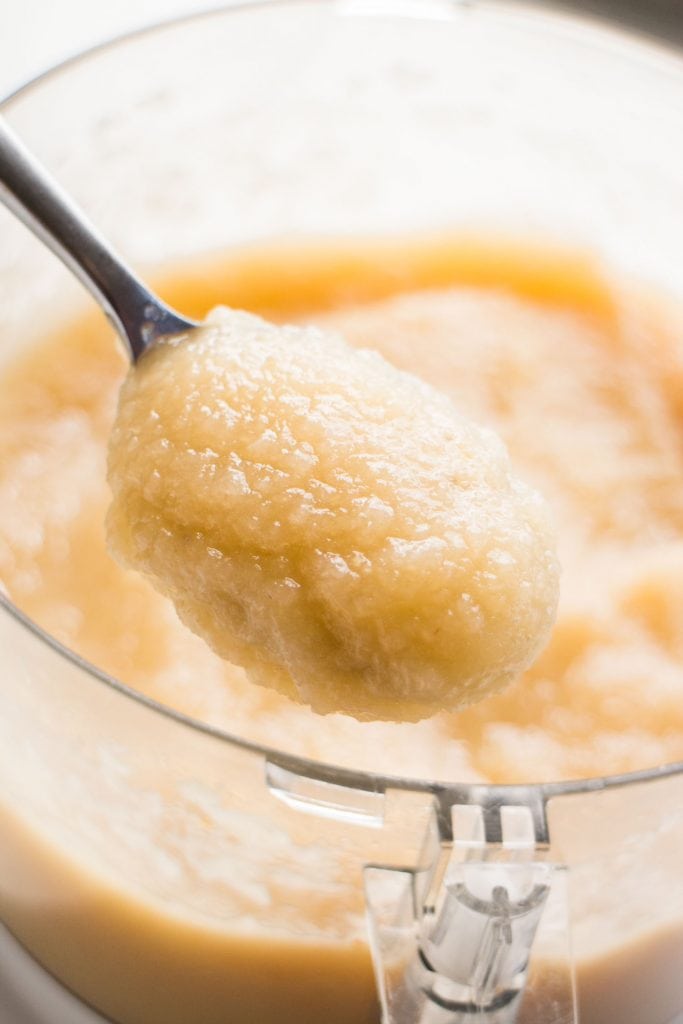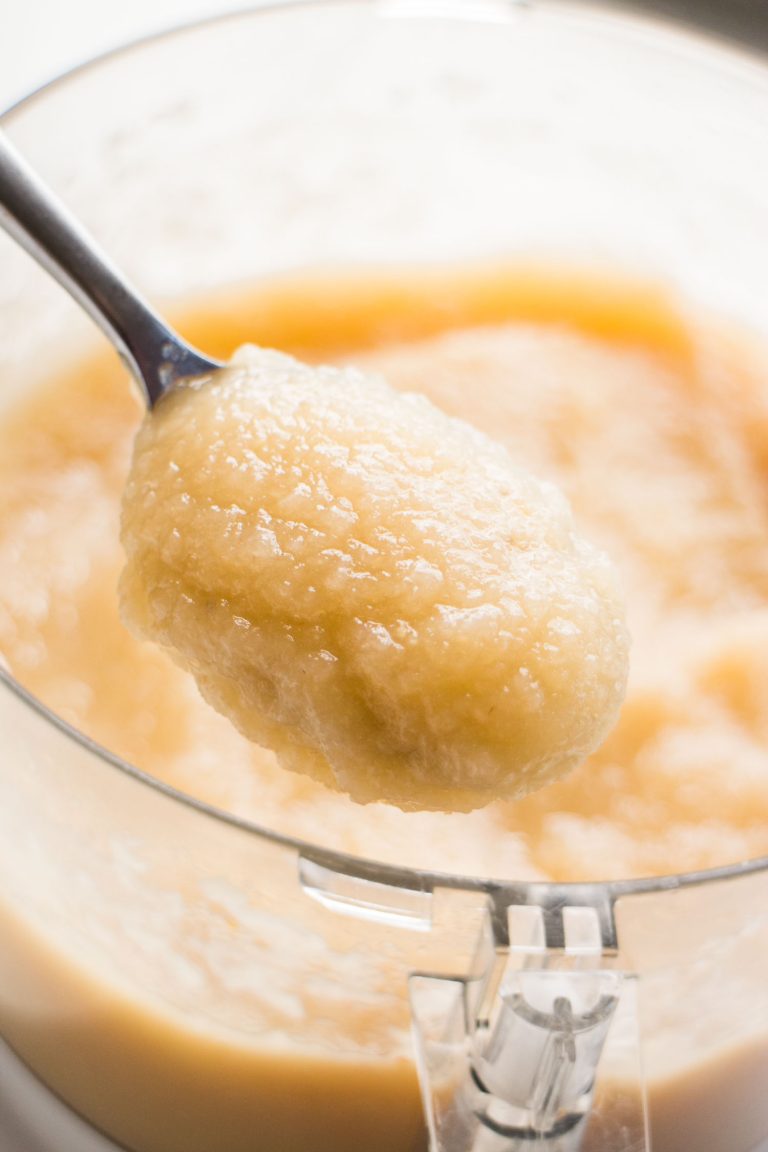 Apple and Banana Baby Food Recipe
I absolutely love making homemade baby food pouches, especially when some of the ingredients can come straight from our garden. It makes me so happy seeing a messy baby with carrots all over her face knowing that I grew those carrots!
Making homemade baby food is not only easy, it's extremely cost-effective, saving you so much money! Here's a quick video I made to show you how simple it is to make your own!
How much money does homemade baby food save you?
Besides the satisfying feeling of feeding your baby a home cooked meal, making your own baby food is extremely economical. Let's do some simple math real quick.
Those organic baby food pouches run $2-$3 at the store for 4 ounces. The ingredients for this recipe cost me $10 and it makes 64 ounces of food. If I was to buy this food in premade jars and pouches in the store it would cost me over $72 in baby food! That means you're saving LOTS of money.
What is the best baby food to start with?
I always find that starting with sweet fruits helps ease a baby into eating solids. Fruits such as apples, pears, bananas and pears are great to start with. On the vegetable side, our daughters have loved sweet potatoes, butternut squash baby food and green beans as their veggie introduction.
What should I feed my six month old baby?
We started introducing Stage 2 purees around 6-7 months. This Apple, Pear, Banana puree is a perfect combo starter that your baby is sure to love!
What's not to love? It's like a tropical fruit smoothie for babies! I'll be honest, I love this puree so much I might sneak e a few bites in when she's not looking!
What is the difference between Stage 1 and Stage 2 baby food?
Stage 1 baby foods are made with a single ingredient while Stage 2 baby foods are blended with a combination of ingredients together.
How do you know when your baby is ready for Stage 2 foods?
First, get them confident on Stage 1 food. Try many different types of Stage 1 solids first to get those lips smacking and hands grabbing. Once they've tried various fruits and vegetables (this helps with food allergy elimination as well) and you feel they can confidently handle solids, then you can move on to Stage 2.
Ingredients for Baby Food Puree
Apples – I recommend using a sweet apple, such as honeycrisp
Pears – Go with a sweet bartlett or a bosc
Bananas – The taste of banana goes far in puree, so you only need 2 bananas for this recipe.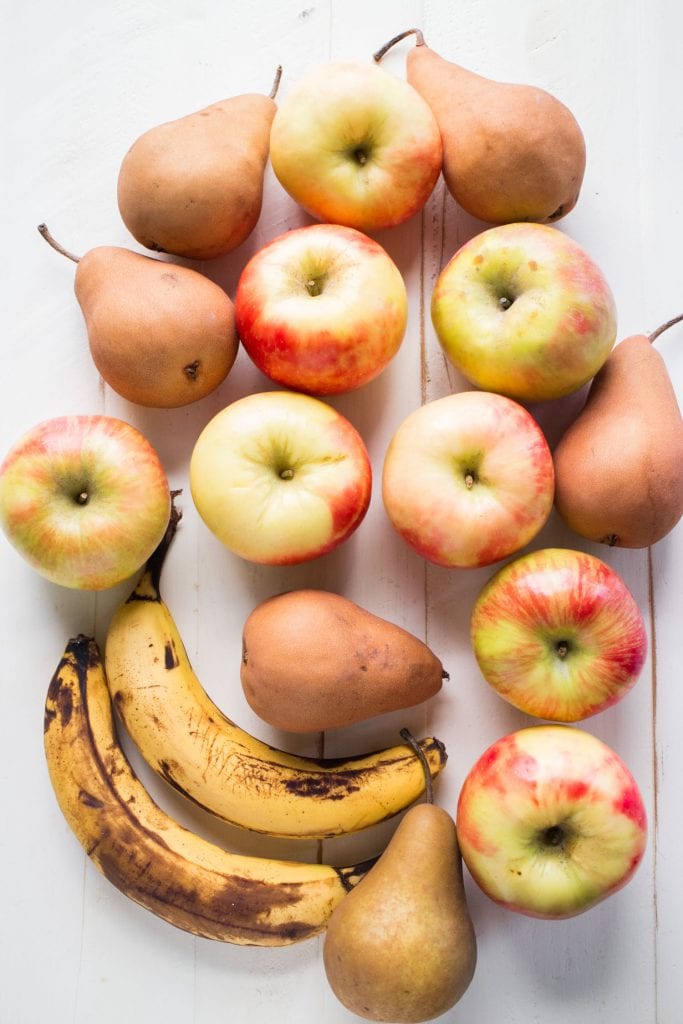 How to Make Baby Food
Peel your apples and pears, remove the cores and cut them into 1 inch pieces.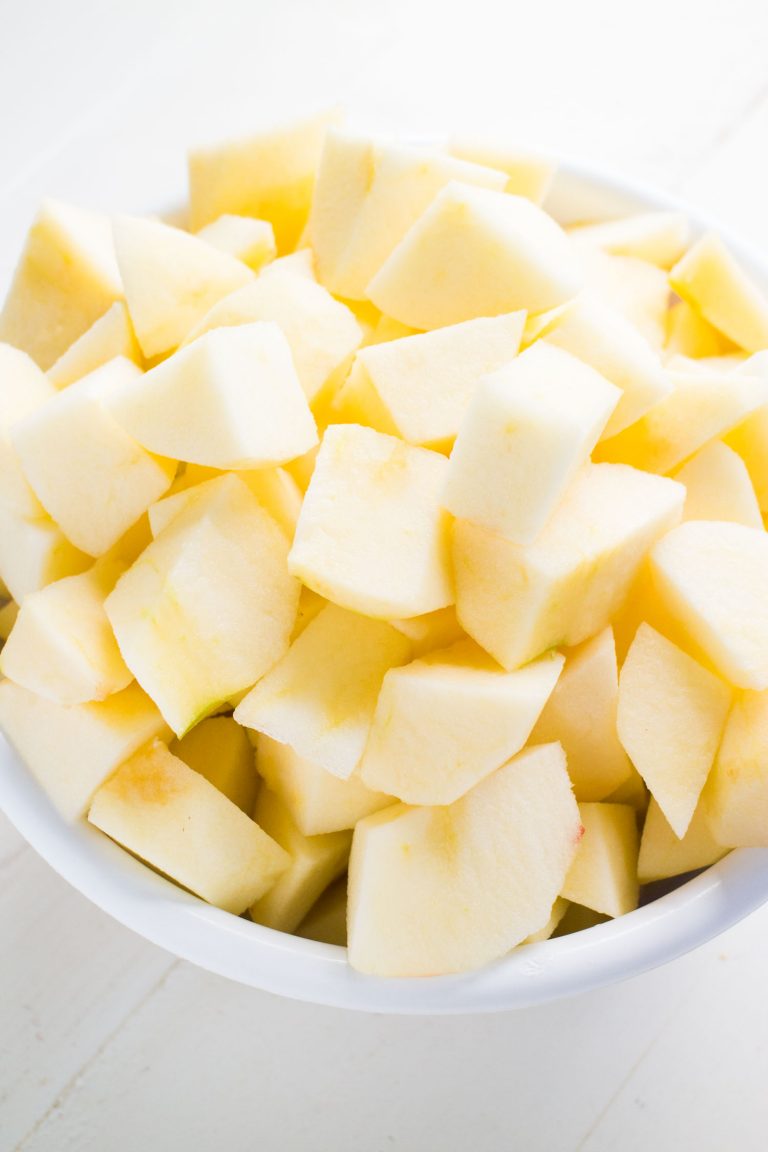 In a large pot with a steamer basket add the fruit and a little bit of water, bringing it to a boil. If you don't have a steamer basket, just add a small amount of water to a pot until you cover the fruit and boil it. I do this in a large pot to save time, but you might have to do it in 2 batches depending on pot size.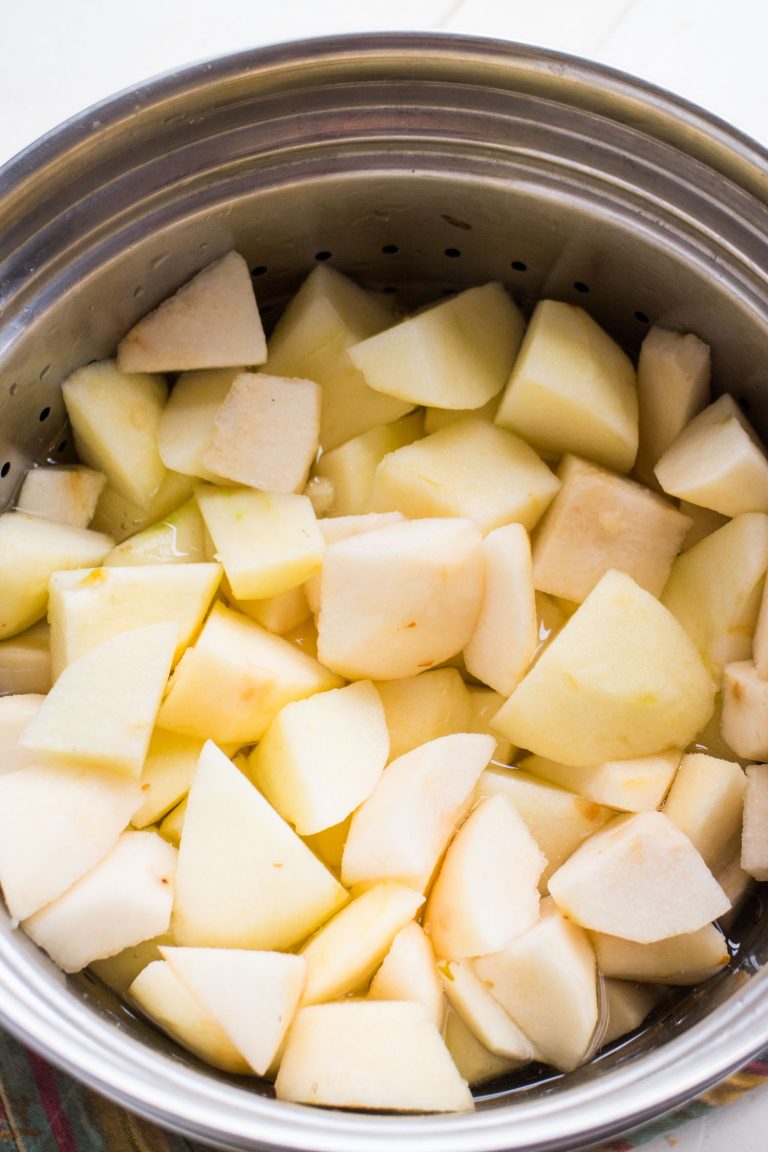 Boil the apples and pears for about 10-15 minutes, or until a fork easily slides in, drain.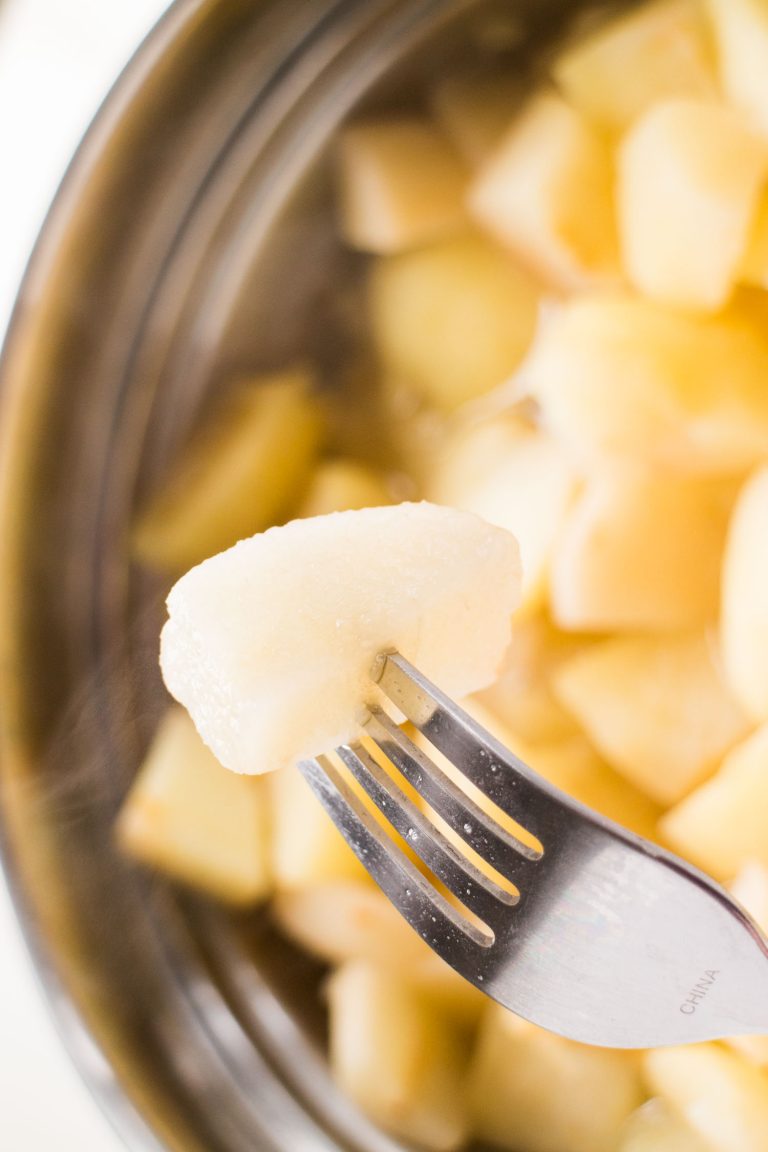 Once the fruits are done, add them to your food processor or blender with the bananas. I do this in 2 batches.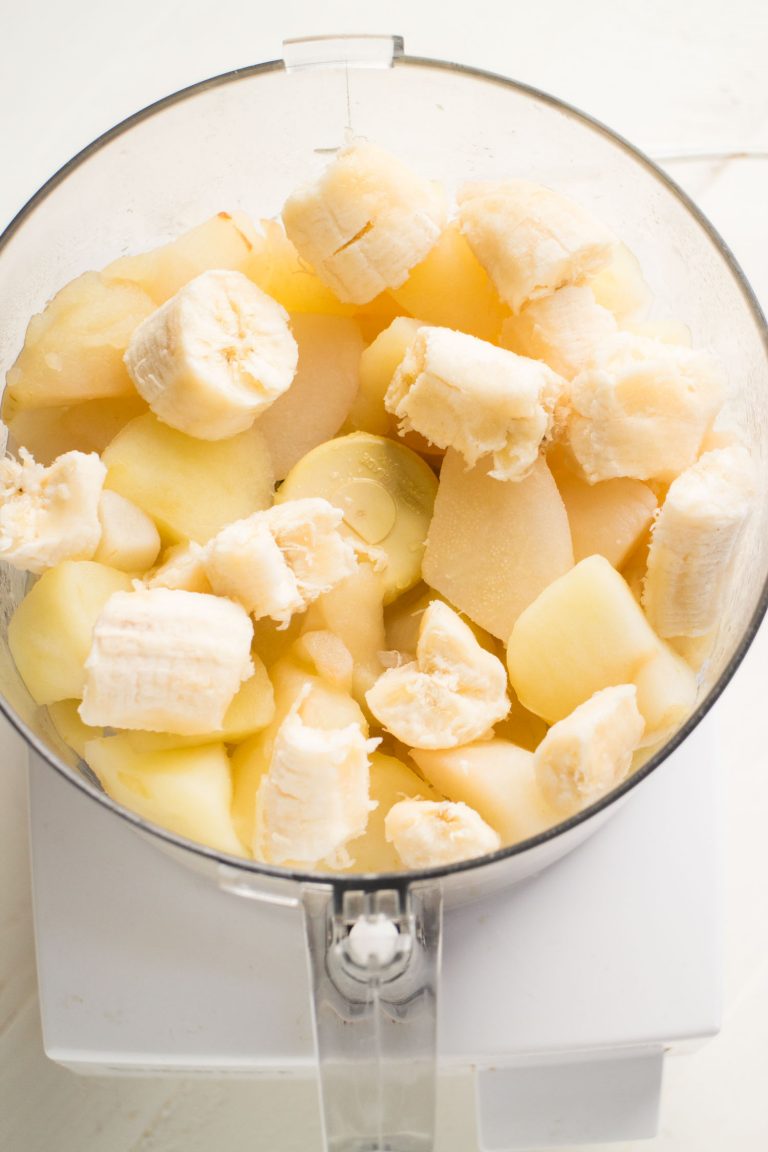 Add a few tablespoons of water to the food processor to make the blades run smooth as it's really important to make sure there's no chunks in the food!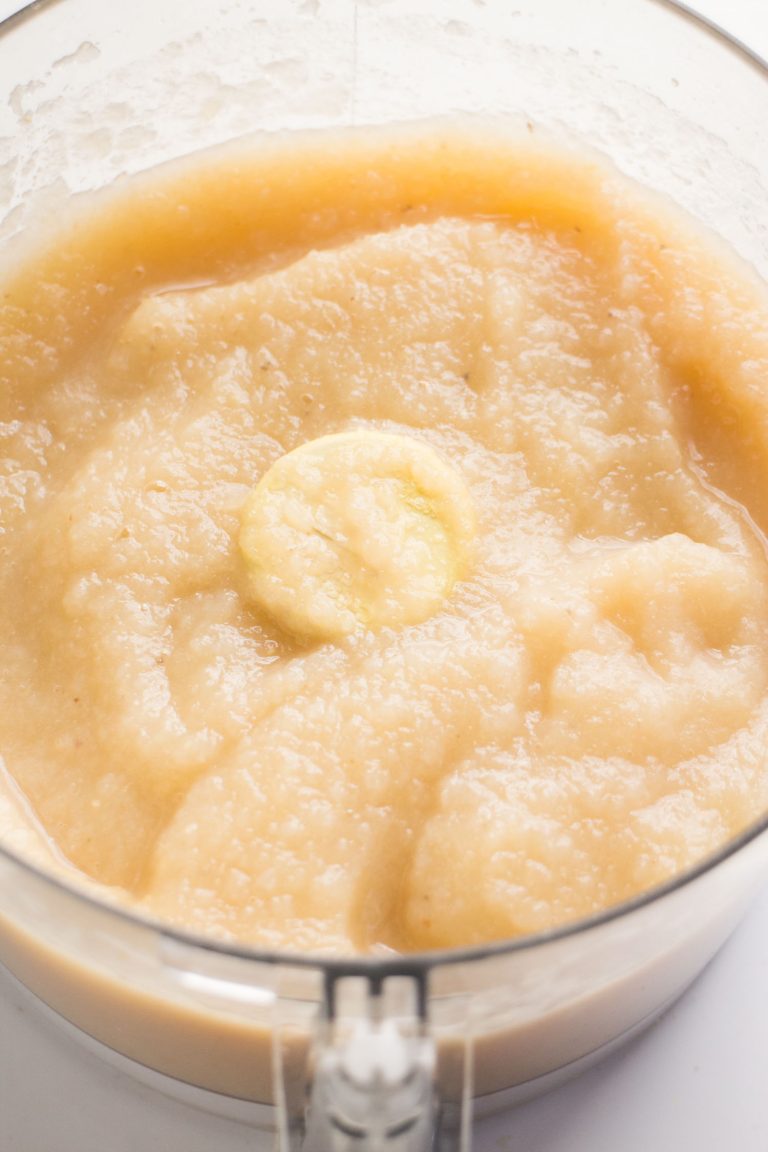 And just like that you made homemade baby food. Wasn't that SO easy?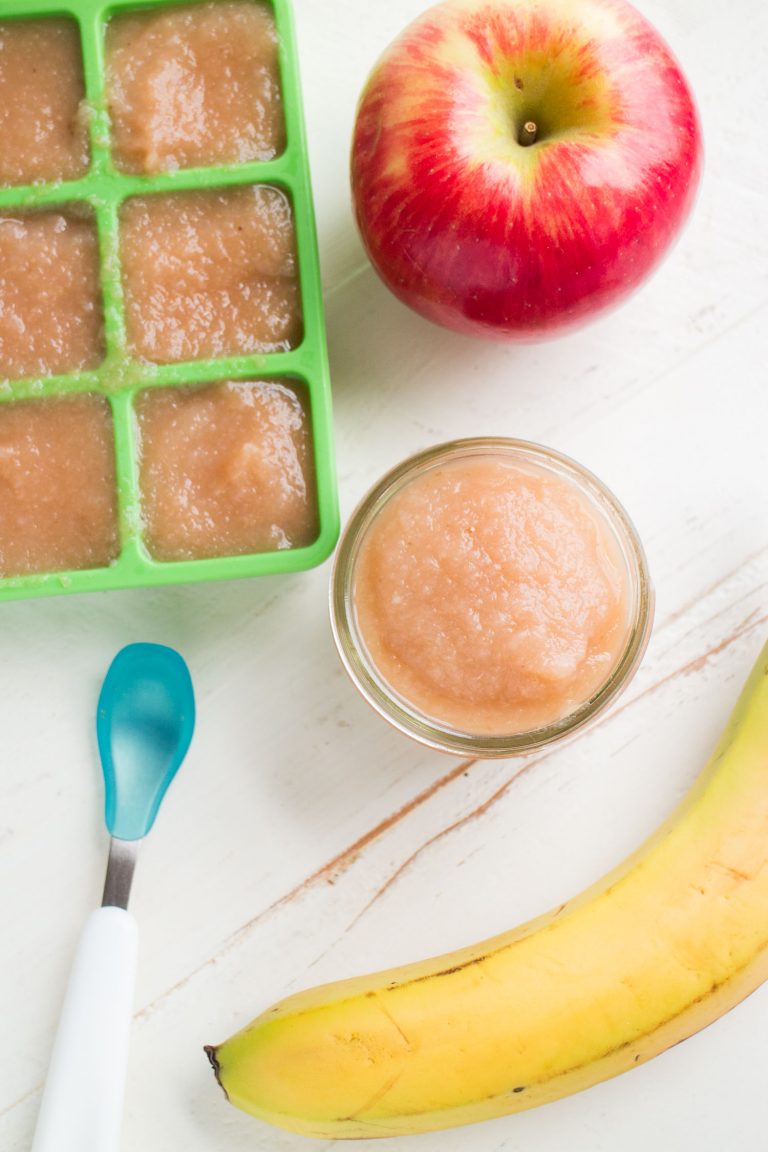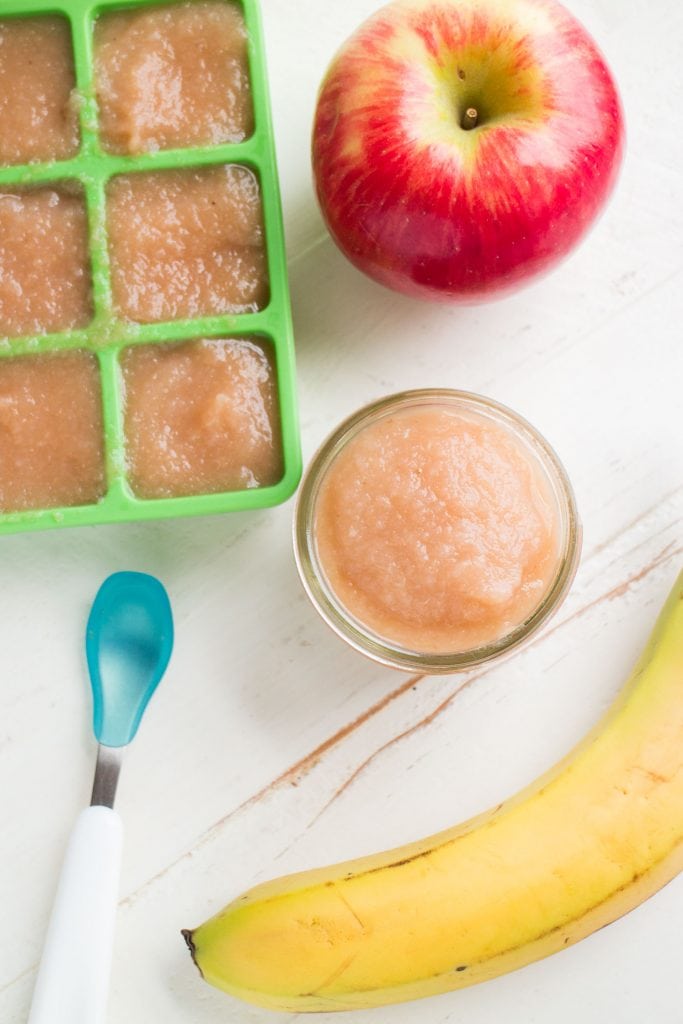 How to Freeze Baby Food
This recipe makes 64 ounces of baby food which is enough that you can stock up! Baby food is so simple to freeze, and is going to help you save time and money.
Add your baby food puree to freezer safe containers. I like freezing our baby food in these silicone freezer trays, or these 2 ounce cubes.
You can can also use ice cube trays, but make sure to cover them in the freezer to prevent them getting contaminated. I recommend these ice cube trays with a lid.
Then place them in your freezer to freeze overnight. After they're frozen, I pop them out of the trays and put them in freezer bags. Now I have individual servings ready to go!
How to Thaw Baby Food
I recommend thawing baby food in the refrigerator overnight. I take the cubes out of the freezer and place them in a glass container in the refrigerator. I try to estimate the amount I need, not keeping it in the refrigerator for more than 48 hours.
When the morning rolls around the cubes are defrosted (or close to it) so I can just pack them up in small glass containers with her bottles for daycare and we're all set. High 5 on anything that makes the mornings easier!
If you're in a pinch for time you can defrost the food in the microwave. Just make sure to stir, allow to cool completely and test before serving to baby.
Organic Vs Non Organic Baby Food
I'm going to talk quick about organic vs non-organic. If you can buy all organic I say do it, but the truth is that organic fruits cost significantly more money than non-organic.
When you're buying 4 pounds of apples, .99 (non-organic) vs 3.99 (organic) a pound adds up quickly. If you're on a budget like me, you're probably going to grab those .99 cent/lb apples!
When making baby puree, organic is good, but what's best is home cooking, so don't stress if you can't budget it in organic fruits. Instead, look for what's on sale and in season.
If red delicious apples are on sale one week, then stock up with a few pounds worth. If Fuji apples are on sale, then buy those! In NYC, small neighborhood produce stores often have the best savings on fruits and vegetables so take a look there too.
Hope this recipe helps all the Mamas and Papas out there! I hope your baby enjoys this delicious Apple, Pear and Banana baby food puree!
More Baby Food Recipes
Pumpkin Baby Pancakes Recipe
Sweet Potato Baby Led Weaning Cookies
Homemade Pea Baby Food
Stage 3 Baby Food Recipe
Spinach Sweet Potato Fruit Pouch
Carrot Baby Cookies Using Baby Food
Pin for later:

Apple, Pear and Banana Baby Food
Print
Easy to make apple, pear and banana baby food recipe. This is my 6 month old's favorite Stage 2 puree! This homemade recipe made with fresh fruit makes 64 ounces of baby food for only $10! Includes directions on how to freeze.
Prep Time: 5 minutes
Cook Time: 15 minutes
Total Time 20 minutes
Ingredients
8 apples (sweet variety, like honeycrisp) peeled, core removed and cut into 1 inch pieces
6 pears peeled, core removed and cut into 1 inch pieces
2 ripe bananas
Instructions
Add 3 inches of water to a large pot and bring to boil. If you have a steamer basket add to pot.

Add apples and pears and and cook for 10-15 minutes, or until a fork slides easily in them. Drain.

Add apples, pears and bananas to food processor or blender and blend until completely smooth with no chunks. I like to add a 2-3 tablespoons of water to make it easier to blend. I usually do this in 2 batches since it's a large amount of apples and pears.

Freeze in storage trays and defrost to serve to baby as needed.
Notes
Makes 64 ounces of baby food.
Nutrition Information:
Calories: 63kcal (3%)