Baked Ground Beef Tacos using a whole container of leftover rice! These easy cheesy tacos are ready in 25 minutes and are DELICIOUS!
What to do with leftover rice?
Leftover rice is one of the best parts of takeout because it just keeps on giving! Use leftover rice to make these delicious cheesy tacos that use a whole container of leftover rice. I make these tacos with both Chinese and Indian takeout rice.
My family loves these Leftover Rice Tacos so much I think they sometimes like it better than the actual takeout! You need to try these because I think they'll become a favorite on your dinner menu list!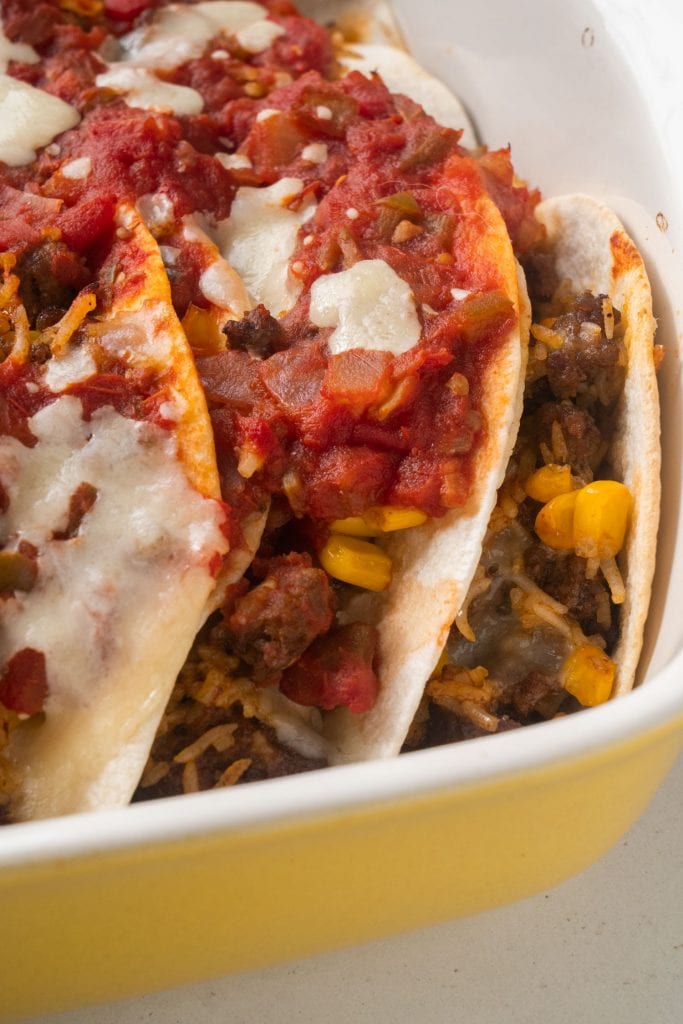 How much rice is in a takeout carton?
A takeout box has about 2 cups of rice in it, which is exactly what you need for this recipe. If you have a little less rice (like 1 or 1.5 cup – that's ok too!).
How long is leftover rice good for?
Leftover rice is best used within 4 days when you're storing it in the refrigerator. Did you know you can also freeze leftover rice for 2 months?
Ingredients
Ground beef. We prefer these tacos with ground beef, but you can also use ground pork, turkey or chicken!
Taco Seasoning. You'll need 1 packet.
Water
Corn. You'll need 1 can of corn. If you only have frozen corn that's ok too!
Leftover Rice. You'll need 2 cups!
Shredded Cheddar Cheese. You can use white or orange cheddar cheese.
Flour Tortillas. You'll need (8) 6 inch tortillas.
Salsa. Use your favorite jarred salsa, pick something that's tasty!
How to Make Rice Tacos
Cook ground beef in a large skillet until browned.
Add taco seasoning..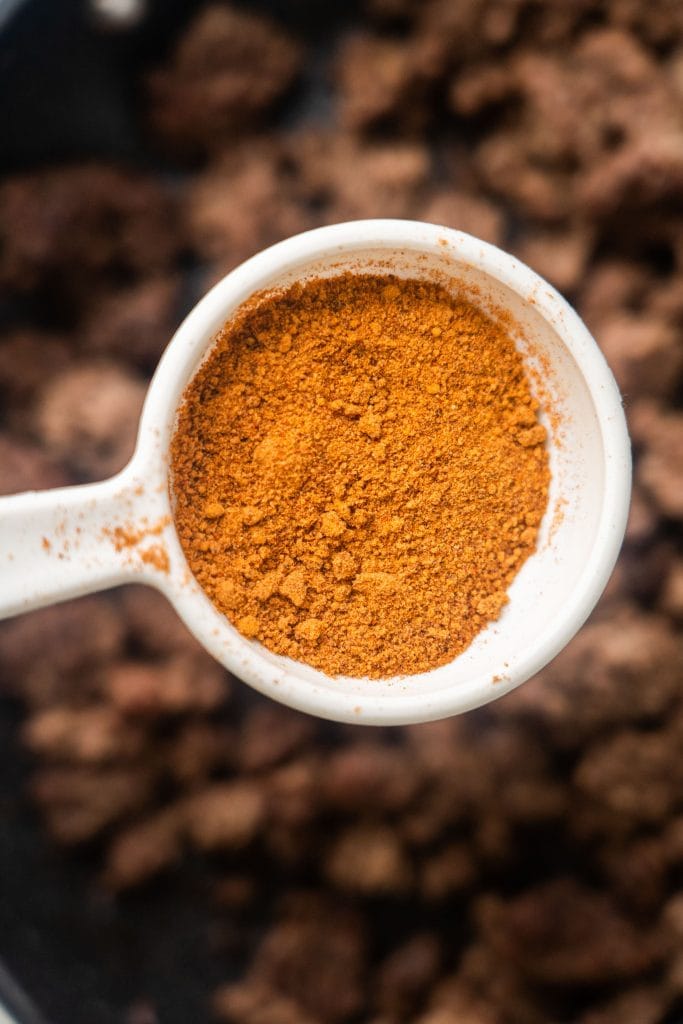 And corn…
And leftover rice….
And finally cheddar cheese. I love using sharp cheddar cheese on tacos that I shred myself in my food processor.
Continue to heat on the stove until the cheese is completely melted.
Spread a little bit of the beef and rice mixture in the bottom of a 11×8 baking dish.
Start to make the tacos by adding the beef mixture into each tortilla, followed by some cheddar cheese. Add them to the baking dish, it should be a tight fit.
If any ground beef or cheese is left, sprinkle it on top of the tortillas.
Now add a jar of salsa on top.
Bake until cheese is melted, about 10 minutes.
Serve warm! And enjoy! These are delicious! I hope you love these Leftover Rice Tacos!
Recipe Tips
I like to make my own shredded cheese by adding a block of cheese into my food processor. This makes it more thick and crumbly and melts beautifully! This has been a game changer for our tacos!
I usually use a tomato based salsa (mild for the kids), but you could use a jar of salsa verde if you want a kick!
If you want to make vegetarian tacos, you totally can! Skip the ground beef and either 1) double the rice or 2) substitute 2 cans of beans (black or pinto) for the ground beef. Want to make your own homemade black beans?
More Leftover Recipes
Leftover Spaghetti Casserole
Pork Fried Rice with leftover rice
Leftover Cilantro Lime Rice
Mashed Potato Patties (for leftover mashed potatoes)
Leftover Thanksgiving Casserole
Leftover Ham and Cabbage Soup
Moist Buttermilk Cornbread (for leftover buttermilk)
50 Ways To Use Leftover Egg Yolks
Pin for later:
Leftover Rice Tacos
Print
Baked Ground Beef Tacos using a whole container of leftover rice! These easy cheesy tacos are ready in 25 minutes and are DELICIOUS!
Prep Time: 15 minutes
Cook Time: 10 minutes
Total Time 25 minutes
Ingredients
1 pound ground beef
1 1.25 oz packet taco seasoning mix
1/2 cup water
1 15 oz can whole kernel corn drained
2 cups leftover white rice
2 cups shredded cheddar cheese
8 6 inch flour tortillas
1 16 oz jar salsa
Instructions
Preheat oven to 425 degrees F.

In a large skillet cook ground beef over medium-high heat, until beef is browned and fully cooked. Drain and put back into skillet on stove, reducing heat to medium.

Add taco seasoning, water, corn, rice and 1 cup shredded cheddar cheese. Cook until the cheese is completely melted in the mixture.

In an 11×8 casserole dish, spoon 2 tablespoons of beef mixture on the bottom of the dish, spreading around to lightly cover.

Grab the tortillas and add about 3 tablespoons of beef mixture into each one, and then sprinkle a little cheddar cheese on top. Fold the tortilla up and place in baking dish. Continue until all of the tortillas are gone.

If any ground beef/rice mixture is left, add it on top of the tortillas. Pour jar of salsa on top, all over the tortillas. Finally, add any additional shredded cheese you have left on top.

Bake for 10 minutes, or until cheese is melted and tacos are crispy. Remove from oven and serve.
Check out my Leftover Rice Tacos Web Story!