HEALTHY Cantaloupe Chips! This easy recipe shows you how to make cantaloupe chips with a dehydrator! These naturally sweet chips are such a healthy snack! They're one of the best Summer recipes!
We just bought a food dehydrator and it's changing my life. I can't believe it took me this long to finally get my dehydrating game on!
With a new shiny dehydrator sitting in my kitchen, I have been asking myself the question of "Can *enter vegetable or fruit* be dehydrated?". You name it, I've probably thought of it. Expect lots of dehydrating recipes and experiments in the next few weeks! I can't be stopped!
We had a few cantaloupes sitting out that we grew this Summer. They've just been sitting there, begging for attention. I couldn't decide what to do with them, besides roasting them for my Roasted Cantaloupe Salad. But then a thought came to myself, "Self, why don't you dehydrate these babies?".
You see, I'm kinda obsessed with dried fruit. Dried pineapple is one of my favorite snacks ever. It's one of my snacks I go to whenever I'm hungry. So if pineapple was delicious, then dried cantaloupe had to be as well, right?
Totally. It's delicious. The cantaloupe is so naturally sweet you don't need to add anything. You just cut it into slices, throw it into the dehydrator and out comes leathery crunchy cantaloupe chips. Right now I have a bowl right in front of me. Because of it's sweetness it's the perfect solution to not grab that chocolate bar.
So let's do a cantaloupe dehydrating tutorial!
Grab your cantaloupes and spoon the seeds out.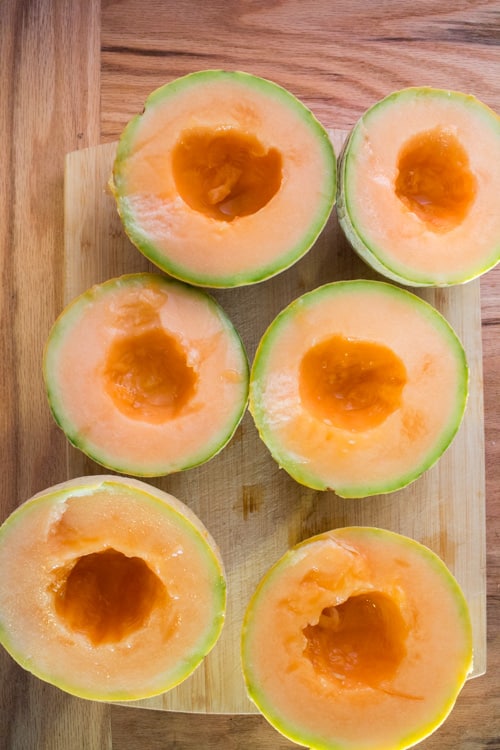 Then you're going to cut them up into 1/2 inch slices. The way I do this is I cut each cantaloupe in half. Then I cut each half into fourths. Then I cut each fourth into slices. It's important to cut them into 1/2 inch slices as if they are bigger they are going to take much longer to dry, but if they are smaller they won't really turn into chips. I'm bad at estimating the first few slices, so I usually grab my handy measuring tape and look at how 1/2 inch looks. This way I know I'm not going too big or too small. I'll just measure the first couple and then I'll be good for the rest.

Then you'll want to organize all your slices on your dehydrating sheets.

And take a minute and admire how pretty this cantaloupe is, because honestly, it's gorgeous!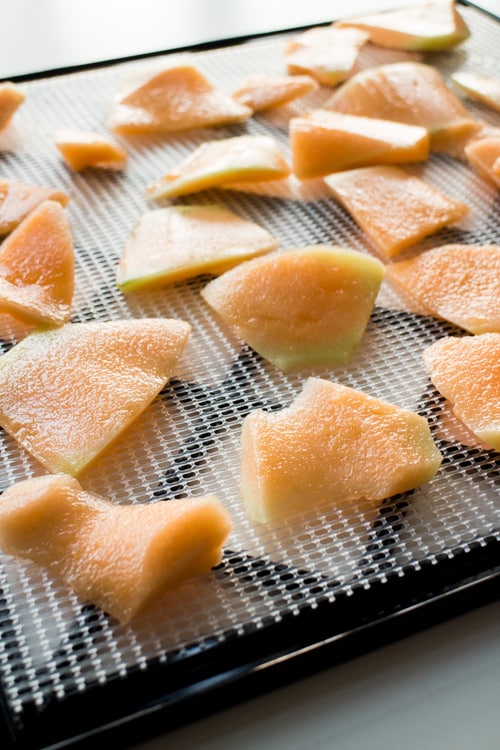 Then into the food dehydrator it goes. I was also drying kale and tomatoes that day. Since cantaloupe is the most juicy I always put on the bottom shelves just in case juice drips from it to other vegetables on the bottom.

Then it gets set to 135 degrees and you'll wait 16-18 hours. During this time the cantaloupe is going to make your house smell amazing. Neighbors will knock on your door to find out, birds will sit outside your window, your cats will be amazed, your husband will stand in the kitchen looking weird. It really is amazing.
By the way, this is the food dehydrator I have, the Excalibur 3900B 9 Tray. It's awesome. The 9 trays are worth it. If you have a garden or want to do a bunch at once, you want extra trays. Trust me!

Around the 16 hour mark I will check on them to see how crispy or how leathery they are. It's really up to when you want to stop depending on how you like them. I like mine a little crisp but still tasting like fruit leather, so I go closer to the 18 hour mark.
And then they come out… look at them!

Seriously, let's ooh and ahhh these together!

Since you've kindly sat through this entire post, I'm even giving you one!

Then I store then in mason jars.

But honestly, they don't last very long with me around. They are uber delicious. Does anyone still use the word uber?

Enjoy your dried cantaloupe, I think you're going to love it!
Want more healthy snack recipes? Try my Apple Chips, Dried Cherry Tomatoes and Spinach Chips.
Pin for later: