Healthy Roasted Cantaloupe Salad recipe made in 30 minutes. It's an easy savory and sweet melon tomato salad! I love this recipe for our garden Summer fruit! This salad is vegetarian, vegan and gluten free.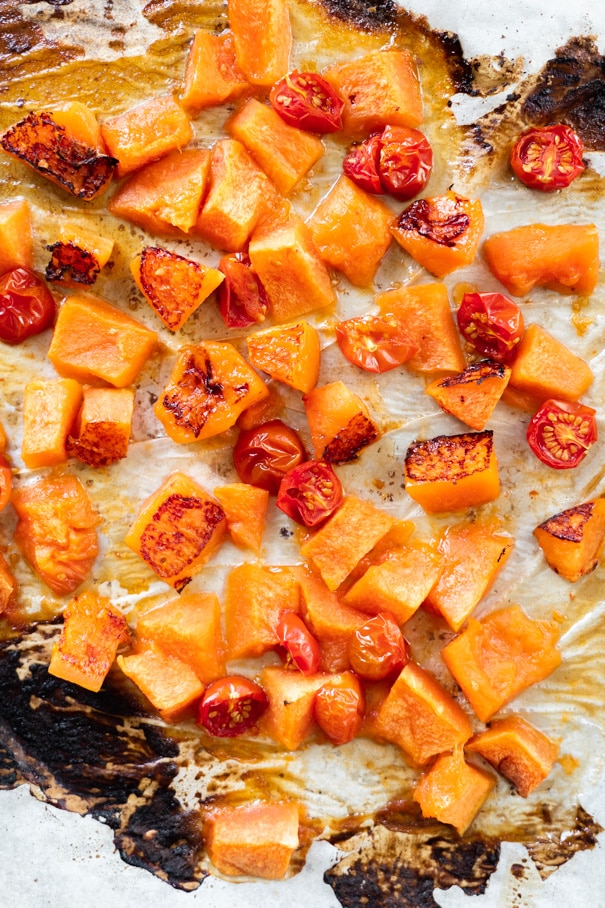 It's Winter but I'm craving Summer food. Maybe it's the cold, or maybe it's the post holiday slump, but I am dreaming of garden fresh fruits and vegetables right now!
It doesn't matter if it's Winter or Summer where you are right now – you want this Roasted Cantaloupe Salad! Since it's Winter in NYC, I'll have to settle for store bought melon and tomatoes, but the greens will still come from our garden!
Come Summer time and this will be a full Summer melon salad from our garden – how's that for hashtag garden to table, right?
Roasted Cantaloupe Salad Recipe
What does this Roasted Cantaloupe Salad have in it?
Cantaloupe
Cherry Tomatoes
Kale
How about that for a fresh salad? How about that for a grow your own lunch?
This cantaloupe salad is going to be ready in 25 minutes, and your home is going to smell like a fruit paradise.
Melon Salad
Cantaloupe is one of my favorite melons and I love that you can eat it savory or sweet. Most people think of cantaloupe as just something you eat fresh, but roasted melon – you guys! It's magical! Cantaloupe is naturally sweet, so it has a natural caramelization to it.
I like to sprinkle some brown sugar on top to really bring out the sweetness (plus it helps my little one like it more! hah). I love the combo of the sweet melon, and savory roasted tomatoes (you know I love my roasted tomato sauce!).
You'll want to arrange the cantaloupe and cherry tomatoes on parchment paper (easy clean up) on a baking sheet and then sprinkle the brown sugar on top. I find that 2 tablespoons does the trick.
If you want to use a alternative to brown sugar, I recommend using pure maple syrup.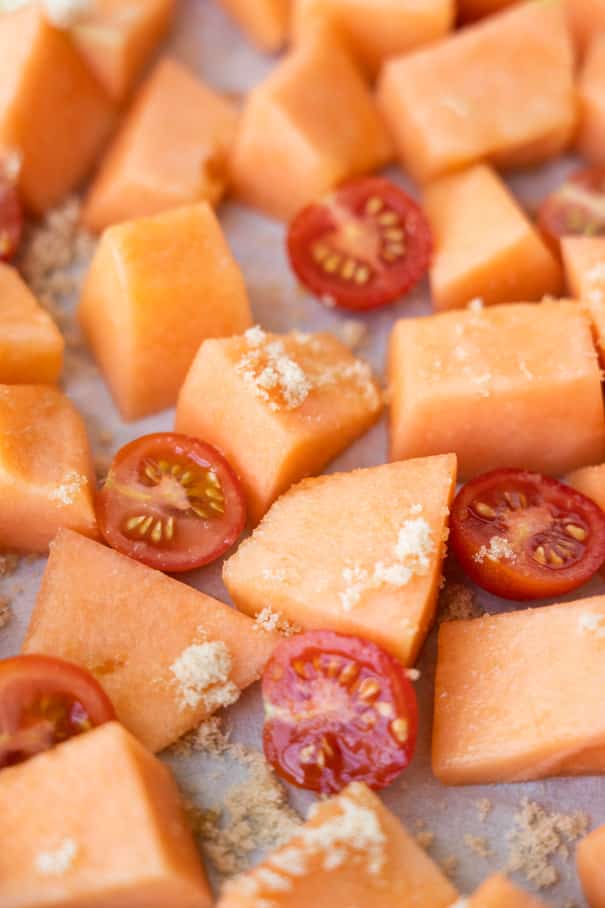 Roast the cantaloupe at 425 degrees for 25 minutes, or until it's soft. And then out of this oven comes this beauty….!


Serve it on some fresh greens, spinach or kale – it's your choice! I don't use a dressing, but instead use a spoon and drizzle some of the liquid that will be present on the pan with the cantaloupe. It's so good!

How else can you eat this roasted cantaloupe?
Not craving a salad, that's ok. Are you looking for breakfast? Then serve this on top of some oatmeal. Looking for dessert? Serve it on top of a warm piece of pie or some vanilla ice cream!
Can you freeze cantaloupe?
Maybe you'll have a big cantaloupe and this recipe won't use the entire thing. Don't worry – you can freeze it. I like to cut my cantaloupe up into bite size pieces and then put in a freezer bag. I portion them into 1-2 cup servings, as I often use 1 cup for smoothies. Now months down the road when I'm craving a cantaloupe smoothie, I can pull out my frozen cantaloupe and use it!
How can you get kids to eat cantaloupe?
The first time I tried to get Enceladus to eat raw cantaloupe – she was like NOPE! She literally say NOPE! I was like Girl, you don't know what you're missing, and then I proceeded to eat all her cantaloupe (you snooze you loose kid).
But I want her to love all fruits and vegetables so it was time to get creative. After I roasted this cantaloupe, I grabbed a fork and a bowl and sat on the couch. Then you wait for them… kids, that is. They always come around when Mom is eating on the couch. "MMMM!" I said, "this cantaloupe is delicious"!
The rest was history. She wanted a bite. She loved it. And now she's having roasted cantaloupe for breakfast and a snack!
Looking for more cantaloupe recipes? Try my cantaloupe chips!
Pin for later:

Roasted Cantaloupe Salad
Print
Healthy Roasted Cantaloupe Salad recipe made in 30 minutes. It's an easy savory and sweet melon tomato salad! I love this recipe for our garden Summer fruit! This salad is vegetarian, vegan and gluten free.
Prep Time: 5 minutes
Cook Time: 25 minutes
Total Time 30 minutes
Ingredients
1 small cantaloupe (about 4-5 cup) cubed
1/2 cup cherry tomatoes halved
greens of your choice - kale or spinach
Instructions
Preheat oven to 425 degrees. Place parchment paper on top of baking sheet. Add cantaloupe and cherry tomatoes.

Bake for 25 minutes or until cantaloupe is soft. Remove from oven.

Place greens on plate and then add cantaloupe and tomatoes on top. I love drizzling the liquid in the pan that the cantaloupe produced over the salad.
Notes
What else can you do with roasted cantaloupe? Add on top of oatmeal for breakfast or ice cream for dessert!