Super soft homemade pretzel rolls with buttery salty crust recipe. Follow my easy step-by-step photos to make your own buns from scratch.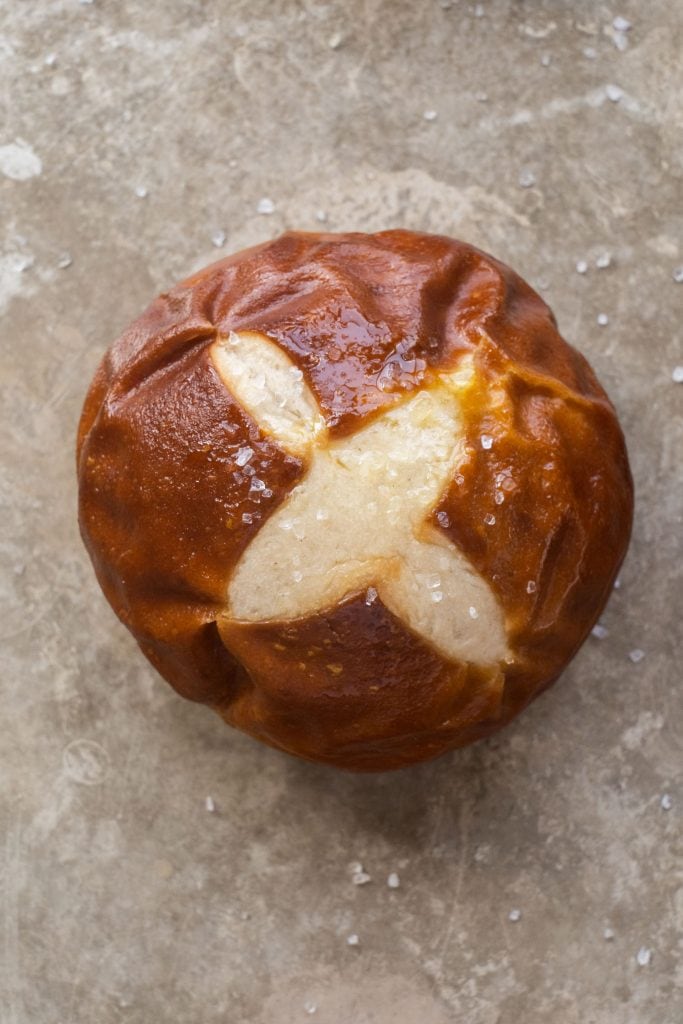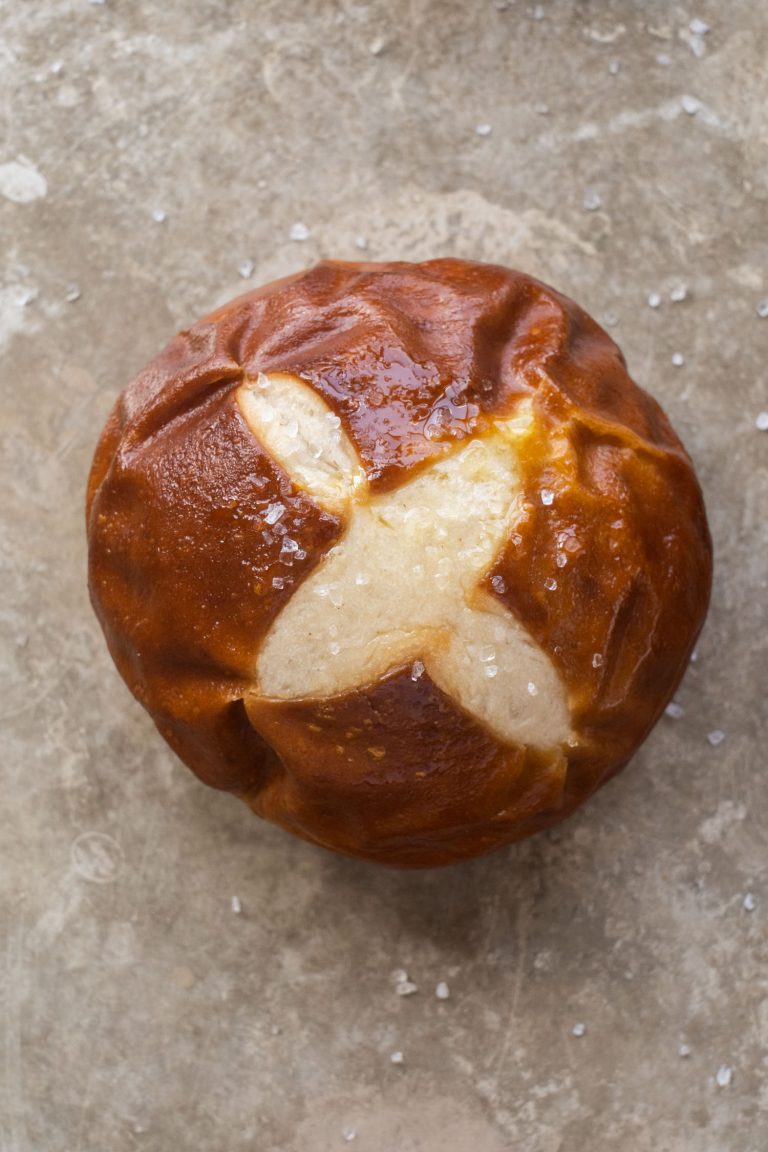 Why You'll Love These Soft Pretzel Rolls:
Oh baby, baby, you're going to looooove these pretzel rolls. They're soft inside, they have a buttery salty top, and they are DELICIOUS. Good luck just eating one of these….. good luck!
Sometimes homemade from scratch rolls like these can be intimidating to make, but let me just say they're pretty easy to make, for both beginners and more experienced bread makers.
You don't need any fancy equipment or ingredients, in fact I can almost guarantee you already have all the ingredients in your kitchen (milk, butter, brown sugar, yeast, salt, flour, water and baking soda).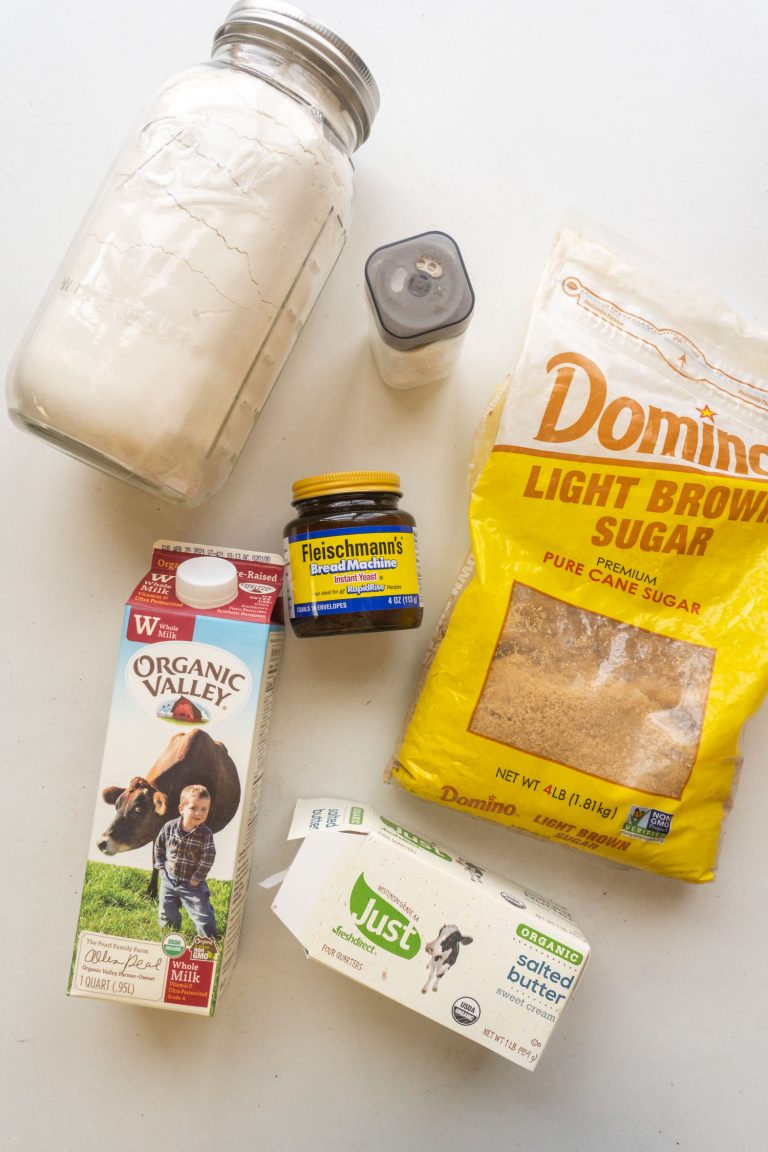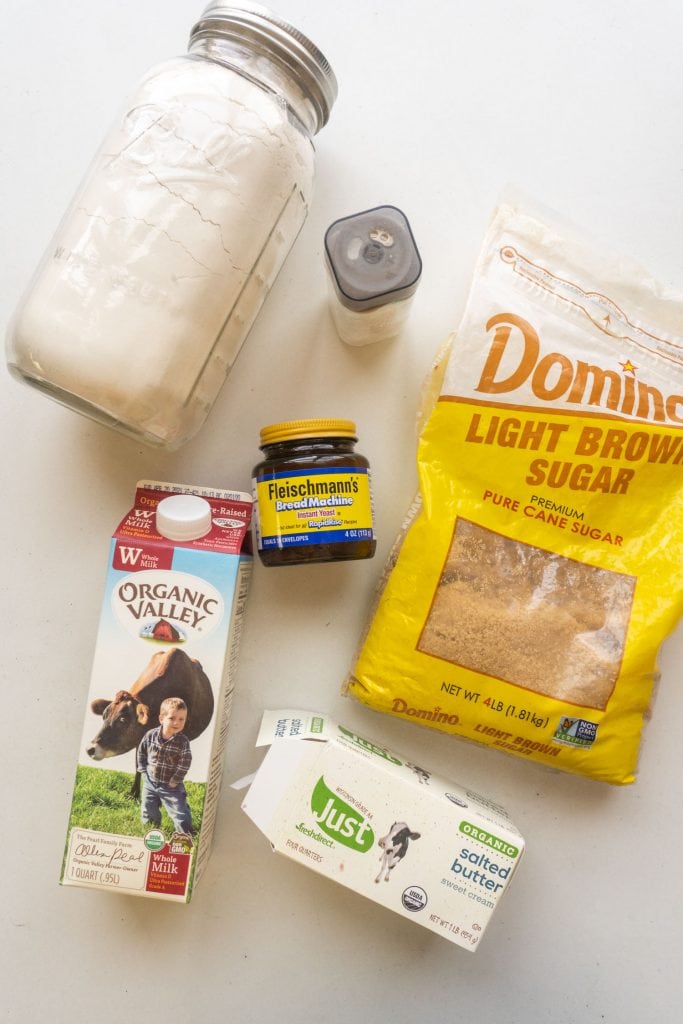 This post is a little picture heavy because I wanted to show step-by-step directions so you can easily make your own rolls from scratch! I hope you love them as much as my family does!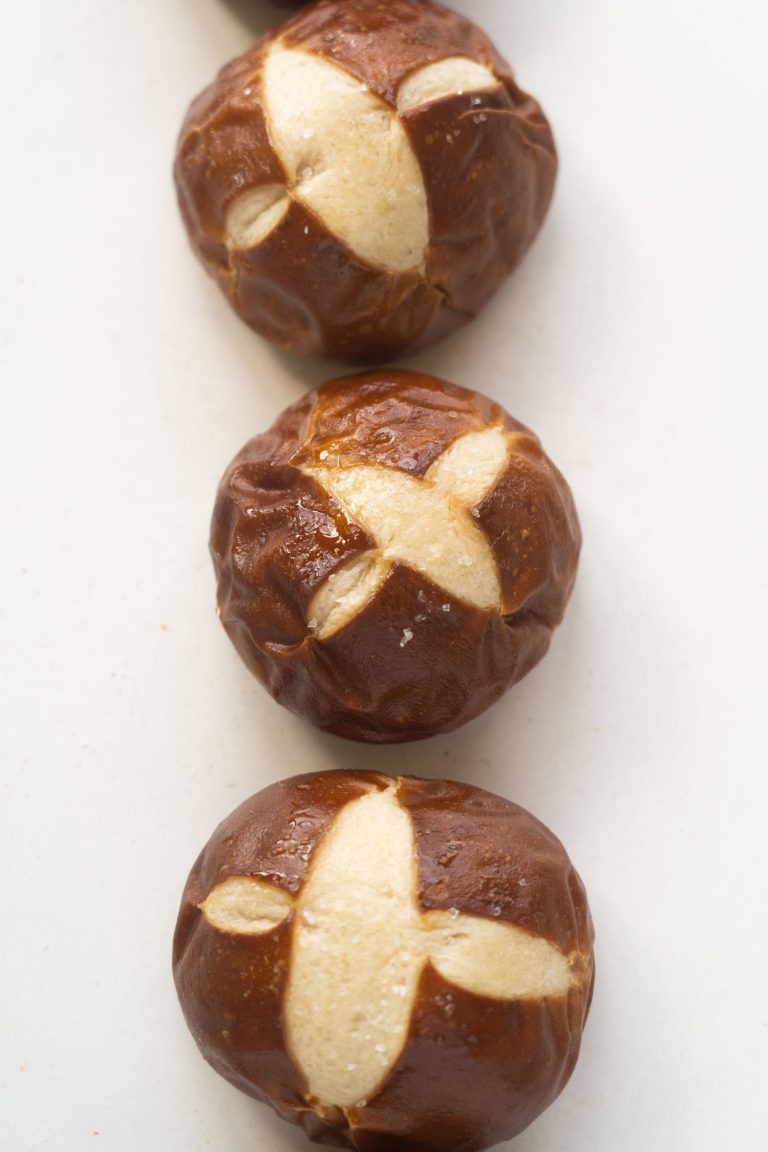 Step by Step Directions:
You'll need warmed up milk and softened butter for this recipe, so I find the best way to do this is to microwave them together.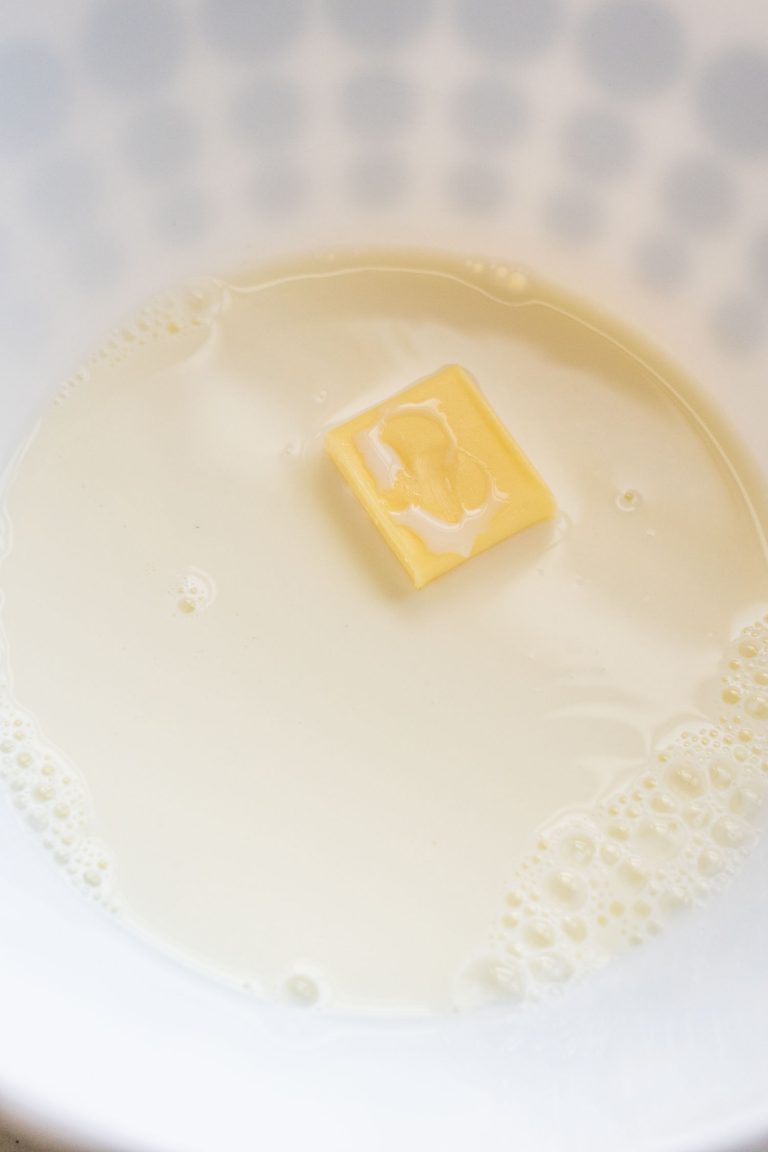 Heat the milk and butter in microwave for 30 seconds. The butter will not be completely melted which is what we want.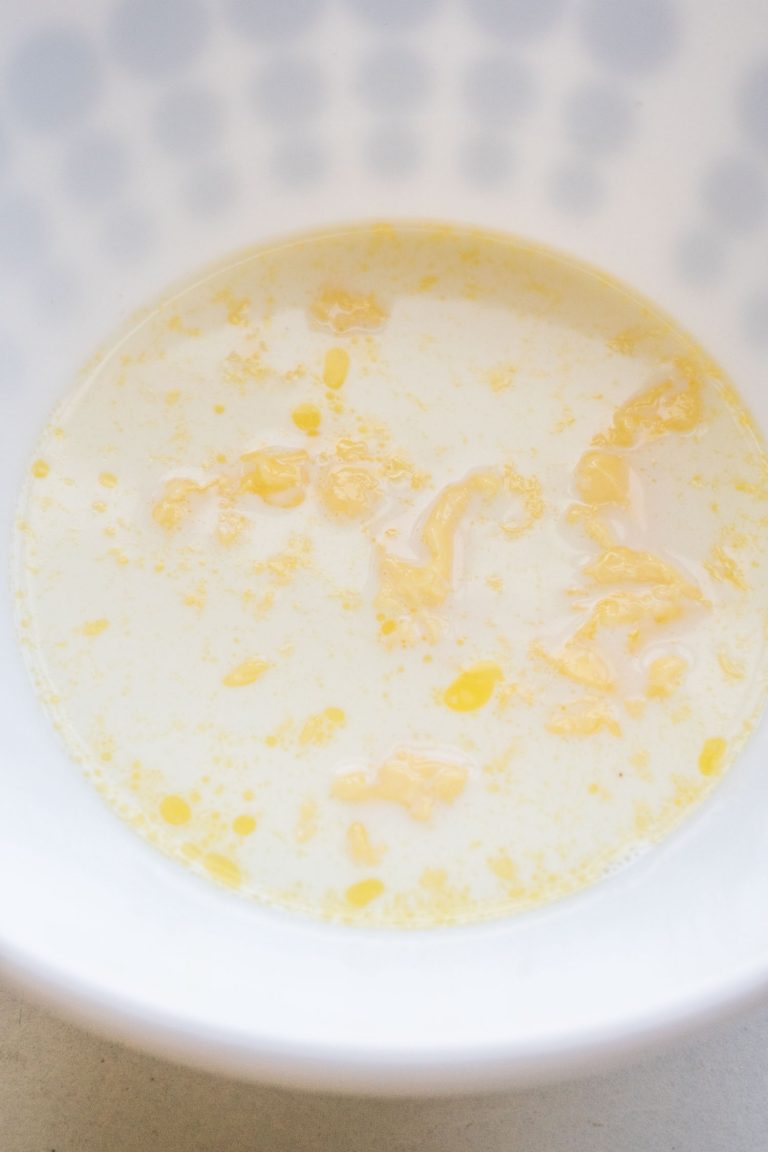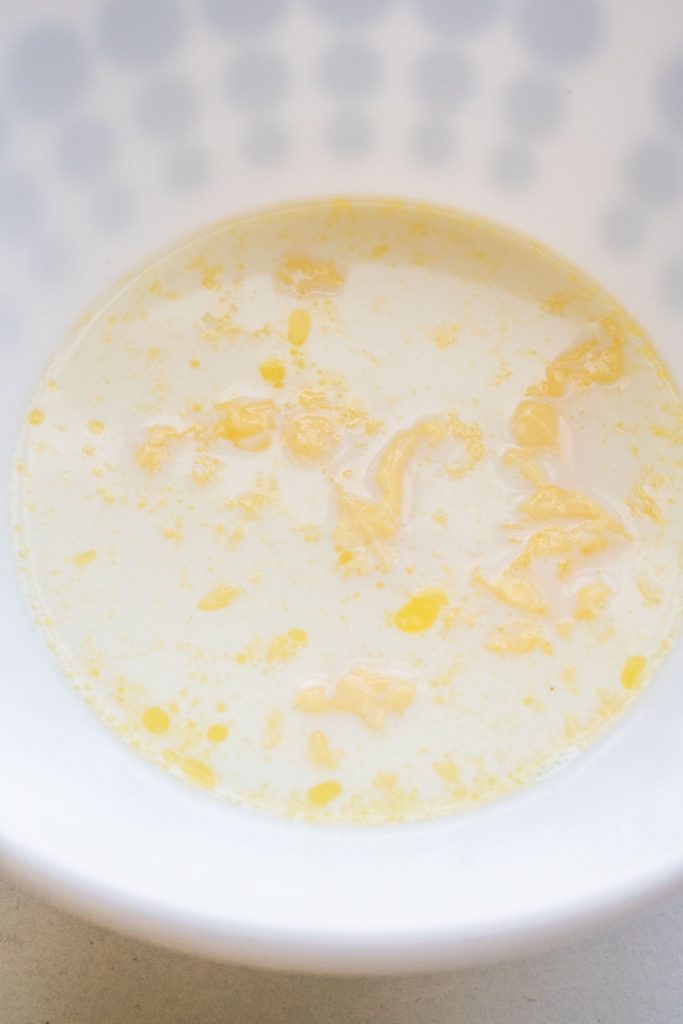 Add brown sugar and yeast into the milk mixture, mixing to combine.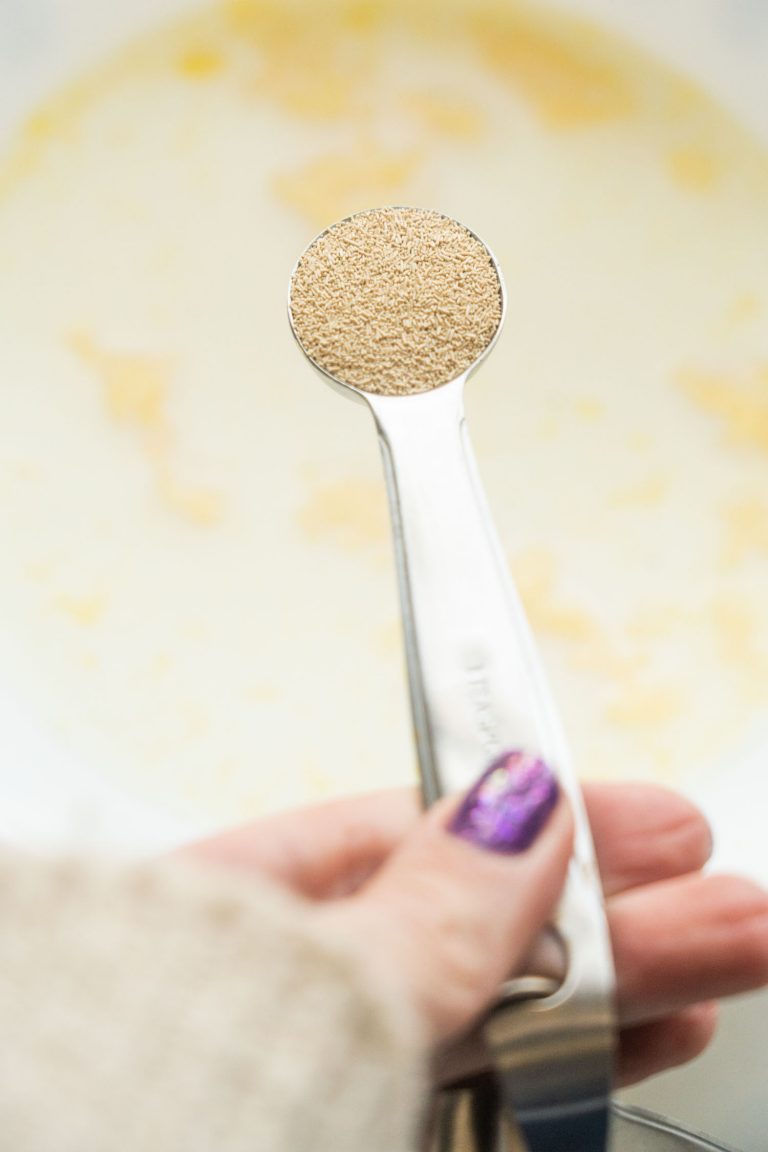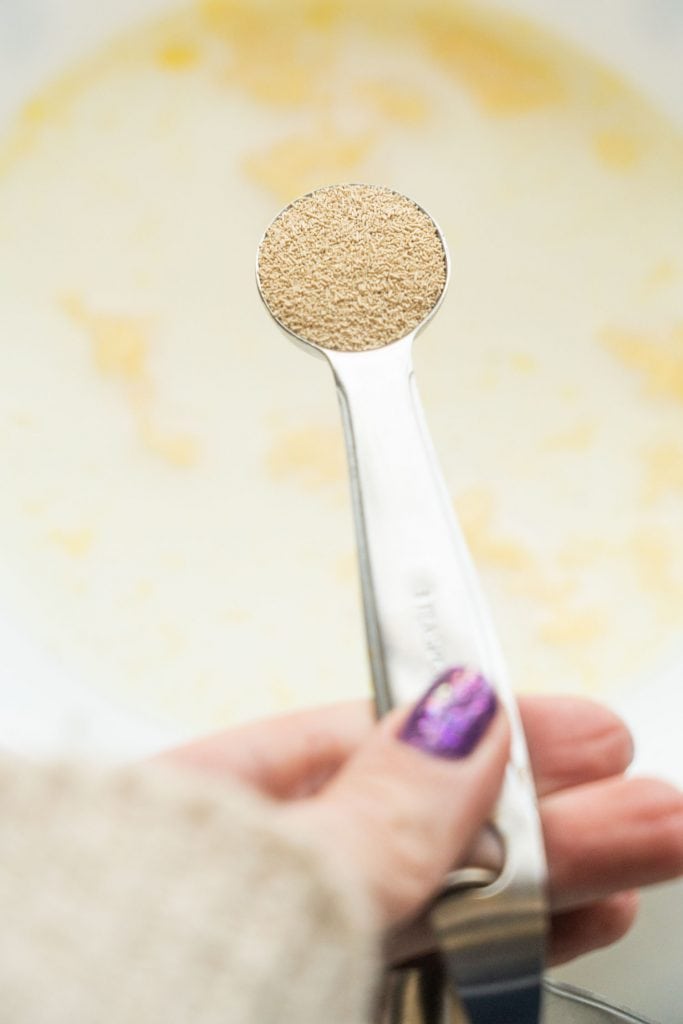 Now add in 2 cups of flour, using a electric hand mixer to combine. Gradually add the remaining cup of flour in, stirring with a spoon. If the dough is too sticky you can add a little bit more flour.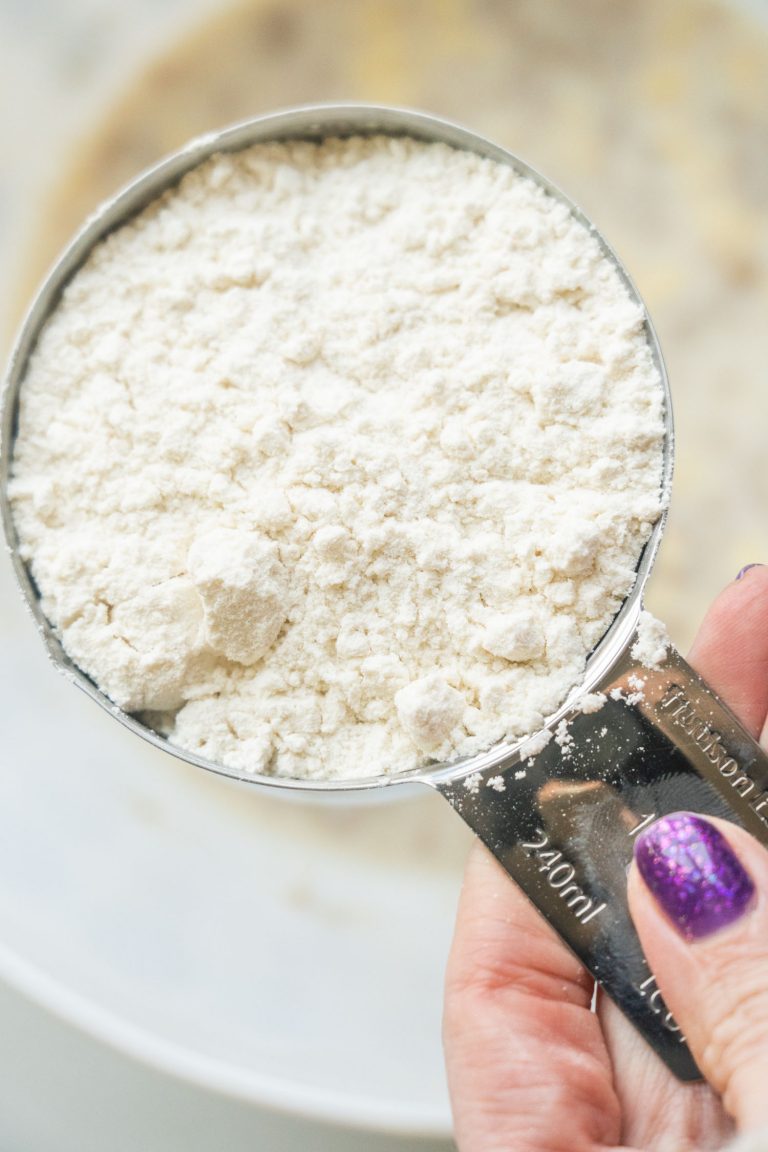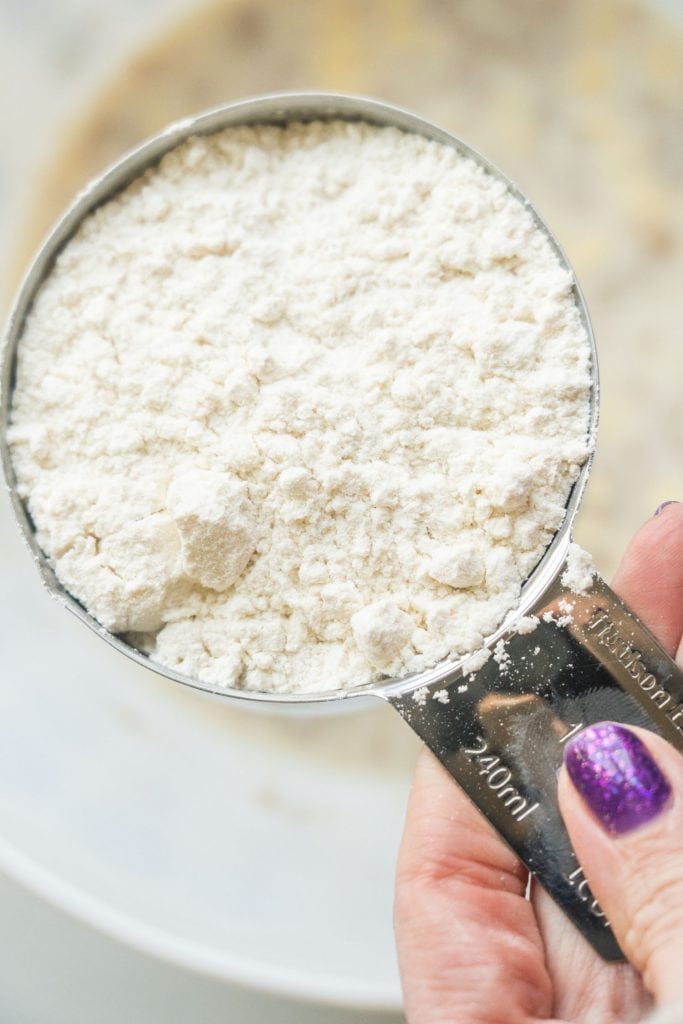 Place dough on floured surface (like your counter top) and knead, forming into a ball.
Grease a bowl and add the dough ball into it. Cover and allow to rise for about 1 hour or until it doubles in size. I like to use a warm oven for this on "bread proof" mode.
And now it's doubled in size (this always makes me happy to see!).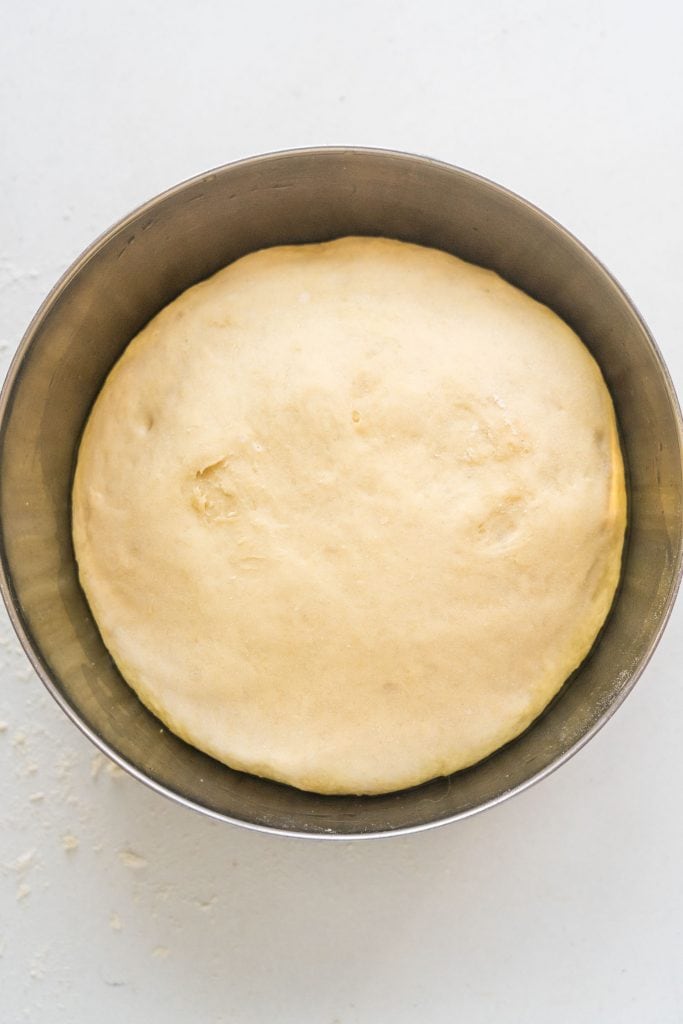 Punch down dough and rip into 8 pieces.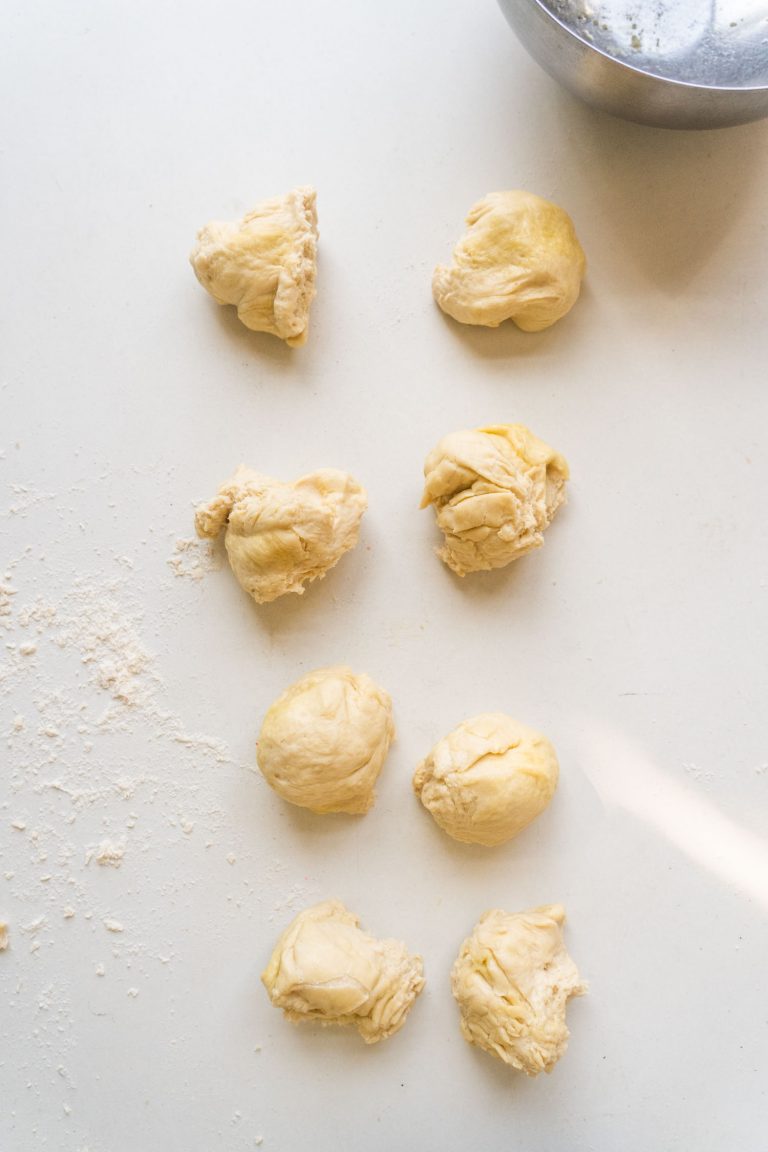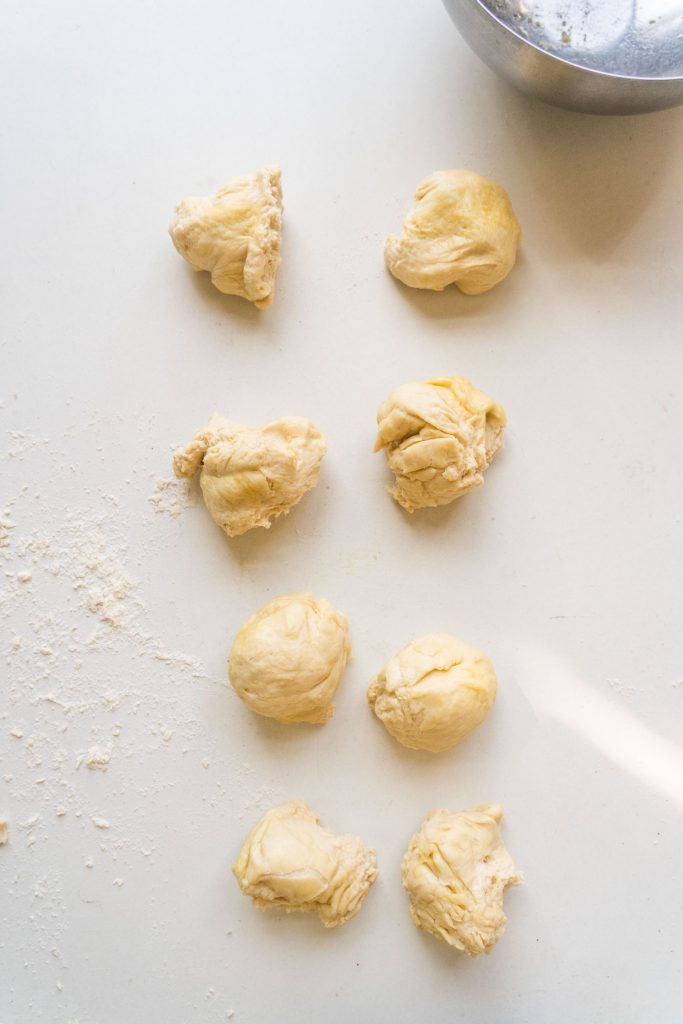 Form into balls (mine are never close to perfect).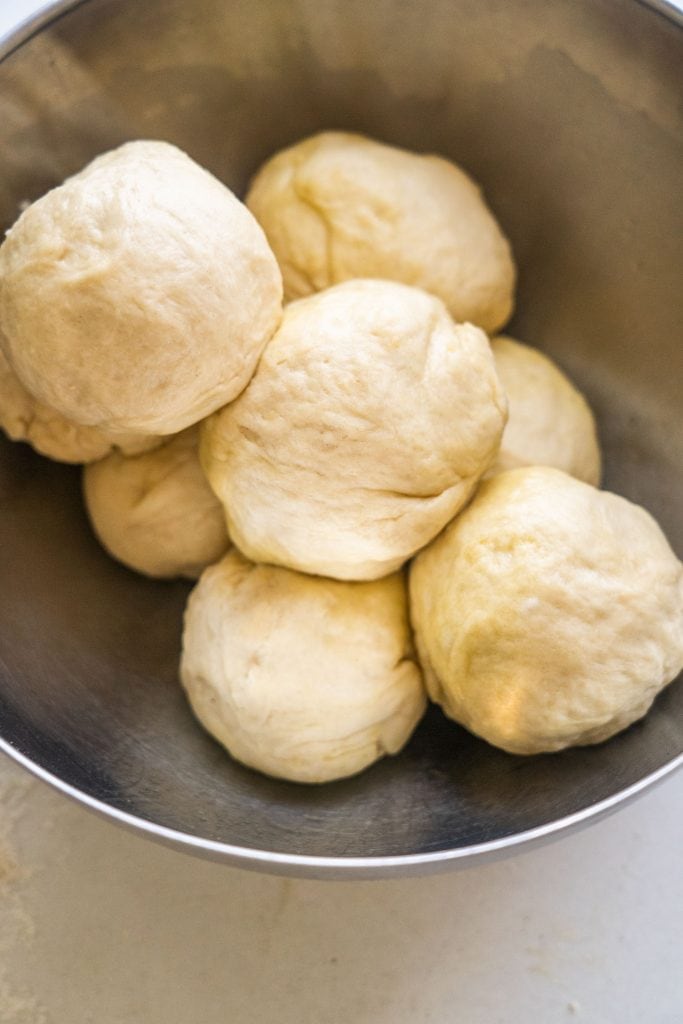 And now it's time to move on to the baking soda bath portion of this recipe!
Baking Soda Bath:
Before you bake the rolls you'll need to put them in a baking soda bath. By doing this you're going to give the pretzel rolls their brown shiny crust as well as their distinctive pretzel flavor.
Bring to a boil 12 cups of water with 3/4 cup baking soda, add the dough balls for 1 minute and then remove with a slotted spoon. Be careful not to overcook the dough.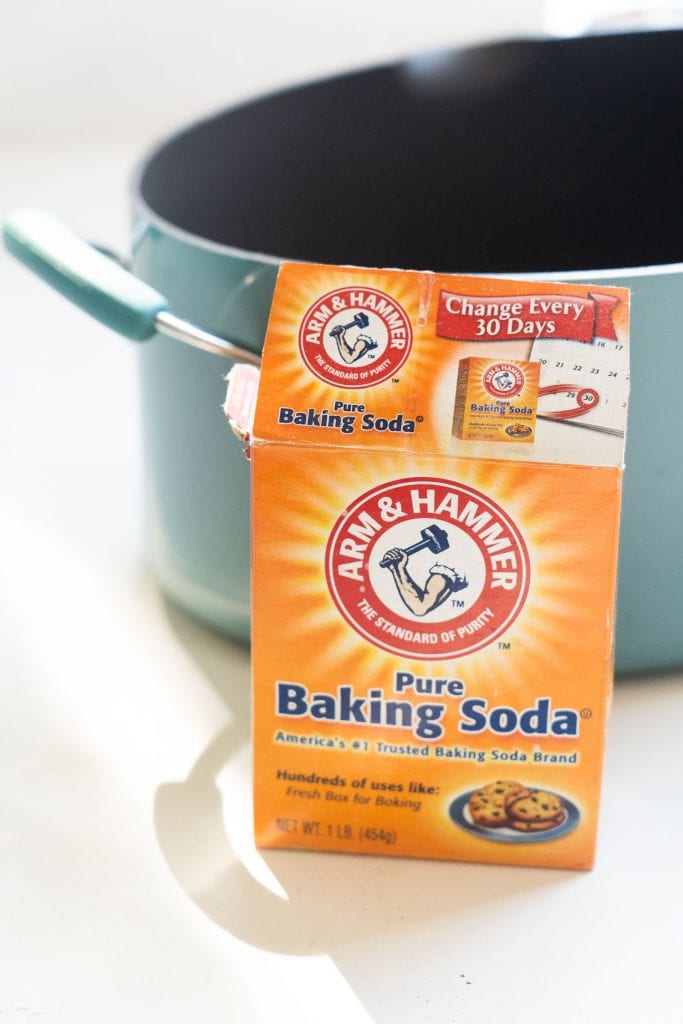 Add Butter and Salt:
Place rolls on a baking sheet (these are my favorite ones) and cut an X on the top of each one (make sure to use a sharp knife).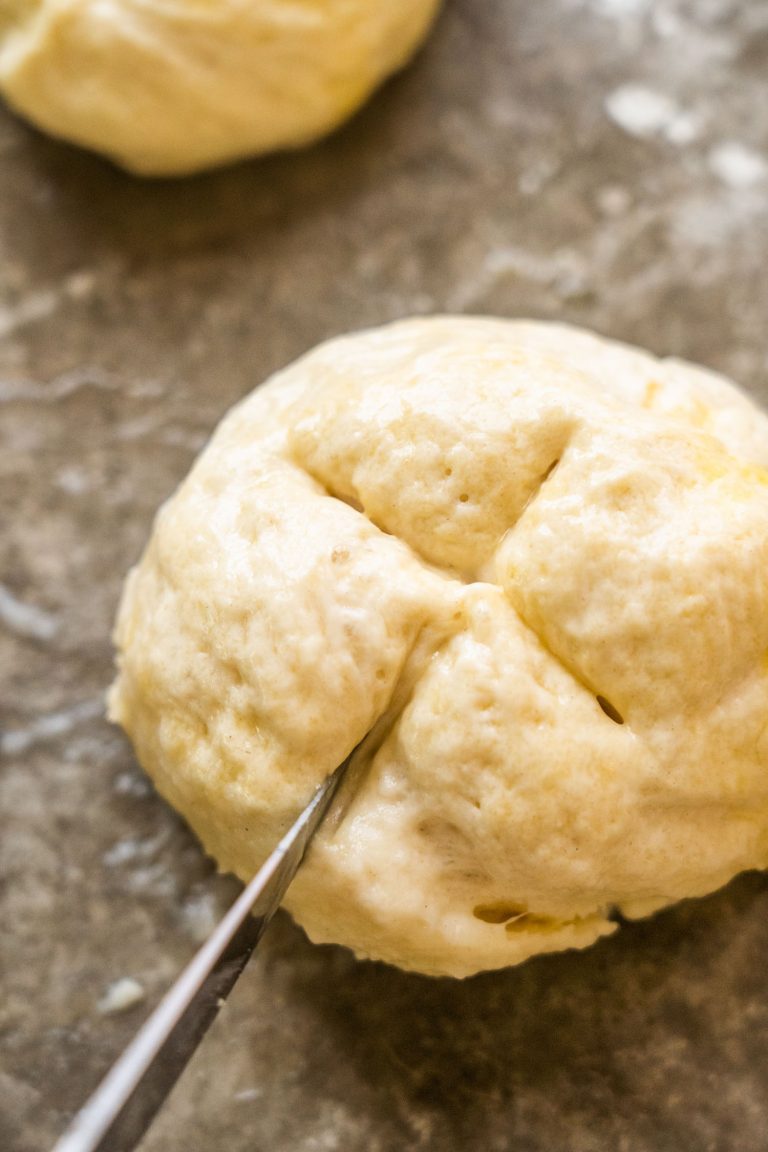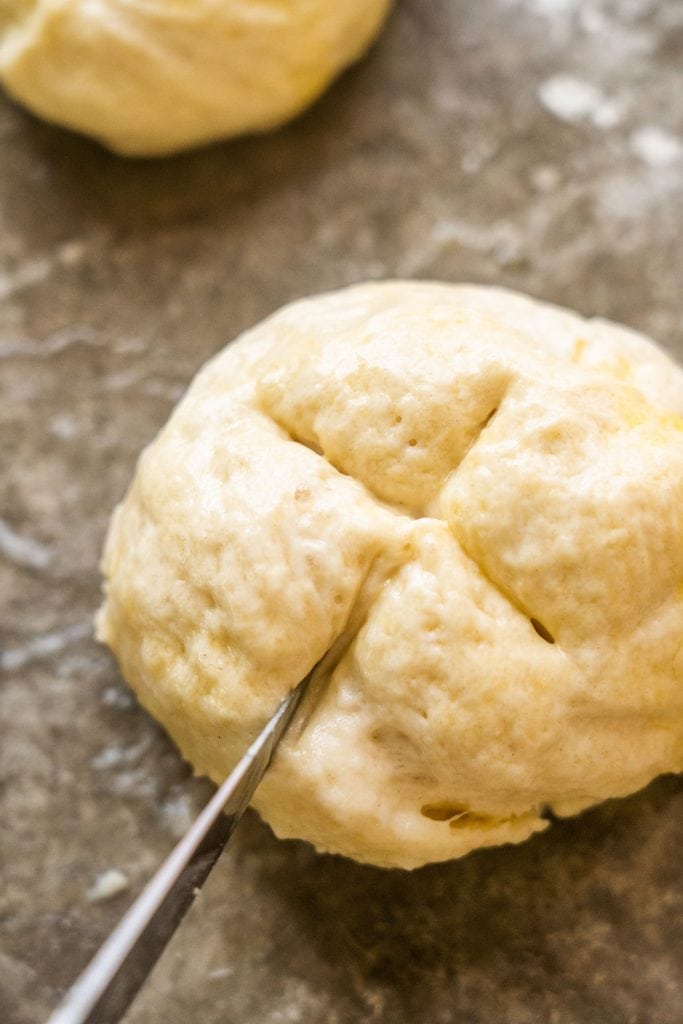 Brush with butter and then sprinkle with coarse sea salt.
Bake for around 20 minutes or until they are golden brown.
Remove from the oven, marvel at these gorgeous pretzel rolls you made and enjoy!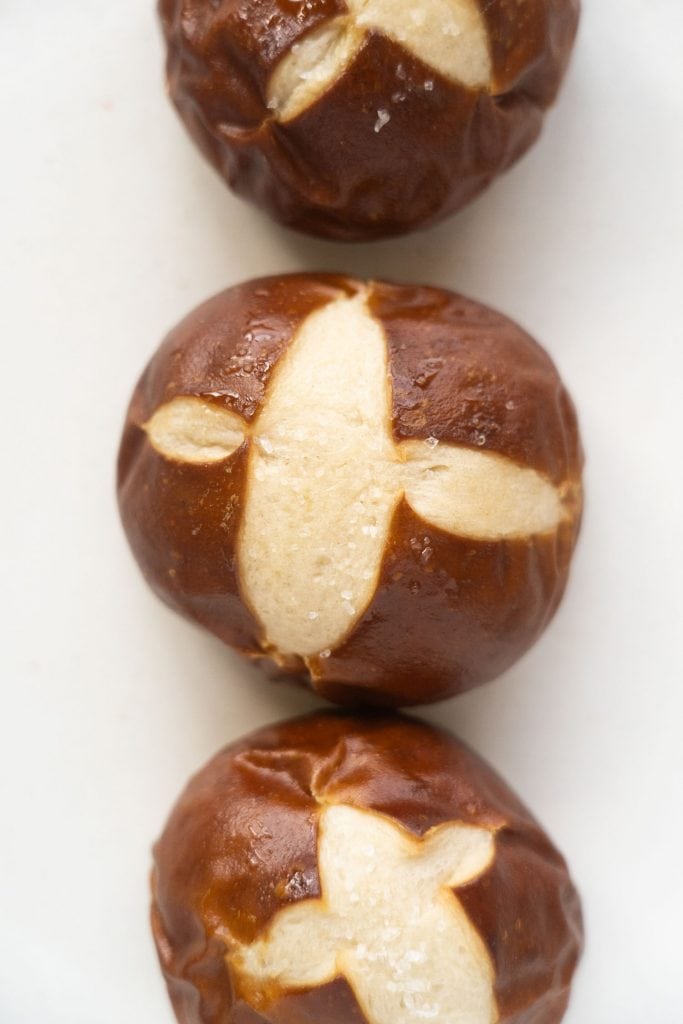 What can I do with pretzel buns?
Add a little extra butter on top and throw immediately into your mouth. (that's my favorite way to eat them!)
Cut them open and turn them into sandwiches.
Serve with your favorite dinner meal, like Homemade Meatloaf or Chicken Noodle Soup.
Can I freeze pretzel rolls?
Yes, you can freeze these rolls up to 4 months and they will taste just as delicious and fresh as when you originally made them. I place them in freezer bags which are easy for grabbing a couple at a time.
To heat them up, you can throw them in the microwave or bake at 350 degrees F for 20 minutes.
Other Bread Recipes:
Moist Buttermilk Cornbread
Easy Ciabatta Bread
Bread Machine White Bread
Fluffy Bread Machine Rolls
Pumpkin Dinner Rolls
Amish Cinnamon Bread
Bread Machine Sweet Hawaiian Rolls
Pin for later:


Homemade Pretzel Rolls
Print
Super soft homemade pretzel rolls with buttery salty crust recipe. Follow my easy step by step photos to make your own buns from scratch.
Prep Time: 1 hour 30 minutes
Cook Time: 20 minutes
Total Time 1 hour 50 minutes
Ingredients
Dough:
1 cup milk
2 tablespoons butter
2 tablespoons brown sugar
1 package active dry or rapid-rise yeast equals 2 1/4 teaspoons
2 teaspoons salt
3 cups all-purpose flour
Baking Soda Bath:
12 cups water
3/4 cup baking soda
For Crusty Top:
1 tablespoon butter melted
coarse sea salt
Instructions
Place milk and butter in a microwave safe bowl and heat for 30 seconds to melt the butter slightly and warm up the milk. The butter will not be completely melted.

Add brown sugar and yeast to milk bowl and mix to combine.

Add salt and 2 cups of all-purpose flour and use a hand mixer to beat for 30 seconds to fully combine the ingredients. Gradually add in the remaining 1 cup of flour to make a soft dough, using a wooden spoon to mix. If the dough is too sticky to touch, you can add an additional 1/4 – 1/2 cup of flour.

Remove dough from the bowl and knead on a floured surface with your hands for 5 minutes and then shape into a ball.

Place dough in a greased bowl, cover and let rise for 1 hour, or until doubled in size. I love to use my "bread proof" option in my oven for a warm environment.

Punch down dough and divide into 8 pieces, rolling into balls.

Preheat oven to 400 degrees F.

In a large pot add baking soda bath ingredients, water and baking soda, and bring to a boil. Add pretzel dough balls into boiling water for 1 minute. Use a slotted spoon and remove the dough balls from water.

Place buns on a baking sheet that's been lined with parchment paper or a silicone baking mat. Cut a cross into the top of each bun using a sharp knife.

Brush each bun with melted butter and sprinkle with coarse sea salt.

Bake in the oven for 20-22 minutes or until golden brown. Remove from oven and allow to cool down before eating them all. 🙂