DELICIOUS CROCK POT Corned Beef Brisket with Vegetables recipe! This slow cooker recipe cooks a 4 pound corned beef brisket with cabbage, carrots, potatoes and onion to create a amazing dinner! Use the leftovers the next day for the best BBQ sandwiches!
When it was my first time buying brisket many years ago, I didn't know where to look for it at – with the meats on the shelf? Behind a refrigerated door?Is it at the meat counter? And what does it look like? I had no idea. So after a google image search and phone in hand, there I found it in the meat department on the top shelf all the way to the left.
My first thought- yikes, that is expensive.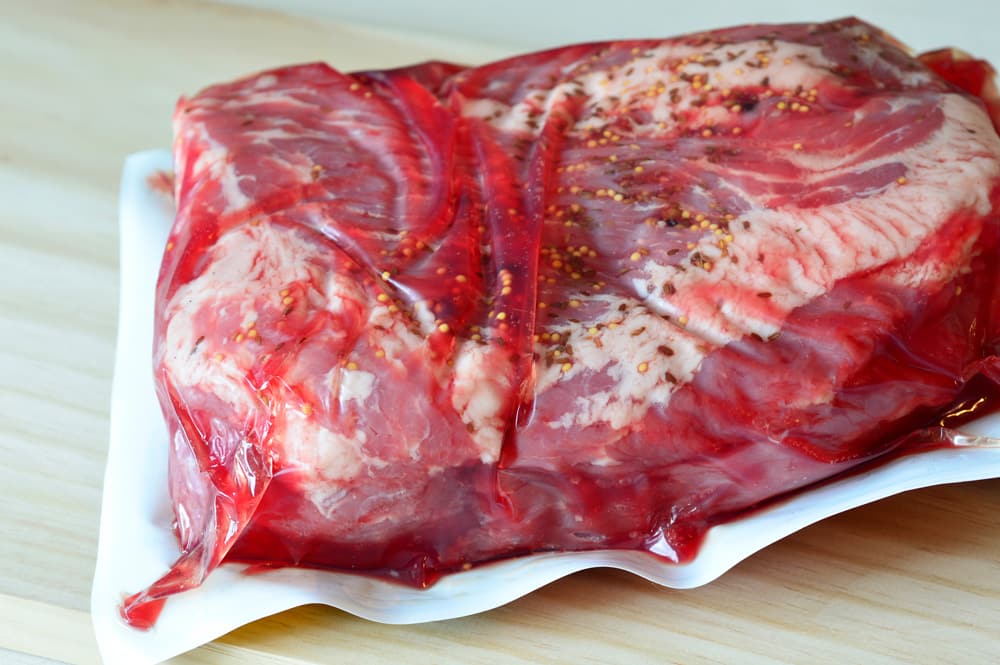 My second thought – they had point cut and flat cut. What is the difference? Again… to Google I went in the meat department. Point cut has more fat content but is more tastier. Flat cut is less fat, less tender. Also to note Flat cut is about twice the price (twice the yikes).
Best type of meat for Brisket
So when I saw a reviewer saying "If you want taste, go with the Point Cut" that was it. I wanted the flavor and texture, I wasn't about to take that away for less fat. If this is a special meal you have a few times a year, do the point cut – just do it.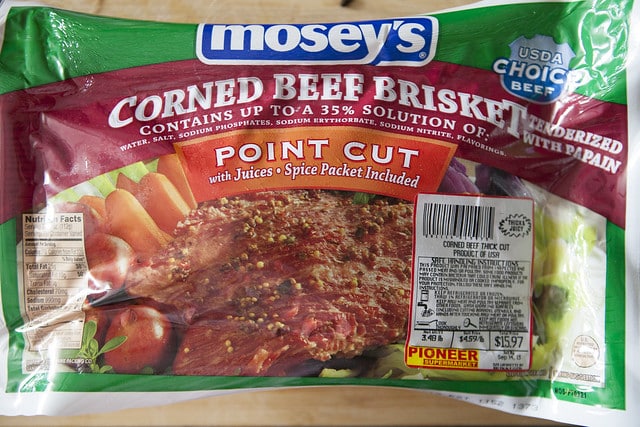 Here's something else that I didn't know, Corned Beef Brisket comes with a flavor packet. Again, I was prepared because I read about this online, but still confused. What's in the seasoning packet?
Ingredients are usually peppercorns, coriander, mustard seeds, cloves, cinnamon, bay leaves, ginger, cloves, salt. It's very similar to pickling spices. So if by chance your meat doesn't come with a seasoning packet, you can easily make your own.
Here are some other great things about this recipe:
It's a slow cooker recipe, and I love my crock pot. Magic meals are made in the crock pot.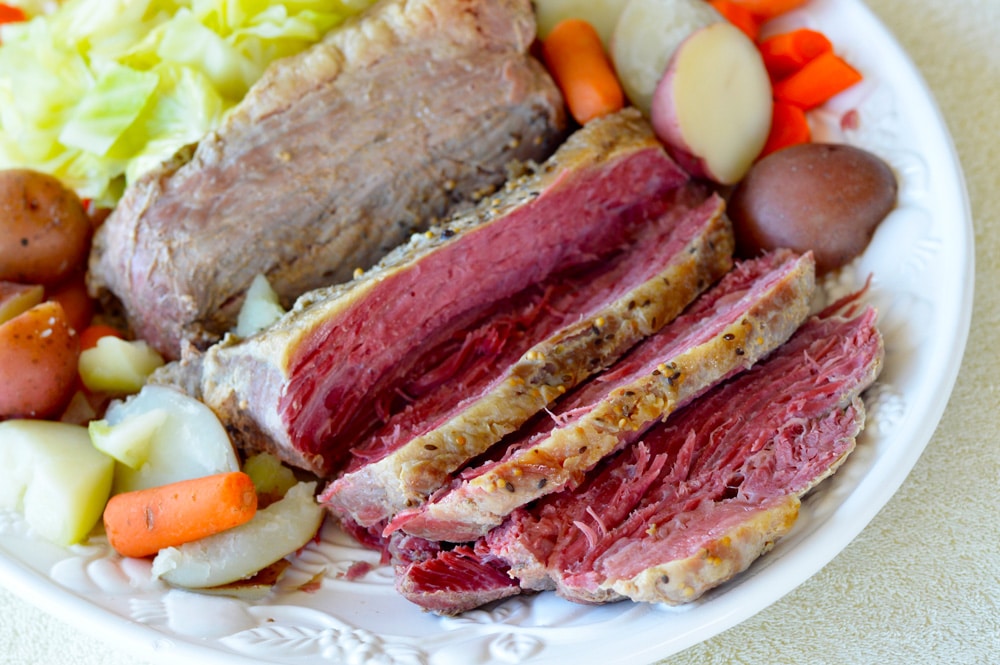 This meat is more on the expensive (or maybe I'm just cheap), but you can easily get multiple meals out of if you are just cooking for 2. We got 3 meals out of it. In fact, the next night we put this beef brisket sliced up on sandwiches and it was delicious! With a piece of melted cheese and multiple pickle slices, it was perfection!
Not only do you use the slow cooker to make the meat, but you use it for all your vegetables too. And there's alot of vegetables! So your whole entire meal is made in the slow cooker. More magic, right?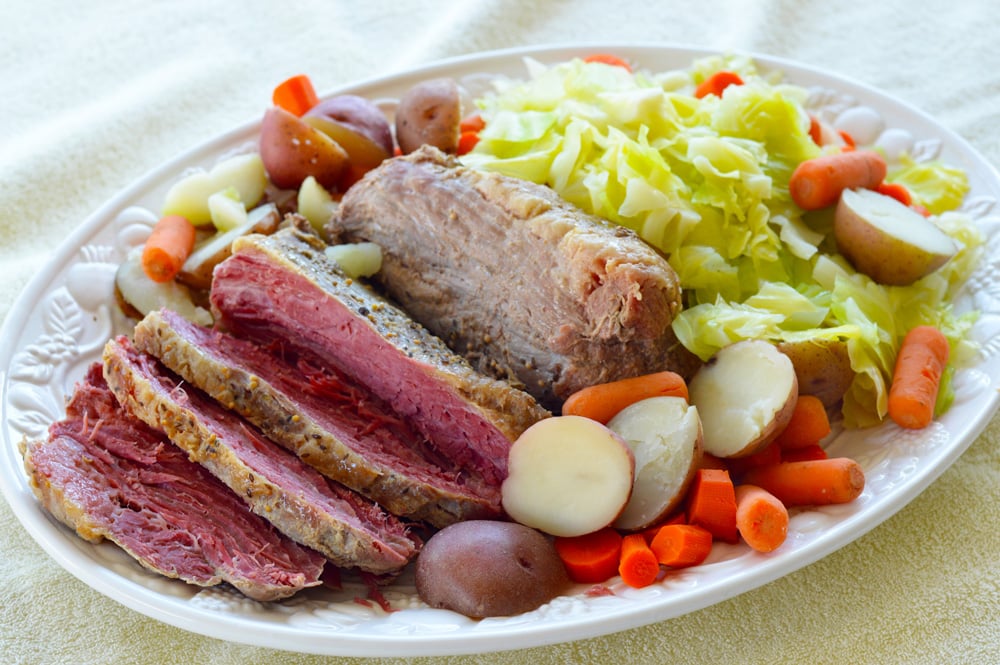 Corned Beef Brisket is almost always served with cabbage and carrots. And my, oh my, they are delicious!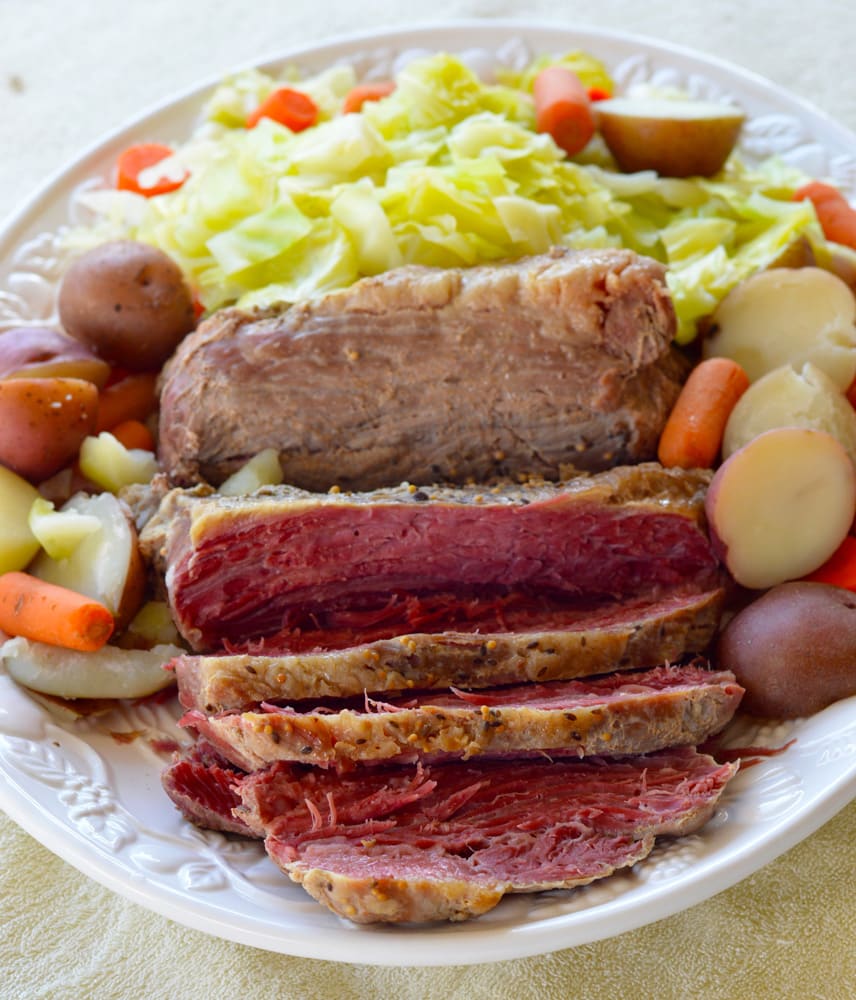 Time to make Crock Pot Corned Beef Brisket with Vegetables!
On a personal note I was pretty happy with all the vegetables in this recipe because every single one came from our garden and that's the best feeling in the world.


Here are our pretty carrots. Gorgeous aren't they?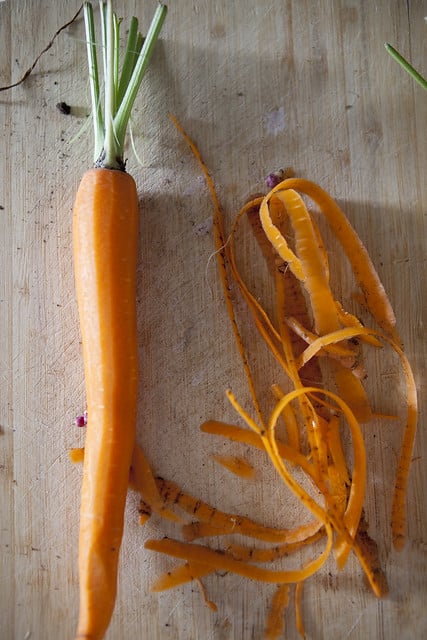 You want to peel your carrot beauties.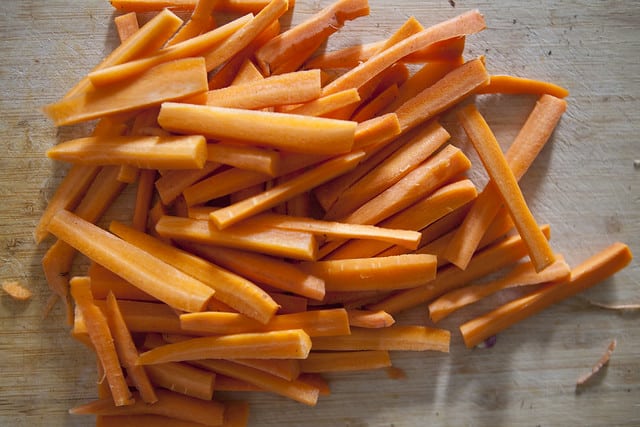 Then julienne them by cutting them up into matchstick sizes.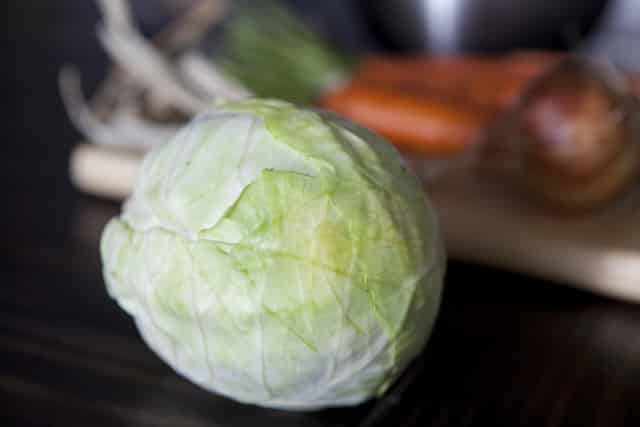 Hi beautiful cabbage. I grew you. *tickles its belly*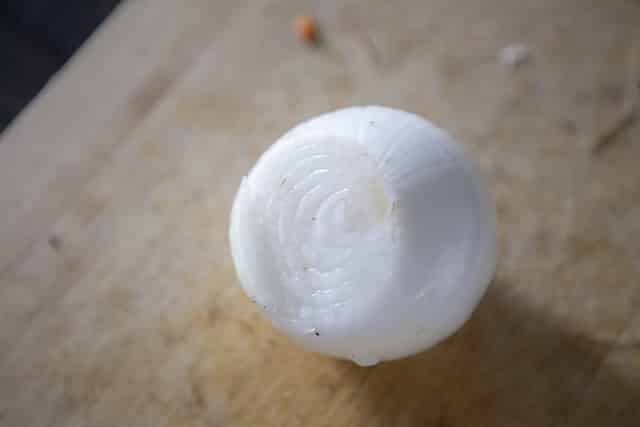 Hi pretty onion. I usually don't eat you but you won me over in this recipe.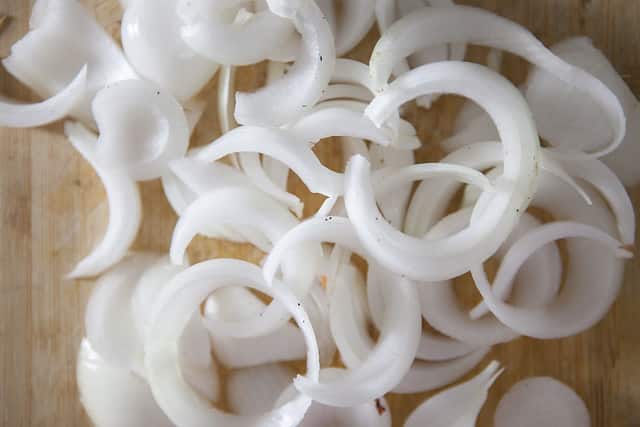 You were delicious! And gorgeous!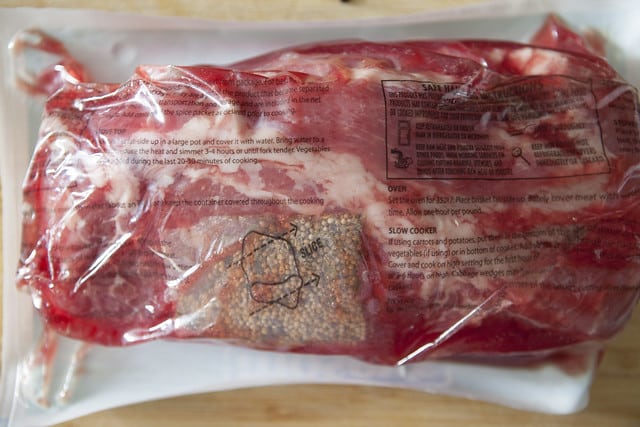 Here is the Brisket with that little seasoning packet I was telling you about.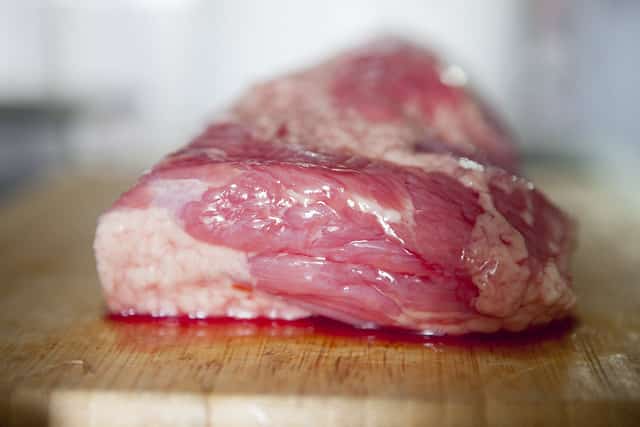 You are one beautiful piece of meat. Seriously.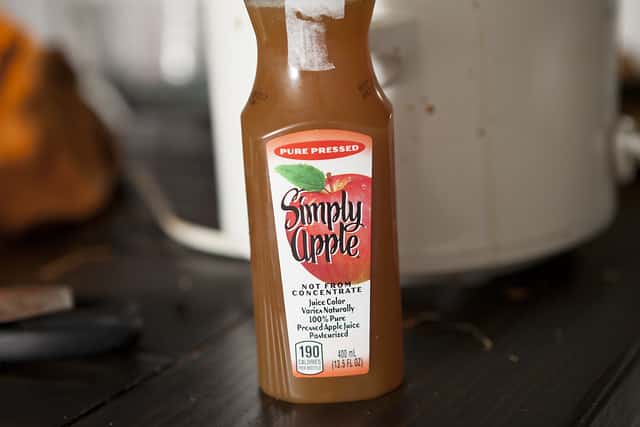 Many Brisket recipes use beer, but not this one. I use apple juice and it really makes a great brine. I am thinking of making a Apple Brine for our Thanksgiving turkey – doesn't that sound amazing?

The spice packet gets sprinked on top. Something I want to note here is this is a full slow cooker. I had to literally squeeze and rearrange multiple times to make everything fit. If you can't make it fit, you can leave out a few vegetables and throw them in later if you want.
You are going to cook it for 7 hours TOTAL.
At the 3 hour mark, you will add in your carrots. This will make sure they don't get too mushy.
With 1 hour left, you will add your cabbage. This will make sure the cabbage is perfect and crisp.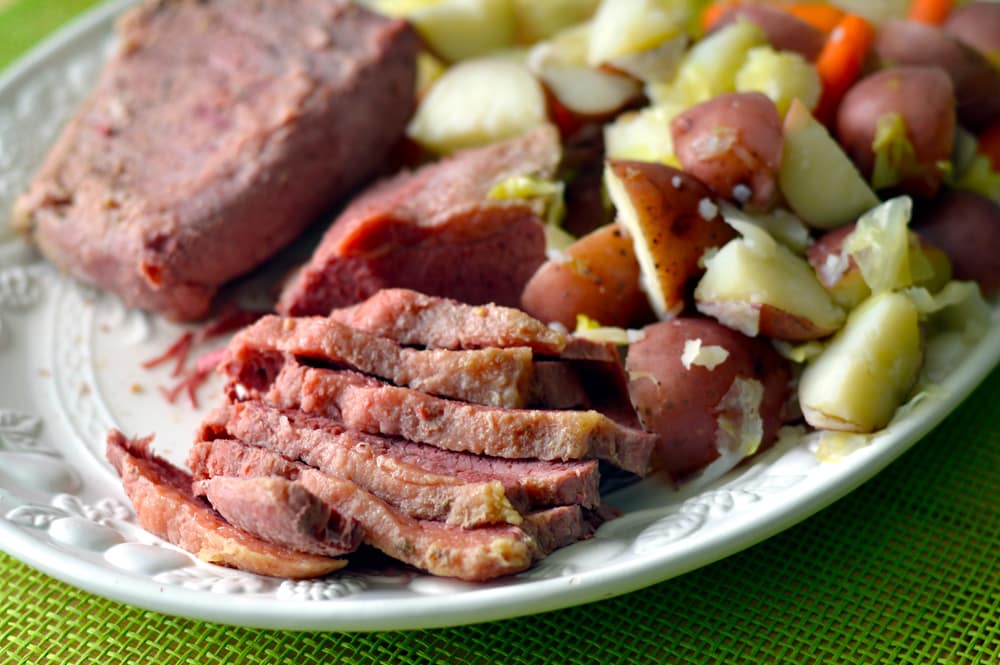 And when the Corned Beef Brisket is done.. oh my! Do you know how good this will make your home smell? The meat is perfect, it's full of flavor and so moist. I could just eat the entire thing! You're going to love this Crock Pot Corned Beef Brisket with Vegetables dinner! Make sure to serve with Irish Colcannon! Enjoy!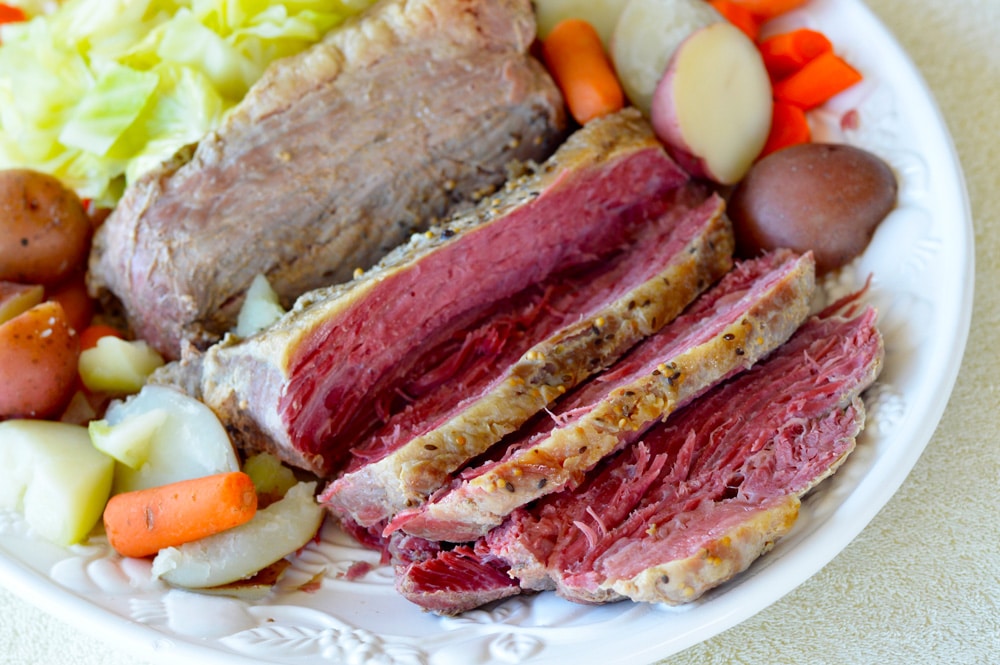 And let's talk about the leftovers! The next day, chop up the brisket, throw some barbecue sauce on top, heat up and mix around. Then add some pickle slices on top! Oh goodness!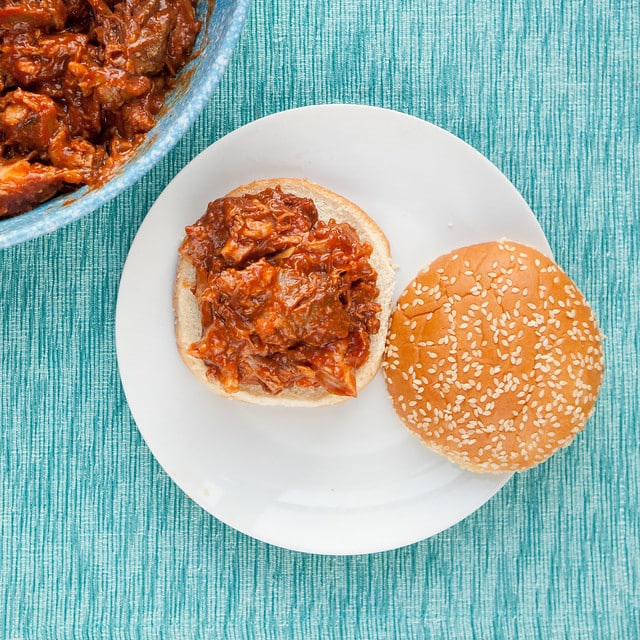 I really can't stress how good the leftovers are the next day. We love to eat it on sandwich rolls or toasted bread. Throw your brisket in a pan, mix with some barbecue sauce and you have another amazing meal!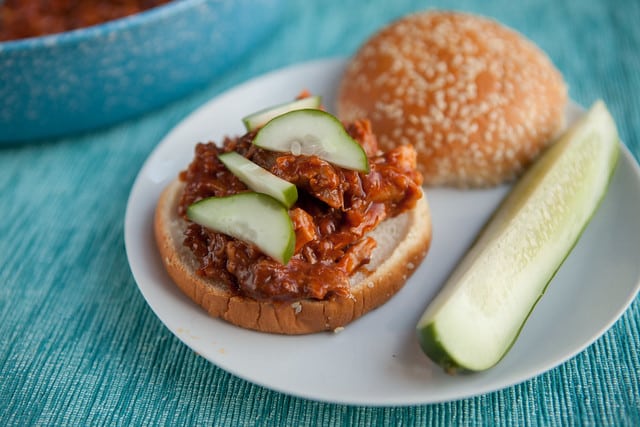 I always love pickles on mine, and pickles on the side. I can't get enough of these half sour pickles!
Happy Brisket Time!
Pin for later:

Crock Pot Corned Beef Brisket with Vegetables
Print
DELICIOUS CROCK POT Corned Beef Brisket with Vegetables recipe! This slow cooker recipe cooks a 4 pound corned beef brisket with cabbage, carrots, potatoes and onion to create a amazing dinner! Use the leftovers the next day for the best BBQ sandwiches!
Ingredients
1 3.5-4 pound Corned Beef Brisket Point Cut with spice packet
4 large carrots peeled and julienned
1 pound baby red potatoes quartered
1 onion cut up into rings/slivers
1 small head of cabbage chopped
3 cups water
6 ounces of apple juice
Instructions
Put your potatoes and onions in the bottom of your slow cooker. Add 3 cups of water on top.

Put Corned Beef Brisket on top of vegetables.

Pour apple juice over the Brisket.

Pour spice packet from Brisket on top.

Cover and cook on high for 7 hours.

Note: Add and stir in carrots at the 3 hour mark.

Note: Add and stir in cabbage with 1 hour left.