Easy to make sprinkle Confetti Cake Batter Brownies recipe. These funfetti brownies are moist and so ooey gooey good! They make the best birthday cake brownies!
Do you know how much I love cake batter? No. Well let me tell you.. I love cake batter!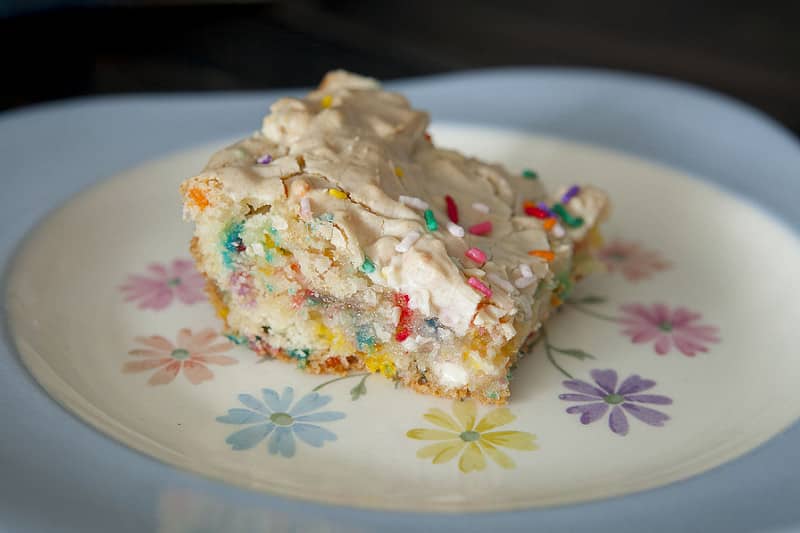 I love cake batter brownies, cookies, cupcakes, cake, pudding, popcorn, milkshakes. If it begins with the word "cake batter" I'm in 100%.
How to Make Confetti Cake Brownies Video
Now you can call them blondies if you want, but I'm going to go with brownies because it feels more comfortable. A vanilla brownie, let's call it that. Or a albino brownie, we can do that. I've googled this brownie vs blondie debate and the wounds go deep with those on both sides, but I think we can come together and just enjoy this.
How to Make Birthday Cake Brownies
So let's begin baking these funfetti brownies.

You want to use a boxed cake mix for these brownies, the Funfetti or Betty Crocker's Confetti variety. I used Confetti. It's the same thing.

We're also going to use rainbow sprinkles and white chocolate chips in this brownie recipe.


Mix cake mix, oil, egg and milk together…
Keep stirring until it's mixed. Now take a spoon and eat it. I'm kidding. No, I'm not. Really, I'm not.
Then add your white chocolate chips and rainbow sprinkles.
Mix it all around. Get those sprinkles and chocolate chips mixed in there.
What Size Baking Dish for Brownies?
If you want ooey gooey Confetti Cake Batter Brownies, your baking dish size matters. I used a 11×9 dish and I feel this made them just the right amount of soft and gooey that I wanted, so try to use a baking dish around this size. Some readers have used larger pans and they end up more cake like, not fudgy like we want.
After you spread the batter, put it in the oven and bake for 25-30 minutes. You want to keep them in the oven just until the edges are very slightly brown. This takes around 25-30 minutes, mine took 26 minutes to be very exact. The time and pan size is important in making them fudgy!

And soon these gorgeous cake batter brownies will appear! Let them sit for 15 minutes so they can set in the pan. If you cut them too early, they might fall apart. I know it's hard to resist.

Now it's time to cut them up into brownies! Don't you just love how it bubbles up slightly around the edges to give it a nice soft crust?
These brownies are one of my family's favorite and I love making them with my daughter. We also love eating them all together. 🙂
I hope you like these Funfetti Brownies! Enjoy! And if you're looking for more sprinkle recipes make sure to try my Birthday Cake Muffins, Chewy Confetti Cookies, Italian Anise Cookies and White Chocolate Toffee Recipe!
More Brownie Recipes:
100 Calorie Single Serving Brownie
Extra Strong Coffee Brownies
Little Debbie Cosmic Brownies Recipe
Fudgy Black Bean Brownies
Vanilla Brownies with Sprinkles
Kidney Bean Brownies
Rocky Road Brownies
Pin for later:
Confetti Cake Batter Brownies
Print
Easy to make sprinkle Confetti Cake Batter Brownies recipe. These funfetti brownies are moist and so ooey gooey good! They make the best birthday cake brownies!
Prep Time: 5 minutes
Cook Time: 25 minutes
Total Time 30 minutes
Ingredients
1 box Confetti/Funfetti cake mix
1/4 cup vegetable oil
1 egg
1/3 cup milk
1/4 cup rainbow sprinkles
1/2 cup white chocolate chips
Instructions
Preheat oven to 350 degrees.

Spray a 11x9 baking pan with nonstick spray.

Combine cake mix, vegetable oil, egg, and milk into a bowl. Mix with hand mixer.

Add sprinkles and white chocolate chips, continue to mix until all combined.

Spoon batter from bowl into baking pan, sprinkle a few more rainbow sprinkles on top.

Bake 25-30 minutes until your edges are slightly brown. Mine take 26 minutes to be exact.

Since the brownies are very fudgy, please allow them to cool completely or they will fall apart! 🙂 After cooling, cut into brownie square and enjoy!
Nutrition Information:
Calories: 124kcal (6%)