VANILLA Brownies with vanilla frosting and sprinkles on top is everyone's favorite treat! This easy dessert recipe makes fudgy, ooey gooey cake tasting vanilla blondies.
I love vanilla brownies (blondies!). I love frosting. I love sprinkles. These Vanilla Blondies with Vanilla Glaze Frosting are perfect because they check off each of those categories!
I should warn you now, these blondies are dangerously good. I can't tell you how many blondies I ate because you would have this image of me being a blondie monster in your head and none of you think that. Right? Oh goodness, I'm glad I'm right (thanks for making me feel better).
I love a blondie that is ooey gooey, with some frosting on top. And this frosting is gorgeous. It's my new go to frosting for… well, everything. It sets perfect and has a shine to it. I've always had a problem making a frosting that was thick enough to set without dripping off the sides of brownies, cakes and donuts. But this one is a keeper. Expect to see it often in the next few months in different forms because I have a bunch of donut recipes in my head that need this frosting!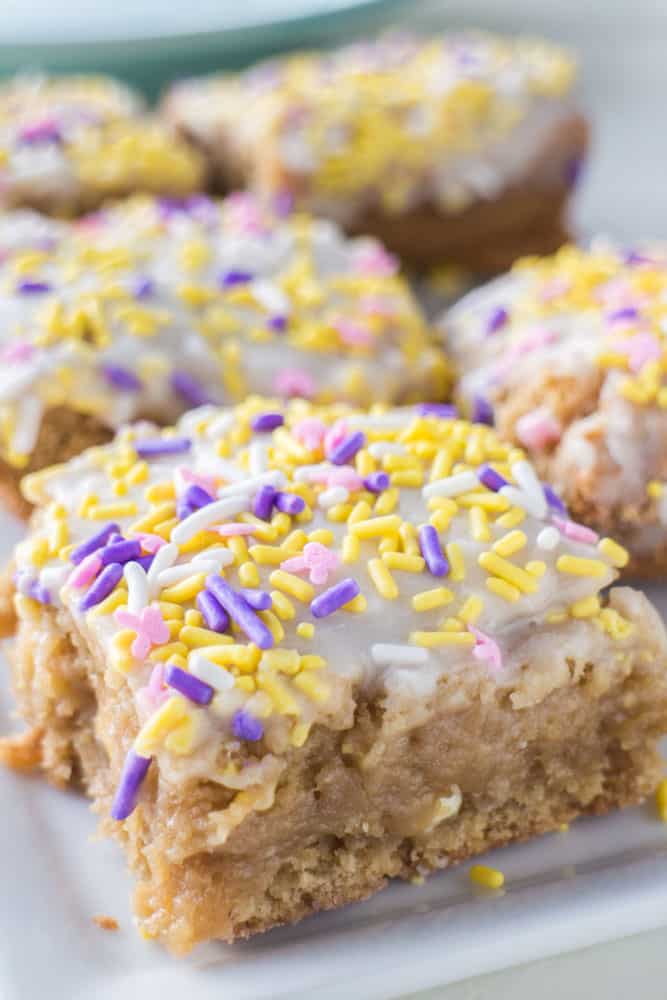 Vanilla Brownies Recipe
These vanilla brownies are easy to make and you probably have all the ingredients in your pantry already.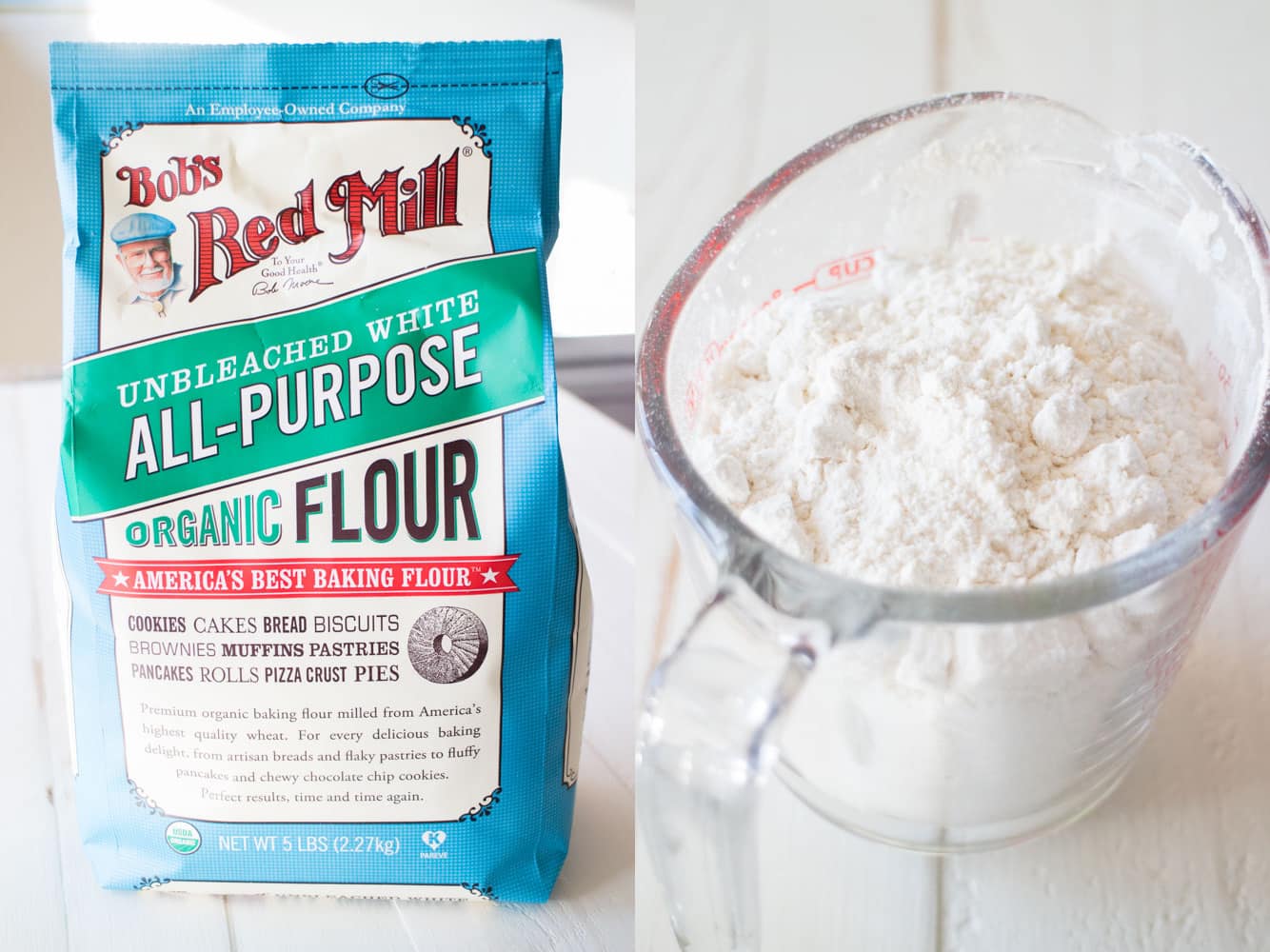 I add in a handful or white chocolate to these blondies to really make them really special. You can use white chocolate chips or cut up white chocolate wafers.

Because they're so ooey, gooey the key is to let them sit for an hour after you take them out from the oven. I know you will be anxiously awaiting to sink your teeth into them, but it's important to wait. If you don't let them set, you're going to get a blondie that will fall apart. So make sure to give them time to cool, it's worth it, trust me!
Once they're cool, then spread your frosting and add your sprinkles. Because these blondies are filling, I like to cut up a 8×8 pan into 16 squares to make more bite size blondies. If you want to cut them up into 9 big blondies, that's fine too.

I added a mixture of pastel sprinkles along with some small pink bunny sprinkles on top. Feel free to use whatever color you'd like!

Now comes the hard part… not eating them in a day! Good luck and enjoy!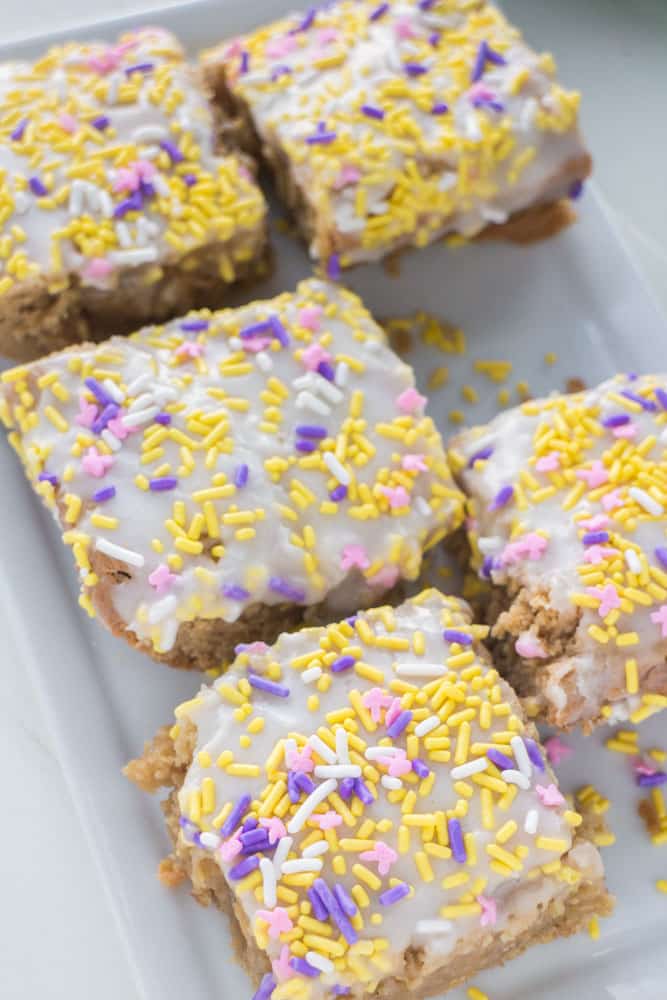 Pin for later:

Looking for more rainbow treats? Check out my White Chocolate Toffee recipe (with sprinkles!)
Vanilla Brownies With Sprinkles
Print
VANILLA Brownies with vanilla frosting and sprinkles on top is my favorite! This easy dessert recipe makes fudgy, ooey gooey cake tasting vanilla blondies.
Ingredients
For the Brownies
2 2/3 cups all purpose flour
2 teaspoons baking powder
1 teaspoon salt
2 cups brown sugar
1/2 cup + 2 tablespoons butter softened
2 eggs
1 tablespoon vanilla extract
1/2 cup white chocolate chips
For the Frosting
1 1/4 cup powdered sugar
3 tablespoons milk
Instructions
Preheat oven to 350 degrees. Spray 8x8 pan with nonstick spray.

Mix flour, baking powder and salt together in large bowl by hand.

Mix brown sugar, butter, eggs and vanilla together in another bowl with electric hand mixer.

Pour brown sugar mixture into flour bowl. Continue to mix with hand mixer until combined.

Add chocolate chips and fold into the mixture with a spoon.

Spread the batter into the 8x8 pan, using a spatula to even it off.

Bake 25-27 minutes or until the sides are slightly golden brown.

Remove from oven and let sit for one hour. This is super important. When you remove the brownies from the oven they will be very ooey, gooey and soft. Letting them sit will harden them to the perfect brownie! If you don't let them set, they will fall apart, so it's important to give them that one hour.

For the frosting, mix powdered sugar and milk together in bowl with hand mixer for a few seconds.

Pour frosting over the brownies, evenly spreading it with a spatula.

Add sprinkles on top.

Let frosting sit for about 10 minutes, it will turn into a nice glaze.

Cut brownies into 16 squares for brownie bites or 9 pieces for full size brownies.

Enjoy!