Simple step by step instructions on how to How to Turn Tomatoes Red! All you need is a box!
It's a few days from November but I'm still enjoying fresh tomatoes. No, I'm not picking them from the garden, that ship has sailed. The nights became too cold a few weeks ago and the garden was pretty much put to sleep, minus a few hearty greens. To grab some fresh tomatoes I'm now picking them from a shoebox. To be exact, 4 big shoeboxes full of tomatoes.
Don't you hate when it's the end of the season and you have hundreds of green tomatoes staring at you? The sadness.. The tears. The longing to want to save all those baby green tomatoes so they can turn into big red adults one day.
We had so many green roma and cherry tomatoes left we couldn't let them go bad. Never leave a tomato behind. We aren't big fried green tomato fans, so it was back to the basics, time to box up those tomatoes and let them turn red naturally.
The way to do is really simple. Are you ready?
How to Turn Tomatoes Red
Put your tomatoes in a shoe box (or any type of cardboard box), close it. Put shoe box in cool place. Check on them twice a week. Watch them turn red over time. Pick the red tomatoes out and enjoy!
Now wasn't that easy?
Here's another tip, if you want to turn them red more quickly then add a banana into each box. Just make sure you keep a eye on the banana so it doesn't turn into mush and make a mess.
With a bunch of green tomatoes left, we stuck them in their boxes about 10 days ago and I just checked them today to find a whole bunch of red beauties looking at me!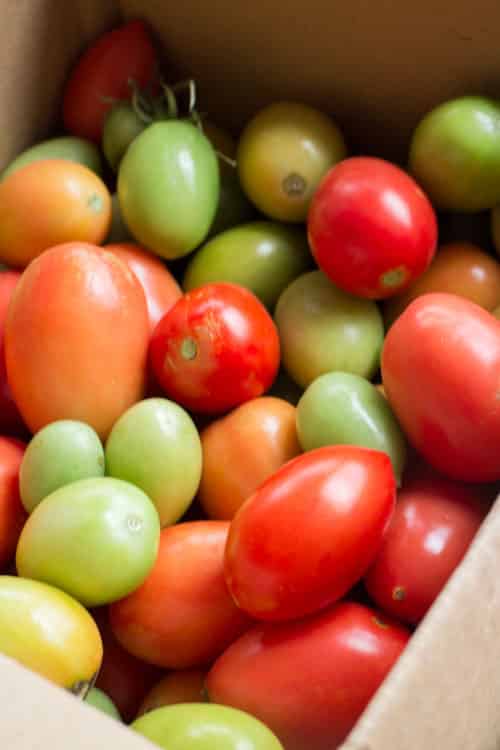 Aren't the shades of the tomato rainbow beautiful?

Finally, all my shoe buying comes in handy! :D) Can you spot Goblin's bite marks on the box? Whenever I get a new shoebox he sleeps in it for a week and enjoys nibbling when he's not dreaming.

After I picked the red ones out (and made more tomato sauce!) then I boxed the green ones up and they went back into the closet. Now time to wait for the next batch!