You'll want some delicious avocados to start with. The first step is cutting each avocado in half and then taking out 1-2 tablespoons of each avocado half so we can scoop more salsa in them.
Now we'll grab our delicious Mexican Corn Salad!

It's just that easy…start filling each avocado up with the salsa. I like to cut up a few slices of leftover avocado to add a little bit on top.

Place a craft sailboard in each one and they're ready to serve!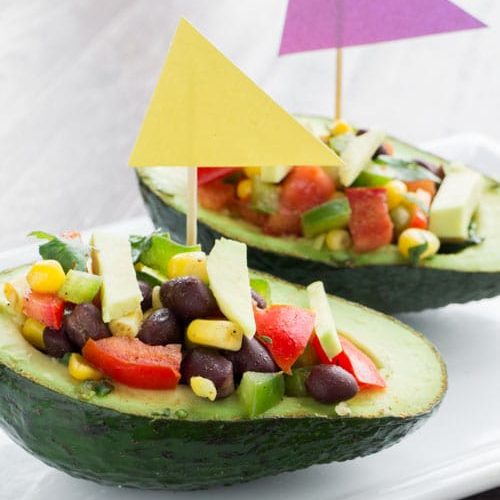 Avocado Boats
Print
Ingredients
12 avocados
1 can black beans – rinsed and drained
16 oz bag of frozen corn – cooked
2 cups chopped tomatoes
1 green pepper – chopped
1/2 jalapeno – finely diced
1 1/2 teaspoon ground cumin
2 tablespoons lime juice
2 tablespoons olive oil
1/4 cup chopped cilantro
Instructions
Take avocados, cut in half long ways and remove the pits.

Take 1-2 tablespoons out of each of the avocados so you can fill them with corn salad. Keep this leftover avocado to the side.

Time to make the salad! Mix all ingredients besides avocados together in large bowl.

Put spoonfuls of corn salad in each avocado.

Place slices of leftover avocado on top. Serve and enjoy!