Make your Thanksgiving dinner extra comforting with this Amish Potato Stuffing Recipe. The savory bites of mashed potatoes, breadcrumbs, sauteed veggies, and sage make this side dish a must-have at holiday meals.
Mashed potato stuffing for Thanksgiving
Prepare to be hit with a surge of nostalgia because this potato stuffing has everything you love about a classic stuffing recipe but with an authentic Amish twist!
Layers of sage, celery, mashed potatoes, and breadcrumbs bake together to create this savory Amish Potato Stuffing Recipe. Layered with gravy on top, this stuffing recipe is a must-have when serving a loaded Thanksgiving or holiday dinner to family and friends. Don't forget the Juicy Turkey, Green Bean Casserole, Cheese Brussels Sprouts and Pumpkin Dinner Rolls on the side!
I first discovered Amish stuffing as I was exploring the many weekend markets in Pennsylvania growing up. There are always Amish stands outside of these markets, usually selling goodies like discounted produce, meat, shoofly pie, and chicken breasts stuffed with potato stuffing. This quickly became my new favorite meal and I knew I had to recreate it at home!
My #1 tip when making this recipe is: don't skip the sage! Yes, the mashed potatoes, whole wheat breadcrumbs, and sauteed veggies are delicious together but dried sage takes the mixture to an entirely different level. It's super important for flavor and balance, plus it will fill your whole house with the savory smells of Thanksgiving.
Potato stuffing vs. traditional Thanksgiving stuffing
This recipe varies slightly from a traditional Thanksgiving stuffing recipe. You'll usually only find breadcrumbs seasoned with chicken stock, eggs, celery, and herbs in the traditional version.
The alternative is a popular choice in Pennsylvania Dutch country that adds creamy mashed potatoes into what would have been traditional stuffing. Potato stuffing doesn't need to be made with eggs or broth because it's already moist and holds together really well. The finished result is creamy and savory, and pairs so well with gravy!
How to make Amish potato stuffing from scratch
This quick and easy stuffing recipe is a great make ahead meal and a must-have for Thanksgiving dinner. It's ready to eat after a few simple steps:
Saute the onions and celery in a large frying pan over medium high heat until they're soft.
Take the pan off of the heat and stir in the breadcrumbs, mashed potatoes, sage, parsley, and salt and pepper.
Transfer the stuffing mixture to a prepared casserole dish.
Bake the stuffing until the top is slightly browned and crispy. Serve it next to your favorite Thanksgiving sides and enjoy!
Make ahead potato stuffing
Not only can you put this whole recipe together ahead of time, but you can even prepare some of the individual elements in advance so you never have to rush! It's a great Thanksgiving side dish that will save you loads of time:
Mashed potatoes – Make your mashed potatoes up to 3 days ahead. Keep them in the fridge until you're ready to add them to the stuffing mixture.
Breadcrumbs – Tear the bread into chunks and let them sit out, uncovered, in a bowl the night before making the stuffing.
Potato stuffing – Because this vegetarian stuffing isn't made with eggs or meat, it stores and freezes really well days before serving. Assemble the stuffing in the casserole dish, cover it well, and store it in the fridge for 1 or 2 days or freeze it for later.
How long does leftover stuffing last?
The leftover stuffing stores well in an airtight container in the fridge for up to 5 days. Reheat them for a few minutes in the microwave or in the oven until warmed through. You can also use it in Leftover Thanksgiving Casserole.
You can also freeze the baked and cooled potato stuffing in a freezer-safe container or bag. Warm it from frozen in a 350ºF oven until heated through. Don't let it thaw or else the bread will become soggy.
Frequently asked questions
More Thanksgiving stuffing recipes
Pin for later: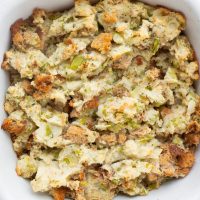 Amish Potato Stuffing Recipe
Print
Make your Thanksgiving dinner extra comforting with this Amish Potato Stuffing Recipe. The savory bites of mashed potatoes, breadcrumbs, sauteed veggies, and sage make this side dish a must-have at holiday meals.
Prep Time: 10 minutes
Cook Time: 50 minutes
Total Time 1 hour
Ingredients
1 medium onion chopped
3 pieces celery chopped
5 tablespoons butter
4 slices whole wheat bread torn into pieces
3 cups cooked mashed potatoes
1/2 teaspoon dried sage
1 tablespoon dried parsley
salt + pepper to taste
Instructions
Preheat oven to 350 degrees.

In a large frying pan, saute the onion and celery in butter over medium high heat until the vegetables are soft, about 5 minutes.

Remove from heat and stir in bread, mashed potatoes, sage, parsley and salt + pepper. Mix completely.

Spray a 9×9 baking dish with nonstick spray, and then pour the stuffing mixture into it.

Bake, uncovered for 50-60 minutes or until the top is slightly browned and crispy.

Serve and enjoy!
Nutrition Information:
Calories: 125kcal (6%)