DOUBLE CHEESE Cauliflower Casserole is delicious comfort food! This easy to make loaded casserole recipe is made with both cheddar and Parmesan cheese to make it extra cheesy! It makes a great vegetarian main dish or holiday side dish.
Ok, we have the 3 C's here. Let's talk about them.
Cheesy – who doesn't love cheese? Mozzarella, Cheddar and Parmesan are my favorites for recipes. And this recipe has 2 of them in!
Cauliflower – beautiful cauliflower, fresh from the garden, I love you. You can't go wrong with cauliflower, you just can't!
Casserole – I love casseroles. You put them inside the oven and magic happens. That's the only way I can describe it.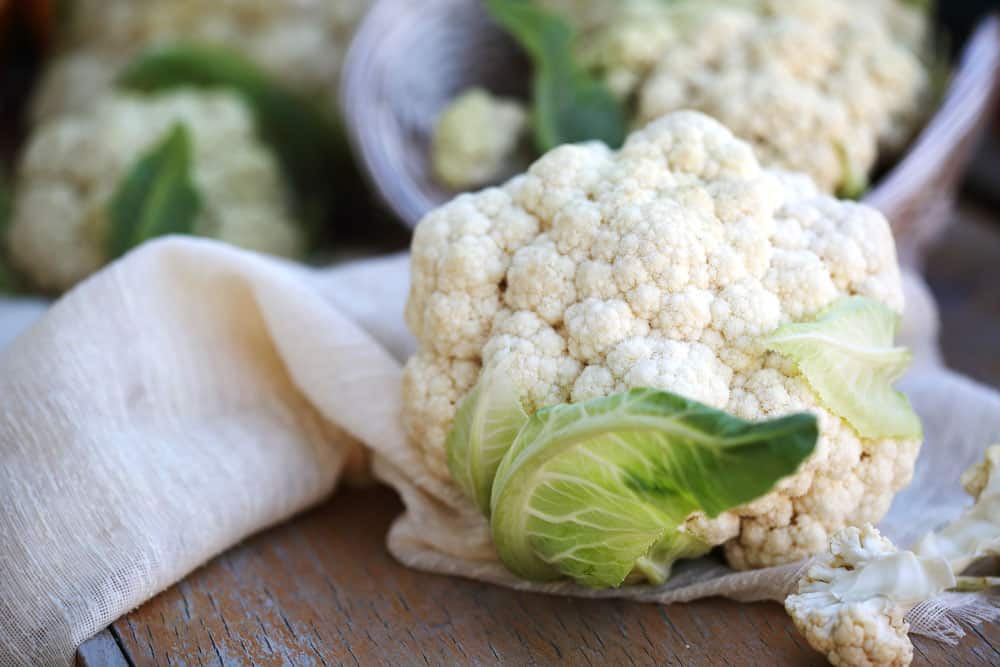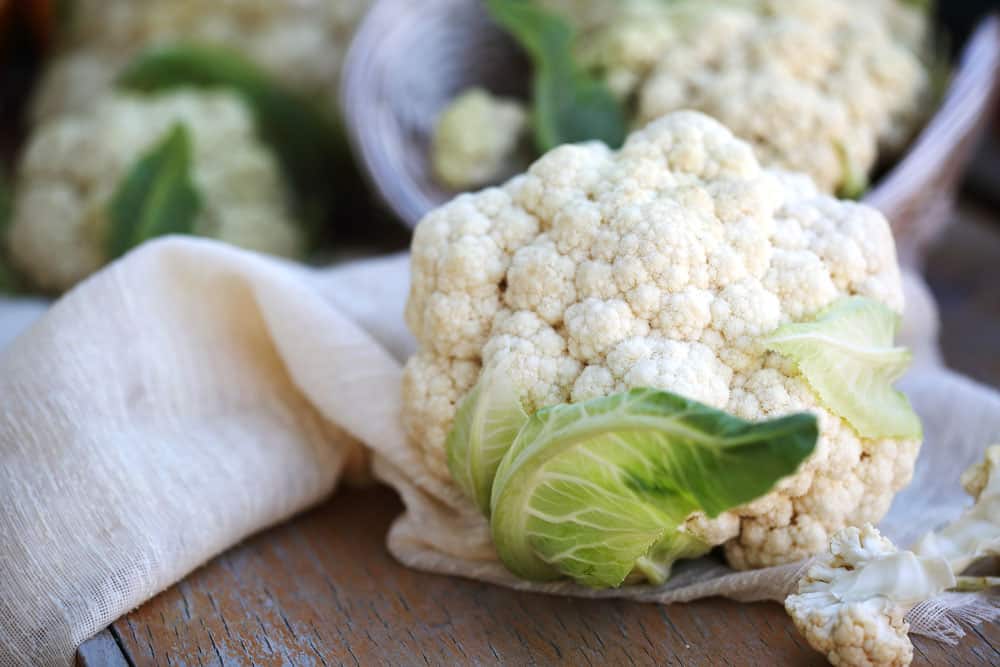 We love this casserole, especially when we can pick the cauliflower straight from the garden. We usually have it as our dinner main dish because it's pretty filling, especially if you add a piece of crusty bread on the side. You can also serve the casserole a side dish, it would be great paired with a meat at the holiday table.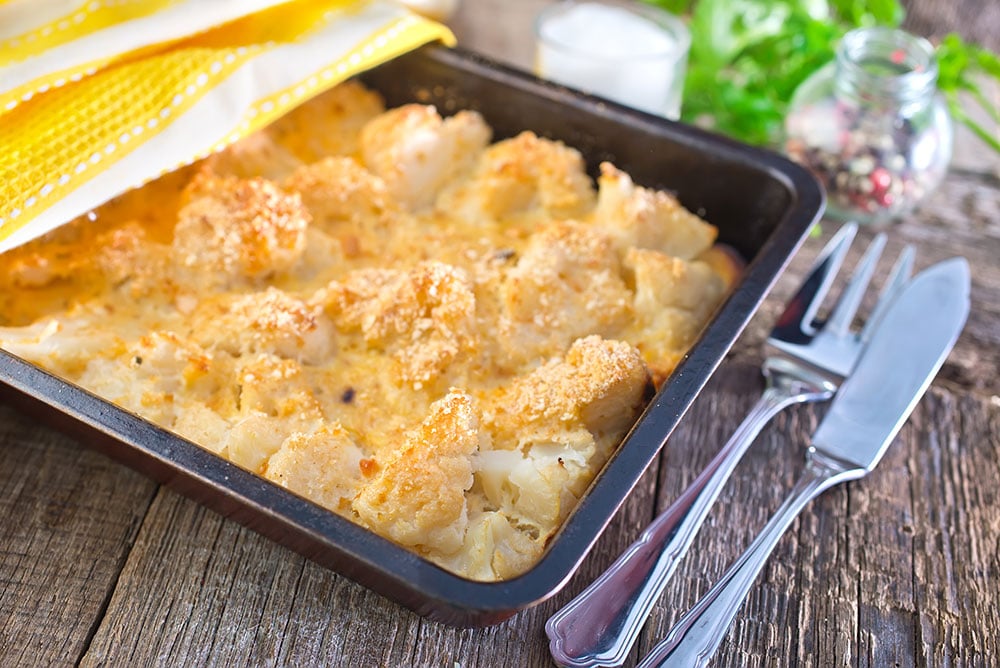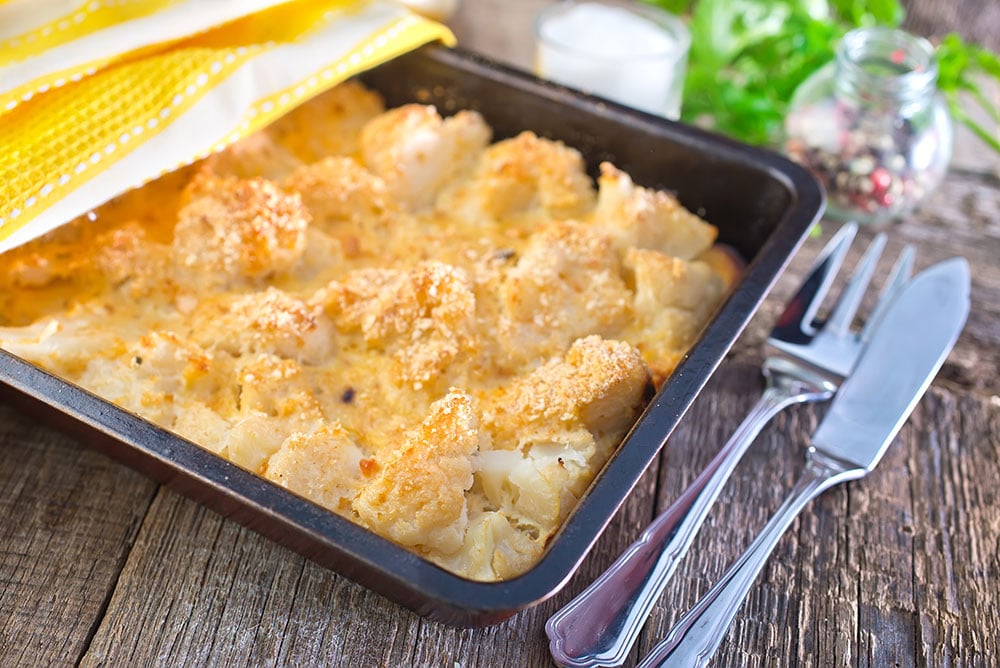 Hope you enjoy!
Update: This recipe now has a video to go along with it! If you like the recipe please share on Facebook!

Cheesy Cauliflower Casserole
2013-08-02 03:44:04
Ingredients
1 head cauliflower, cut into florets
8 ounces shredded cheddar cheese
1/4 cup + 2 tablespoons Parmesan cheese
2 tablespoons bread crumbs
3/4 cup heavy cream
1 tablespoon dried sage
1 garlic clove, minced
1/2 teaspoon salt
1/2 teaspoon pepper
Instructions
Preheat your oven to 375 degrees.
Steam your cauliflower for 3 minutes, drain.
Add cauliflower into casserole baking dish.
In a bowl stir together your Cheddar cheese, 1/4 cup Parmesan cheese, heavy cream, dried sage, minced garlic, salt and pepper.
Pour everything in your bowl over cauliflower and toss to coat evenly.
Sprinkle remaining 2 tablespoons Parmesan cheese and bread crumbs on top.
Bake for 30 minutes or until top is slightly browned.
Enjoy!
Brooklyn Farm Girl http://brooklynfarmgirl.com/