FAST and EASY Canned Salsa made with canned diced tomatoes! Just add green peppers and onions to this simple recipe, and you'll have a delicious chunky salsa ready to serve in minutes!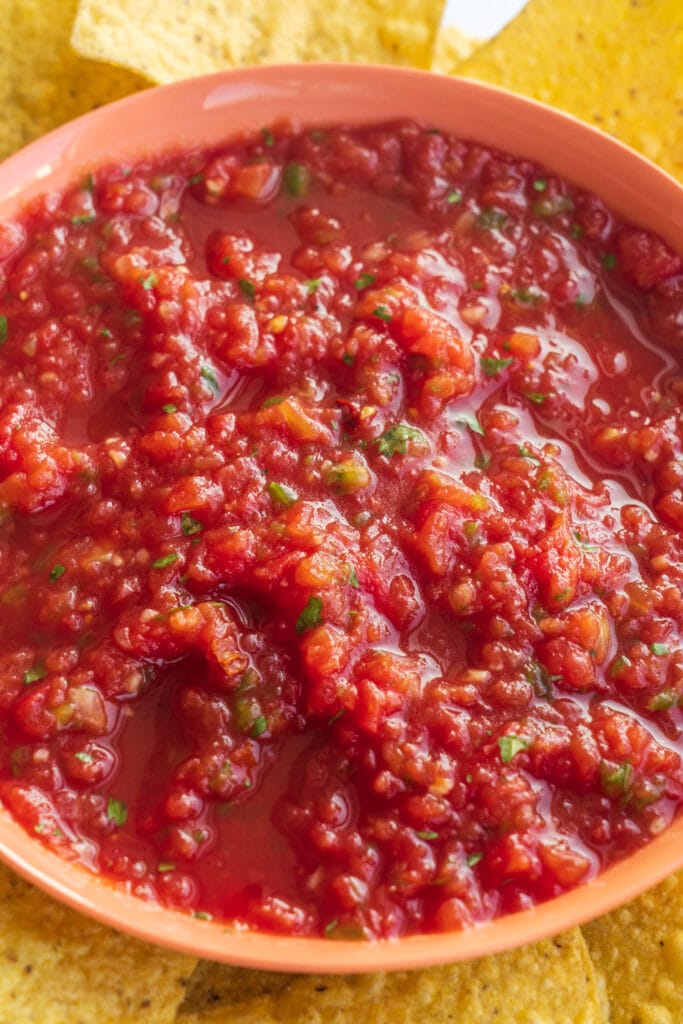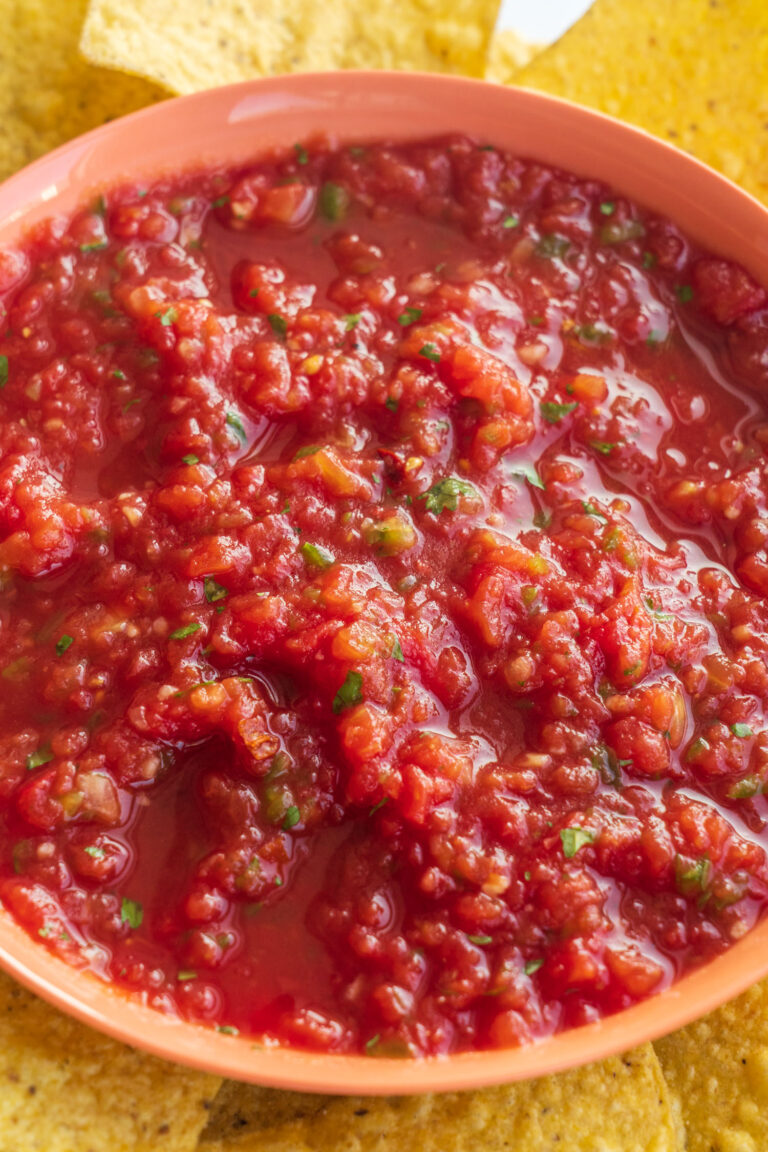 Sure, you can get canned salsa at the grocery store, but making your own with this perfect salsa recipe using canned diced tomatoes and fresh ingredients will make each bite that much better. It will be just as good (if not better) as restaurant-style salsa!
This is the best salsa recipe because it's super easy to make using cans of tomatoes! Sometimes you don't have fresh tomatoes on hand, but if you have canned diced tomatoes – you can make it!
If it's your first time making salsa, this is a great starter recipe. If it's not, it's great just because it's a time-saver! Need to serve a big crowd? Simply make a double batch!
The Best Canned Salsa Recipe
One of the best things about this recipe is that it's as simple as placing all of your salsa ingredients into a food processor, and that's it. No need to make a mess and dirty dishes by chopping up fresh tomatoes on the chopping block. All you need are canned tomatoes to drop in the food processor and you're good to go!
This is the best homemade salsa because it's super delicious with notes of lime, garlic, and fresh cilantro. A touch of black pepper and red pepper flakes along with the onions take this salsa to the next level. A great way to use this delicious salsa is with tortilla chips, on top of tacos, or even with huevos rancheros.
What is homemade salsa made of?
Homemade salsa ingredients will vary, but for this recipe, it calls for canned tomatoes, diced onion, green pepper, garlic, lime juice, salt, pepper, red pepper flakes, and fresh cilantro. These simple ingredients pack a punch of flavor and will leave you wanting more after each bite!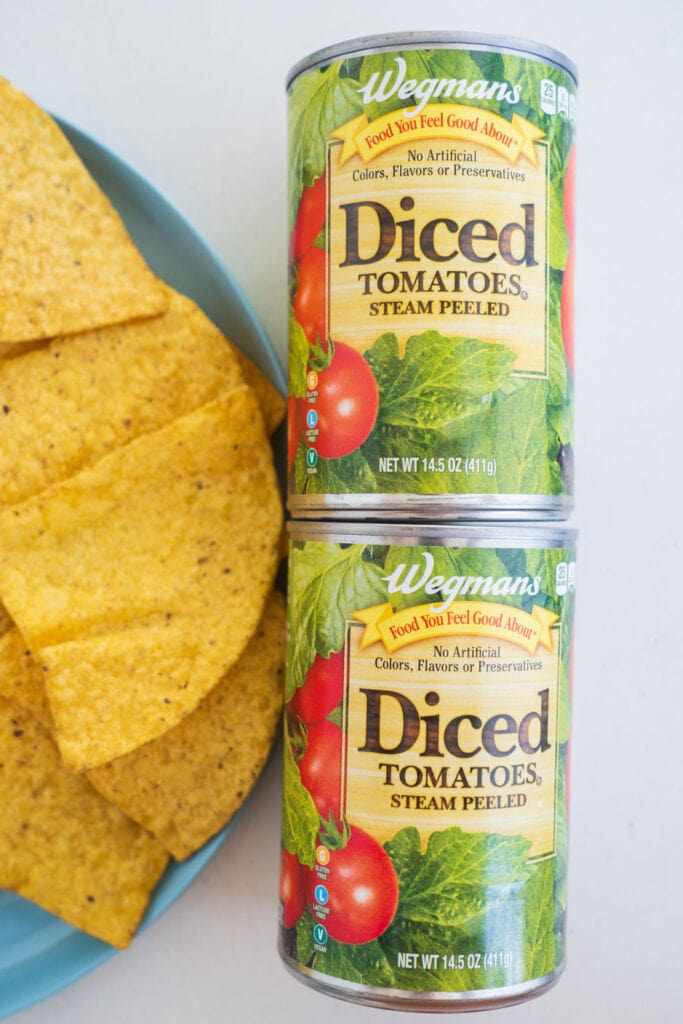 How to Make Canned Salsa
Place all of the ingredients into a food processor.
Start with three pulses and then check to see if it's a consistency you're happy with. If not, pulse more. Pulsing more will make it very smooth and less will make it a thicker chunky salsa.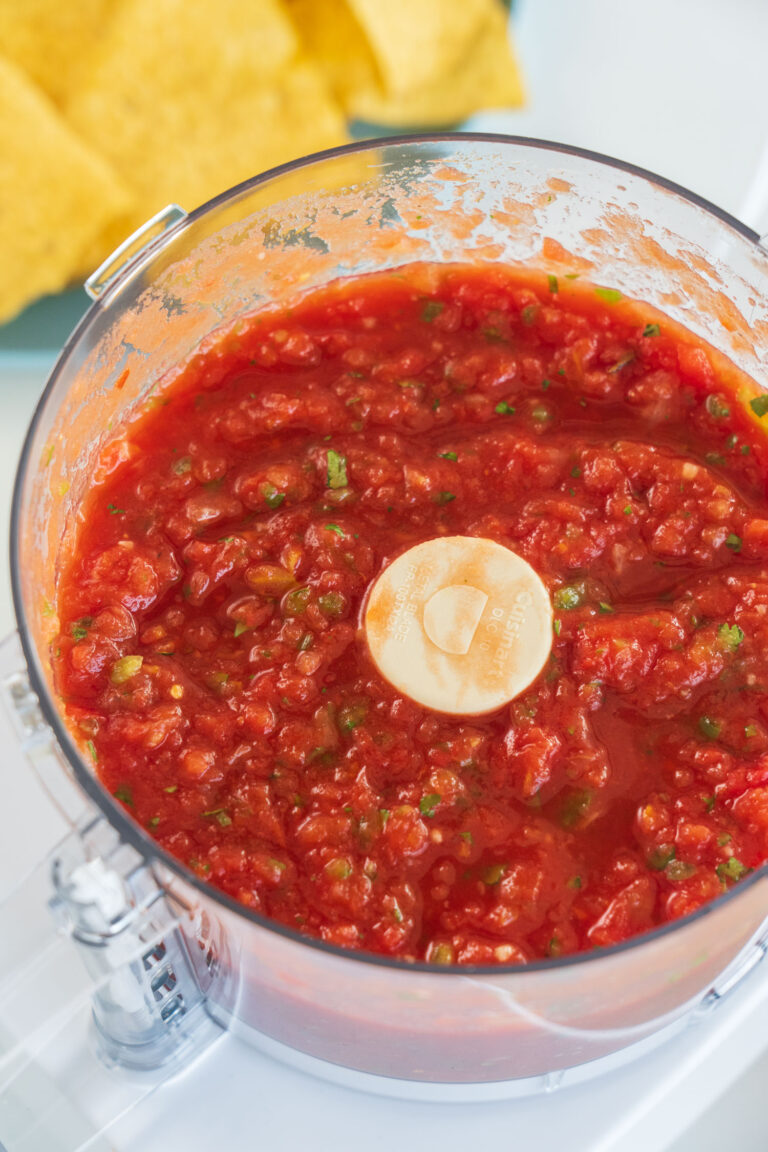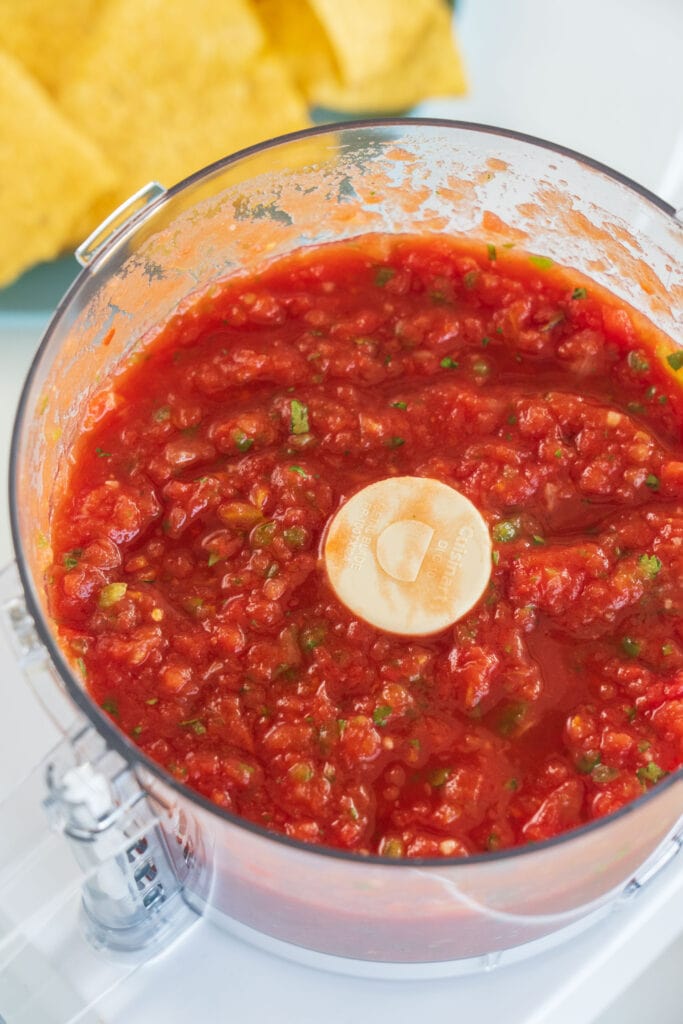 Serve with tortilla chips and enjoy!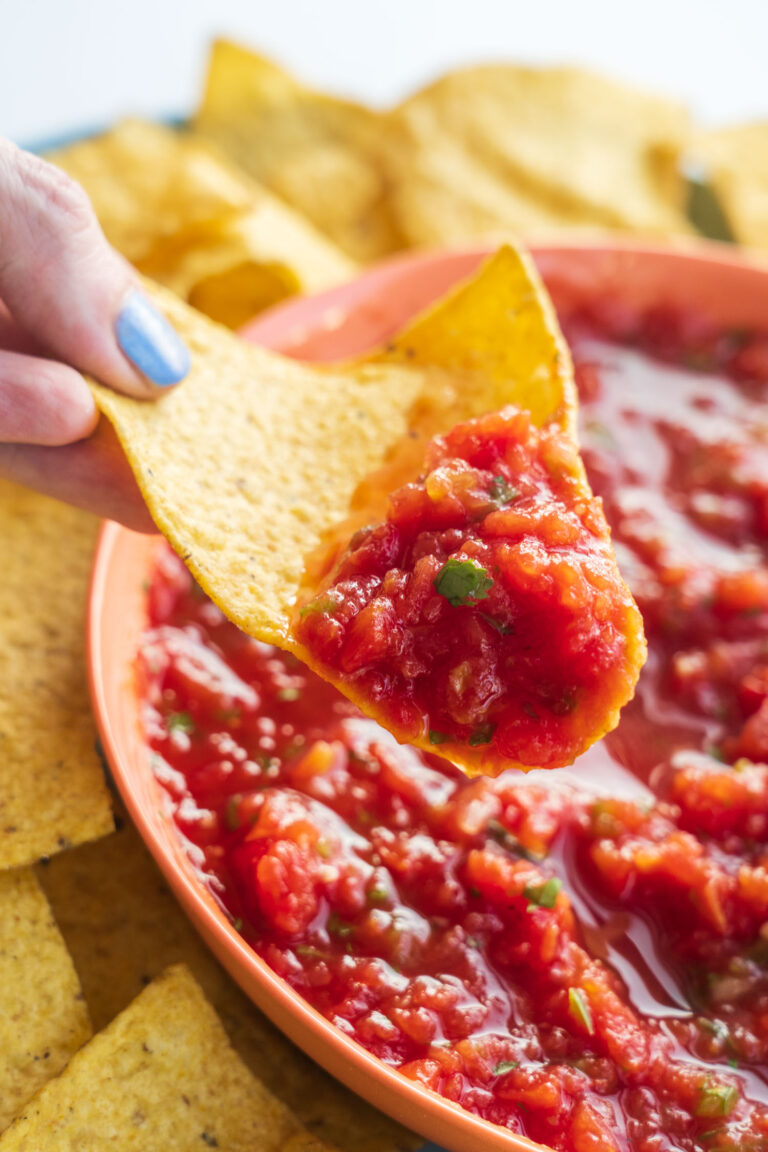 Storing Leftovers
Store leftover salsa in an airtight container or canning jars with a lid. If stored properly, leftover salsa will last between four to six days in the fridge. The sooner you eat it, the better.
Can I make this recipe with fresh tomatoes?
Absolutely. Just swap the 2 cans of diced tomatoes with 2 pounds of tomatoes. You should also check out my favorite fresh tomato salsa we make with our garden tomatoes in the Summer!
Can I make salsa with canned tomatoes?
The best part about this simple recipe is that you can and should use canned tomatoes to make this homemade salsa recipe. In fact, canned tomatoes make this a favorite recipe of mine because it makes one more step that much easier. It's super simple, with no fuss, and easy clean-up too!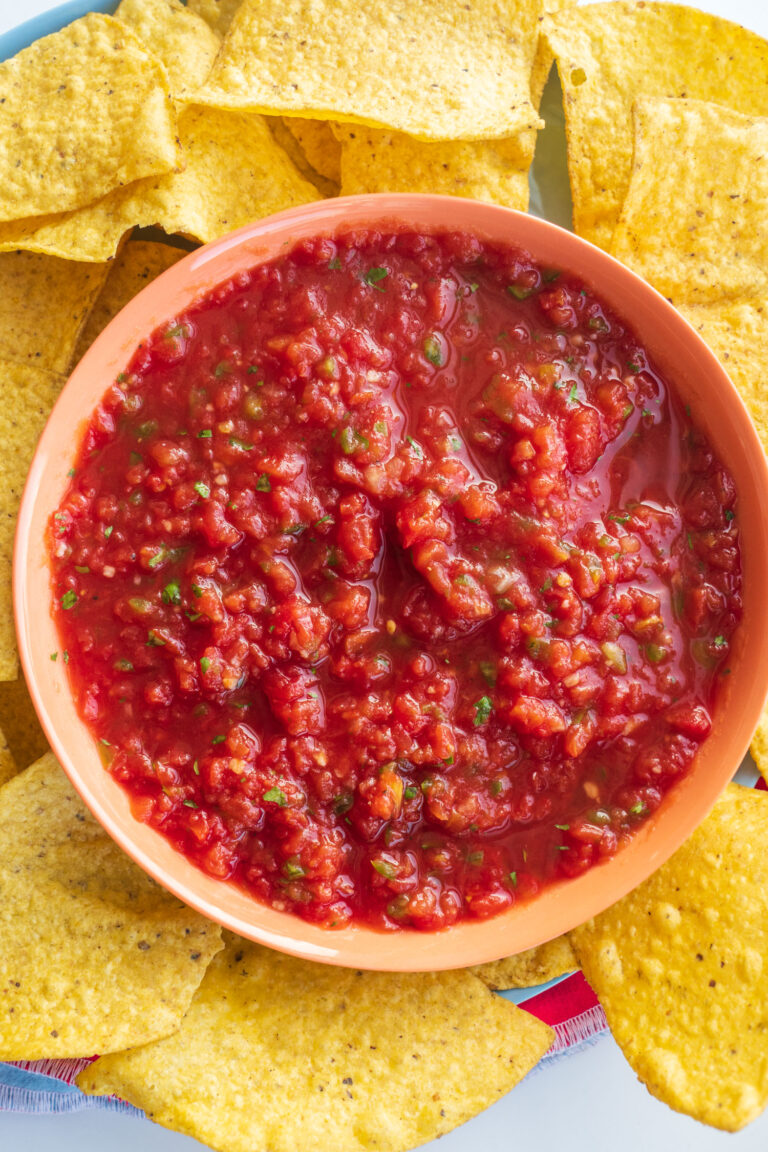 Do you have to cook salsa before canning?
For certain recipes, you can cook your salsa before canning it. However, this canned salsa recipe is made without cooking and can be eaten right from the food processor. Well, don't eat it right out of the food processor. You'll want to put it in a serving bowl first!
Do you have to put vinegar in canned salsa?
As mentioned above, some recipes do require this step. However, this specific recipe requires no vinegar as we won't necessarily be canning it for longevity. Instead, this recipe uses lime juice which adds to the acidity and flavor.
How can I make this salsa spicier?
If you are a fan of extra spicy salsa, there are a few options you can add to kick up the heat. I'd suggest only trying one of these options; do not use them all in one batch. However, if you're curious about which suits your personal preference, consider making multiple batches—just don't forget to label them!
Add extra black pepper and/or red pepper flakes
Add green chiles
Add jalapeño peppers
Add banana peppers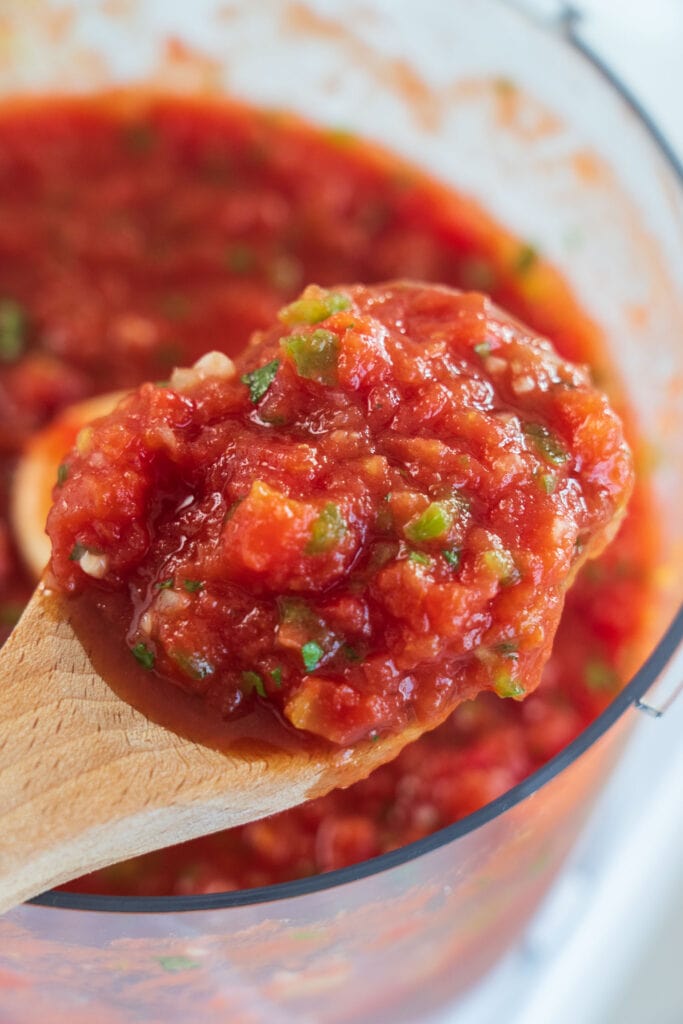 Looking for more salsa recipes?
If you can't get enough salsa, there's plenty more where this great recipe comes from! Check out these delicious salsa recipes on my site and enjoy!
Pin for later: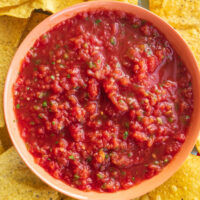 Canned Diced Tomato Salsa
Print
FAST and EASY Canned Salsa made with canned diced tomatoes! Just add green peppers and onions to this simple recipe, and you'll have a delicious chunky salsa ready to serve in minutes!
Prep Time: 5 minutes
Cook Time: 0 minutes
Total Time 5 minutes
Ingredients
2 (14.5 ounce cans) diced tomatoes
1/4 cup onion finely diced
1/4 cup green pepper finely diced
2 cloves garlic minced
1 tablespoon lime juice
1/2 teaspoon salt
1/4 teaspoon black pepper
3 tablespoons fresh cilantro
pinch red pepper flakes
Instructions
Place all of the ingredients into the food processor and pulse a few times. Start out with 3 pulses and then decide what consistency you want from there. Pulse more for a very smooth salsa, pulse less for a chunky salsa. Serve with tortilla chips and enjoy!
Notes
Makes 32 oz of salsa.