Do you love Chop Suey in the can? I'm totally guilty of loving it. I'm also totally guilty of eating that sauce by the spoonful. Goodness, it's delicious.
If you love it you can probably agree that it's not the most healthy for you. Low in calories, sure, but not exactly the best homemade ingredients that a dinner can offer you, so I set out to make a homemade version of La Choy's Chop Suey.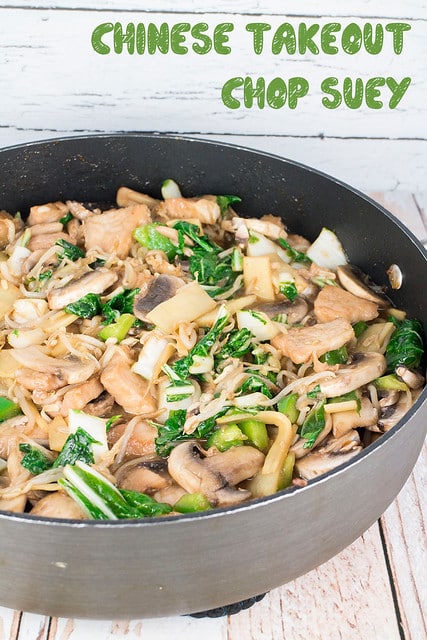 This is a pretty quick dinner recipe and is loaded with veggies. It has bok choy, mushrooms, bamboo shoots and bean sprouts! Aren't the vegetables so pretty together?

Next time you're craving Chinese takeout, or Chinese in a can, instead make your own Chop Suey. Your taste buds will be happy you did!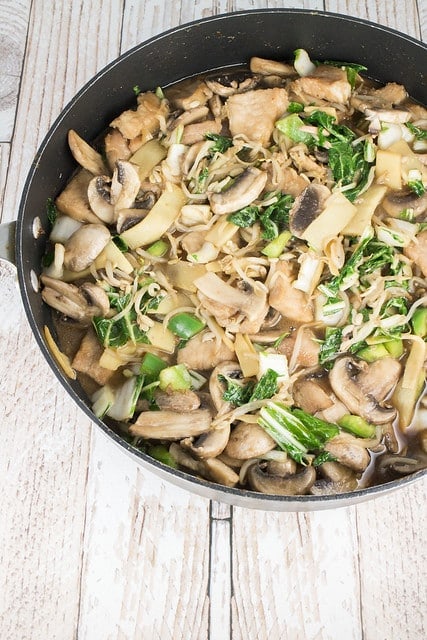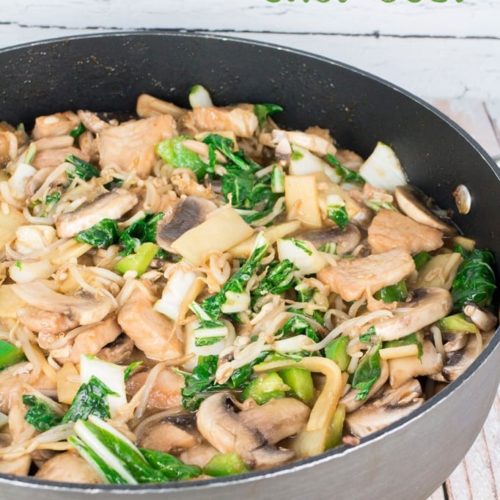 Chinese Takeout Chop Suey
Print
Ingredients
1 bunch bok choy cut into 1 inch pieces
8 ounce mushrooms washed and sliced
½ green pepper chopped
8 ounce can bamboo shoots
14 ounce can bean sprouts drained and rinsed
For the pork marinade
1 pound pork loin - cut up into bite size pieces
1/2 teaspoon baking soda
1 teaspoon sugar
2 teaspoons cornstarch
1 tablespoon low sodium soy sauce
1 tablespoon water
2 tablespoons vegetable oil
For the sauce
½ cup low sodium soy sauce
2 tablespoons brown sugar
4 cloves garlic – minced
2 tablespoons flour
1 tablespoon rice cooking wine
1 tablespoon vegetable oil
Additionally
1 tablespoon vegetable oil to fry in
1/2 cup water
Instructions
Mix your marinade ingredients in a bowl - add your pork pieces and stir. Set aside.

Mix your sauce ingredients in a bowl - set aside.

Heat up 1 tablespoon vegetable oil in a large skillet over medium high heat. Add the pork, it's marinade and 1/2 of the sauce mixture. Keep cooking until pork is fully cooked.

Add bok choy, mushrooms, bamboo shoots, bean sprouts and remaining sauce with 1/2 cup water.

Cook for about 3-4 minutes until sauce thickens up.

Serve over white rice and enjoy!