HEALTHY, Vegan Banana Strawberry Blueberry Smoothie! This easy recipe uses fresh fruit to make a smoothie for breakfast, for kids and for weight loss! It's dairy free and vegan.
Well, it's been a hot week in New York City. I've been pushing my daughter in the stroller, sweat rolling down my face, while mumbling how much I miss Winter. Why is it that when it's Winter, you can't wait for Summer, but when it's Summer, you're like… nope, I want Winter again! Too cold, too hot, it never ends!
What's the perfect drink for a hot day? You want something refreshing, cold, and great tasting. Right? Well, this Banana Strawberry Blueberry Smoothie really hits the spot! It's vegan and packed with fresh fruit!
Full of summer-ripe fruits at their peak, it is sweet, nutritious, and hydrating. It's great for breakfast, lunch or an afternoon snack when you need a boost of energy!
You can make a full batch and save some in the fridge for a snack later. You can take it with you for a quick and easy chilled meal on the go in a shaker bottle or wide-mouthed water bottle. Skip dessert and have a smoothie instead! There's really no wrong time to have a smoothie.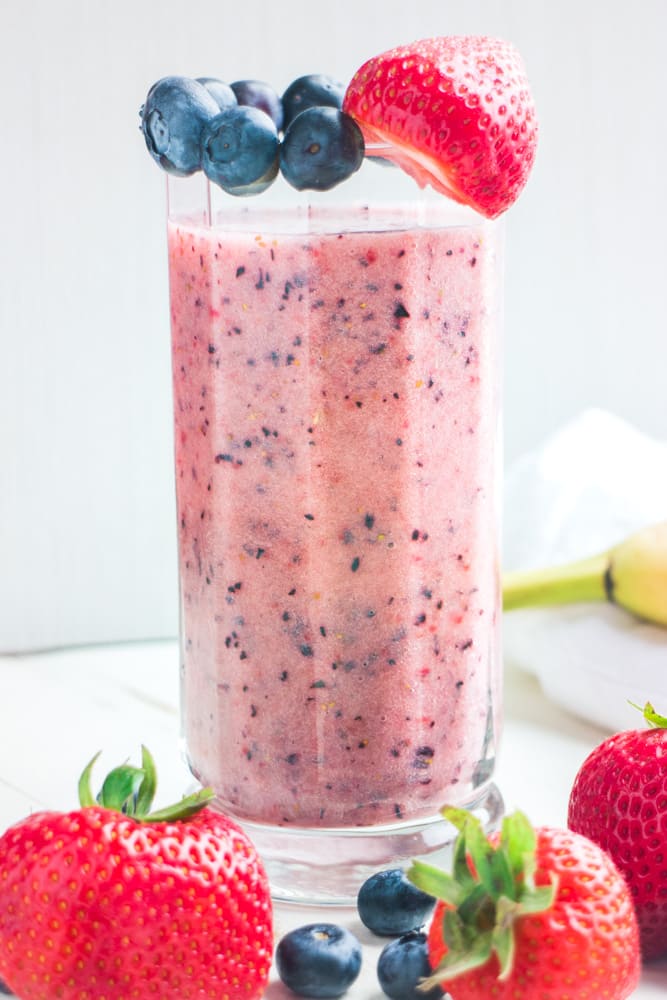 Vegan Smoothie
Yup, that's right. This smoothie is dairy free and vegan. It doesn't include milk or yogurt. Milk and yogurt have a tendency to slow me down and make smoothies taste heavy, so this is perfect for those on dairy free diets.
If summer allergies are hitting you hard, going dairy-free is a big bonus. Ingesting dairy leads to excess mucus in your system and can stuff you up and make you sneeze.
Many people feel much better overall once they go dairy-free. This smoothie shows you can still enjoy your previously dairy-laden foods and go dairy-free. If you're looking for more recipes, try my dairy free mashed potatoes too!
Smoothie Nutrition
The great thing about smoothies, especially this one, is that they are hydrating and nutritious on those hot summer days. You get plenty of water from the fruit and added ice, plus all the naturally occurring nutrients.
This one 24oz. smoothie contains only 140 calories and has 150% of your daily requirement for vitamin C. It also has 34% of your daily potassium. And that's just in one smoothie!