How to Throw a Tea Party on a budget! We'll cover food, decorations, tableware, music and more to make it the perfect party!
Do you love tea parties? Me too. They just feel special. You're with your friends, you get to eat yummy pastries and vegetable dishes, you use floral China plates and cups and if you're feeling bold you wear a fancy hat. It just feels magical.
In this post I'm going to show you how to throw a tea brunch party! We'll cover food, decorations, tableware, music and more to make it the perfect party!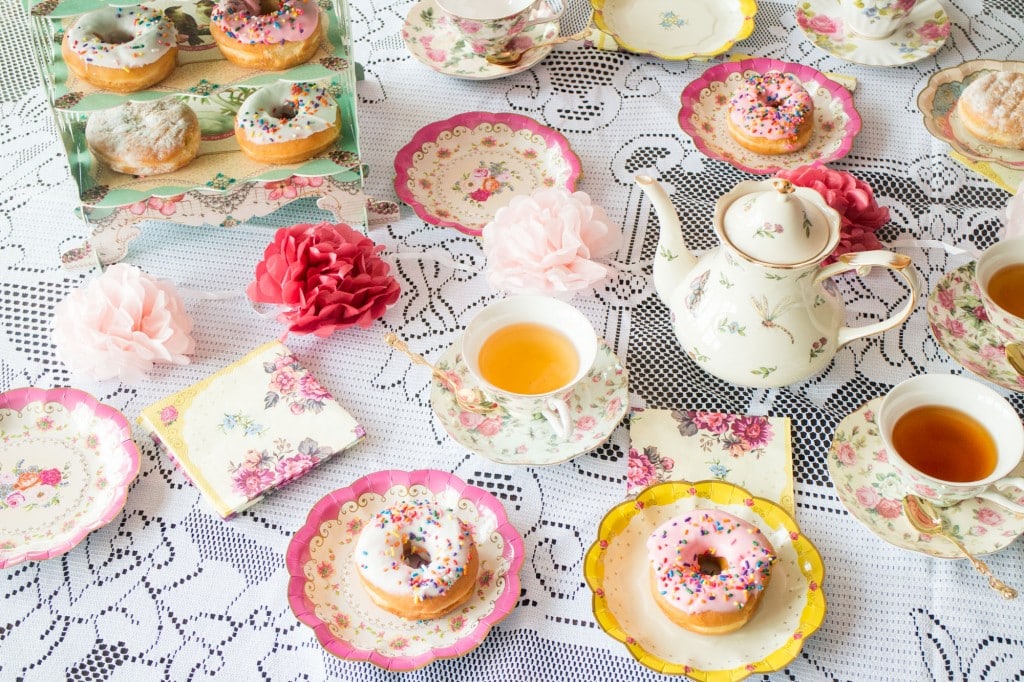 Tableware: When your friends arrive you want to wow them! Tableware is one of the keys to making a beautiful display. You'll need plates, cups, kettles, napkins, spoon and serving plates for larger dishes. You'll also need a dessert rack which when placed in the center of the table makes everyone smile! For my tea party, I went the traditional route of floral mix matched patterns. And even though it might look like a expensive setup, it's not! Can you believe my plates that look like fancy China are actually paper plates? Amazing, I know!
Here's what I used: White Lace Tablecloth / 3-Tier Birdcage Patisserie Cake Stand / Scrumptious Dessert/Cake Plates (they look like China!) / Gracie China Rose Porcelain Tea Cup and Saucers / Porcelain Butterfly & Dragonfly Teapot Trimmed In Gold / Floral Truly Scrumptious Napkins / Gold Plated Rose Demi Spoons / Big Pom Poms (2 sizes) / Pink Pom Pom Small

.

Menu: Besides good times with friends, you also want to serve up some yummy food and of course you want delicious teas!
Have a selection of teas from green to white to dark so everyone can try different kinds. Also make sure to have cream and sugar nearby. If you're feeling adventurous investigate milk tea which is a more creamy style tea. In lots of Asian tea houses they serve milk teas in flavors from Earl Grey to Rose to Lavender (by the way are a beautiful pink and purple shade!) and more.
For food it's great to have a selection of sweet pastries and a few lighter options. Bake or buy donuts, cakes, pies and scones. For recipe ideas try my Vanilla Brownies with Vanilla Glaze Frosting or Mini Blueberry Crumble Muffins. Think about your tableware when buying pastries if you want them to match. I love pastel and light tableware, so I chose donuts with soft colors and sprinkles. For tea parties, it's always a big YES to anything with sprinkles.
If you want to serve something besides sweets, look for soups, sandwiches or vegetables. Ricotta, Basil, Tomato Tea Sandwiches are perfect because they are small, light and can be cut up into cute shapes. Vegetable dishes like roasted carrots or Brussels Sprouts, or a Cauliflower soup are perfect brunch partners.
Decorations: If you're a DIY queen make pom poms from tissue paper. If you're not a DIY queen (like me) then buy them from Martha Stewart. I got a set of giant pom poms to place above the table and on the walls, as well as a small garland set to decorate the table with. A simple lace tablecloth sets the table and makes everything look brighter. Buying fresh flowers and putting them in pastel mason jars would be pretty too! If you cut out heart shapes from card stock you can make some simple and inexpensive name tags. Big Pom Poms (2 sizes) / Pink Pom Pom Small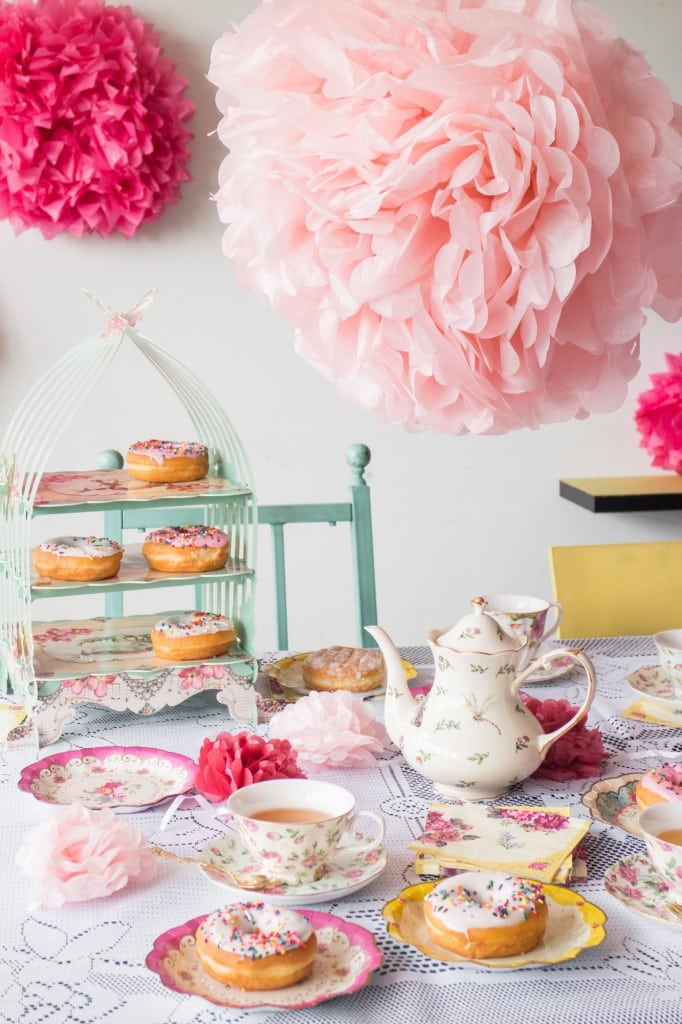 Music: You want something mellow and soft that can play in the background. The party is about friends catching up so you don't want something too overpowering. I recommend Koop's "Koop Islands" album which is jazzy with vocals, but is soft enough to make you relax. If you have Spotify, you can do a search for "brunch" that will give you good playlists. For the ultimate fancy tea party, put on some classical music like Beethoven.
I hope you liked my guide on how to serve the perfect brunch tea party! I hope you have a fun time and eat plenty of donuts!
And because you know I'm a crazy cat lady, who says you can't throw a special tea party for your cats too! My inspiration for the tea party was to throw a special event with friends and yummy food to show them how much I value their friendship, and that's what I want to do for my cats too. You all know how special my 5 cats (Xanadu Pluto, FiFi Bofinkles, Brother Bear, Goblin and Toes) are to me, so I love to spoil them equally (or more) to show them how much I love them! While you and your friends are enjoying pastries and the best tea, your cat can be having it's own special mealtime experience with Fancy Feast Medleys! Medleys include delicious combinations of ingredients to make a delicious recipe that will have your cat running with a tap of the can. Now with the new Fancy Feast Medleys, you can create more thoughtful and inspired moments for you and your furry feline baby.
Goblin sure enjoyed his brunch of White Meat Chicken Primavera Pate with Garden Veggies & Greens! What a fancy guy.

But hes' a bit of a party animal too…

Which means 30 minutes into the tea party Goblin needed a nap. <3