You only need one bowl for this Easy Scones Recipe! The secret to this homemade recipe is sour cream which makes light scones! Serve these crumbly English soft scones with clotted cream, jam and tea! You can add blueberry or raspberry to them to make them berry flavored!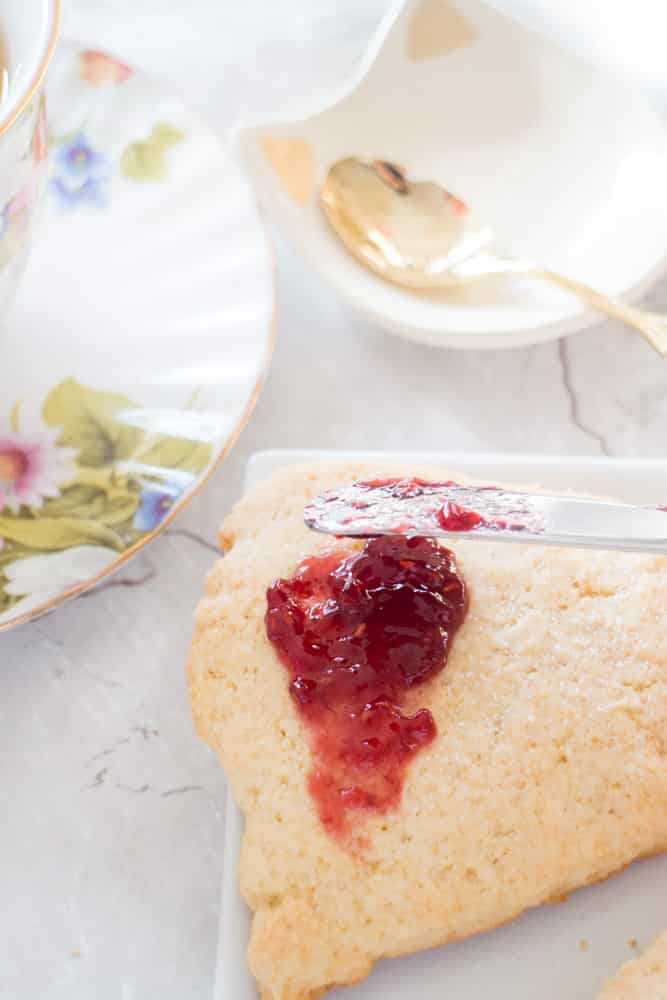 Easy Scones Recipe
I'm all about recipes that are easy and delicious, and that's why I wanted to share this easy scones recipe with you! From start to end (including baking time) you can have scones ready to eat in 30 minutes! Now that is easy!
Homemade Scones
Homemade scones have been on my "must conquer" recipe list for quite some time. Making the perfect scone is hard and I usually was left with something that was dense and cake-like and not crumbly and light, how scones should be. But no more – homemade scones, I did it!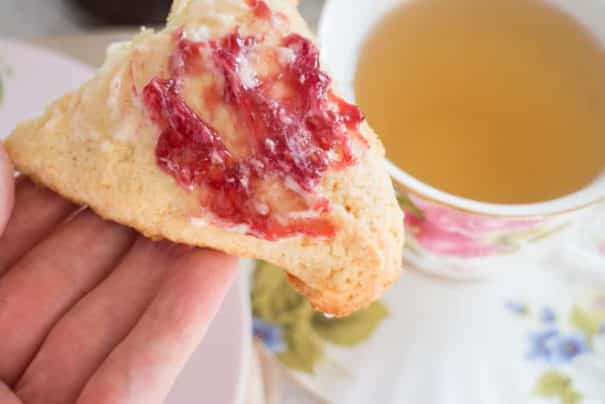 I'm in love with this Easy Scones recipe so much that I worry I'm going to be making these at least twice a week because they've become my new favorite afternoon snack served with tea. Make sure to serve them warm with clotted cream and jam. If you want to add fruit to them, you can totally can, just read my FAQ below for help. Enjoy!
Sour Cream Scones
There is a secret ingredient in these scones. Ok, maybe it's not a secret because I'm about to tell you.
It's sour cream! The sour cream is going to help make them feel light and crumbly, everything a good scone should be.
Scone Ingredients
What are scones made of?
Here's all the ingredients you'll need to make scones:
all purpose flour
sugar
baking powder
baking soda
salt
butter
sour cream
egg
I love that the ingredients are all so basic that you probably already have everything in your kitchen! Now it's time to make them!
How to Make Scones
Making the scones in the food processor couldn't be easier. Once you mix up your dry ingredients add in your 1/2 cup of butter. I cut my butter into smaller pieces as the food processor will handle them better this way.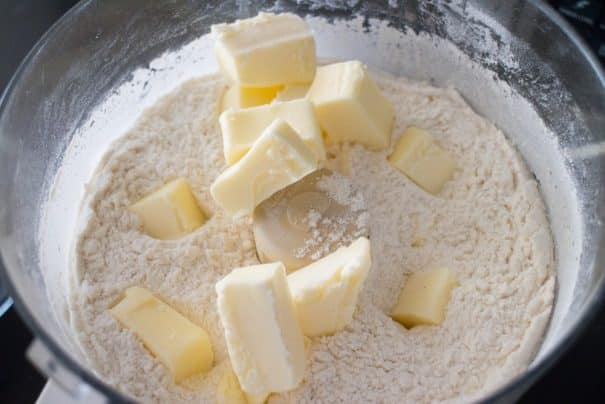 As you can see the batter is already looking crumbly once that butter is pulsed.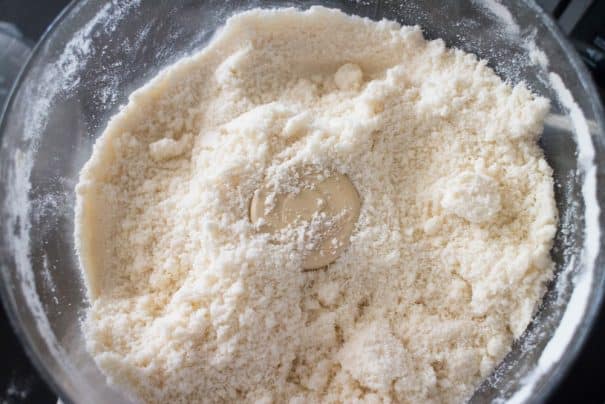 Now add in the sour cream and egg. Pulse until a dough forms.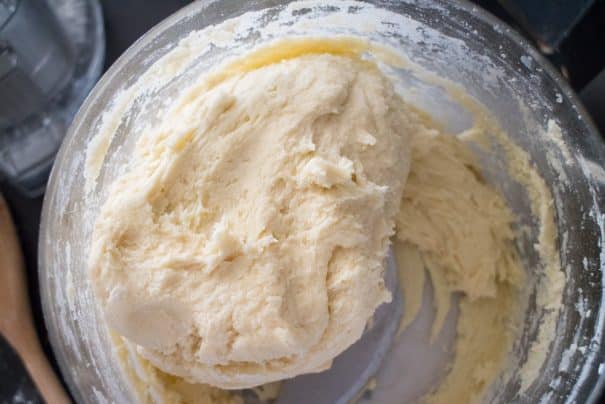 The dough is going to be really sticky and that's exactly what we want. To make it easier to handle add some flour to your hands. Put some more flour on a flat surface and place your dough on top.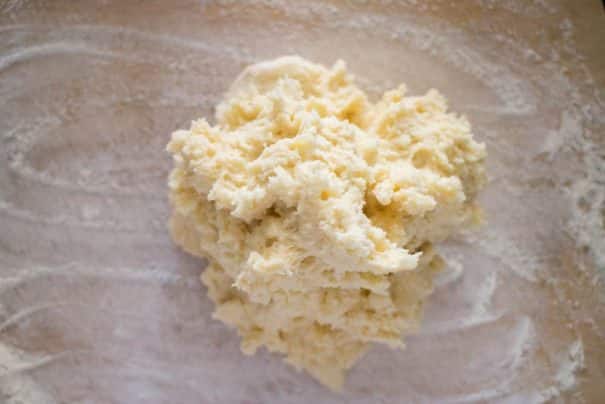 Using your hands gently press the dough into a 8 inch circle, about 3/4 inch deep. You don't need to use a rolling pin for this, just use your hands. If your hands are sticking to the dough, add flour to them.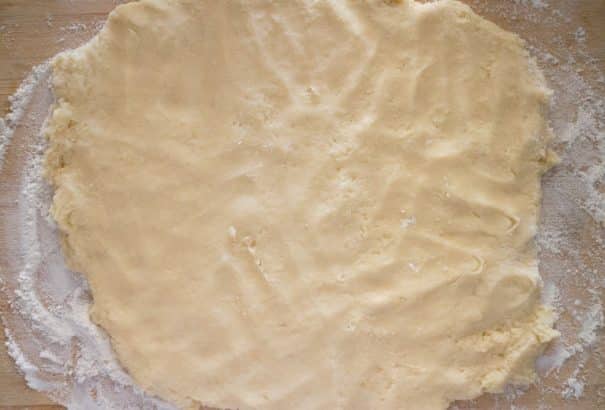 Now cut your dough into triangles. I cut mine into 8 big scones but you could cut it into 16 smaller ones if you like. If you find your knife is sticking when cutting, dip the knife in flour (do you see a reoccurring event here?).|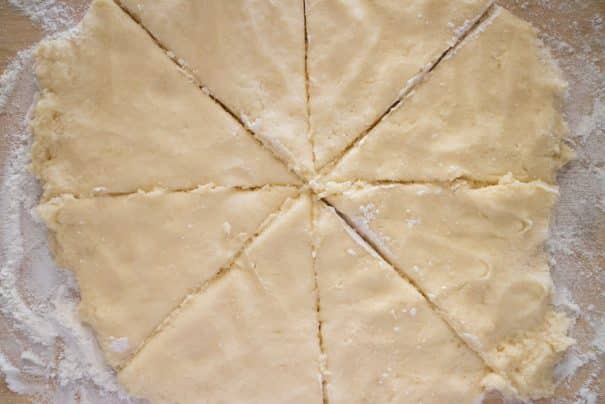 Put your scones on parchment paper lined cookie sheet or silicone baking sheets. Sprinkle some additional sugar on top.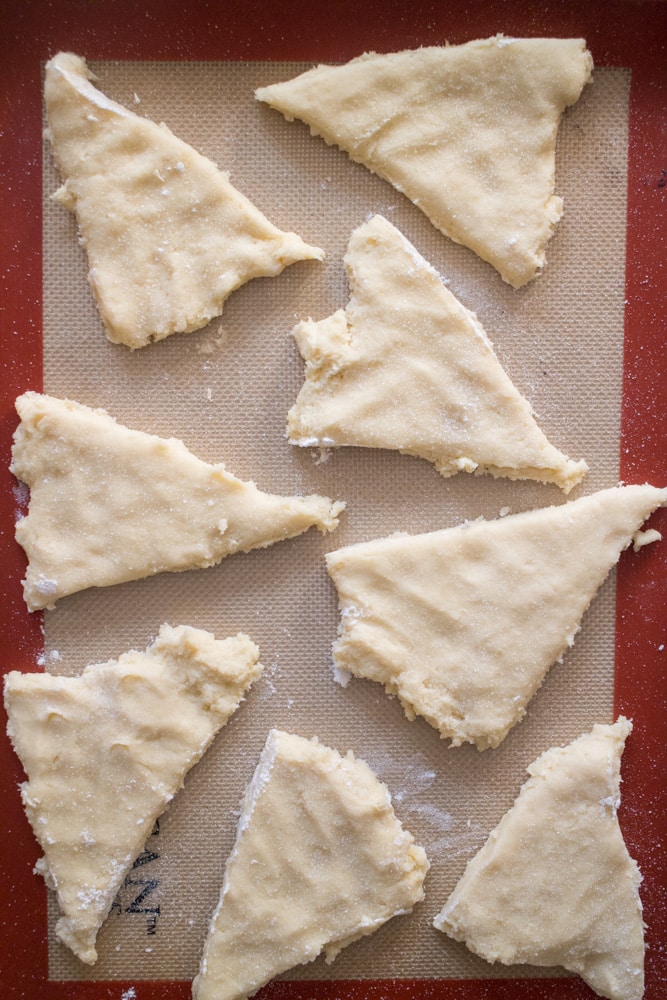 Once they're done baking (about 16 minutes) let them cool for a couple minutes and immediately serve warm.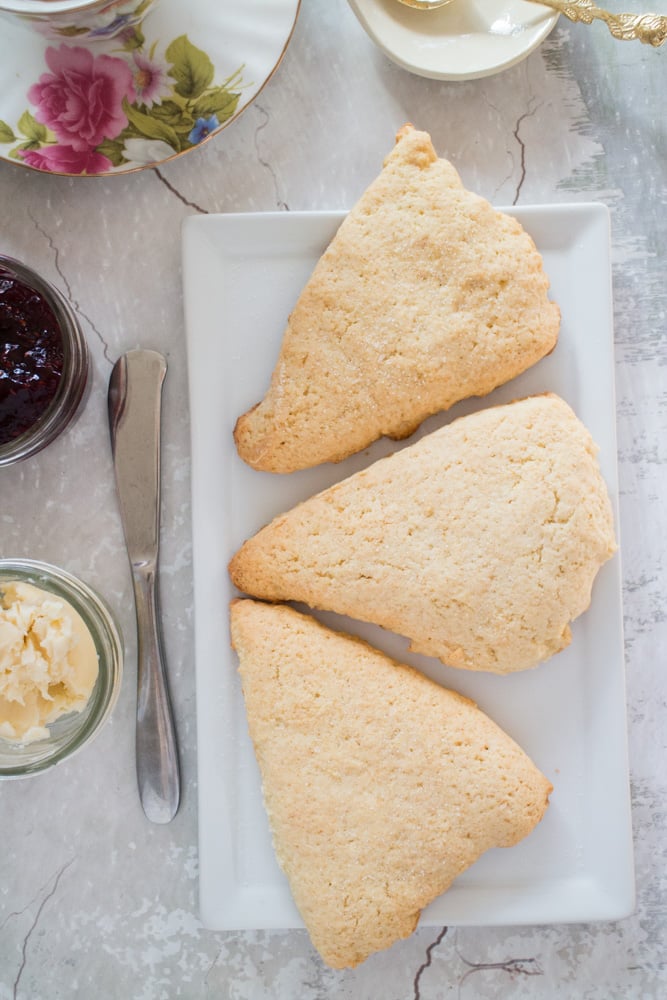 I love serving them with DIY clotted cream and jam, alongside a pot of English tea.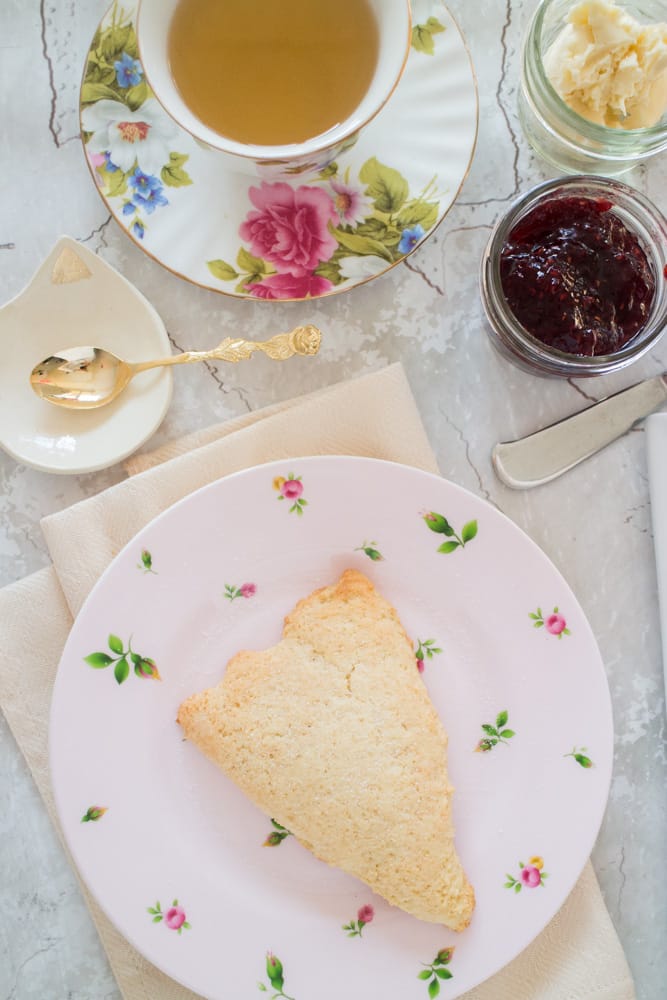 FAQ Scone Questions:
Do I need a food processor to make scones?
In theory, no, but it makes the scones much easier to make and gives them their signature crumbly scone texture. If you don't have a food processor you can mix by hand but just make sure you really get that butter to a crumbly coarse texture. To do this you might want to try grating the butter separately to get it crumbly. I
n general I think a food processor is a kitchen must have and once you have one you will quickly be using it a few times a week and wonder how you lived without it.
Does my butter need to be chilled for scones?
Yes, the butter should be chilled or frozen. Using room temperature butter will not result in crumbly scones.
Can I add raisins, chocolate chips or berries to my scones?
Absolutely. After making the dough add 1/2 cups of preferred add-in (I love raspberries) and stir them to combine with a wooden spoon. DO NOT PULSE IN FOOD PROCESSOR WITH ADD-INS!
Do I have to use sour cream for scones?
Yes! Sour cream is going to make them extra soft. If you're worried about them having a sour cream taste don't worry – they don't (and this comes from a girl who doesn't like sour cream!).
How many servings does this recipe make?
I like to cut my dough into 8 big scones, but you could easily cut it into 16 smaller scones.
What is clotted cream?
Clotted cream is made by slowly cooking heavy cream for many hours until it thickens up. Many recipes require lots of time, but I made a 5 minute clotted cream recipe that you must try.
Clotted cream is life changing and whenever possible your scones should be enjoyed with it. It's a rich, cream spread – kinda similar to butter but thicker and more sweet. It's kinda a butter/ice cream mixture if that makes sense at all.
Can I put icing on top of scones?
You sure can but I'd recommend using a light icing if you do. In my opinion clotted cream and jam are so much better on scones than icing.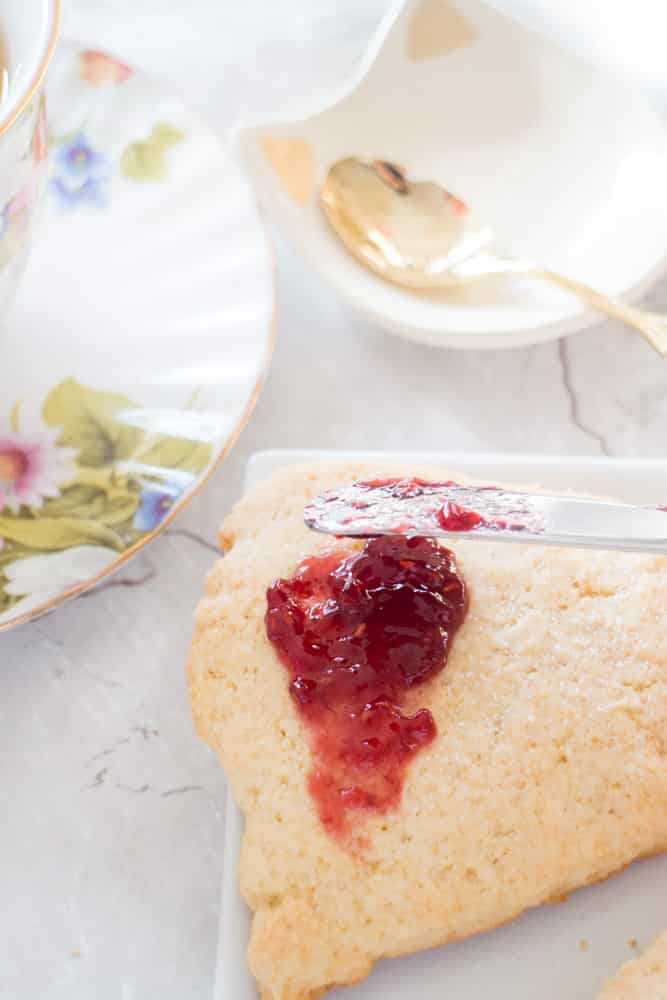 Other recipes you might like:
Chocolate Chip Scones
Blueberry Scones
Blueberry Buckle Cake
Mini Banana Muffins
Birthday Cake Muffins
Pin for later: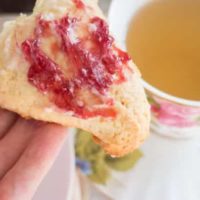 Easy Scones Recipe
Print
You only need one bowl for this Easy Scones Recipe! The secret to this homemade recipe is sour cream which makes light scones! Serve these crumbly English soft scones with clotted cream, jam and tea! You can add blueberry or raspberry to them to make them berry flavored!


Prep Time: 15 minutes
Cook Time: 16 minutes
Total Time 31 minutes
Ingredients
2 cups all purpose flour
1/2 cup sugar
1 teaspoon baking powder
1/4 teaspoon baking soda
1/2 teaspoon salt
1/2 cup butter chilled, cut up
1/2 cup sour cream
1 egg
Instructions
Preheat oven to 400 degrees.

In a food processor pulse flour, sugar, baking powder, baking soda and salt. Add butter, continue to pulse. Add sour cream and egg to food processor and continue to pulse until batter becomes coarse.

Remove the batter from food processor and place on floured surface. The batter will be very sticky – don't be alarmed! Pat it flat (gently) with your fingers to a 8 inch circle, around 3/4 inch thick. Cut the dough with a knife into triangle shaped scones. (Tip: Dipping a knife in flour will help you cut them without sticking) Place scones on a parchment paper lined cookie sheet and sprinkle a little bit of additional sugar on top of each one.

Bake for 16-17 minutes or until they are golden browned. Serve warm with jam, clotted cream and tea. Enjoy!
Nutrition Information:
Calories: 215kcal (11%)