CUCUMBER PEPPERMINT Tea is my favorite Summer drink! This homemade cup of green tea includes cucumbers, peppermint, honey and a splash of lemon juice to make a healthy and fresh drink. You can drink it hot or iced. The health benefits of this tea are great so I love drinking it every morning!
Cucumber Peppermint Tea
In August we start to see the Summer harvest really start to shine. Tomatoes and peppers are picked by the basket, corn is starting to be made, watermelons grow a few on each vine and the cucumber plants are snaking through the beds.
When we grew cucumbers on the roof in containers they would spread similar to pumpkin and watermelon plants, and now that we're growing Upstate they continue to spread and become friends with the kale, cabbage and other nearby greens.

With our Summer cucumber harvest I usually rely on my Half Sour Pickles recipe and call it a wrap, but I decided to use some of our cucumbers to enjoy in this refreshing Summer friendly Cucumber Peppermint Tea!
This tea uses 2 garden favorites, cucumbers and peppermint. Peppermint is a great herb that grows easily in gardens and in pots for smaller spaces. If you don't have a garden space, no worries, you can grow it on a fire escape or windowsill just as good.
Peppermint Tea Recipe
Peppermint produces quickly so make sure to keep picking the leaves so the plant keeps growing! One easy way to use the plant is to drink 1 cup of this Cucumber Peppermint Tea every morning to start your day! This also makes a great pregnancy tea!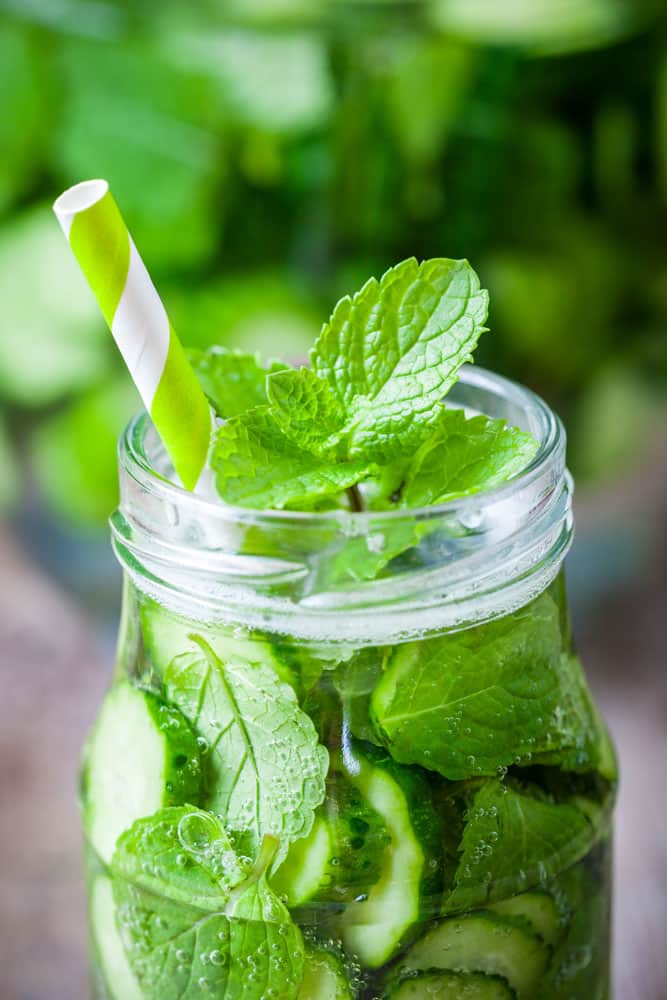 Make a cup of quality green tea, and then add honey, a splash of lemon juice, peppermint and cucumbers and you have the best Summer tea! Enjoy this Cucumber Peppermint tea everybody!

Want more tea?
Learn how to dry mint leaves for tea!
Here's how to make parsley tea.
How to get rid of a sore throat.
Pin for later:

Cucumber Peppermint Tea
Print
Ingredients
1 cup of quality green tea
1 tablespoon honey
splash of lemon juice
3 tablespoons of peppermint leaves
1/4 cup chopped cucumbers
Instructions
Make green tea as you normally do, let cool for 10 minutes. If you want it it chilled, stick in the refrigerator for 30 minutes.

Add honey and lemon juice into the cup of green tea and stir.

Add peppermint leaves and cucumbers and stir gain. Garnish with additional peppermint if you'd like.