Do you deal with headaches? If so, bring it in for a hug because I totally feel you on the pain.

I have battled with terrible headaches over the years which left me seeing a bunch of doctors which led to tests which led to needles which led to MRI machines which led to expensive pills which led me to cry in bed with a pain throbbing in my head so bad it felt like it was going to shoot through my eye.
I still get these headaches. Although I try to battle headaches with diet, limiting my stress (terrible at this), acupuncture (I can do it from home now with this mat!) and headache medication (I take Maxalt, it's the best headache medicine ever prescribed to me), I still get them. Just this week I had a horrible 36 hour headache that made working, or even walking down the street, difficult. The worst is when you are finally able to sleep, and think that when you wake up the next day will be great…. and then you open your eyes in the morning and that headache is still throbbing.
As much as I want that caffeinated Aged Earl Grey tea in the morning I found a simple and herbal solution to my headaches, mint tea. This tea isn't guaranteed to erase your headaches, but it does a fantastic job at limiting the side effects I get from them, while helping me cope with the pain. Whenever I feel one of my headaches starting I immediately make a cup of this Mint Herbal Tea. The way that it works is that the mint opens up the brain's constricted blood vessels, bringing relief to your headache. Pain killers act in the same way by relaxing the blood vessels (although, usually with caffeine with leads to caffeine withdraw… a brutal cycle!). I try to limit my prescribed headache medicine for the times when I think I'm a goner and instead reach for a few fresh mint leaves.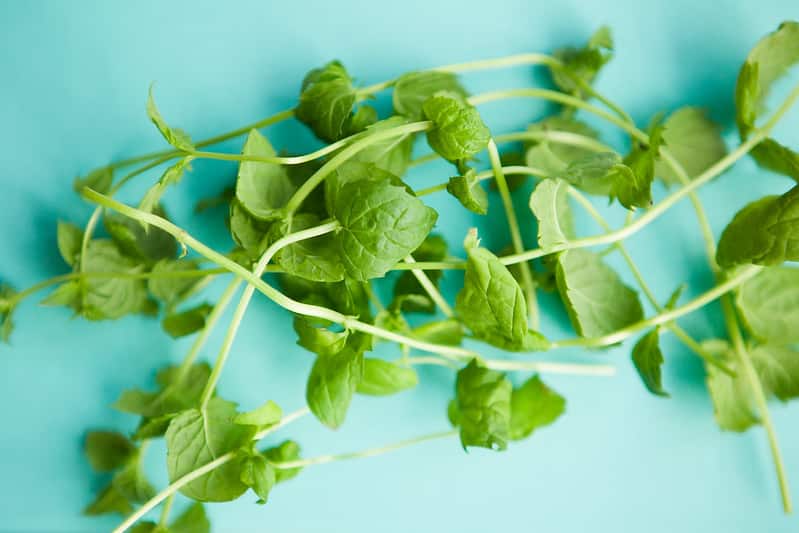 Mint tea has some other amazing health benefits:
It relaxes you as it's 100% caffeine free. This is a great before bed tea or a afternoon "I need to destress myself" tea.
If you suffer from stomach aches or menstrual cramps, this will help settle and sooth them.
Mint helps you keep a healthy weight as mint leaves help break down fat cells in the body.
So next time when you have a headache, I hope this little easy cup of tea makes you feel better and your headache is gone quickly! Because I know how bad they feel, I'm sending you a virtual pillow to go relax on the couch with too!
Mint Herbal Tea
Print
Ingredients
2 tablespoons fresh mint
hot water
Instructions
Fill your tea infuser with fresh mint and add to mug.

Pour hot water into mug.

Let sit for 5 minutes.

Remove infuser, flavor with sweetener if desired and stir.