This post is part of a social shopper marketing insight campaign with Pollinate Media Group® and Ronzoni, but all my opinions are my own. #pmedia #RonzoniSummer http://my-disclosur.es/OBsstV
There is a strong possibility that while you are reading this I am daydreaming about this pea pasta for dinner. During the Summer time when it's peak garden season this is our go to dinner that we have a few times a week. Once we start harvesting sugar snap peas by the pound (right now there's over 10 pounds worth in my fridge!) then we start to sing "It's pasta time..".

Let's start at those fresh ingredients, just picked from the garden. There's sugar snap peas, chopped lettuce, radishes and one gorgeous tomato. I counted the roma tomatoes a few days ago and there's over 200 on the plants ready to turn red. July is going to be tomato time!

The sugar snap peas are almost done with their Spring harvest, but we've got a bunch to last us. Not only do I love these peas fresh as a afternoon snack, but peas and pasta go together perfectly. The peas aren't cooked so they have a nice crisp taste to them in every bite.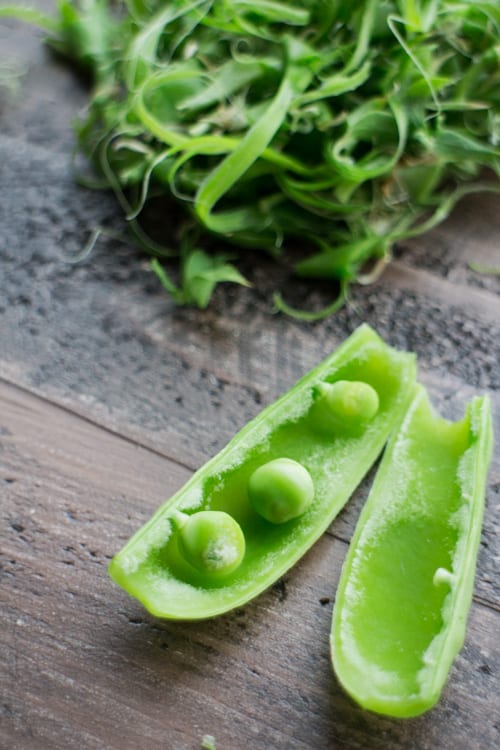 The worst part of peas is puling away those strings. I hate doing that job. My husband and I often joke that if we ever have a child, this will be one of the first things we teach them.

Lettuce is another vegetable that isn't thought of as a match for pasta, but it's perfect in this dish. If your family doesn't love greens as much as you do and isn't pleased with that salad you put on the table, try chopping up lettuce and adding it to your next pasta dish. After you chop up all your vegetables, throw them in a bowl. After the pasta is done, we'll throw it on top. By throwing the vegetables in the bottom, they will be easy to stir around evenly.

Time out. Let's marvel at this radish.

Did you swoon at it? Ok, me too. Now moving on…
Now, time to boil the pasta. I love this dish with egg noodles but what I love even more with vegetables…is more vegetables. I'm obsessed with this Garden Delight pasta from Ronzoni. There's one serving of vegetables per each 4 oz serving. This is another sneaky way to get your kids to eat these vegetables. Just tell your kids these are rainbow colored pasta noodles and they'l fall in love with them. I found these at Walmart for the same price of regular pasta. Plus, right now there's a $1.00 coupon off any two Garden Delight items in most newspapers on 6/28/15. Then to make it better, there's a $0.55 coupon in store at Walmart starting 6/22 to 8/2 (while supplies past). I love sales and I love vegetables – yay!

I've talked about my love of mixing pasta noodles together when we have a bunch of half empty boxes, so I saw hearts in my eyes when I learned they have Trio Italiano. To find Ronzoni Garden Delight pasta, check out this product locator.

Now my favorite part, this dish takes 10 minutes to make. After the pasta is done, throw it in your dish with your vegetables and pour some olive oil on top. The always tricky pour the olive oil while holding the camera shot, thankfully I got it in one frame.

Along with some oregano, salt and pepper, mix up the pasta and it's done! Throw some in a bowl and admire at the beautiful dish you just made.

I really do love that there's a ton of vegetables in every single bite, especially with that carrot, spinach and tomato enriched pasta!

From farm..

To table, don't you love it?

Simple Pea Garden Pasta
2015-06-29 02:02:16
Ingredients
12 oz box of Ronzoni Garden Delight Pasta (I used Trio Italiano)
2 cups sugar snap peas, strings removed and cut into thirds
1 large tomato, cut up
1 radish, sliced thin
1 cup loose lettuce, chopped
1/4 cup olive oil
1 tablespoon dried oregano
salt + pepper to taste
Optional: Parmesan cheese or Chopped Jalapenos to garnish
Instructions
Make pasta according to box, drain.
Add all your vegetables to large serving bowl. Add your cooked pasta on top.
Pour in olive oil, oregano and salt + pepper. Stir good so everything is combined and coated with olive oil.
Serve and enjoy!
For added yum, sprinkle a light amount of Parmesan cheese on top or for a kick, add finely diced jalapenos on top!
Brooklyn Farm Girl http://brooklynfarmgirl.com/