You'll love this creamy cauliflower pasta dish because it's cheesy and full of vegetables. Plus it'll be done in 15 minutes. Isn't that a win win situation?
Our cauliflower was picked in the beginning of June so I've been waiting to share this recipe with you! We love harvesting cauliflower. We love that one plant equals one head of cauliflower, so it's always a little bit more special as you really have to take care of that plant. Some years we've had success with cauliflower and some years it gets hot too quickly and the cauliflower ends up the size of a tennis ball. It's one of those plants we always have to decide at the beginning of seed planting calendar if we should grow that year, but somehow it always wins.
Plus, if the cauliflower grows, I'm one happy girl. I even do a little dance for it, but I won't show you that.

I just love how it's a bundle of joy, all wrapped up.

And I especially love when it's smothered in a creamy cheese sauce. Oh la, la.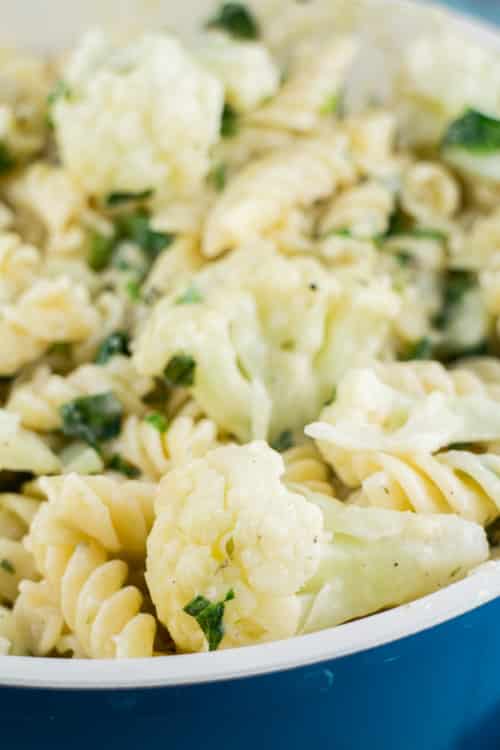 I love this recipe for other reasons besides the cauliflower cheesy awesomeness. Its a great way to sneak in some lettuce to get your greens in. I throw a half a cup of chopped up lettuce, but you could probably up it to a cup. Once it's mixed in with the pasta and cream sauce, noone will notice and they'll be asking for seconds.

Now go ahead, grab a fork and dive into this pasta dish!
Hope you have a great weekend and if you get a chance, why don't you try out this recipe?
Creamy Cauliflower Pasta
Ingredients
12

oz

rotini pasta

1

medium size cauliflower head

chopped into bite size pieces

2

tablespoons

butter

2

cloves

minced garlic

2

tablespoons

flour

1/2

cup

chicken broth

1/2

cup

milk

1

teaspoon

parsley flakes

salt + pepper to taste

1/4

cup

grated Parmesan cheese

1/2

cup

lettuce

chopped
Instructions
Cook pasta as instructed on box. Drain, put back in pot and set aside.

Steam cauliflower for 3 minutes. Drain and set aside.

Melt butter and garlic in a medium saucepan. Add flour and cook for 1 more minute, stirring.

Add chicken broth and milk, continuing to stir until sauce thickens.

Add parsley, salt + pepper and Parmesan cheese. Keep stirring!

Pour cheese sauce over pasta. Add in lettuce and cauliflower.

Stir so everything is mixed and then serve hot.

Enjoy!