Can you guys believe it's August already? Even though Fall is my favorite Season and I'm ready for the months to leap ahead and the leaves to change, there is still something romantic about the Summertime. There's the gathering of friends in a park for a picnic, there's barbecues on a rooftop, there's farmers market stands bursting with the most tasty plums and peaches and there's full force ahead garden season happening on the roof.
How can't I love and respect Summer when I can run up to the roof and grab all these beauties from their container? Hello beautiful tomato!
And how can't I really love Summer when all those vegetables can come together and create this burger masterpiece?
Because I'm craving a picnic style dinner to celebrate August I wanted to make a burger but put my own garden loving taco twist on it. Think of this as half burger, half taco. Think of it as 100% delicious. Who wants to spend a lot of time in the kitchen during the Summer? Not me. I love these burgers because they are quick. This is a 5 minute meal. By the time you decide it's going to be a burger party in just a few minutes later you'll have all the supplies ready to go and ready to sit down and get your burger on.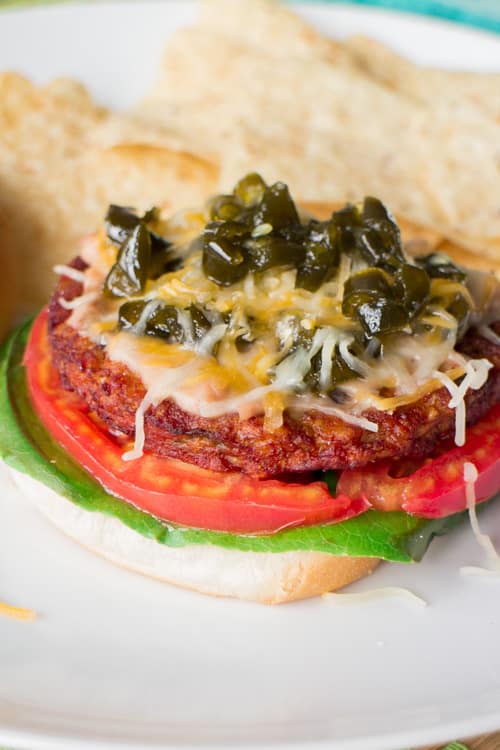 And it's going to be one heck of a tasty burger. To start you'll have a Spicy Black Bean burger as a basis that is loaded with beans, tomatoes and corn. Then we're going to use refried beans as the sauce that holds this burger together. Throw on some lettuce, tomatoes, a little Mexican blend cheese and a bunch of jalapenos (or candied jalapenos!) and you have a bring the house down burger. I'm serious guys. This is a life changing burger. It won my heart!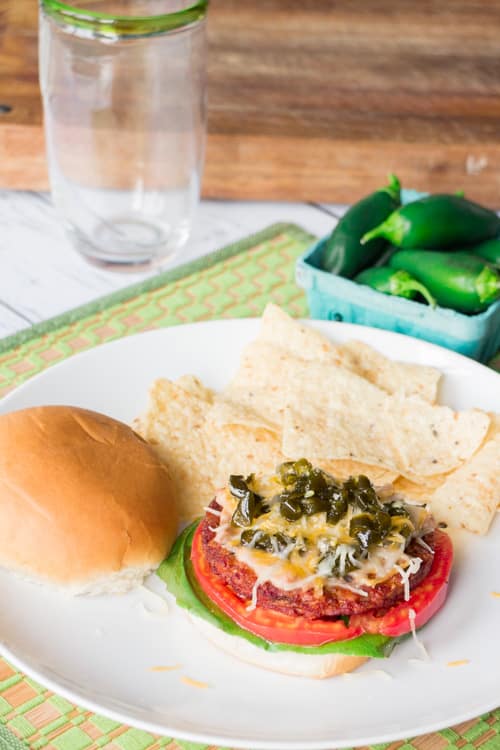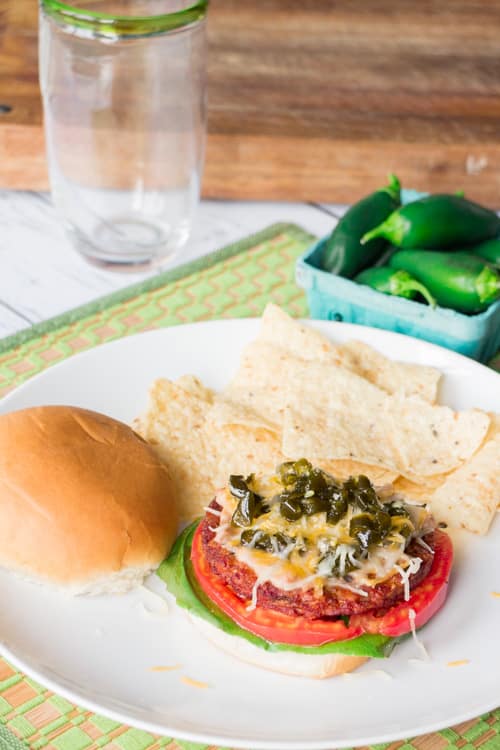 Hope you enjoy!
Mexican Taco Black Bean Burger
2014-08-04 18:20:25
Ingredients
4 Black Bean Burgers (I used MorningStar Farms Spicy Black Bean Burgers)
4 hamburger rolls
1/4 cup refried beans
4 thick tomato slices
4 lettuce pieces
1/4 cup Mexican blend shredded cheese
2 jalapenos - deseeded and chopped up (can substitute with candied jalapenos!)
Instructions
Cook burgers according to directions on box.
Assemble all your toppings.
On the bottom bun put lettuce, tomato and bean burger.
Spread 1 tablespoon of refried beans on each burger.
Continue to add cheese and jalapenos.
Put top of burger on and enjoy!
Brooklyn Farm Girl http://brooklynfarmgirl.com/
MorningStar Farms
is a favorite when it comes to making flavorful meatless meal options. I don't want meat everyday, so this burger is a great in between that doesn't lack on taste (in fact, it has a lot of taste!). Whether you are hosting a party for friends or cooking for a family for Sunday dinner, MorningStar Farms offers a fresh and versatile take on eating well with more than 30 products and 600 recipes that are convenient and delicious. To celebrate how special Summer is, MorningStar Farms is stopping at local festivals across the country to serve up a variety of delicious, flavorful and good-for-you meal options during the "Good Food for Good Times" tour. Visit
www.morningstarfarms.com
to find exciting new ways to enjoy MorningStar Farms and spice up your kitchen! And make sure to try the Spicy Black Bean Burgers – you won't regret it, trust me!
I was selected for this opportunity as a member of Clever Girls Collective and the content and opinions expressed here are all my own.