Chewy, crispy M&M cookies made with a simple sugar cookie dough. These cookies are quick to make with no chilling needed.
Chewy & Crispy M&M Cookies
It wouldn't be Christmas without baking a couple dozen of M&M cookies. I love this M&M cookie recipe because there's no chilling needed. If you're anything like me, sometimes you forget to plan. 🙂
These cookies are the perfect consistency of chewy and crispy, with each bite filled with chocolatey M&M's.
Even though these are Christmas themed, you can easily swap the festive red and green M&M's with rainbow M&M's and make them any time of the year. I hope you enjoy these cookies!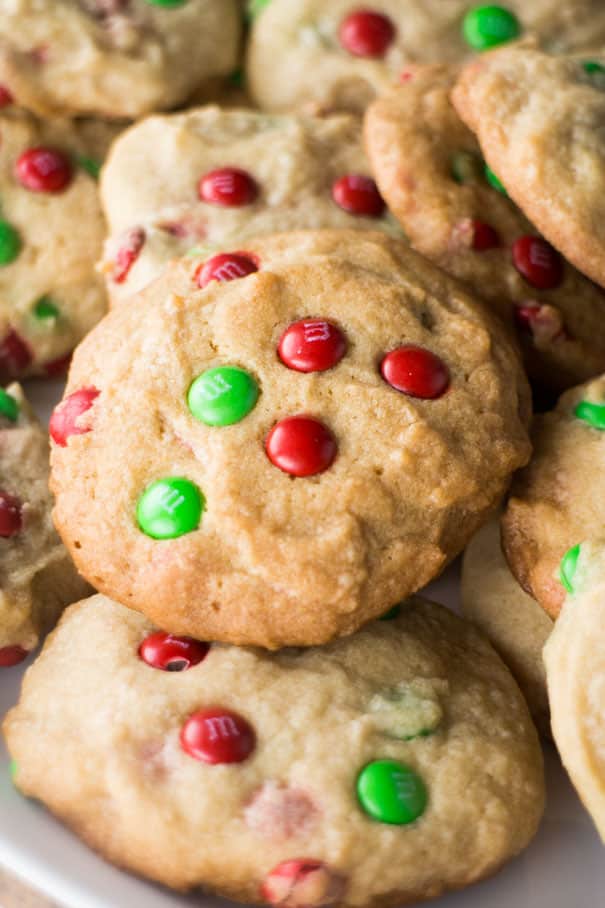 Tips on making perfect M&M Christmas Cookies
M&M Christmas Cookies are super easy to make and there's no chilling of dough required! Here's some of my tips that I find that are important in making M&M cookies to prevent them from becoming flat.
Make sure to use softened butter – not melted – softened. The best way to achieve is this by letting the butter sit out for a few hours, or even overnight. If you use melted butter, your cookies are going to spread out and become flat.
Don't over mix the dough. Use a hand mixer to combine the wet ingredients and after that, use a rubber spatula or a spoon to mix the rest of the ingredients in.
You can use regular sized or mini M&M's for these cookies. Sometimes I keep the M&M's whole, but sometimes I like to coarsely chop them up. By chopping them up you'll have more equally distributed chocolate and I find that it really makes a delicious cookie!
The cookies will stay fresh, at room temperature, in an airtight container for up to 5 days. But seriously, these cookies aren't going to last that long if I live with you.
Can You Freeze M&M Cookie Dough?
Yes, this cookie dough will freeze well. The dough can be made ahead of time, placed in a freezer-safe airtight container and stored in the freezer for 3 months.
Another option is to freeze individual balls of dough. Freeze the balls of dough, first, for about an hour on a sheet pan. Then store them all in a freezer-safe airtight container in the freezer. This method works well if you don't want to bake all of the cookies at one time.
Can You Freeze Baked M&M Cookies?
These M&M cookies work great for baking ahead of time and freezing for later. To freeze, place the completely cooled baked cookies in a single layer in a freezer-safe baggie and store in the freezer. When you're ready to eat your cookies, let them sit at room temperature until they're soft.

More Recipes for your Cookie Tin
Making a cookie tin? Try my very popular Cream Cheese Sugar Cookies or these delicious Soft Gingerbread Cookies! And don't forget the Chocolate Pretzel Cookies, Peanut Butter Blossoms, Chocolate Peanut Butter Blossom Cookies and Snowball Cookies.
Pin for later:
Christmas M&M Cookies
Print
Chewy, crispy M&M cookies made with a simple sugar cookie dough. These cookies are quick to make with no chilling needed.
Prep Time: 10 minutes
Cook Time: 14 minutes
Total Time 24 minutes
Ingredients
1/2 cup butter very soft – but not melted
1 cup white sugar
1/4 cup brown sugar
1 egg
1 tablespoon vanilla
1 1/2 cup all-purpose flour
1 1/4 teaspoon salt
1/4 teaspoon baking soda
1 cup M&M's whole or chopped
Instructions
In a large bowl cream together butter, white sugar, brown sugar, egg and vanilla with hand mixer. Now set aside the mixer and grab a rubber spatula or wooden spoon.

Add flour, salt and baking soda into the bowl and mix with spatula until a cookie dough forms.

Fold in M&M's and mix until they're equally distributed.

Preheat your oven to 350 degrees F. While the oven is preheating, place your cookie dough into the refrigerator.

Shape dough into large balls (about 2 tablespoons per cookie) on 2 baking sheets.

Bake for 13-15 minutes, or until lightly browned at the edges and bottom.

Remove from oven and allow to cool before eating.