Capture all the colors of the rainbow (plus lots of nutrients) in this Rainbow Kale Salad! It's made with kale, cherry tomatoes, bell peppers, and parmesan, then dressed in a lemon olive oil vinaigrette. Easy, healthy and delicious!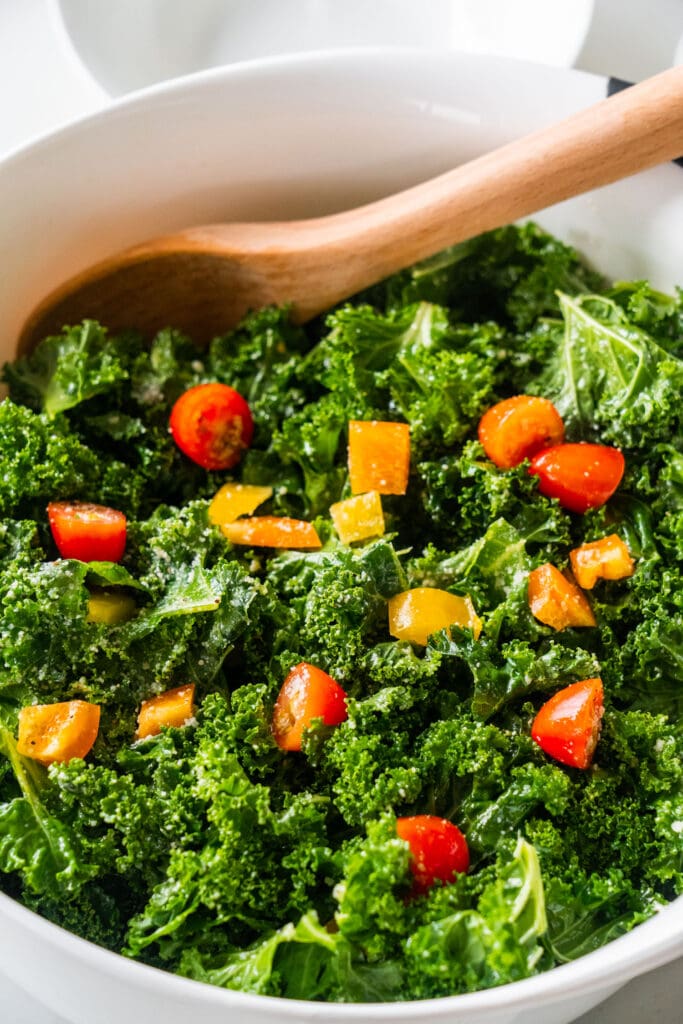 Kale salad with cherry tomatoes
If you've been searching for an easy go-to salad you can make for both family dinners and crowded events, this Rainbow Kale Salad is it! You won't believe how easy it is to throw together, plus the bright colors are impossible to resist. It'll be scooped up before you know it!
I loaded this kale salad recipe with cherry tomatoes, colorful sweet peppers, parmesan cheese, and an easy olive oil and lemon salad dressing. It has a little bit of everything:
Juicy, tart veggies
Bright flavors
Healthy greens
Savory cheese
Kale is one of my new favorite vegetables because it's loaded with a ton of health benefits and is so flexible. It pairs perfectly in a salad with all kinds of veggies, proteins, and dressings, and can even be used in savory soups, homemade crackers, and pesto sauce. It's no wonder why they call kale a superfood!
The secret to the best kale salads
If you want your kale salads to be irrisistable, you have to massage the kale leaves first (oh la la!). I know it sounds odd, but it's really important!
Kale is naturally bitter and dry. You can break down the tough exterior easily by massaging a little bit of olive oil, water, lemon juice, or any salad dressing you like into the leaves with your hands. After a few minutes, the leaves will wilt and taste so much better!
How to make a rainbow kale salad
This bright and colorful salad comes together in a pinch! You can throw it together whenever you need a healthy side dish or colorful lunch:
You'll need 2 bunches of kale for this salad (about 10 ounces worth). Once the kale is washed and chopped, place it in a large bowl.
Pour olive oil over the kale and use your hands to massage it into the leaves until they're slightly wilted.
Add cherry tomatoes and chopped bell peppers – I like to use a variety of colors to make this a rainbow salad.
Now add Parmesan cheese, lemon juice, salt, pepper, and red pepper flakes to the bowl.
Toss everything together, then serve and enjoy!
Kale salad add ins
You can make this salad your own by adding protein, more veggies, extra flavor, and more! Use these suggestions or go ahead and get creative:
Nuts and seeds – Sprinkle your salad with almonds, sunflower seeds, cashews, pumpkin seeds, or walnuts for a boost of protein and crunch.
Beans – Like canned chickpeas, lentils, or kidney beans.
Protein – Make this salad extra filling for lunch by adding in pre-cooked chicken or shrimp. You could even double up the kale and throw in a few baked kale meatballs!
Vegetables – Any kind of vegetable fits in with a kale salad. Add in carrots, avocado, celery, radishes, sprouts, roasted beets, cabbage, cucumber, broccoli, sugar snap peas, roasted delicata squash or anything else you can think of.
More greens – Transform this into a mixed greens salad by adding in arugula, spinach, chard, or romaine lettuce.
Switch the dressing – When served with the right dressing, a simple salad can explode with flavor. Switch out the lemon vinaigrette for Italian dressing, creamy ranch dressing, pesto, or balsamic vinaigrette.
What to serve with kale salad
This simple side dish is easy to throw together right before dinner hits the table. Serve it next to chicken parmigiana, chicken marsala, crispy baked shrimp or Italian sausage pasta for extra nutrition at dinner or pack it up with pasta salad or roasted vegetable sandwiches for weekday lunches. You can't go wrong!
Looking for more kale recipes?
Pin for later:
Rainbow Kale Salad
Print
Capture all the colors of the rainbow (plus lots of nutrients) in this Rainbow Kale Salad! It's made with kale, cherry tomatoes, bell peppers, and parmesan, then dressed in a lemon olive oil vinaigrette. Healthy, easy and delicious!
Prep Time: 5 minutes
Cook Time: 0 minutes
Total Time 5 minutes
Ingredients
2 bunches kale washed and chopped
1/3 cup olive oil
1 pint cherry tomatoes halved
1 cup bell peppers (mixture of rainbow colors) chopped
1/4 cup Parmesan cheese
2 tablespoons lemon juice
1/4 teaspoon salt
1/4 teaspoon pepper
1 pinch red pepper flakes
Instructions
Add kale to a large bowl. Pour olive oil on top and massage kale for 2 minutes, making sure to massage the olive oil into all the kale leaves.

Add tomatoes, bell peppers (I like to use a mixture of orange and yellow to make it more colorful), Parmesan cheese, lemon juice, salt, pepper and red pepper flakes into the bowl. Mix to fully combine.

Serve and enjoy!