Tips on how to treat a yeast diaper rash when Nystatin doesn't work. You'll see incredible results in 24 hours and it will be completely gone in 3 days. You'll need Monistat 7, diaper rash cream, water wipes and a towel.
How to Get Rid of Yeast Diaper Rash
Since she was a baby my daughter has been prone to diaper rash. Even though we change her often, her sensitive skin sometimes can't handle the littlest bit of moisture, and we end up with diaper rash. We've been working on combating diaper rash for a while now, but then there was a new enemy in town – Yeast Diaper Rash!
We treated our daughter's yeast diaper rash with Monistat cream. We saw amazing results in 24 hours and it was completely gone in 3 days. I'm sharing this with you because I know how hard baby yeast infection can be to get rid of!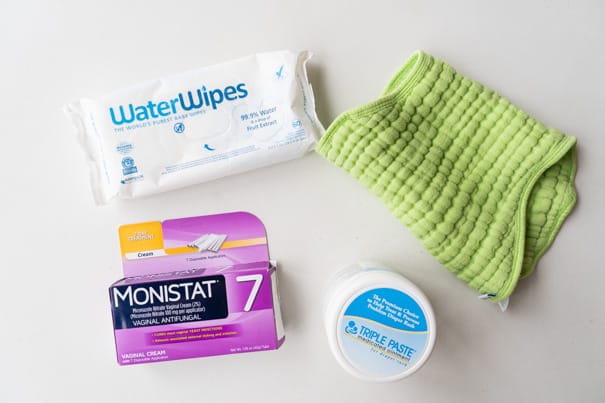 What is yeast diaper rash?
Babies and toddlers can develop a diaper rash caused by yeast, more specifically candida. This yeast grows in warm, moist places, a perfect location can be found in your baby's diaper.
Symptoms of Yeast Diaper Rash
Sometimes it's hard to differentiate between regular diaper rash and a yeast diaper rash, but for me, there's a few sure signs to tell you it's yeast growing:
The area is not just red, it's filled with raised areas, including blisters and sores.
The area looks scaly and red.
The rash looks like it's spreading. Yeast is a fungus and it grows. Overnight you might notice more red bumps, starting to spread.
Diaper rash cream doesn't make it go away. When my daughter had a yeast diaper rash, we thought it was just a regular diaper rash so we treated it with diaper cream. Then it got worse really quickly.
When Nystatin doesn't work for diaper rash
We took our daughter to the pediatrician and she quickly confirmed that it was yeast and that we should apply nystatin for diaper rash. So we followed the instructions, but nothing was working. In fact, it seemed to be getting worse and spreading slightly outside the diaper area.
Nystatin and clotrimazole (aka Lotrimin) and antifungal cream for babies are often prescribed for yeast diaper rashes, but often times they don't work. The quicker you can notice these aren't making a difference, the quicker you can start a new method that is actually going to relieve your child (and yourself) of this pesky yeast diaper rash.
Monistat for Diaper Rash
Monistat solved all our yeast diaper rash miseries, leading me to write this blog post so you wouldn't have to deal with it! Monistat (Miconazole) is a treatment to help fungal infections and vaginal yeast infections in women. If you're a woman, you probably have used this at one time in your life. This helpful cream is not only great for Mom, but for your child's yeast issues too.
Here's what you need to treat yeast diaper rash:
Diaper Rash Cream (whatever your choice is, we like Triple Paste)
SENSITIVE! Wipes (we like Water Wipes)
Lots of cloth towels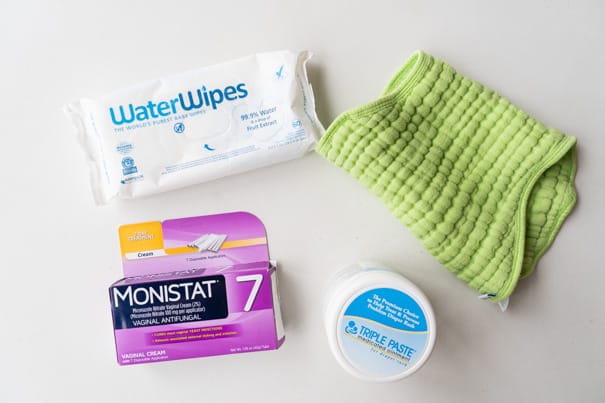 A little more detail about each:
Monistat sells so many varieties (so my husband tells me when he searches for it at the drug store!), but you're looking for Monistat 7.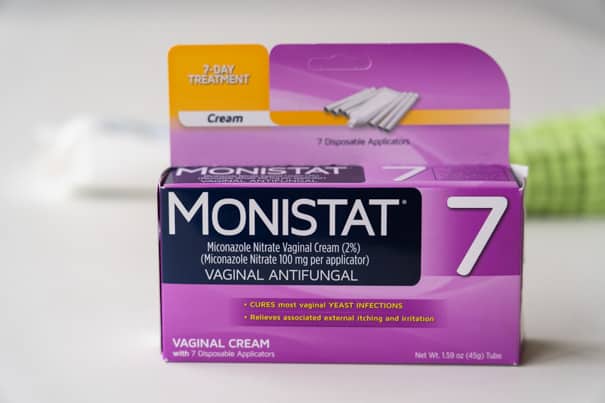 Inside the box you'll find applicators and cream. THROW AWAY THE APPLICATORS. You won't be needing those! The only thing you need is the cream that comes in a tube.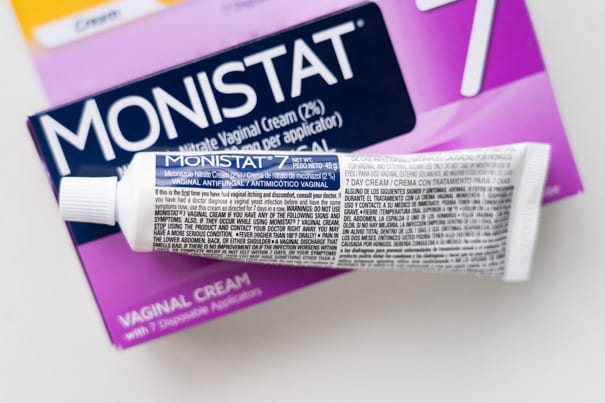 Although we want to keep the diaper area as dry as possible, we do to clean it. I recommend Water Wipes, which are 99.9% water. We started using these immediately when my daughter got her first diaper rash, and will never go back to other wipes. Regular wipes have chemicals in them, and that will BURN your little one's area when they have diaper rash. Seriously, they will scream and you both will cry.
Alternatively you can just use water and a towel. This is the cheapest and most eco friendly method!
You'll need lots of towels for a few things. One, after I wipe my baby, I like to pat her down with a towel. She can't always run around naked to air out (more about that below), so the towel makes sure she's completely dry before her diaper goes back on. Yeast grows in moist places, so you want to keep it dry. Also, yeast spreads! Never use the same towel twice, make sure to wash it!
Secondly, you need a towel to get the Monistat off your hands after you apply it.
I find that if you want to make it easy, without all the laundry washing, you can use a CLOTH paper towel. I recommend Viva, they're cloth and as soft as a towel.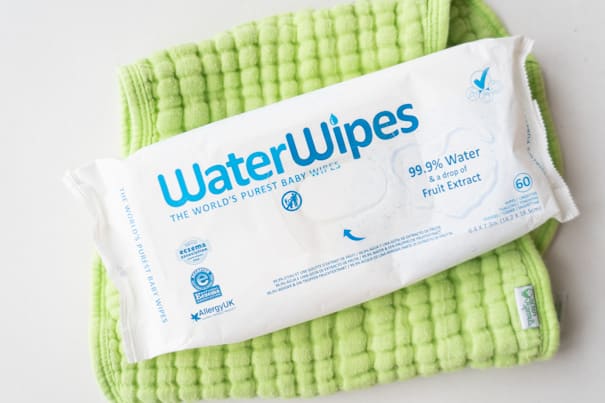 Lastly, you'll need a diaper rash cream. While Monistat is killing the yeast, you'll also want to create a barrier to fight against moisture that can make the area worse. Use whatever diaper cream you want, A+D, Destin, Butt Paste, Burt's Bees, etc etc etc. We personally love Triple Paste, it's a little more expensive than other brands but it has worked the best for us.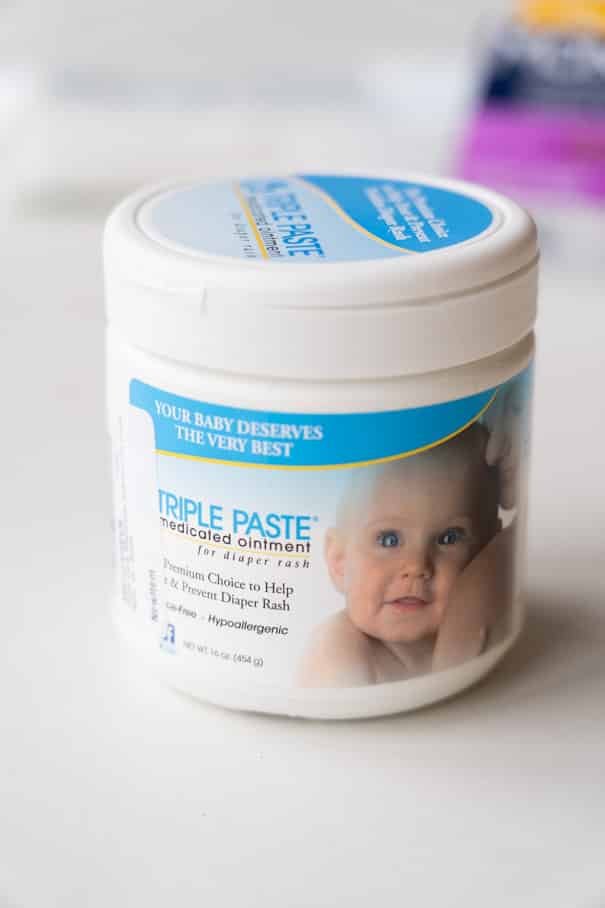 OK FINALLY THE TIME HAS COME!
Treatment for Yeast Diaper Rash
Time to get rid of Yeast Diaper Rash! You know the tools you need, so here's what you're going to do. This method works for both a baby and toddler yeast infection.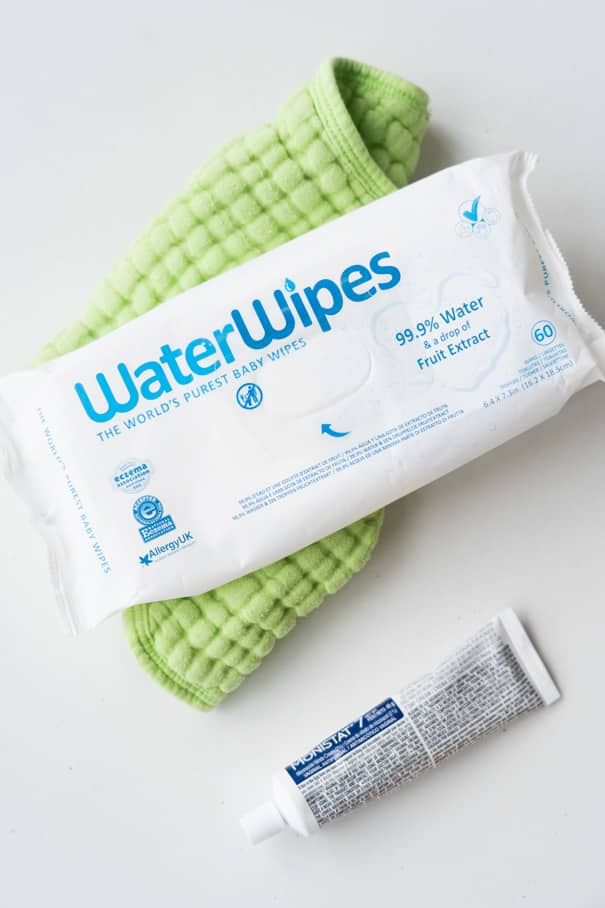 Every Diaper Change: Apply Monistat 7 after EVERY diaper change. You want to cover the area completely, so use it liberally. You should see results in less than 24 hours, and it should be almost completely gone within 72 hours.
Naptime and Bed Time: Apply Monistat 7 and diaper rash cream at naptime and bedtime. First put on the Monistat 7, then put on the diaper rash cream. They're going to rub together and your fingers will be a mess, that's fine. We do this at nap time and bed time because they will be sitting in a wet diaper for longer periods of time.
Every Diaper Change: Clean your baby up using either a Water Wipe or wet cloth. Then dry the area either naturally or with a towel. Once dry, continue putting on the Monistat cream.
Example Schedule:
7:30AM change – Wet Wipe, Dry, Monistat 7
9:00AM change- Wet Wipe, Dry, Monistat 7
11:00AM change -Wet Wipe, Dry, Monistat 7
1:00PM – NAP TIME – Wet Wipe, Dry, Monistat 7, Diaper Rash Cream
3:00PM change -Wet Wipe, Dry, Monistat 7
5:00PM change -Wet Wipe, Dry, Monistat 7
7:00PM – BED TIME – Wet Wipe, Dry, Monistat 7, Diaper Rash Cream
Other tips to help get rid of Yeast Diaper Rash
Here's some other tips that might speed up the process of getting rid of a baby yeast infection.
As soon as you see they're wet, change them. Be overly liberal with changing them. If you're going out for the day, wear a easy outfit to change.
When it's bath night, give your little one a baking soda bath. Pour 2 tablespoons of baking soda in the bath water. While we're on the bath subject, stay clear of products that might irritate your little one's skin, like bubble bath and chemical heavy soap.
Air them cheeks out! Get ready for a naked baby. I know that letting your child run around your home naked isn't the easiest things (hi accidents!), but airing their skin is important. Even an hour a day of naked time will help clear up the diaper rash quicker.
Eat yogurt! Your child probably already loves yogurt, so this is going to seem like a treat to them! Yogurt is a probiotic so it will naturally help get rid of new yeast.
I hope this post helped you get rid of yeast diaper rash! If you like my Mom tips, follow me on Instagram!
DISCLAIMER: IF YOUR CHILD SHOWS ANY SIGNS OF GETTING WORSE, CONTACT YOUR DOCTOR IMMEDIATELY! I'm not a Doctor, or a nurse, or a medical practitioner of any kind. I'm just a Mom, sharing my tips and methods on what worked best for my child. Talk to your Pediatrician first.
More Baby Posts
Here's some other posts you might like:
Butternut Squash Baby Food Recipe
Sweet Potato Cookies (Baby Led Weaning)