Follow these easy step by step instructions to make delicious Rainbow Popcorn Balls! They are fun to make for birthday parties, sleepovers, camping trips and dessert!
Do you remember my Inside Out party I threw a few months ago? One of my food centerpieces were these Rainbow Popcorn Balls! There's something about bright rainbow colors that makes me happy! For example I had to turn our pumpkins into a rainbow earlier this week. It's like sprinkles, everything is better with rainbow sprinkles!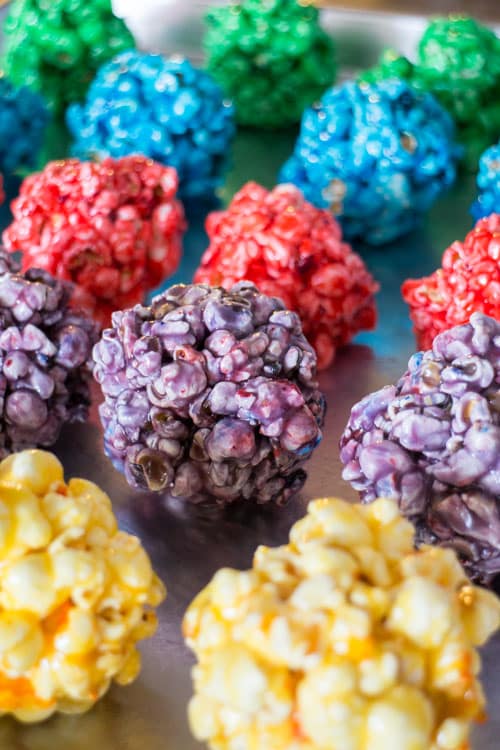 One taste of these Rainbow Popcorn Balls will have you amazed by how delicious they are, but yet how easy they are to make!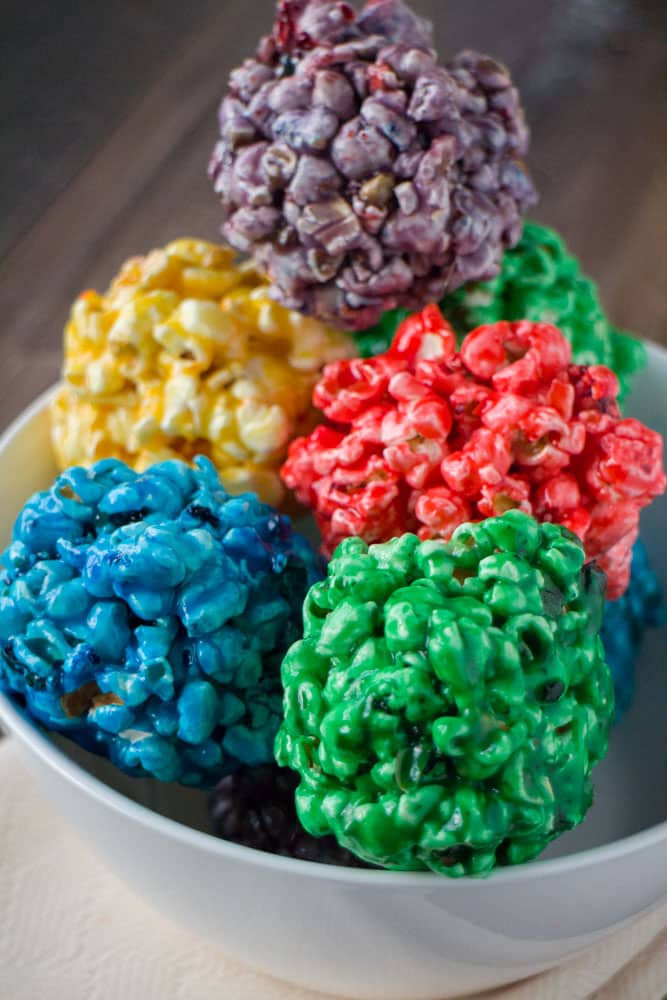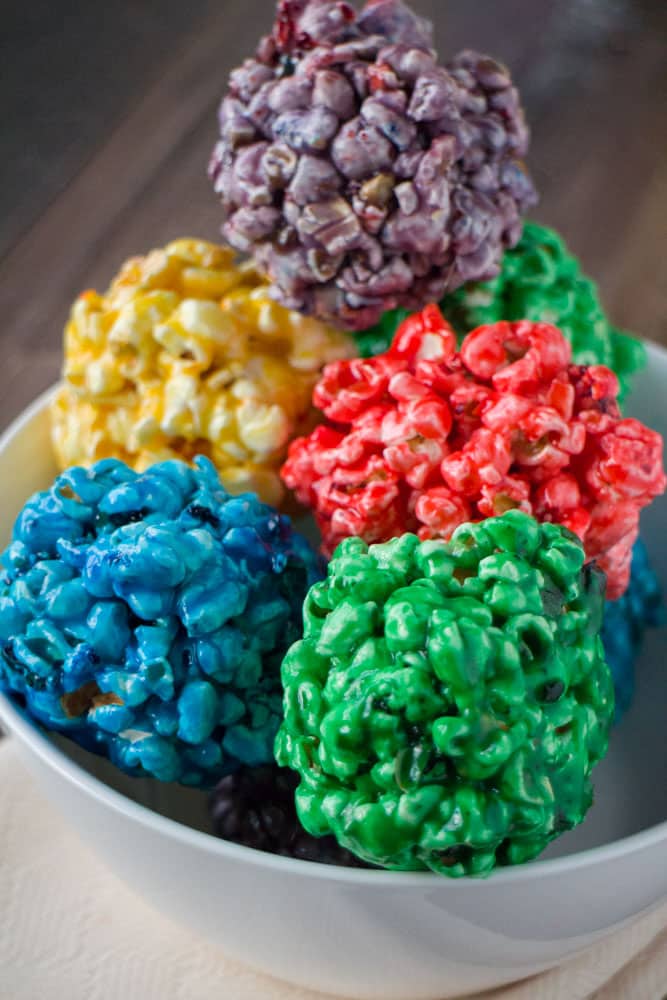 How to Make:
Gather your ingredients.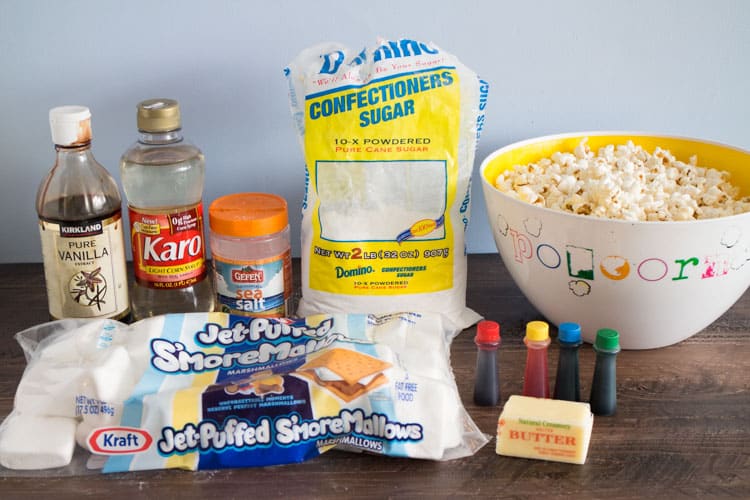 If you are wondering 20 cups of popped popcorn equals about 3/4 cup kernels. I used my air popper which is one of the best kitchen purchases I've made! If you are using microwave popcorn this is about 3 bags.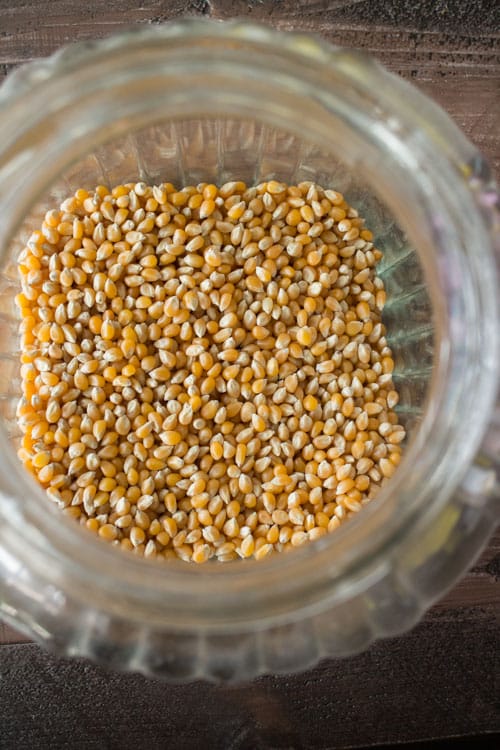 Once the popcorn is made separate it into bowls. If you are doing 5 rainbow colors use 5 bowls.

Make your corn syrup mixture per recipe directions.

Have your food coloring nearby each bowl. Divide up the corn syrup mixture into how many bowls of popcorn you have. Add 2 drops of food coloring into the bowl. Now mix with a spoon or spatula until all the popcorn is covered. I was too sticky to take a during picture but this is the after picture.

To make things less messy use food safe gloves sprayed with nonstick spray when forming the balls. Make sure to use a different pair of gloves for each color so you aren't mixing colors.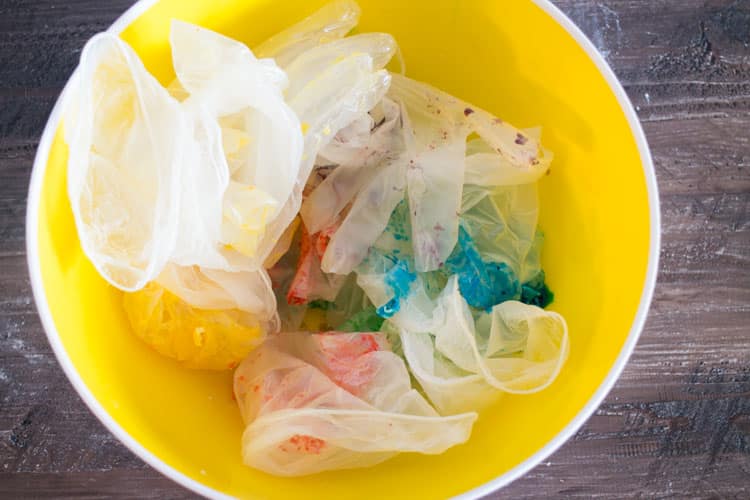 And just like that you have beautiful rainbow popcorn balls to enjoy!

You could put these on a plate or wrap each one individually with plastic wrap.

I made these for a party and they were the first snack gone! High 5!

For my Inside Out party I placed them each into individual mason jars. This really adds color to a table!

Enjoy!
Rainbow Popcorn Balls
2016-10-20 23:05:23
Ingredients
3/4 cup light corn syrup
1/4 cup butter
3 cups powdered sugar
1 cup marshmallows
2 teaspoons water
2 teaspoons vanilla
1/8 teaspoon salt
20 cups popped popcorn
Food Coloring of your choice
Instructions
In a small pot over medium high heat combine corn syrup, butter, sugar, marshmallows, water, vanilla and salt. Keep stirring until mixture comes to a boil.
Separate popcorn into bowls depending on how many different colors you are using. If you are using 5 colors, separate popcorn into 5 bowls - this will make it safer so you don't mix colors.
Carefully (it's hot) pour your syrup mixture into bowl of popcorn. Make sure to equally distribute into each bowl of popcorn. For example if you are using 5 colors, separate the syrup into 5 equal parts.
Add 2 drops of food coloring to the bowl.
With a spoon stir popcorn so every piece is coated with syrup mixture. Tip: Use a different spoon for each bowl so you don't mix colors.
Using your hands shape into popcorn balls (whatever size you prefer). You have to do this quickly before the syrup cools off. You can use food safe plastic gloves sprayed with nonstick spray to make this easier to do.
Notes
Makes about 30 popcorn balls.
Brooklyn Farm Girl http://brooklynfarmgirl.com/