EASY White Chocolate Toffee Recipe with rainbow sprinkles! You're going to love this sticky homemade candy that has a base of crushed up pecans. Cut into squares or break up into bark!
Have you ever made a recipe that gets eaten so quickly you wonder "How did that happen"? Yup, that's what happened with me and this White Chocolate Toffee. I had no idea it was going to be such a hit! When I first made them I had no idea Matthew and I were going to be fighting each other for the last one – they're that good!
This easy to make toffee is made with 5 simple ingredients that you most likely already have in your kitchen! The ingredients are pecans, brown sugar, butter, white chocolate chips and sprinkles. I love it because it's a no bake dessert that also includes rainbow sprinkles – which is my favorite type of treat!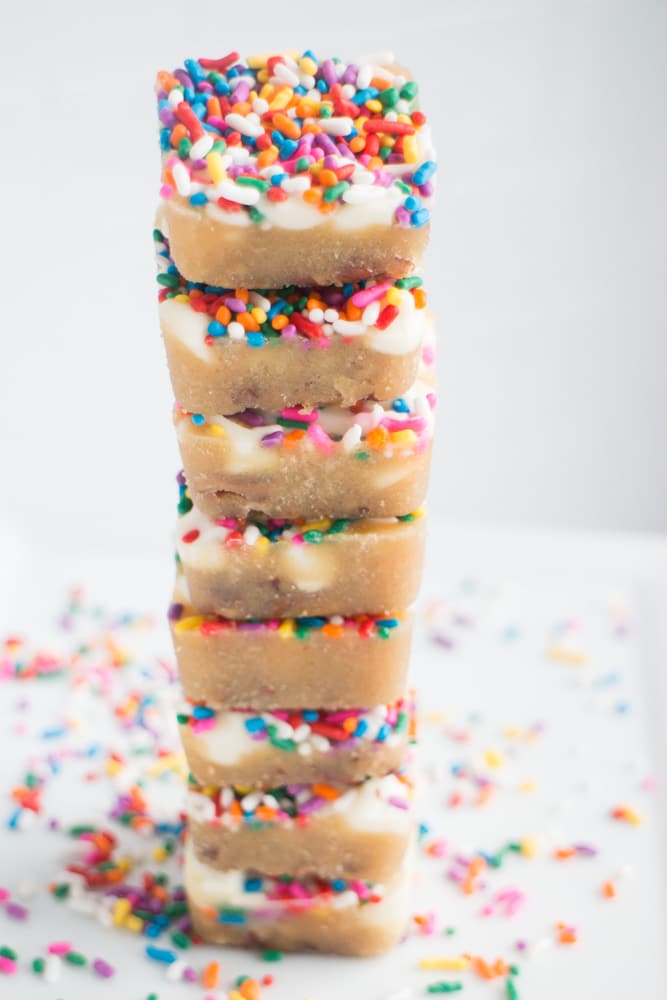 What is Toffee?
Toffee is a type of hard candy, made by boiling sugar and butter together. If often has a nut based bottom and chocolate top. For this recipe, we're going to use pecans for the base and white chocolate for the top! Lots of people confuse toffee and caramel, but toffee is more crunchy while caramel is more sticky!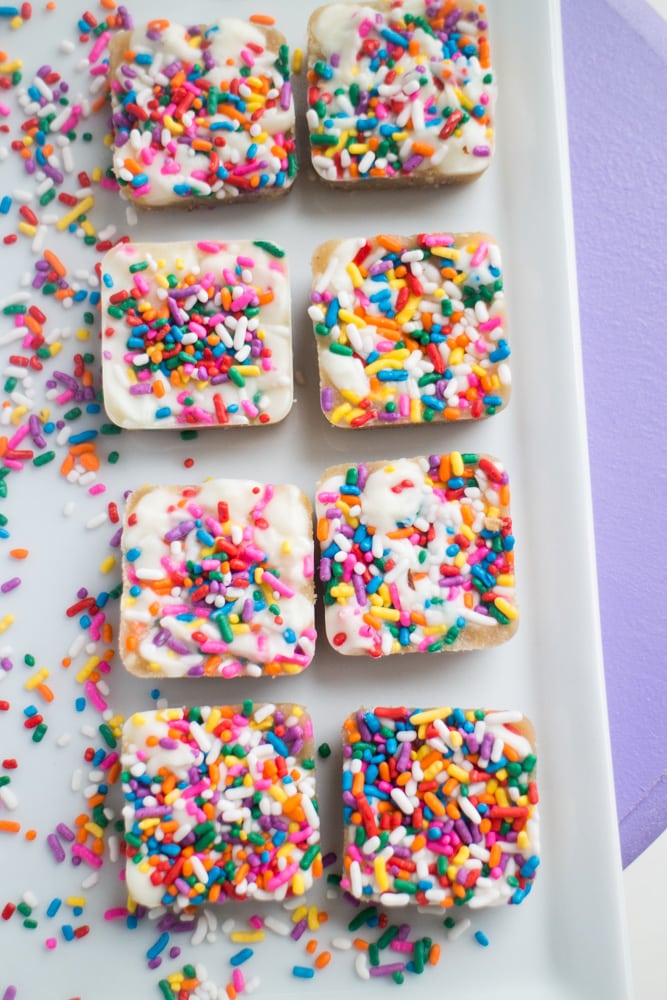 Homemade Toffee Recipe
The base of the bottom of the toffee that adds the crunch and holds everything together are crushed pecans. I usually buy the ones that are broken into pieces and then use my mortar and pestle to crush them even smaller.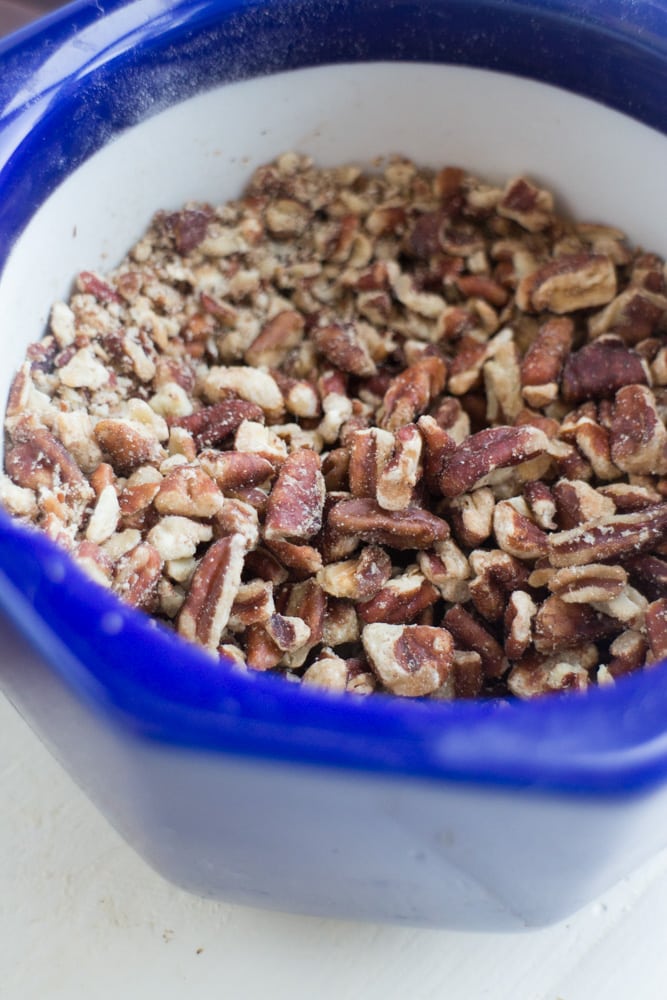 After that you have 2 options to make toffee – you can use a chocolate mold or a 8×8 pan. Mostly everyone has a 8×8 pan so if you're going to use this just spray it with nonstick spray before you add anything into it. I bought a chocolate mold for $9 and use if often to make homemade mini chocolates.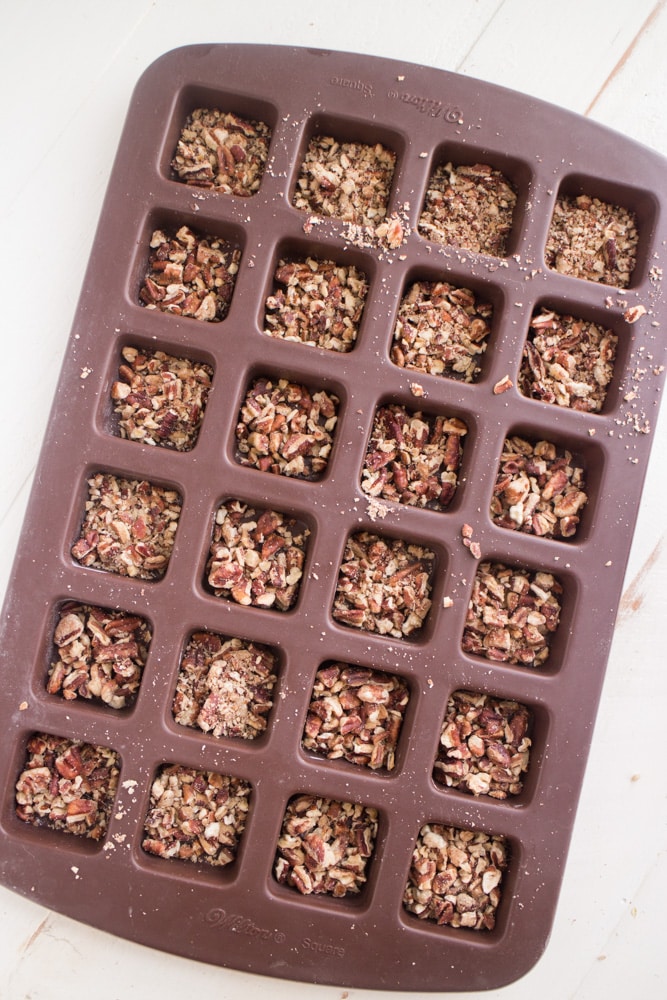 After the pecans are added into the mold (or pan), then add your brown sugar and butter mixture that you already heated up on the stove. This should be hot when pouring it into the mold so be careful. This is the middle section of the toffee that's sandwiched between the pecans and chocolate. Brown sugar and butter melted together – what's not to love?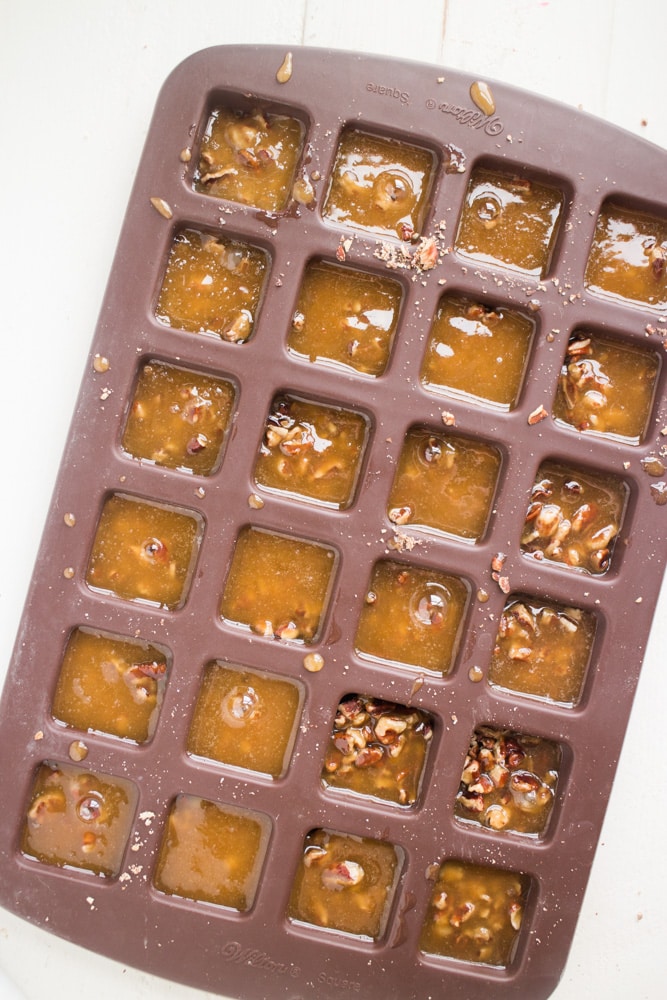 White Chocolate Toffee
Now grab your white chocolate chips. If you want to use regular chocolate chips, you can, but I think the white chocolate makes this toffee really beautiful, especially if you're adding sprinkles!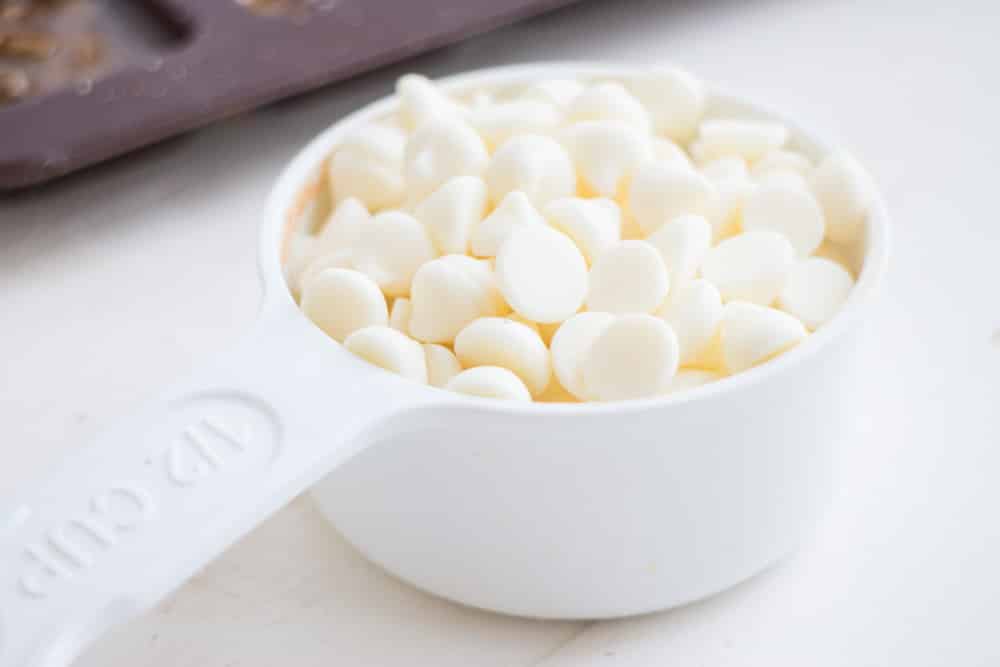 After you add your hot butter mixture, now place some white chocolate chips into each mold, covering that layer. Your sugar butter is still hot so it's going to naturally melt the chocolate on top.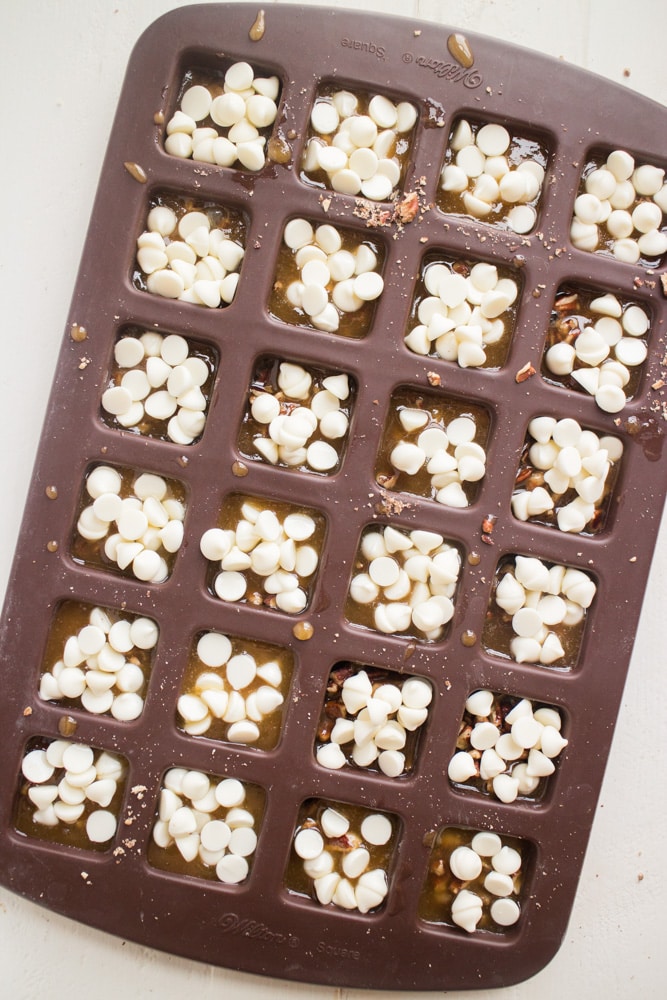 Now add your rainbow sprinkles on top!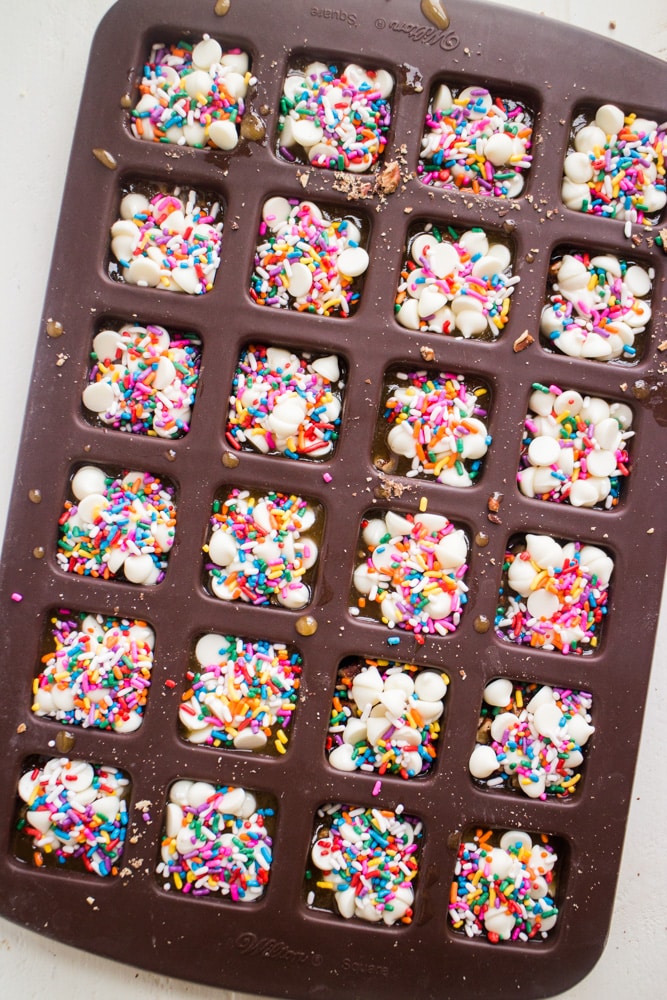 To help with the melting process, I put a cookie sheet on top of the mold (or pan) and let it sit for a few minutes. This will allow the chocolate chips to melt.

After the white chocolate is melted, I like to pat it down very gently with my hands to make it a smooth surface.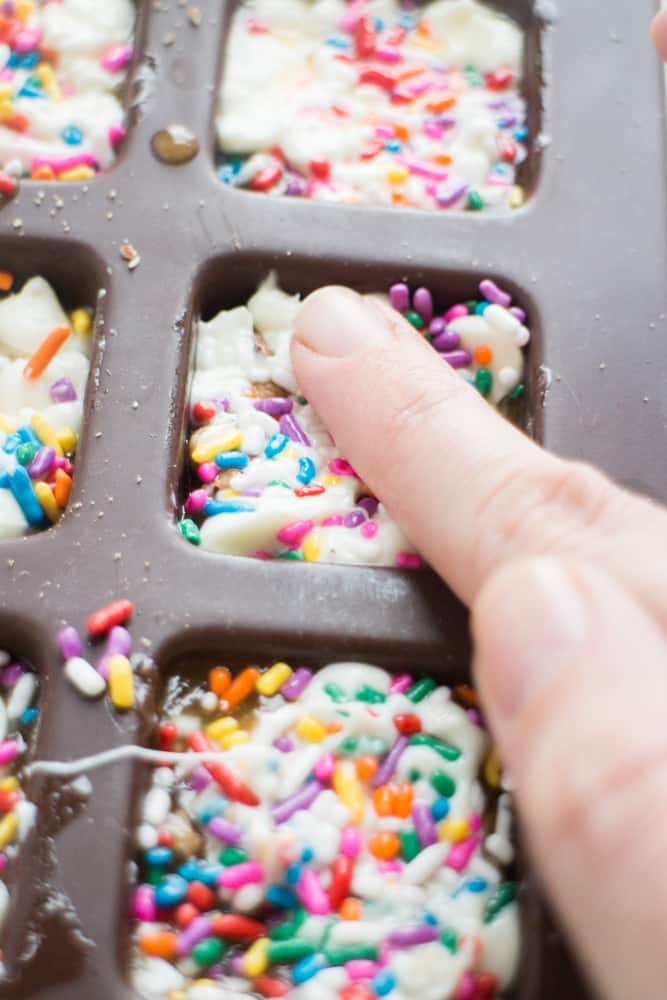 After the toffee is smooth, place in your refrigerator overnight. This will be enough time for the candies to firm up.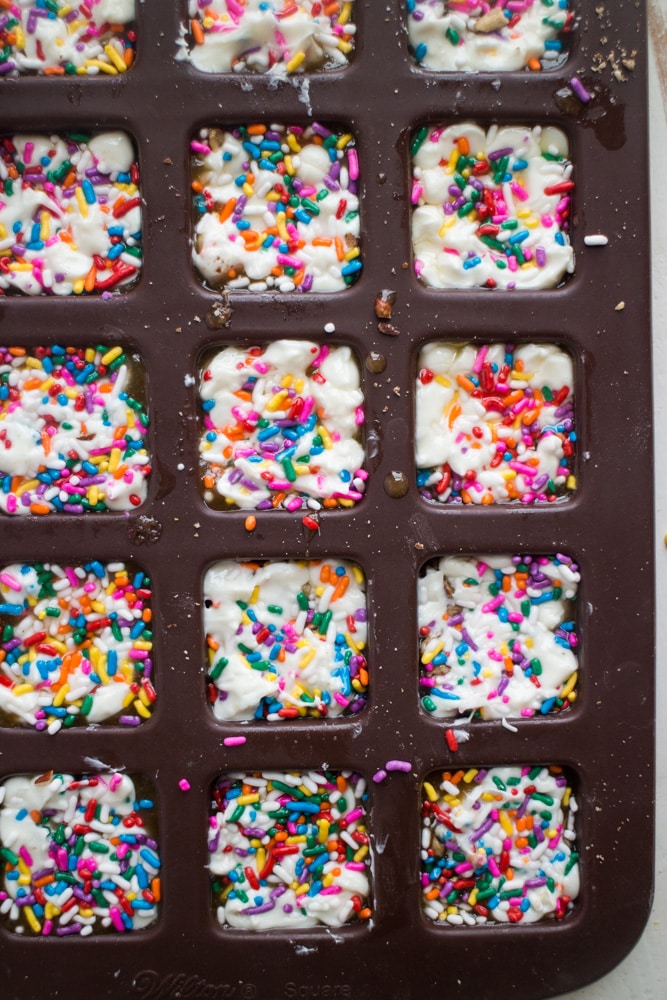 How to Store Toffee
The next day, pop them out of the chocolate mold, or cut them into small squares if you used a pan. You can serve immediately or keep them in the refrigerator for a few days, but I doubt they will last that long!
If you want to make a larger batch to last longer, you can freeze toffee too! Just place the pieces in a freezer bag in your freezer. When you're ready to eat one, just take one out! You can eat immediately or let sit at room temperature to soften it up.

Hope you love this toffee recipe as much as we do! As always if you make the recipe, post it on Instagram and use #brooklynfarmgirl to be featured! Enjoy everyone!
Pin this toffee recipe for later:
White Chocolate Toffee Recipe
EASY White Chocolate Toffee Recipe with rainbow sprinkles! You're going to love this sticky homemade candy that has a base of crushed up pecans. Cut into squares or break up into bark!
Ingredients
1

cup

chopped pecans

3/4

cup

packed brown sugar

1/2

cup

butter

3/4

cup

white chocolate chips

1/2

cup

rainbow sprinkles
Instructions
Spray a 8x8 pan or chocolate mold with nonstick spray.





Spread pecans on the bottom of the pan, covering completely.

In a small sauce pan melt brown and butter over medium high heat, until melted completely. Bring to a boil and constantly stir for 5 minutes. Immediately pour mixture on top of the pecans.

Sprinkle chocolate chips on top of the butter mixture, covering completely. Add rainbow sprinkles on top. Place a cookie sheet on top of the pan and let sit for 5 minutes, allowing the chocolate chips to melt. Remove the cookie sheet and gently press down on the toffee to make it smooth (I do this with my hands).

Place in the refrigerator overnight to become firm. Serve immediately or store in refrigerator.