Rainbow Crunch Granola Bars
RAINBOW Crunch Granola Bars made with chocolate chips! This homemade no bake recipe makes crunchy granola bars made with oatmeal and rainbow cereal! Kids love making them alongside Mom for breakfast and lunch treats!
We live in a granola bar loving household. If you open up the cabinet you'll see boxes of them, all bought in bulk, because it's a bad day if you run out of granola bars. One thing I don't like though is the prices of granola bars. For a pack of 8, it's usually $5, and those granola bars are tiny.
Loving to make my own food if at all possible, and love to save money, I decided to start making my own granola bars. It's easy, and I bet you have all the ingredients already in your pantry! Plus you can easily customize them to include ingredients that you like. You get to pick the cereal, if you want chocolate chips or not (of course), throw in the option of dried berries or nuts or whatever else you want.
These Rainbow Crunch Chocolate Chip Granola Bars are delicious. So delicious that after I made a batch earlier this week I'm already being asked to make another. We eat these bars for quick breakfast on the go, but also afternoon snacks. They're a good snack that fills you up between lunch and dinner.
For my bars I used Berry Colossal Crunch cereal to add crunch, but also to add color. The bright colored pieces of cereal give these granola bars a rainbow effect which is perfect for kids, but is also great for adults who have a inner kid in them and always picks the rainbow cereal at the kitchen table.

Now watch how easy it is to make your own granola bars at home!
Combine the dry ingredients, the cereal and old fashioned oats.

Now you'll add your wet ingredients. By the way, I love knowing what all the ingredients actually are in these homemade granola bars unlike the store bought version.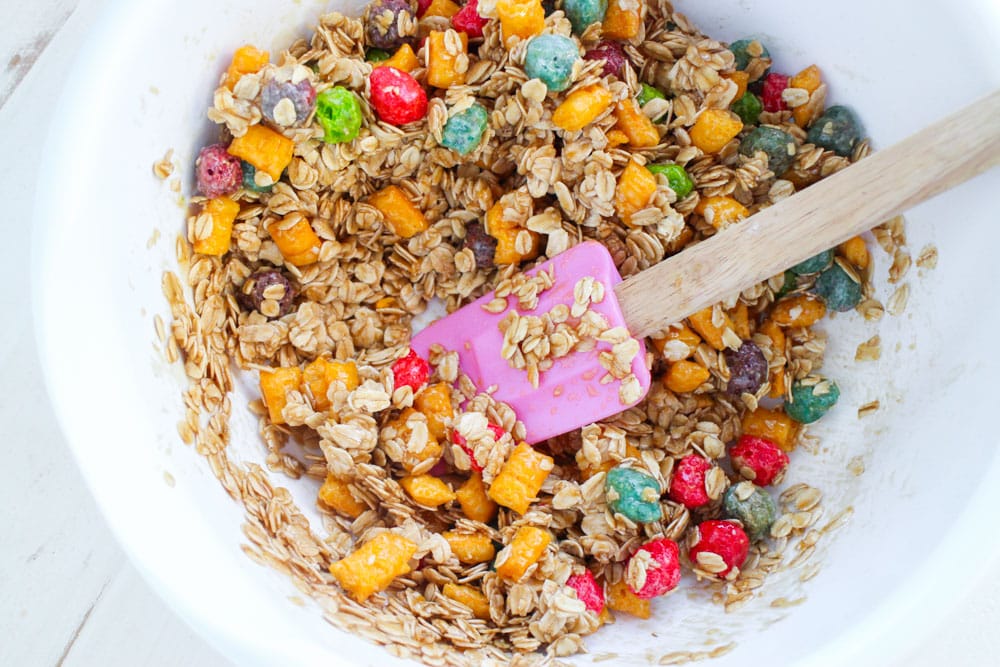 Put the mixture in a 8×8 pan and spread your chocolate chips on top. Give the chocolate chips a little press with a spatula to make them stick in the bars.

I like to wait at least 2 hours until I cut into them. Then cut the bars however you want. We usually do traditional granola bar shapes but you can also cut them into small squares for more "granola bites" size.
And just like you have homemade Rainbow Crunch Granola bars ready to be snacked on!

Pin for later:

Looking for more rainbow treats? Check out my White Chocolate Toffee recipe (with sprinkles!)