Review of the Osprey Poco AG Plus Child Carrier, used for hiking and New York City living. It's our must have baby/toddler item!
We bought a Osprey Poco AG Plus Carrier as an alternative to a stroller for urban life and for some traditional hiking. We wanted something with a good adjustable fit that was comfortable and could haul a lot of stuff and remain useful for a number of years. This review is with those things in mind.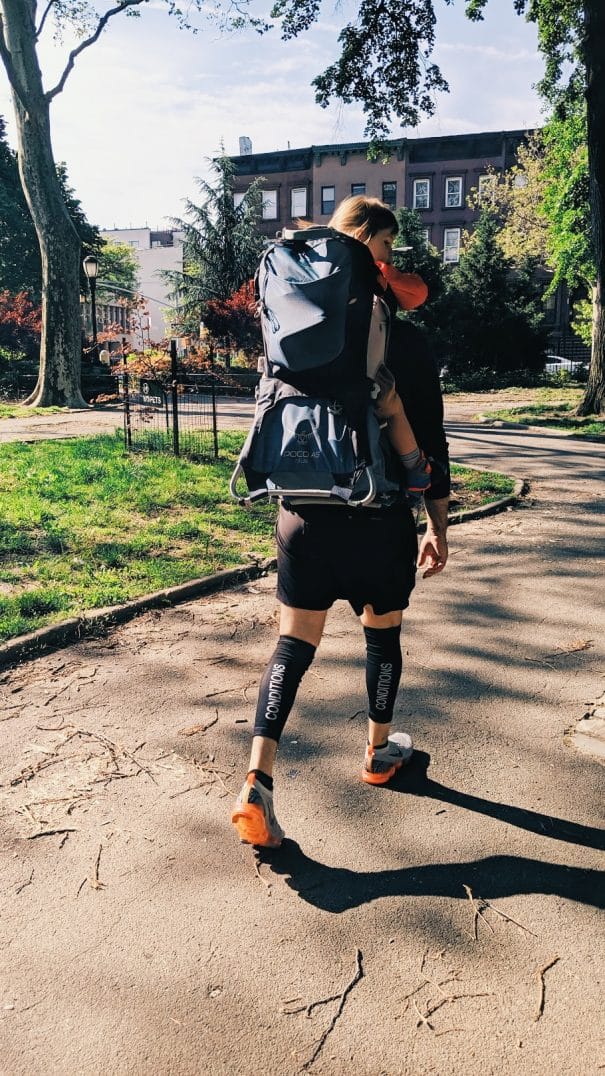 Use a child carrier backpack as a stroller replacement
The biggest appeal for us as a family is using the Osprey POCO as a day to day replacement for the stroller. We live in NYC and always have to do some mental gymnastics before going to out to think about if we'll be able to fit the stroller in a store and if not how and where we will lock it up.
Our UPPAbaby Vista is a tank of a stroller and is great to carry home 50lbs of groceries but it's day to day errands that the carrier takes over on. It folds flat very easily and only weighs 7lbs so you can take it anywhere with you without having to worry about fitting between store aisles or locking up.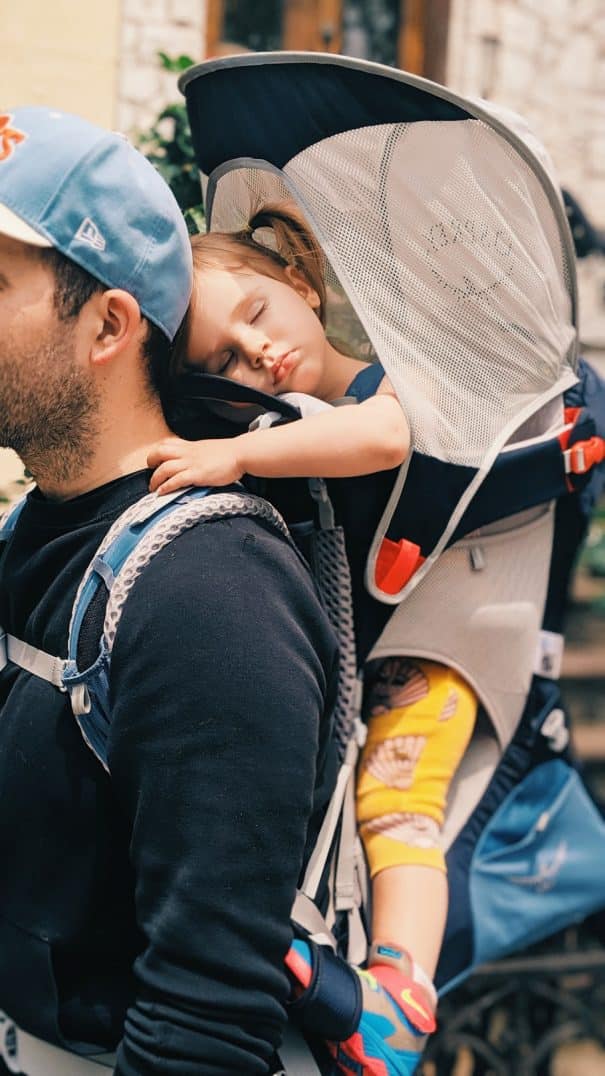 Most people wouldn't think to use a child carrier backpack in the city and I've only every seen one other at a museum or the zoo but we love our POCO. It's good low impact exercise, you get to keep your hands free and your little one gets a whole new point of view on their throne in the sky.
How much storage is in the Osprey POCO AG PLUS?
The POCO AG PLUS has a lot of storage. On the back there are two zipper pockets and three elastic mesh pockets. Both zipper pockets on the back are quite large and the one on the bottom is spacious enough for all your child's things. The elastic mesh pockets are nice to hold things that you regularly need access to like water bottles, snacks or toys.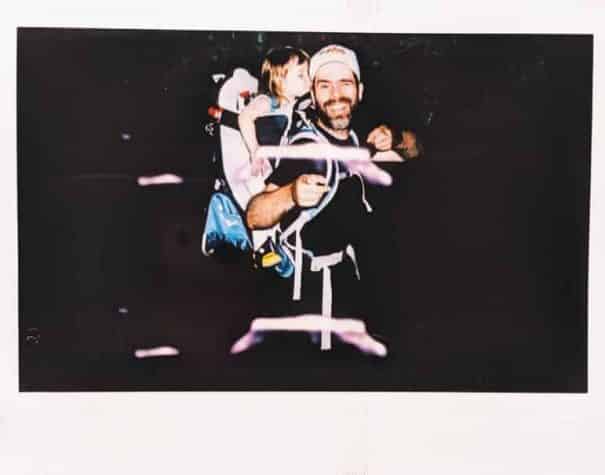 As a alternative to water bottles, the POCO is compatible with many water bladders if you would like to hydrate that way on a long trek. On the front waist strap are two zipper pockets that are great for storing your wallet, keys and phone. One of the pockets comes with a removable hand mirror to use to check on your little one. The shoulder straps have elastic pockets to squeeze more things in. Rounding the storage out are numerous points all over the carrier to clip to with a carabiner for even more storage.
How comfortable is the Osprey POCO AG PLUS?
Is it heavy and is it comfortable? These are the two questions that we get asked most often, and we get stopped a lot on the street about this carrier! If you are comfortable giving your child piggy-back rides then using this backpack will be much easier. The lightweight aluminum frame and adjustable chest and waist straps do a fantastic job at distributing up to 48.5 lbs of weight over your shoulders.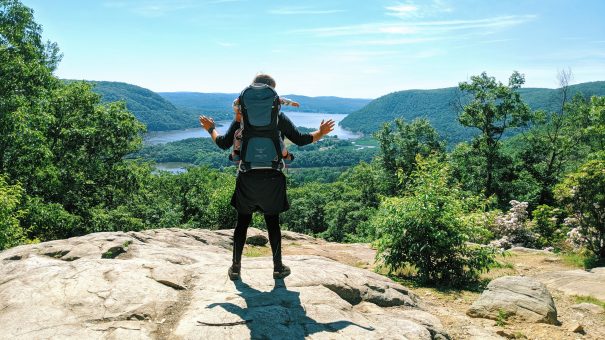 The straps are padded and fit snug in all the right places without rubbing and being too abrasive and can be adjusted to fit wearers of all sizes quick and easily. For loading and unloading the POCO has a stable kickstand that swings out (and tucks away when riding) to sit on the ground.
Muscle power is required. The fact is that you are carrying up to 50lbs on your back so of course it's going to be more physically demanding than a stroller but if you are into the challenge the Osprey POCO AG PLUS does a great job keeping you comfortable.
Will my child like riding in the carrier?
Our little lady Enceladus is full of opinions. Shes not a big fan of the stroller but loves riding with Daddy in the backpack. If your child doesn't like the stroller and is looking for a change of scenery a POCO child carrier is for you. The design and construction of the carrier are premium with a a lot of attention toward your child's comfort.
The harness and seat are padded with soft breathable fabric that is durable and easy to clean. The child is strapped in with a 3-point harness that they are very secure in and adjustable foot stirrups. We've climb over some serious obstacles while hiking, sometimes being fully lateral, and Enceladus didn't even wake up (lol).
The carrier also has the perfect amount of sleep inducing bounce to get your little one to take a nap. This is often her afternoon nap time crib on the weekends. 🙂

For rainy hiking trips, your little one can stay dry with the rain cover.
Taking Osprey Poco AG Plus on a Plane

Traveling with the POCO child carrier is awesome. We've used it to carry our little one through the terminal and drag suitcases with our free hands. Sadly the POCO won't fit into any suitcase we've ever had but you can check it with or without the extra $30 carrying case.
If you want to take it to the gate, security isn't too much hassle since the POCO folds down flat to go through the xray machine. Once on the plane it will fit in the overhead bin which means that you can grab and go when you land since you won't have to wait on the ramp for the airplane crew to get a stroller out.
Osprey POCO AG vs AG PLUS Comparison
This decision between the two versions (POGO AG vs AG PLUS) is one we thought about a lot. For $40 more the AG Plus gives you a lot more storage in the lower back zipper pocket and some elastic mesh pockets for water bottles and anything else. The Plus also comes with a more adjustable waist belt that has zippered pockets that are great for storing your wallet, keys and phone.
Both designs use the same lightweight and durable frame, suspension and back-panel so it really comes down to the extra storage. For us that extra $40 was worth it to get the AG PLUS.
Quite honestly, the Osprey Poco AG Plus Carrier is one of our must have items for city living with a baby/toddler. If we had to make a list of our top 5 favorite kids products, this would be on it. I hope this review helps you!
Other Baby Posts:
How to Make a Modern Dollhouse
Snoo Crib Review
The Best Baby Bike Seat
The Best Travel Pack and Play
The Best Earth And Garden Books For Kids