Review of the SNOO Bassinet from a mom who's baby had colic for 12 weeks! We love the Snoo and it helped her so much to sleep through the night!
Have you heard of the SNOO bassinet? I like to describe it as the most modern, beautiful, amazing, life changing baby bassinet ever. If there's one item we couldn't live without (besides food and diapers) in Enceladus's first 3 months it would be the SNOO. SNOO, I love you. I love you so much.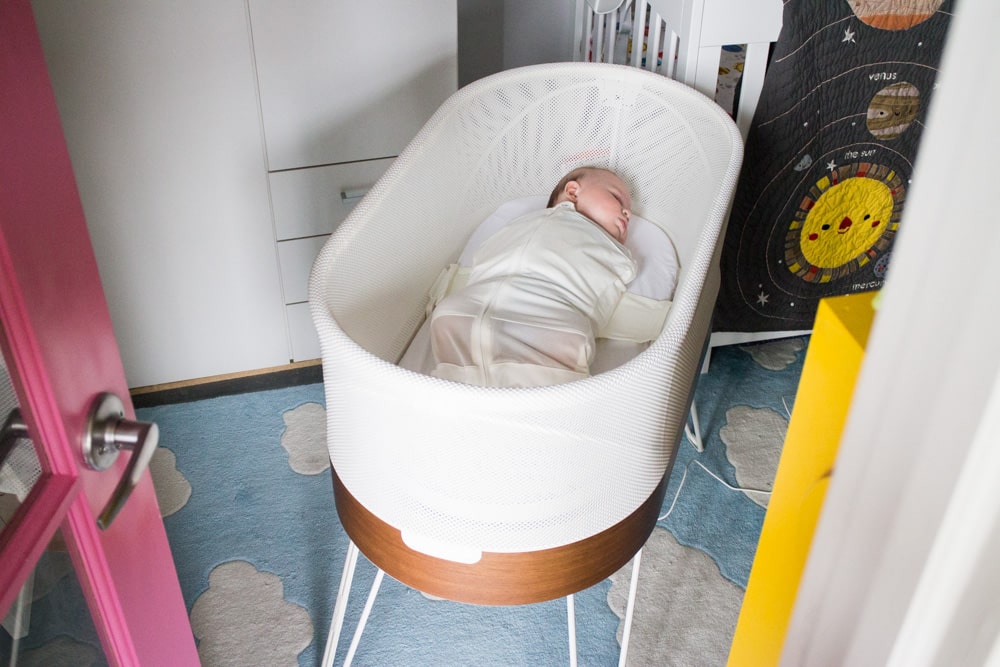 If you follow me me on social media or read back posts you will know that for the first 12 weeks Enceladus had a pretty severe case of colic. To be blunt, it was terrible for everyone involved and we went through a dark emotional time. At around the 12 week point we started to see the light and at 14 weeks I can safely say she conquered colic. WHEW! (For those parents dealing with colic, this article helped me SO much. I would read it in bed at night after bad days and it made me feel commodity with the author.)
During her 12 weeks with colic, we tried everything. Not only was she crying 8 hours a day but she would not nap during the day, it was a nonstop day of baby tears and anger from wake up to bed time. I googled everything to try to help her colic. We bought every product marketed as colic relief. You name a swaddle, gripe water, sleeper, rock and play, pacifier, bottle, formula, probiotics etc and I will tell you we tried it without much success. We saw the pediatrician multiple times and tried acid reflux medicine.
At around 9 weeks I was ready to cut off my pinky finger and give it up in a human sacrifice to solve her colic because it was heart breaking to witness. The one thing that kept us sane, and sleeping, during the 12 weeks of colic was the SNOO.

Since the first week, Enceladus has been a relatively good night time sleeper and I thank the SNOO for that. Even at 1 week she was only waking up 2 times at night. Now we're at 14 weeks and she's waking up 1 time max during the night, and it's very common for her to sleep through the night (that's 9PM to 8AM) completely!
When she was battling colic I would swaddle, rock, bounce, walk and try everything possible to try to get her to sleep but nothing worked. As soon as I put her in the SNOO it was lights out within a few minutes.

This is how it works. The SNOO supports healthy sleeping for babies 0-6 months with soothing rhythms and sounds they enjoyed in the womb. SNOO works up to 25 pounds or until your baby can get up on their hands and knees. The SNOO comes with a organic fitted sheet and 3 organic cotton swaddle wraps (Small, Medium, Large). I recommend buying a extra sheet because babies are messy. 🙂
The swaddles are labeled as "5 second swaddles" because they literally take 5 seconds to put on. You place the baby in the swaddle, velcro the strap across their chest, zip up the swaddle, turn on the SNOO and BOOM you're done. Their custom swaddles secure to the SNOO so your baby stays on it's back for maximum peace of mind and safety.

And for my model, hello Enceladus! Enceladus is a big 14 week old lady, weighing in at 15 pounds. She is currently in the size "Medium" but I think we're going to move her up to size "Large" very soon. You can see in the picture below how the swaddle attaches to the sides of the SNOO. If they aren't attached the SNOO won't turn on.
When a baby starts to cry the SNOO hears the sound and begins to shush with white noise and a rocking motion. The more the baby cries, the more the SNOO will increase the sound and rocking motion.
For example if Level 1 doesn't work, it will increase to Level 2. If Level 2 doesn't work, it will increase to Level 3. If Level 3 is the lucky number, it will stay here for a while to get the baby comfortable (and by now probably asleep) and then it will gradually decrease al the way back to Level 1.

Here's a video to demonstrate, she was asleep in less than 1 minute. My little girl is getting so big! 🙁

When you spend a few days or weeks with the SNOO you will learn what works best for your baby. For example as soon as I zip up Enceladus in the swaddle, I will turn the SNOO on and turn it immediately to level 2 because I know that's what calms her down the most. If she is in a bad mood (audibly very apparent) I will bump it up to level 3.
You can adjust the level in 2 ways, one way is the button on the front of the bassinet, which I angle so I can reach my hand out of the bed to turn it up. There's many times during the morning where turning it up 1 level will get me a extra 30 minutes of sleep, so as soon I hear her start to wake I turn it up and she closes her eyes for a little big longer.

The other way is the SNOO app which lets you turn up the SNOO without being in the same room. This means that during her day time naps (Yeah! She naps during the day now! High 5!) I can put her in the SNOO in the bedroom, close the door, head out to another room to eat lunch and answer work emails but still fully control the SNOO.
I use our baby monitor to watch her and if I see her eyes open and she's getting that "I'm going to burst" look on her face then I quickly turn it up to Level 3 and she gets rocked back to sleep! Whew! Close one!

Hope you enjoyed my review of the SNOO! If you have any questions about the SNOO or colic leave them in the comments or email me personally! I know how tough colic is on a family so I'm here to give you support!
If you're a parent and you want to sleep try the SNOO. If your baby is struggling to nap try the SNOO. I am 100% being honest that it worked great for us and I couldn't imagine her first 3 months without it. The SNOO offers a 30 day money back guarantee so it's worth it to give it a shot. Not only will we be using it if there is ever a Baby #2 but I've already promised many of my friends they can use it for their first baby too!
I will leave you with a look at Enceladus's body guards! Between the SNOO and these 2 she is very protected!

Good luck!
Pamela
Other Baby Product Reviews:
Osprey Poco AG Plus Child Carrier