Full guide on bike riding with a baby! We started riding in NYC with our baby at 10 months old. Learn about the best baby bike seat, baby helmet and safety tips!
Are you looking to start bike riding with your baby (or toddler!) in the city? Then you've come to the right place!
Our daughter Enceladus started to ride around NYC at the age of 10 months with her Dad. She's officially a pro and loves cruising the Brooklyn bike lanes.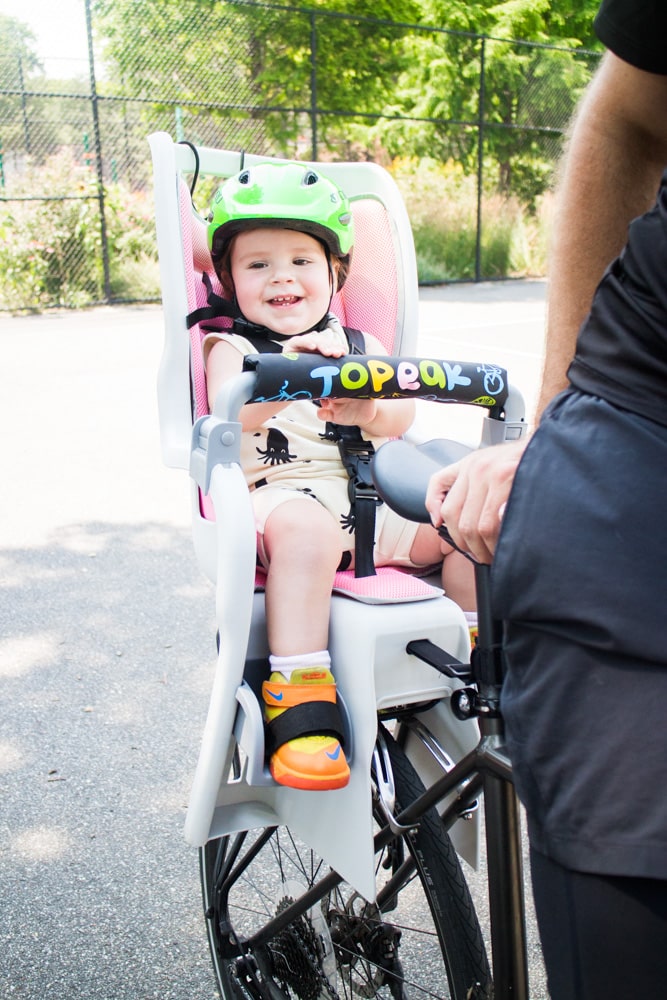 I'm not sure Enceladus was even born yet and Matthew was already dreaming of weekend bike rides with her to Prospect Park.
Matthew is a avid city cyclist, who cycles everywhere. He cycles to Manhattan everyday for work, zipping and zapping through traffic, with stories to make nearly anyone feel a bit nervous. He's confident on his bike, and that's key here. If you aren't confident riding in NYC by yourself, you probably don't want to bike your baby around too.
Best Bike Seat for Baby
First, let's just start with the obvious if you are just wanting suggestions for a bike seat. We have the Topeak Baby Seat II and would recommend it to everyone. It was easy to install on my husband's bike. It is also really easy to remove from the bike (and snap back on) as he constantly changes from his bike bag and the baby seat. When not in use, we just hang it up by our front door with our bikes.
Topeak Baby Seat
The Topeak Baby Seat has a wrap around cocoon design for maximum protection. It has a shoulder harness to strap in your baby, with multiple height adjustments as they grow. There's a hand rest for added protection, but also our daughter just loves putting her hands on it while riding. Lastly, there's foot straps (that adjust) that keep them in a safe position.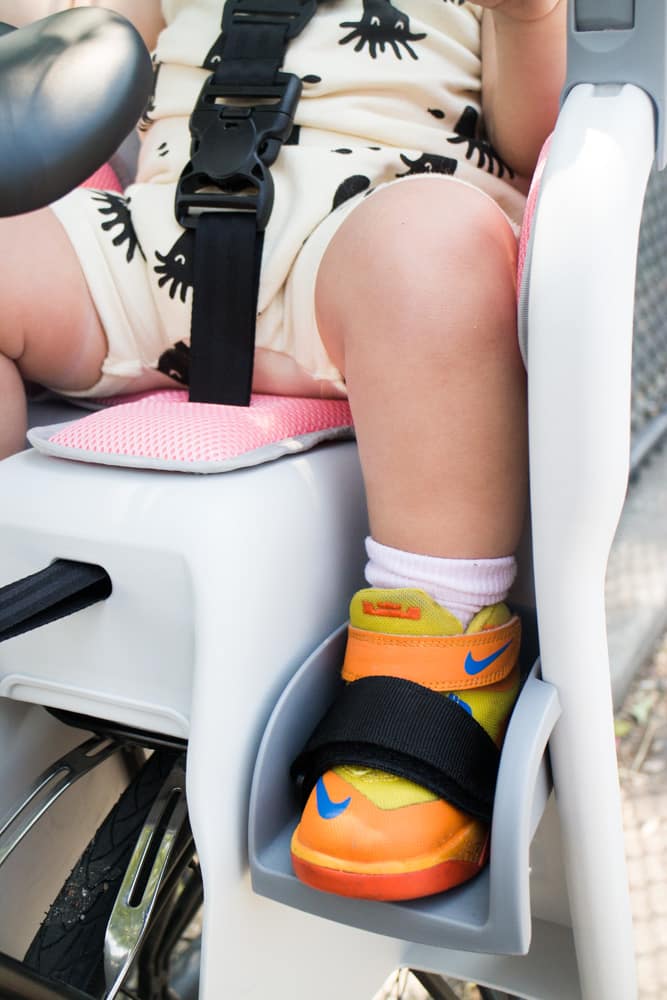 Best Baby Bike Helmet
For a bike helmet, our daughter wears a Giro cycling helmet which is from a trusted brand. We skipped the "pretty" helmets and went with safety first on this one. For size comparison, she wears a Extra Small helmet which fits head circumference 17.75 to 19.25 in (45-49 cm). The Small fits 19.25 to 21 in (49-53 cm).
Rear Mounted Vs Front Mounted Baby Seat
We decided to go with a rear mounted baby seat because Matthew is used to carrying large loads on the back of his bike in panniers and feels more secure doing that instead of on his handle bars.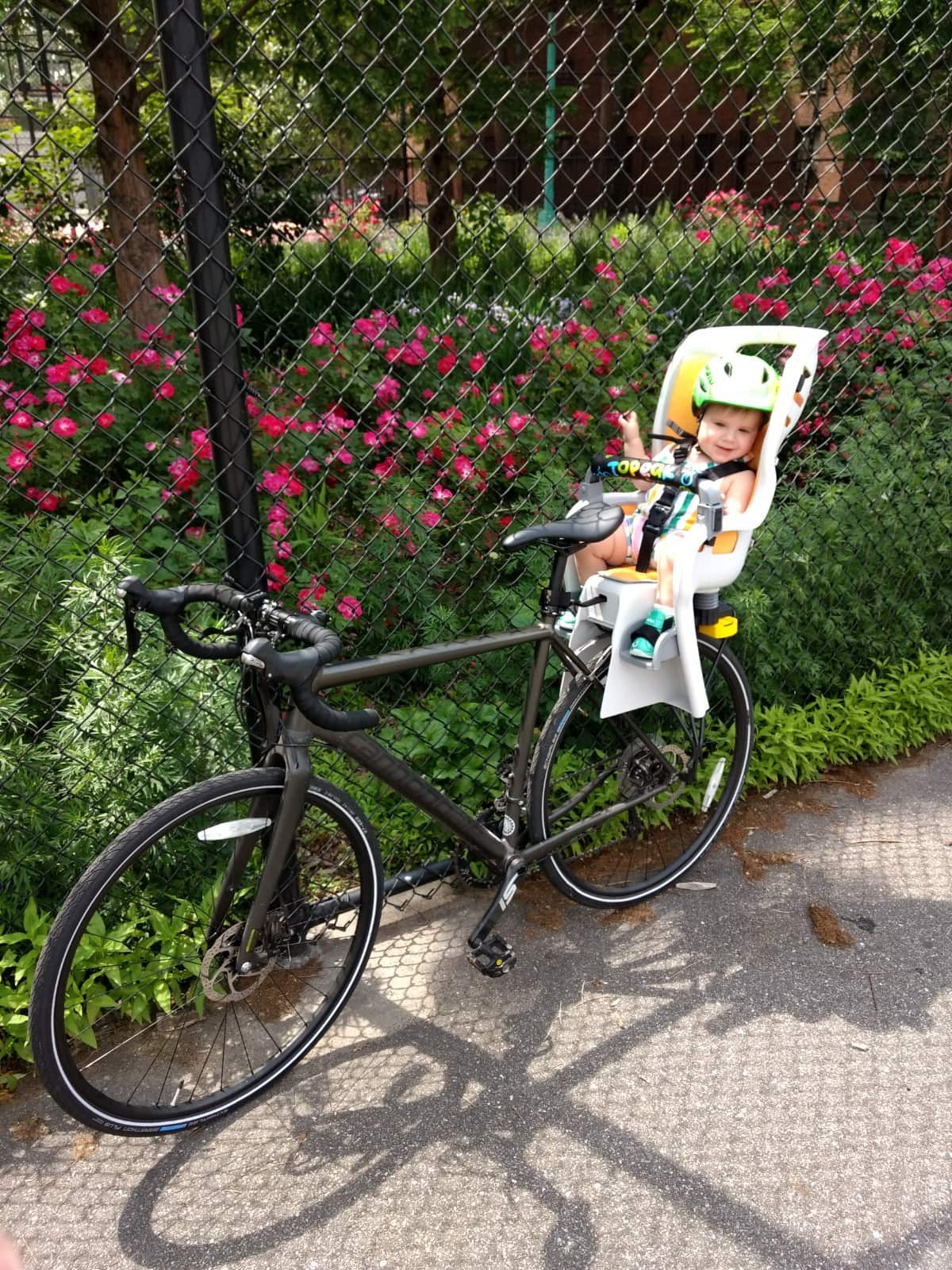 If you prefer more contact with your baby a front mounted seat may work better for you. If you have long legs that would hit a front mounted seat and/or want to carry a heavier child you will need a rear mounted seat. If you are super hardcore and have space to store a cargo bike maybe a pull behind trailer is best. Most of it is personal preference.
When can you take a baby on a bike?
As mentioned above, Enceladus started riding with her Dad at 10 months old. This was a personal decision and you should not use this as "official answer". Instead, do it when you feel comfortable . Your baby needs to have the neck strength to support their head with a helmet on, especially with bumpy streets and sidewalks. The American Association of Pediatrics recommends 12 months old. You can also talk to your pediatrician about this if you prefer.
How to Bike Safely With a Baby
This seems obvious but I see kids everyday riding bicycles with their parents with no helmets on. I cringe. I don't even care if you're biking 2 blocks on a bike lane that hardly sees traffic. Make sure your kid is wearing a helmet! You should be wearing a bike helmet too! Kids learn from parents, and also just wearing a helmet is smart. Also make sure to have a bell and lights.
At first your baby might not not like a helmet on their head, but quickly they'll be fine with it. The first time we put her helmet on Enceladus thought it was funny. We always try to make it fun, now I make sure her helmet is on correctly and she makes sure mine is on correctly too.
I suggest you first ride with your baby at a playground park that has a open area. This way, it's just you, baby and the bike. You don't have to worry about cars, pedestrians or other cyclists.
This will make you comfortable with how it feels to ride a bike with the new weight (and responsibility), and your baby will be able to safely ride for the first time. Bring Mom or Dad with you, so you both can observe how the baby reacts. In our case Enceladus immediately loved it, and was big into just watching the scenery cruise past her.
NYC has tons of bike lanes, and you should use these for safe riding. Obviously, you're going to have to go around cars who illegally park in bike lanes, but just continue on your bike safely as usual. Take your time, and if you're trying to be on time somewhere, leave a little earlier so you aren't stressed out about being late. Use hand signals when turning. Basically, be safe. Be really safe.
How to Lock Up a Baby Bike Seat
I know, who would steal a baby bike seat? Unfortunately it happens. If you need to lock up your bike seat on the street I recommend using a cable lock on the baby seat, attaching it to your bike lock.
Btw, I love that you can buy replacement seat pads if you want to color coordinate (you know how I get to get the pink, right?).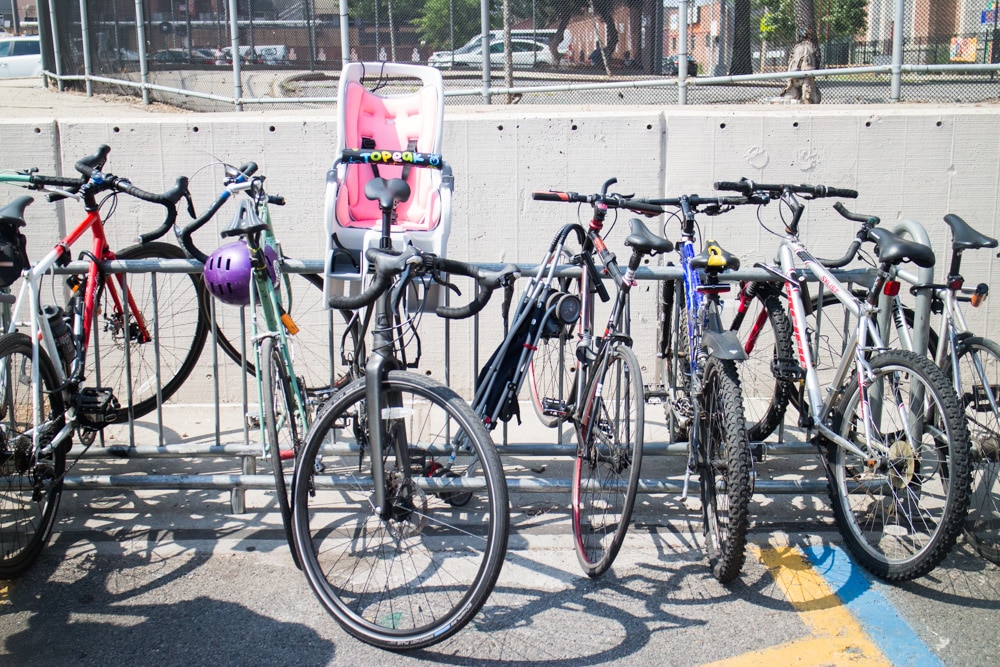 Bike Riding With a Baby
I hope this "Bike Riding With a Baby" guide helps you with all your baby bike seat questions! Now there's only one thing left to do… go ride! Have fun and be safe!
Other Baby Posts:
Osprey Poco AG Plus Child Carrier Review
How to Make a Modern Dollhouse
The Best Earth And Garden Books For Kids
Pin for later: