QUICK Rainbow GLITTER Pumpkins craft! This is a easy arts and crafts Halloween activity for preschoolers and kids! We love adding neon color to our Halloween decorations!
Halloween is usually associated with orange, black and white but who says we can't add neon rainbow colors to pumpkins and decorations? With this fun pumpkin craft you'll soon have neon glitter pumpkins to decorate your entire house with!
Easy Pumpkin Craft Idea
This is a easy craft that you don't need a lot of time to do. If you're a crafter, you probably already have the supplies in your overflowing craft cabinet too.
You can pick up the munchkin pumpkins at a farmers market or local store selling them. Alternatively you could also use fake munchkin pumpkins if they're out of season.
Halloween Craft for Preschoolers
This is a easy craft to do with kids and toddlers. They will love helping you roll the pumpkins around in the glitter. Warning: Yes, there's glitter involved in this craft, so make sure to put some newspaper underneath the pumpkins (and probably on the floor too!). It's a great sensory activity for kids to learn their colors too!
Craft Supplies for Rainbow Glitter Pumpkins:
Munchkin pumpkins (fresh or craft)
Paper Towels (I recommend Viva paper towels because they are strong.)
Mod Podge
Neon Glitter

Pumpkin Craft Instructions:
Put a little Mod Podge on your paper towel and spread on your pumpkin. I recommend placing the pumpkin on a paper towel because once you start sprinkling glitter it's going to get messy.

Then very gently (remember a little goes a long way) sprinkle your glitter all over your pumpkin.

Once it's covered (don't forget the bottom), let it sit for 30 minutes to dry.

I used a bunch of colors for my pumpkins to turn them into rainbow pumpkins. The glitter I used ended up being really bright, including the yellow which is usually a hard color to turn bright!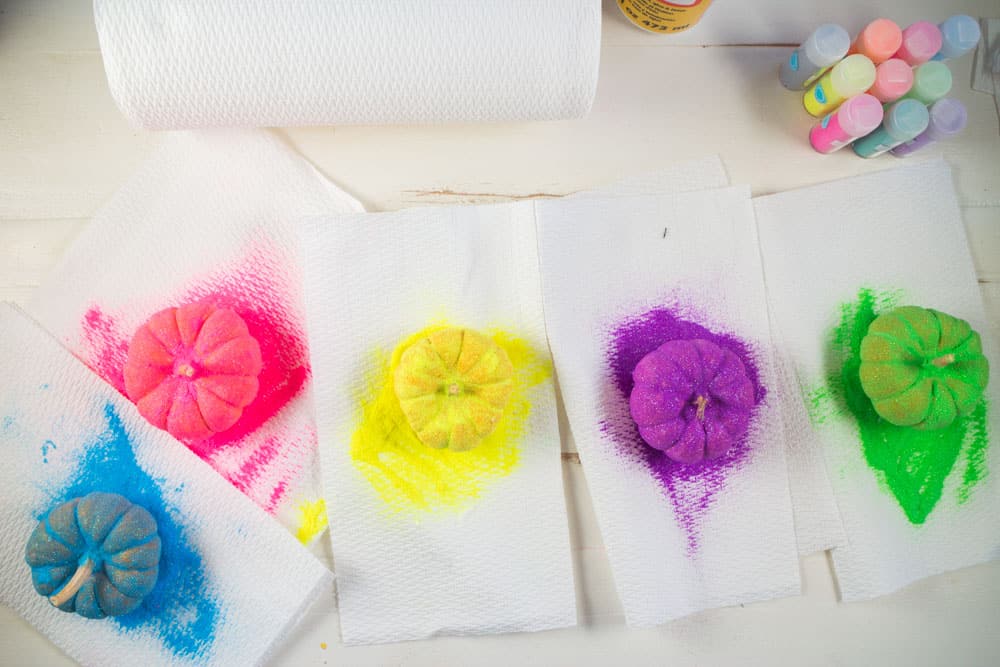 I got this 12 pack of neon glitter on Amazon for $12. The glitter comes in bright colors and even though the bottles are little they last a while.

I loved decorating our entire house with these pumpkins! I even added some to my home office to add some color! This also makes a great gift to a school teacher to add to their classroom!
Because glitter is expensive and I don't like wasting things, once I was finished I picked up all the paper towels that had excess glitter on them and used a funnel to add them back to their jars. Aren't you glad you used paper towels for this?

If you make these, I'd love to see the results! Be sure to post it on Instagram with #brooklynfarmgirl and I will feature it!

Craft Video:
Here's my how to craft video that walks you through all the steps.
Hope you liked this easy Halloween pumpkin craft!
Looking for pumpkin recipes? Try my Fresh Pumpkin Pie, Pumpkin Whoopie Pies and 5 Ingredient Pumpkin Cookies!
Pin for later: