My daughter's birthday cake request, "I want a dinosaur ballerina cake". Sprinkles, tutu, pink cake and lots of love. Let's make it!
Enceladus turned 4 last week, and keeping with tradition, every year she tells me what kind of cake she wants and I make it happen. This year she requested "a dinosaur ballerina cake". So let's get baking.
"Girls like Dinosaurs too"
First, a quick shout out to Enceladus who was looking at a dinosaur activity book a few days ago on my computer. We were scrolling and it was picture after picture of only boys. She looked at me and said "Mom, girls like dinosaurs too". YEAH GIRL.
So here's a shout out to all the girls who love spending an afternoon at the Natural History Museum looking at the dinosaur exhibition. And to all the girls (and boys) who wear dinosaurs clothes, along with jewelry, gems, alien blasters and tutus! You all are AMAZING!
How to Make a Dinosaur Birthday Cake
There are 3 parts to this birthday cake:
sprinkles and dinosaur
The 3 layer birthday cake above is my go-to birthday cake recipe. It makes a small birthday cake (servings: 8), which is perfect for my family. I use these Wilton cake pans, but any 6 inch pans will do.
I also like to color the cake with food coloring, my go tos are pink, purple and teal because those are her favorite colors. Last year, she wanted purple, this year she wanted pink.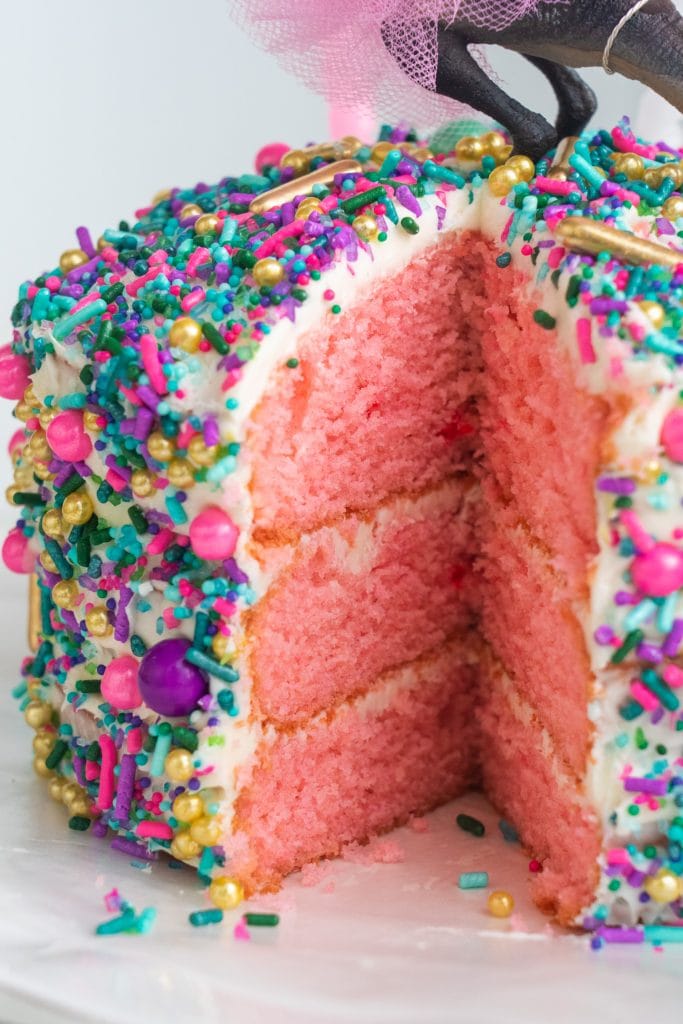 I love rich buttercream frosting for this recipe so if you use the above recipe, it's enough to frost a cake, but if you're in a hurry you can also use a store bought tub of frosting.
Every birthday cake needs to be covered with sprinkles! I love these purple and pink galaxy sprinkles, these rainbow sprinkles and these "I can't believe I just spent this much on sprinkles but trust me they're worth it".
Now let's talk dinosaurs
How to Make a Dinosaur Ballerina
The Dinosaur Ballerina is really the star of this cake. Making a DIY dinosaur ballerina is pretty easy. Here's what you'll need:
A toy dinosaur, 6 inches or bigger. Picking what dinosaur is the hardest decision, but pick something that looks good in a tutu (I know, that's every dinosaur!). If you want a dinosaur that's already made, you can get one on Etsy too.
Tutu! Hit up your local fabric store and buy some pink tulle. You only need a small piece, so this won't cost much. Cut out a circle piece, and then cut a hole in the middle where you'll put it on.
Hot glue. Hot glue the skirt onto the dinosaur for permanent wearing. Now your dinosaur has a tutu!
Want accessories? Maybe your dinosaur wears a necklace, a tiara, shoes, balloons or maybe she carries a plate of macarons and tea. Have fun here!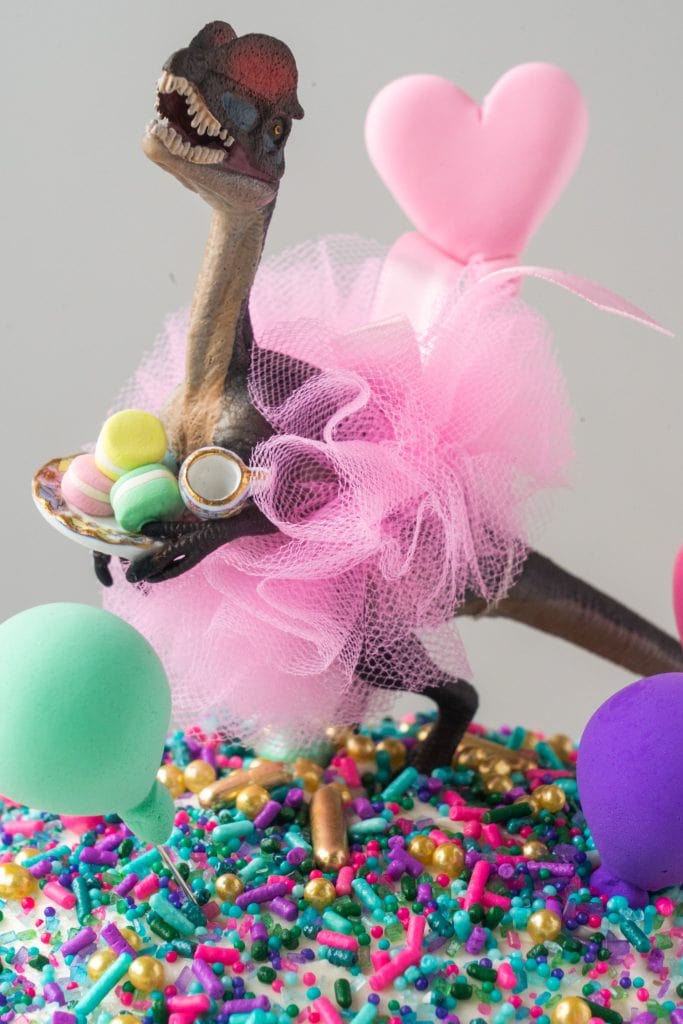 The verdict? She loved her cake, and now the ballerina dinosaur lives on her dresser, alongside clown dinosaur from last year.
Making her birthday cakes is really special to me, so I hope you enjoyed reading this post! If you make a dinosaur cake, I'd love to see it, so tag me on instagram or send me a picture over email.
Pin for later: