Dandelion Tea Donuts With Chocolate Frosting recipe. Dandelion tea is filled with healthy benefits so enjoy these donuts for breakfast or dessert. Includes a dairy free donut recipe too.
Dandelion Tea Donuts
Maybe this blog should be called Brooklyn Donut Girl. If you haven't noticed I'm a bit donut obsessed lately…
What else am I obsessed with? Tea. The craze started when I was elementary school and my mother started to serve me a cup each morning. Let's just say it rapidly increased to me declaring a lot of tea whenever I go through a airport. It's a strong love.
First, let's talk dandelions. Yeah, I'm talking about those pesky flowers you probably curse under your breath about when you spot them in your garden. Of if you're like me, you cut them up, tie a string around them, throw on a garden dress and pretend to have a wedding in the garden. 30 years old and forever a flower girl.
Health Benefits of Dandelion Tea
But did you know dandelions are good and healthy for your body? Dandelions support the body's natural detoxification process by stimulating the liver and supporting healthy digestion. It also helps bloating (girl, you know what I mean), water retention, inflammation, upset stomachs, high cholesterol, helps you fight off viruses and boosts immunity, helps control weight control, works well with muscle building programs, great for Type-1 and Type-2 diabetes, amazing minerals and vitamins.
You can even use it as a face wash or use it in the bath tub for a great smelling time. Did you know that Dandelions are named "the small postman" in Persian because of the thought that they bring good news? So next time you're craving a cup of tea, look for the dandelion variety on the shelf, your body will love you!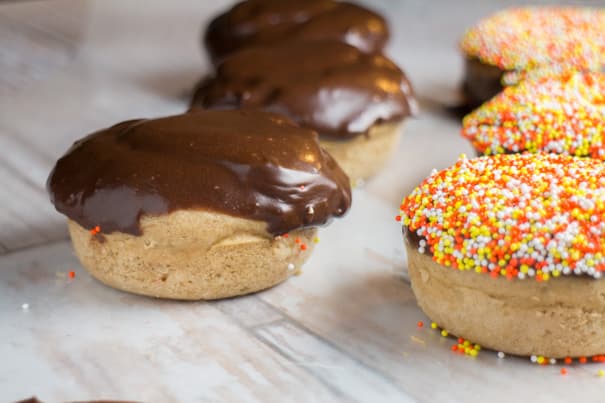 What can I make with Dandelion Tea?
But you can do so much more with Dandelion tea besides drink it, you can bake with it. Oh yes, you know I just went there. Dandelion donuts with chocolate frosting? Oh I totally just went there. Grab my hand, let me take you on a ride.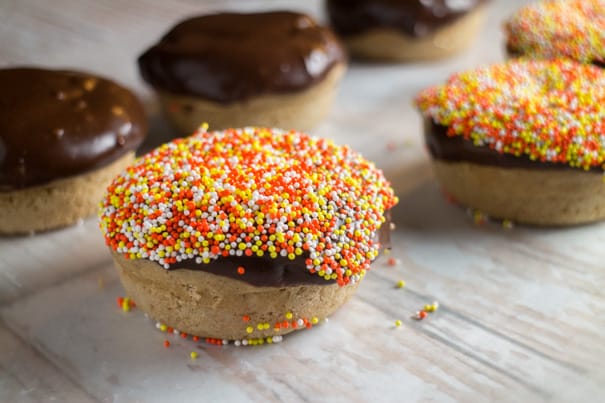 I love these donuts for lots of reason (besides the obvious that I am obsessed with this chocolate frosting and I look like a 3 year old who licked the bowl afterwards). The dandelion tea naturally adds a taste of sweetness (which means less sugar, high 5) but also a hint of licorice which is a nice addition. The dandelion is not overpowering at all, but instead acts like a supportive friend.
Here are 2 great Dandelion tea varieties made by Traditional Medicinals. I really love the Leaf & Root variety for these donuts because it adds that slight licorice taste that I like (again, it's slight, not overpowering).

You'll want to put 2 tea bags with some milk on the stove. Most likely tea will escape your bag during this process. No worries, just strain it afterwards. This is going to make your kitchen smell amazing!

Dairy Free Donuts Recipe
So many readers love my Dairy Free Chocolate Donuts recipe so I wanted to add alternative directions to this recipe if you want to make them dairy free too.
Here's what you'll want to change:
Regular milk – substitute it with almond milk
Butter – use a soy butter, I like using Earth Balance
I hope you enjoy these Dandelion Tea donuts!
Fresh Herb Recipes
Looking for other recipes to make using fresh herbs? Try these:
Pin for later:

Dandelion Tea Donuts With Chocolate Frosting
Print
Dandelion Tea Donuts With Chocolate Frosting recipe. Dandelion tea is filled with healthy benefits so enjoy these donuts for breakfast or dessert. Includes a dairy free donut recipe too.
Prep Time: 10 minutes
Cook Time: 12 minutes
Total Time 22 minutes
Ingredients
1/2 cup milk
2 dandelion tea bags
1 cup flour
1/4 cup white sugar
1 teaspoon baking powder
1/2 teaspoon ground cinnamon
1/2 teaspoon salt
1 egg
1 teaspoon vanilla
1 teaspoon vegetable oil
Frosting
1 cup powdered sugar
2 tablespoons butter
2 tablespoons milk
1/4 cup cocoa powder
1/4 teaspoon vanilla
sprinkles optional
Instructions
In a saucepan heat up milk and 2 tea bags over low medium heat for 15 minutes, stirring occasionally. Remove from heat and strain tea bags and any loose tea that fell out of the bags. Squeeze tea bags to get all the milk out. Throw away used tea bags.

Preheat oven to 325 degrees. Spray a donut pan with nonstick spray.

In a bowl mix flour, sugar, baking powder, cinnamon and salt together.

In another bowl stir together milk/tea, egg, vanilla and oil until combined. Add milk mixture to your flour mixture and stir until mixed well.


Pour into donut pan and bake 10-12 minutes. Remove from oven, cool.
For the frosting
In a bowl using a hand mixer, mix together powdered sugar and butter until creamed well.

Add milk, cocoa powder and vanilla and continue to mix until creamy and well combined.

Once donuts are cool, dip them into the frosting to cover the tops. If using sprinkles, dip into bowl of sprinkles.
Notes
If you want to make these dairy free, use these substitutions:
Regular milk – use almond milk
Butter – use a soy butter, I like using Earth Balance
Nutrition Information:
Calories: 150kcal (8%)