Do you dream of chocolate cake at night? Ok, me too. This Double Chocolate Mocha Latte Cake is double the chocolate and extra moist. So if you aren't dreaming of chocolate cake, you will be now!
I don't make cake very often but when I do I like to go the rich route. The more chocolate, the better. This cake here is made up of chocolate cake with chocolate frosting. It's a double decker of chocolate love and I hope you'll be asking for a 2nd slice.
But first.. we have to make it!
It's so hard for me to sometimes get past the batter. When I see a beater with chocolate batter on it I know they aren't going in the sink or dishwasher. They are going straight into my mouth. Does your family ever fight over who gets to clean the beaters? As a kid when my dad was on the road, I would sometimes have to cook dinner for myself. Because I had a love of cake from the beginning, I would just make cake batter and eat it in my room. In my teenage years, this somehow seemed like a good idea. I still think it's a good idea.. but I'm not sure if I have the perseverance to eat as much batter as I could 15 years ago!
To make it even more rich and moist, we're adding DREAM Latte Mocha in there. Your taste buds are going to go wild after tasting this! If you have homemade mocha coffee that you can brew, feel free to use that instead.

One thing you should know is because the cake ends up so moist, don't be scared when it's a bit watery before baking it. Just stick with me, this is all part of the magic. After baking you'll find it all worked out. Another important part is to make sure this cools down for 25 minutes before removing from the pan. Seriously, do this. It's a moist cake, you need to give it time to firm up so it won't fall apart. Please wait… it's worth it, I promise!
And our chocolate frosting? It's made out of magic. And yes, I ate this spoonful right away!

Then start frosting your cake up! I like to smooth the frosting on top and then pipe decorations on the side.

Want to take this one step further? Get some chocolate peanut butter and pipe that along the edges. PERFECTION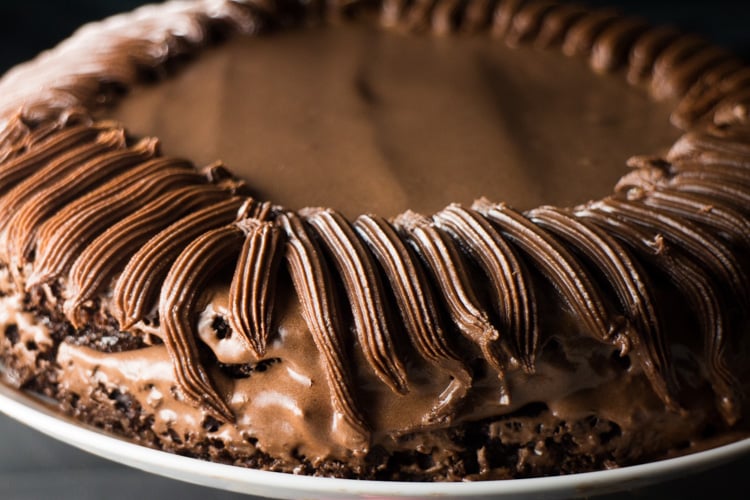 Thanks to my cake helper, Goblin. I saw you lurking in the background licking those lips.

Enjoy this Double Chocolate Mocha Latte Cake!
Double Chocolate Mocha Latte Cake
2014-11-14 00:26:11
Cake
1 cup sugar
3/4 cup and 2 tablespoons flour
6 tablespoons cocoa powder
1 teaspoon baking soda
1 teaspoon baking powder
1/2 teaspoon salt
1 egg
1/2 cup milk
1/4 cup vegetable oil
1 teaspoon vanilla extract
1/2 cup boiling hot DREAM Latte Mocha flavor (or homemade if you have it!)
Frosting
3 cups powdered confectioners sugar
6 tablespoons cocoa powder
6 tablespoons butter
5 tablespoons milk
1 teaspoon vanilla extract
Optional
Peanut Butter for piping on the cake.
For the cake
Preheat oven to 350 degrees.
In a bowl mix sugar, flour, cocoa powder, baking powder and salt.
Add egg, milk, vegetable oil and vanilla and mix with hand mixer for a minute.
Add in boiling hot DREAM Latte Mocha and mix with spoon to combine.
Prepare 2 9 inch cake pans by spraying and flouring them.
Separate cake batter evenly and pour into pans. Bake for 32-35 minutes.
When done, let cool for 25 minutes before removing them from the pan! This is a important step because they are moist and need time to set.
For the frosting
Mix powdered sugar and cocoa powder in bowl with fork.
In another bowl using a hand mixer, cream butter until fluffy.
Mix in powdered sugar/cocoa powder mixture and milk and continue to mix.
Add vanilla and mix for a few more seconds.
*If frosting is too wet, add more powdered sugar. If frosting is not wet enough, add a tablespoon more of milk*
Frost cake as you'd like using the chocolate frosting. I love to pipe chocolate peanut butter on the outside of the cake for decoration.
Brooklyn Farm Girl https://brooklynfarmgirl.com/