Simple Vegetarian Collard Greens recipe. These greens are simmered in a brown sugar vegetable broth making them full of flavor!
With lots of greens to pick in the garden we are having a side dish of collard greens weekly at the dinner table. I love these collards so much I've been making a big batch to take to work to eat for lunch a few times a week (partnered with some cheese/crackers because I love a mismatched lunch). So many Collard Greens recipes call for chicken broth and bacon, but in this recipe I'm using vegetable broth to make it Vegetarian friendly. I'm adding a little bit of brown sugar into the vegetable broth to balance out the natural bitter flavor that collards give, but not making it too sweet.
From the garden..

To the table..


Can I give a little suggestion too? If you don't have a full pound of collard greens, don't worry. If you have kale, add that in. Sometimes I'll do 1 pound of collards, sometimes I'll do 12 oz collards/4 oz kale, sometimes I'll do 8 oz collards/8 oz kale, it all really depends on what we're growing in the garden. Once it's been simmering for a while all the greens tend to blend together. When I add kale to it my husband doesn't even know the difference.
Serve them as a side dish to just about anything, from fancy holiday dinner to sloppy joe sandwiches.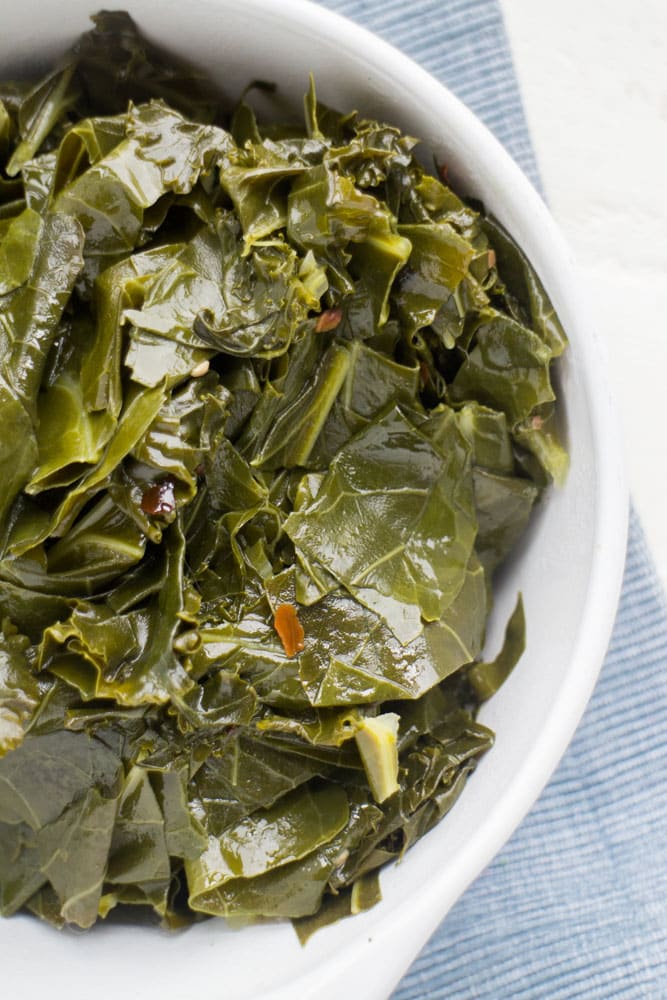 I hope you enjoy the recipe, it's one of my current favorites!

Vegetarian Brown Sugar Collard Greens
2016-07-05 18:23:59
Ingredients
1 tablespoon olive oil
1 tablespoon butter
1 teaspoon red pepper flakes
1 teaspoon minced garlic
1 pound collard greens - chopped, stem removed
3 cups vegetable broth
2 tablespoons brown sugar
salt + pepper to taste
Instructions
Heat olive oil and butter in large pot over medium high heat.
Add red pepper flakes and garlic and cook for 1 minute.
Add collard greens to pot and cook 2 minutes, stirring with a spoon.
Add vegetable broth and brown sugar, mixing so the sugar is combined.
Bring to a boil.
Cover pot with lid and reduce heat to a low simmer for 45 minutes.
Season with salt + pepper when serving.
Notes
Tip: If you don't have enough collard greens, you can add kale in substitution.
Brooklyn Farm Girl http://brooklynfarmgirl.com/