HEALTHY, SIMPLE Roasted Tomato Salad recipe that is a perfect way to enjoy fresh Summer tomatoes! Fresh tomatoes are roasted with olive oil for 25 minutes to create a delicious salad! You can use any type of tomatoes – including cherry and heirloom!
Well we aren't quite there yet, but we're close. Tomato season is almost here! We put our tomato plants in the ground in the beginning of June so in the next few weeks I hope to see (and pick) all the fresh tomatoes I can dream of! To get you ready for tomato picking season, I created this yummy Roasted Tomato Salad which is perfect as an appetizer, a side dish, a snack (I eat them with a fork!) or you can throw the tomatoes on a sandwich (like grilled cheese!) or into pasta. These roasted tomatoes are super versatile and super yummy so I hope you enjoy them.
To make this fresh tomato recipe you want to start with some juicy fresh ripe vine tomatoes. Gorgeous tomatoes, aren't they? Alternatively you can use cherry or heirloom tomatoes! In my opinion, use what's fresh at the farmers market or use what's growing in your garden!
Next you'll want to slice the tomatoes up. Since the tomatoes are going to become thinner when roasting you want to start out with about 1/4 inch thick slices.

After slicing, add them to your nonstick pan and drizzle with olive oil, garlic powder and salt + pepper. Put them into the oven for 25 minutes.
After you let them cool down (so you can touch them), put them on a serving plate and then add fresh greens. The kind of green is totally up to you depending on what's seasonal. Below, I'm using fresh spinach straight from the garden, but you can also use basil, cilantro, lettuce, arugula, etc.

I hope you enjoy this recipe and have a fun game night too! Make sure to serve with some delicious Ellio's Pizza!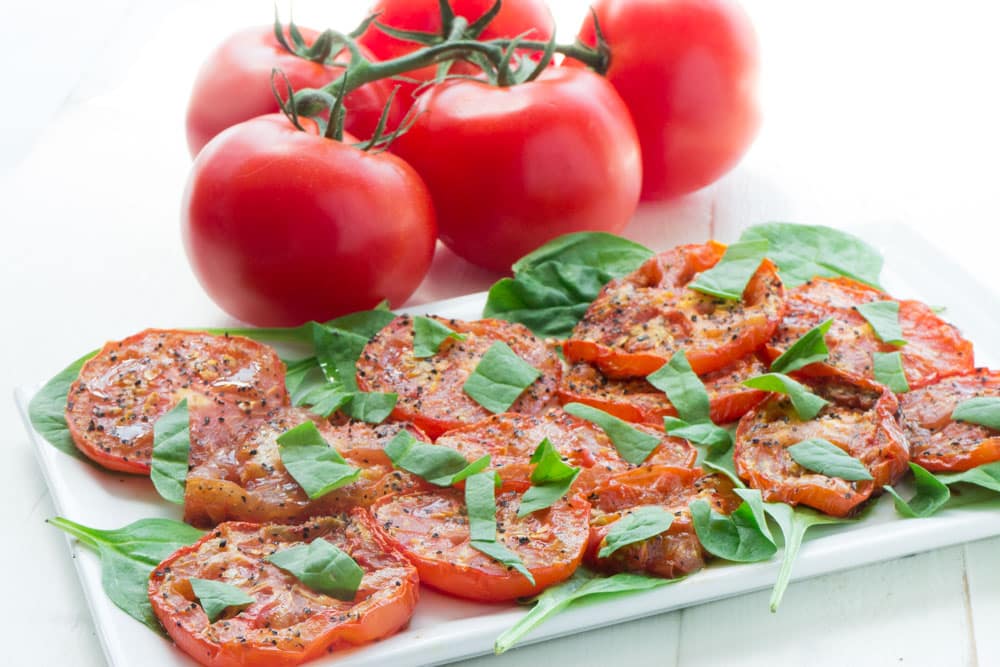 Roasted Tomato Salad
2016-06-12 20:31:55
Ingredients
2 pounds of ripe on the vine tomatoes - sliced
2 tablespoons olive oil
1 teaspoon garlic powder
salt + pepper to taste
beautiful chopped greens (use what you have on hand, options: basil, cilantro, lettuce, spinach, arugula, etc)
Instructions
Preheat oven to 425 degrees.
Slice your tomatoes so they are individual slices, about 1/4 inch thick.
Place tomatoes on a nonstick baking sheet.
Drizzle olive oil on tomatoes. Sprinkle garlic powder, salt and pepper.
Bake for 25 minutes.
Take out of the oven and place on serving plate.
Add chopped greens on top of the tomatoes.
Serve and enjoy!
Brooklyn Farm Girl http://brooklynfarmgirl.com/