You'll love this STOVETOP Cheesy Meatball Lasagna Skillet! This quick and easy stovetop lasagna recipe includes ricotta and mozzarella cheese to make it extra cheesy! You'll love how delicious the noodles, cheese, sauce and meatballs cook together! The recipe is ready in 25 minutes!
This Cheesy Lasagna Meatball Skillet rules! If you make it I hope it becomes one of your favorite go to easy dinner recipes!
I love myself some lasagna. There's something about pasta noodles slathered in various types of cheese with tomato sauce that does the trick to me. How about you? Do you start to see hearts when you hear the word lasagna too? I was in the mood for lasagna but I wasn't in the mood to do the stacking that lasagna usually involves. I also wasn't in the mood to turn my oven on because Summer is here and who wants to heat up their home? So I used my original Lasagna Skillet recipe to come up with a Meatball twist.
The recipe calls for 15 cooked meatballs. It's really up to you what kind you want to include. Store bought is quick, but homemade is also awesome. For this skillet I used our lettuce meatballs which was the perfect touch. The meatballs are filled with cups of lettuce so it was the perfect way to get some vegetables in here. If you haven't tried the lettuce meatballs, you have to! They are bursting with flavor! We've been having them a few nights a week in various ways. We even just planted more lettuce seeds just so we can keep eating these meatballs all Winter long!
Enjoy this Cheesy Lasagna Meatball Skillet!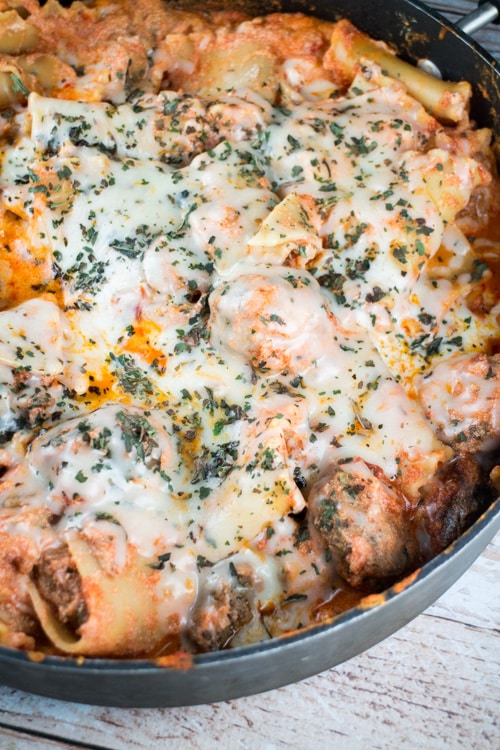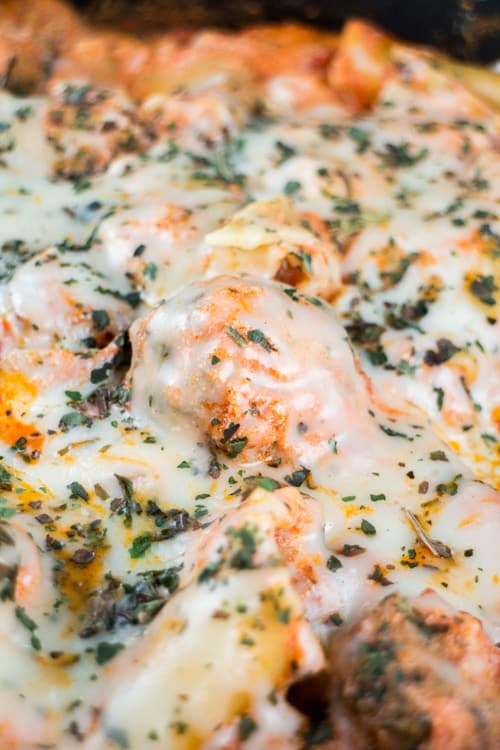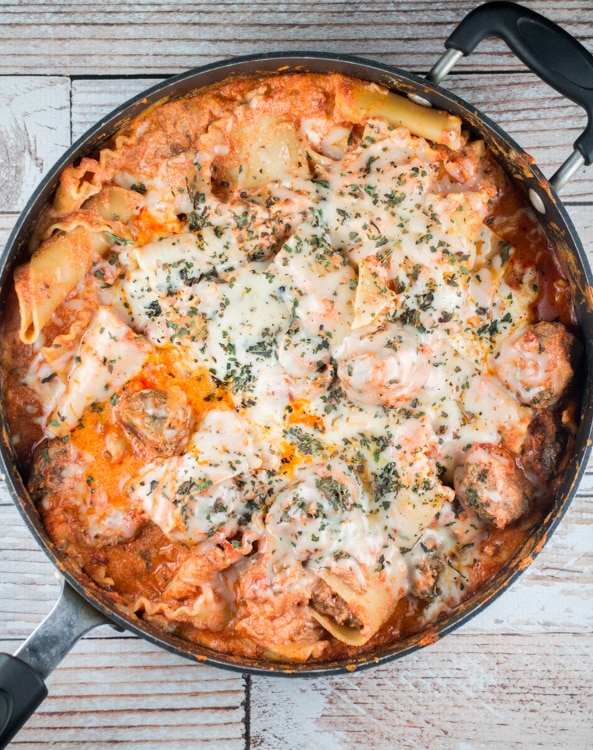 Cheesy Lasagna Meatball Skillet
2014-07-06 19:37:53
Ingredients
12 lasagna noodles - broken in half
15 cooked meatballs (I used my lettuce meatballs recipe)
24 oz jar of spaghetti sauce
15 oz container of ricotta cheese
2 cups shredded mozzarella cheese
8 oz mushrooms - sliced
1 tablespoon dried basil
Instructions
Break lasagna noodles in half and cook as directed. Drain.
When noodles are cooked add them to the skillet with meatballs. Add in spaghetti sauce, ricotta cheese, 1 cup shredded mozzarella cheese and mushrooms.
Cook 10 minutes on medium heat until melted and well heated. Stir so ricotta is distributed evenly.
Put remaining 1 cup mozzarella cheese on top. Sprinkle dried basil on top.
Cover and cook until cheese is completely melted.
Serve and enjoy!
Brooklyn Farm Girl http://brooklynfarmgirl.com/