Roasted Eggplant Soup recipe made with eggplant, carrots and garlic. This creamy healthy soup is easy to make and only 222 calories a serving. It's one of my family's favorite suppers! Recipe is vegetarian and can easily be made vegan.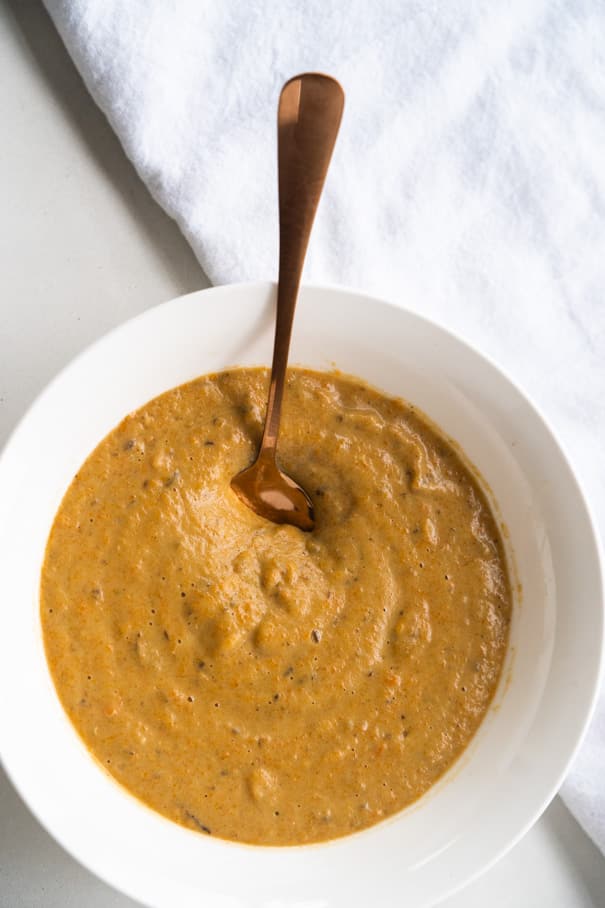 Eggplant Soup
So here's how this soup happened. I was sent a eggplant in my weekly vegetable subscription box. Some people would be thrilled, but honestly I wasn't. I've never been a big eggplant fan. Maybe I just wasn't exposed to the right recipes, maybe I never made it the right away, I'm not sure, but I never learned to love it.
But enter this 1 beautiful eggplant that was just sitting on my kitchen counter. It was tearing me apart looking at it and not knowing what to do. Then one night I made my Roasted Cauliflower Soup, a family favorite. As I was cleaning up the bowls, I walked by this eggplant in the kitchen and a idea sparked.
Could I roast this eggplant with other vegetables to create a creamy soup? You bet I can! Roasted Eggplant Soup was born! And now it's one of my favorite meals!
Eggplant Soup Recipe
This eggplant soup is easy to make, and is sure to become a staple in your recipe books for everything "eggplant". You can serve it as a main dish with some crusty bread, as an appetizer for a full course meal (think holiday dinner), or as a light meal alongside a salad.
The ingredients you need for this recipe are:
eggplant
carrots
garlic
olive oil
salt + pepper
butter
flour
vegetable broth
milk
I love that all the ingredients are so simple that you probably already have everything in your pantry. That means no extra trips to the grocery store! YAY!
How to Roast Eggplant
Roasting eggplant is easy to do. And might I say, it's beautiful too!
Cut your eggplant up into slices.
Add olive oil, salt and pepper to the eggplant slices and mix to combine.
Cook at 425 degrees for 40 minutes, flipping the eggplant at the 20 minute mark.
Not only are we roasting eggplant in this recipe, but we are adding chopped carrots and garlic too.
My family loves roasted vegetables, in fact we eat them a few nights a week. Roasted vegetables are the perfect addition to your diet, and a easy way to get picky eaters to eat more veggies!
Immersion Blender Recipe
After your vegetables are finished roasting, you're going to start making the soup on top of the stove. You'll melt flour and butter together, and then add broth and milk. Once that's mixed and creamy, throw in your roasted vegetables.
Now grab your immersion blender and put it on low, and slowly blend the soup together, blending all the chunks of eggplant and carrots completely. If you don't have a handheld immersion blender, you can also transfer the soup to a blender. Be careful if you do this as the soup is hot!
After everything is blended, then it's time to serve this eggplant soup!
Healthy Vegetarian Supper
Need a new recipe to try for Meatless Mondays? This eggplant soup is a healthy vegetarian supper recipe. There's no meat or animal products in it.
If you want to turn it vegan, you totally can by substituting almond milk and soy butter.
Eggplant Recipe for Kids
I have a toddler, so I understand the difficulty in getting kids to try new ingredients, especially when it comes to vegetables. This is a great eggplant recipe for kids because it blends it all together into one of their favorite foods: soup! My toddler not only likes this soup, but she requests it at dinner time "Mommy! Eggplant Soup!".
Happy toddler, happy family, happy dinner time!
How many calories are in this soup?
This soup is 222 calories per serving. The recipe makes 4 servings.
More Soup Recipes
Looking for more soup recipes? Try my:
Pin for later:
Roasted Eggplant Soup
Roasted Eggplant Soup recipe made with eggplant, carrots and garlic. This creamy healthy soup is easy to make and only 222 calories a serving. It's one of my family's favorite suppers! Recipe is vegetarian and can easily be made vegan.
Ingredients
1

eggplant

sliced

3

carrots

peeled and chopped

1

clove

garlic

2

tablespoons

olive oil

1/2

teaspoon

salt

1/2

teaspoon

pepper

2

tablespoons

butter

2

tablespoons

flour

2

cups

vegetable broth

1

cup

milk
Instructions
Preheat oven to 425 degrees.

Place eggplant, carrots and garlic on a cookie sheet. Drizzle vegetables with olive oil and sprinkle with salt and pepper. Stir the vegetables to coat them.

Place vegetables in the oven and bake for 40 minutes, stirring them at the 20 minute mark. Remove from oven and set aside.

In a large pot over medium high heat, melt butter and and add flour, whisking it to make it smooth. Add broth and milk and continue to whisk until creamy, for about 5 minutes.

Add the vegetables into the pot and use a immersion blender or blender and blend until your soup is creamy. Careful, the soup is hot.