Super yummy Cookies made with Peppermint White Chocolate M&M's! Each cookie has a sugary, peppermint, chocolate taste to them.
Cookie Week continues!
Yesterday it was The Best Peanut Butter Blossom Cookies, today it's Peppermint M&M Cookies. Are you ready for this?
One of my favorite candy treats of the holiday season is Peppermint M&Ms. They are white chocolate, they are red and white festive candies and they just scream "The holidays are here!". Well they don't scream it, they sing it to you softly because M&MS are very polite. With these cookies, I have a pretty hard time making them due to the amount of M&M snacking I do in the process. It goes something like this, shape a cookie, eat a few M&Ms, shape a cookie, eat a few M&Ms, repeat, repeat. I should really start buying 2 bags of M&M for this baking session, one for cookies and one for my belly.
I love these cookies because they have a sugary, peppermint, chocolate taste to them. In each bite you get a nice taste of peppermint crunch from the M&Ms. If you like peppermint bark at all, I think you will love these. Hope you enjoy these cookies! As always, be sure to grab a couple when snacking. 🙂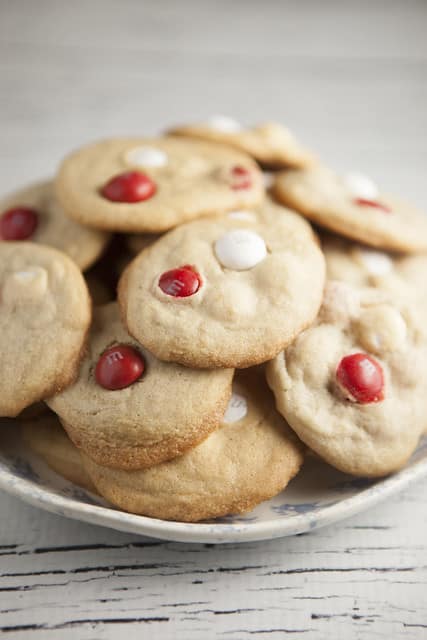 Pin for later:
Peppermint White Chocolate M&M Cookies
Print
Ingredients
1/2 cup Crisco shortening
1/2 cup brown sugar
1/4 cup sugar
1 teaspoon vanilla
1 egg
1 cup flour
1/2 teaspoon baking soda
1/2 teaspoon salt
1/2 teaspoon cornstarch
1 cup Peppermint White Chocolate M&Ms
Instructions
Preheat oven to 375 degrees.

Cream together with mixer Crisco, brown sugar, sugar, vanilla and egg.

Add in flour, baking soda, salt and cornstarch mixing until fluffy.

Mix in 1/2 cup M&M's and stir with spoon until evenly distributed.

Form teaspoon size balls and place on slightly greased cookie sheet at least 1 inch apart.

Push in the remaining 1/2 cup M&M's on the tops of the cookies.

Bake for 10-12 minutes or until slightly browned.
Notes
Makes 2 dozen cookies.