"Hey quick, come over and check out this béchamel sauce" I yelled to Matthew.
"What?" he responded.
"Get over here, you have to check out this sauce. It's so beautiful!" I demanded. Nicely.
Begrudgingly he arrived at the stove. "What?"
"What? Did you just what this sauce? Look at it!".
"What?"
Am I married to a man who can't see and appreciate the beauty of this white sauce? "What? What again? Look at it! Look at how beautifully the milk has cooked making it oh so creamy."
He nods.
"Get out of here. Right now! No sauce for you!"
Sometimes other people just can't see the beauty in things, but what are you going to do?
I am obsessed with the béchamel sauce that holds together this macaroni and cheese dish. You'd think by looking at it the dish is full of cheese, but there is only 1/4 cup of cheese in this dish! The sauce is made slowly cooking the milk until it turns creamy, patience is key here. The sauce is velvety and oh so rich making it hold together your elbow noodles perfectly.
.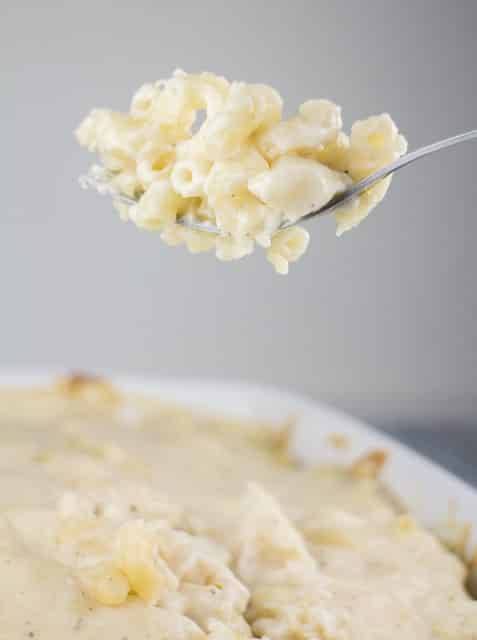 Pasta al Gratin Macaroni and Cheese
Print
Ingredients
2 oz fontina grated
2 oz Parmesan grated
12 oz penne or macaroni elbows
3 cups whole milk
5 tablespoons butter
1/2 cup flour
sea salt and black pepper
grated nutmeg
Instructions
To make the bechamel sauce, heat the milk until hot but not boiling. Remove from the heat.

Melt the butter, remove the saucepan from the heat, and stir in the flour. Put the pan back on the heat and cook, stirring constantly, for about 30 seconds.

Remove the pan from the heat an add the milk gradually. Return the pan to the heat and cook until the sauce comes to a boil. Season with salt and pepper and a generous amount of nutmeg. Cook for a few minutes, stirring constantly.

To finish the sauce, leave cooking on low for 10-15 minutes, only stirring occasionally. This long, slow cooking makes it a rich sauce you would not be able to achieve if you cooked for a shorter time.

Add the cheeses to the sauce.

Cook the pasta in boiling salted water until al dente, as instructed on box. Drain.

Heat the oven to 350 degrees.

Coat a shallow baking dish with a little of the sauce. Dress the pasta with about 2/3 of the bechamel and transfer to the prepared dish. Spread the rest of the sauce all over the top. Bake for 30 minutes.

Remove from oven and let sit for 5 minutes before serving to allow the flavors to blend while cooking a little.
Notes
Adapted from Italian Kitchen