Bok Choy Macaroni and Cheese recipe!
The garden season began months ago (officially with seeds) but when the hot and humid weather hits then it really seems like it's garden time. That time is now! The garden is in full bloom right with all of our Spring and many of our Summer plants growing (cucumbers and cantaloupe seeds inside).
Every year we grow a few heads of bok choy. Do you remember the size of last year's bok choy? This year is no exception. We decided to plant the bok choy in the long kale and onion box this year instead of the usual container. I was worried they wouldn't grow as big, but they always like to show how great they are… and here they are: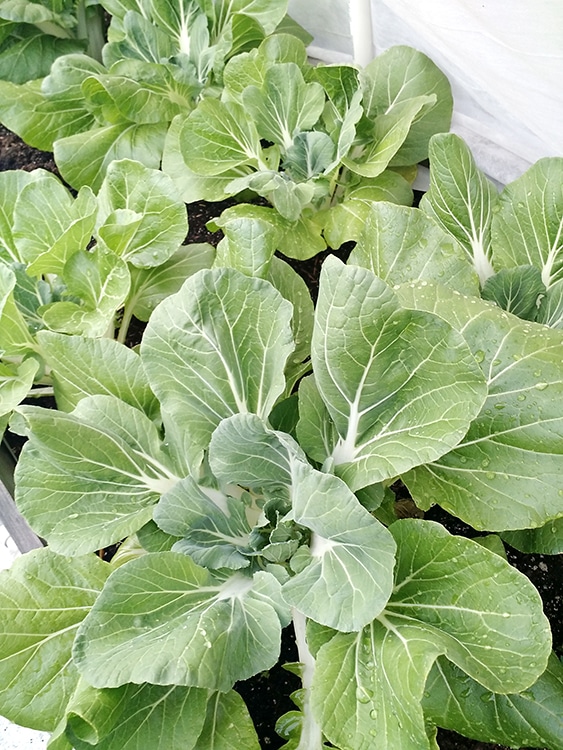 Gosh, aren't they just beauties?
I just can just stand in front of them and marvel while whispering things to them like "you so pretty", "you my big boys", "good job babies" and the endearing "I'm so proud of you". Being a garden mama means you have to provide your plants love!
Bok Choy Recipes
Anyways, with a bunch of bok choy ready to be picked in the garden I had to start thinking of recipes. I have a list of favorite bok choy recipes here and as you can tell they are all are on the Asian side of cooking. With bok choy there's usually sesame oil and soy sauce involved. But I wanted to try something new, more specifically, I wanted to try bok choy in a cheesy savory dish. Would it work?
Well hello beautiful, it worked. Let's say hi to Bok Choy Macaroni and Cheese.
That's right. Bok choy in macaroni and cheese.
It's cheesy and it's perfect. There were raves made at the dinner table.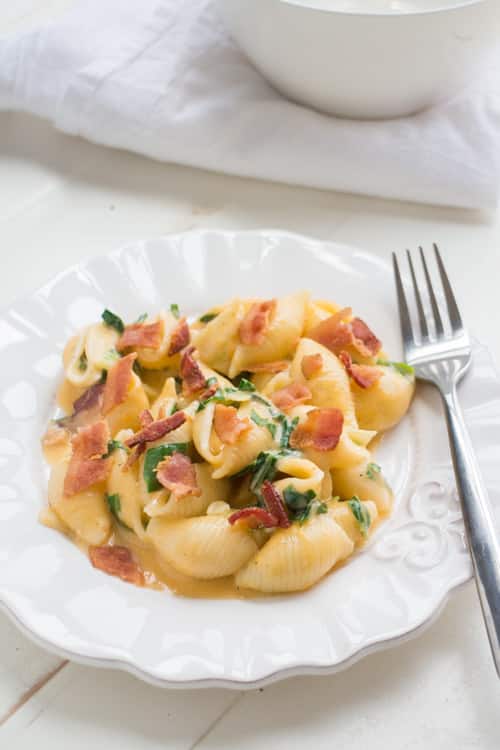 In this recipe I used 6 ounces of bok choy chopped up. This was just enough to always guaranteed a crunch of bok choy when taking a bite. If you want to add even more bok choy, go wild and do it!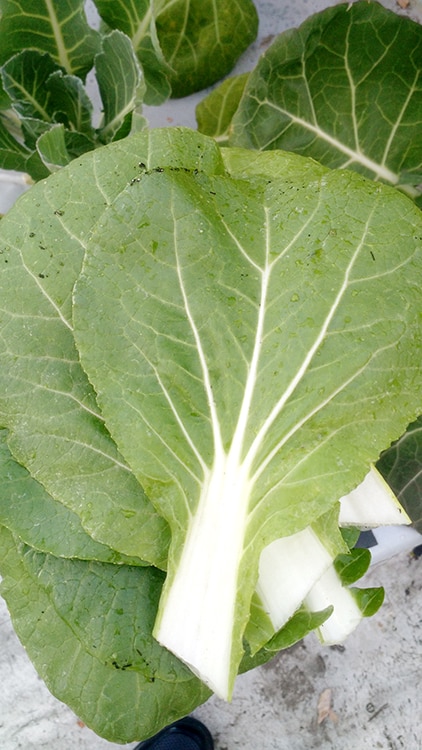 To give the macaroni and cheese a bit of a smoky taste, I crumbled up some bacon at the very end. Everything is better with bacon, so do this!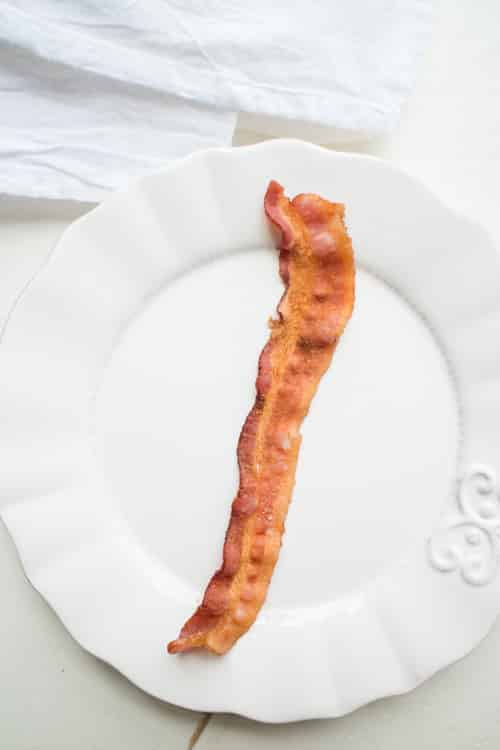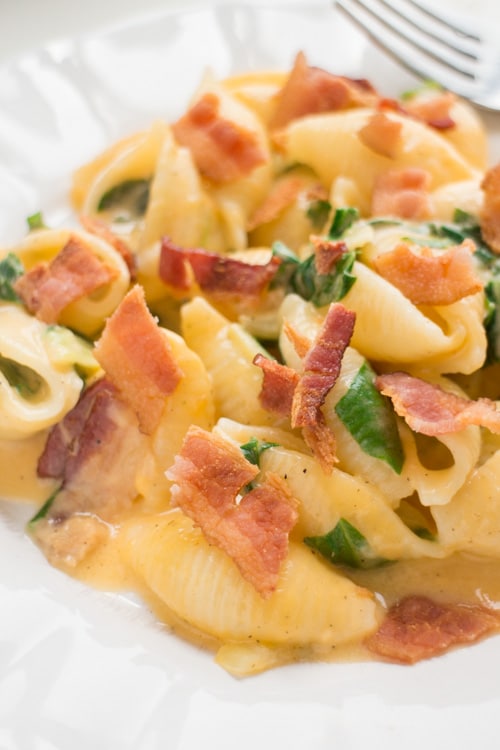 I was really happy to see bok choy in a cheesy dish instead of my usual Asian noodle and soup recipes. This one is a definite keeper and something we'll be coming back to throughout the Summer. And if you have leftovers (good luck not eating it all!) it tastes delicious too.
Enjoy!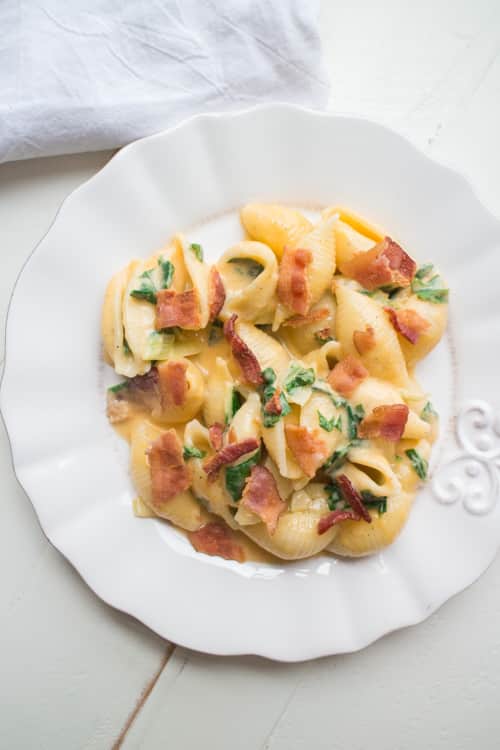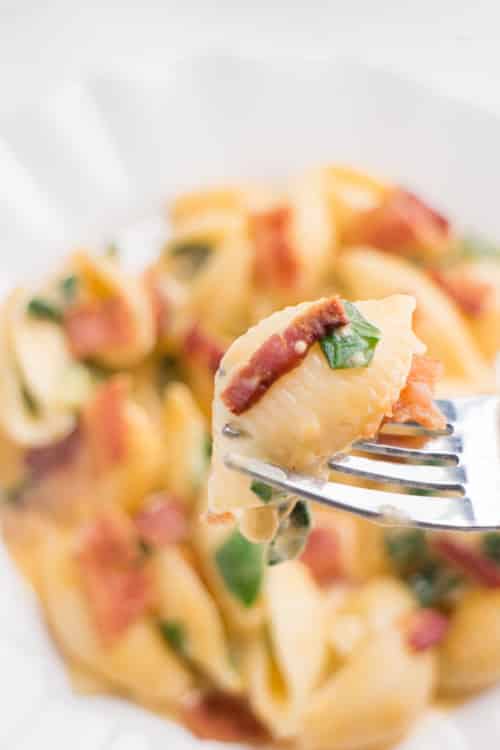 Bok Choy and Bacon Macaroni and Cheese
Print
Bok Choy Macaroni and Cheese recipe!
Ingredients
16 ounce box of pasta shells
6 ounces bok choy chopped up
2 cups milk
1 tablespoon butter
1/2 teaspoon salt
1/2 teaspoon pepper
8 ounces Velveeta cut into cubes
8 ounce bag of shredded cheddar cheese
8 slices bacon cooked
chopped up scallions to garnish
Instructions
Cook pasta according to box. When there's 1 minute left, add bok choy. Drain, put back in pot and set aside.

In a large saucepan heat milk and butter over medium high heat. Add salt and pepper and stir. Add Velveeta and cheddar cheese, stirring until it's all mixed and creamy. Remove from heat.

Add creamy cheese sauce to pasta and bok choy. Stir so all that sauce covers all your shells.

Take bacon and crumble it over the pasta shells.

Serve in bowls, garnish with chopped up scallions.

Enjoy!