EASY Moist Banana Muffins Recipe made with yogurt! These healthy muffins only need 2 tablespoons of butter and 1/4 cup brown sugar! My entire family thinks these are the best muffins for breakfast and dessert!
These banana muffins might be my proudest baking moment this Fall – they're so soft and delicious! They're made with simple ingredients that you probably already have in your kitchen! The addition of yogurt in the batter makes them moist and tasty. They have become my favorite breakfast and afternoon snack (to be served with some tea/coffee as an afternoon "pick me up!").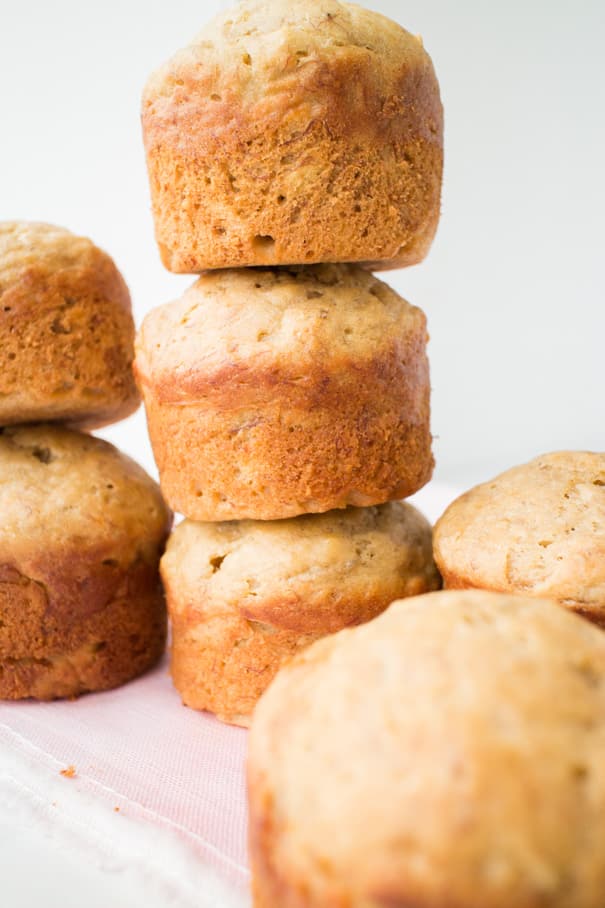 If you loved my mini banana muffins and mini coffee cake muffins, then you're going to love these full size Moist Banana Muffins!
Moist Banana Muffins Recipe
Not only can yogurt be your favorite breakfast food, but did you know you can easily combine it into baking to make baked foods lighter? That's right, think moist cakes, cookies and muffins – all good candidates to make with yogurt! Because these are banana muffins, I used Stonyfield Organic Banilla yogurt which has the perfect combination of banana and vanilla for this dessert!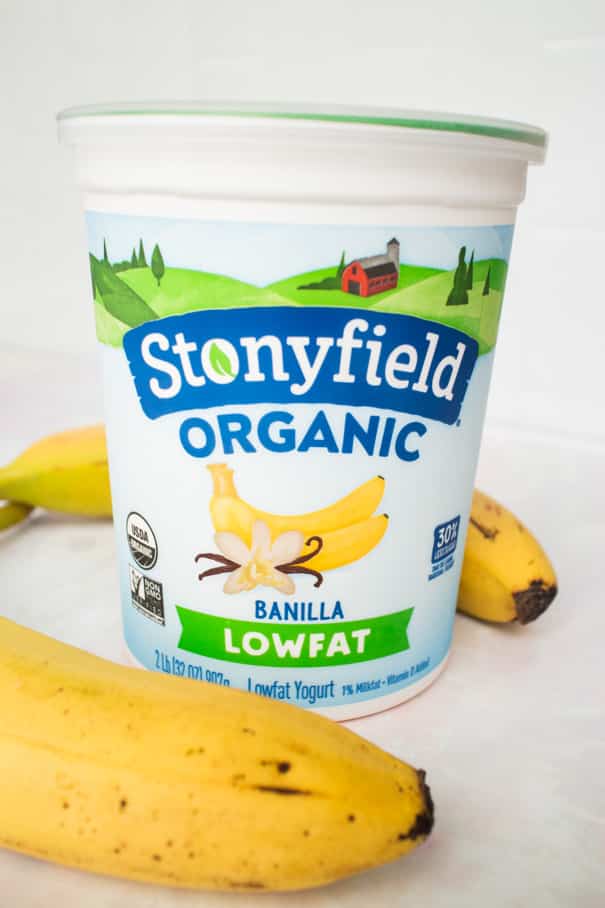 Adding yogurt into these muffins means that you don't need to add too much extra liquid – you don't need as much butter, no oils, no milk, etc. Just 1/8 cup of yogurt is going to make these muffins so moist and so soft! Not only did I love them, but my 1 year old loved them too because they were so easy for her to eat!
Organic Dairy
We love Stonyfield Organic products, so I'm always happy to include them in my recipes. A few weeks ago I had the pleasure to go on the Stonyfield Farm Tour in Vermont with a few other bloggers. We always buy Stonyfield yogurt in our home, because not only do they create yummy products, but they're a great company that advocates for a more susstainable environment with matching products. In Vermont, we got to visit organic dairy farms, and meet the family farmers behind them. It was a real eye opening experience to learn more about organic farmers and their relationship with their cows, the environment and their community.
Even though this blog is called Brooklyn FARM Girl, let's be honest, wearing pretty pastel sneakers and flowy dresses (while picking some beautiful vegetables) in my NYC rooftop garden does not even remotely make me 1% of the farmers these families are. Meeting the people behind the farm (and behind Stonyfield products) makes me really respect organic farms on another level.
And ok, because I know you need to know…. On the trip I got to milk some cows (!!) and I got to kiss come cows (!!) – time to knock those ones off my life goals list! Moooo-rific!
Here's me and my new best friend. She's moving back to Brooklyn soon with me – I hope she gets along with cats!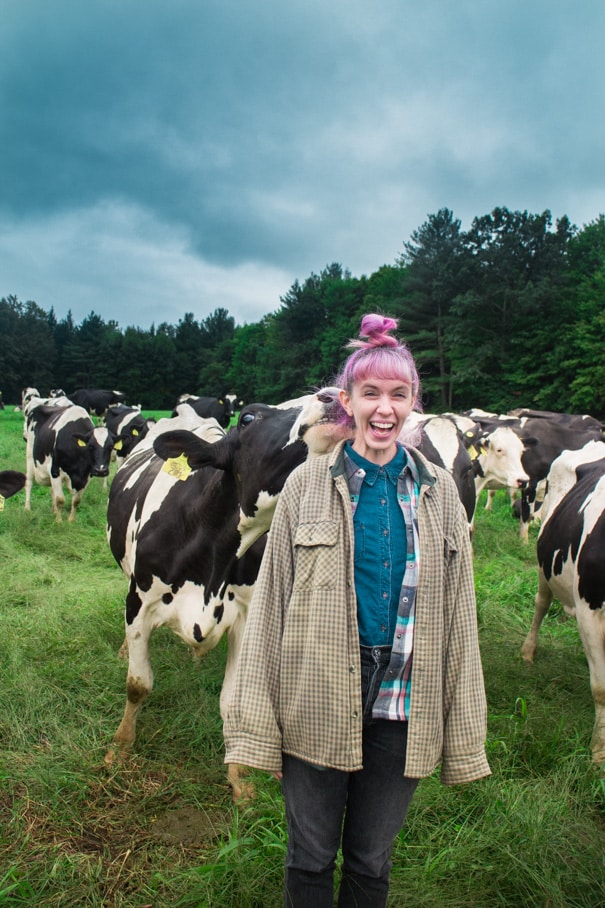 I learned a lot of information on my trip, much of it that I'll be sharing with you over the next few months, but here's a few takeaways that I wanted to immediately share.
Natural does not mean organic! Stonyfield products are certified organic – look for this seal on your products! Eating organic isn't just good for your family, it's good for your community and the planet. Think of organic farms – they aren't contaminating our soil, rivers, etc – like regular farms do. That's why I give Enceladus organic yogurt, I would never expose her to harmful pesticides in our everyday life, so why would I give her food that is raised (and can carry) these harmful toxins?
Organic farms are the hub for creating organic food. They don't use toxic pesticides or artificial hormones in their farming practices or products. Instead farmers use a natural and whole systems approach to their farms and animals, using crop rotation, cover crops, and compost/manure to enrich their soil and beautiful farm land.
Organic cows are healthy and happy. No seriously, they really are. I saw cows that were HAPPY. They were mooing with pleasure. They rubbed their heads against the farmers. And the farmers – they love the cows! One farmer knew every single cow's name, ALL 250 of them – how loving is that?
The cows get to roam in the pasture at least 120 days out of the year. Pasture grazing not only improves the quality of their milk (and makes it yummier) but the cows themselves are healthy with body weight, hoof and joint health.
If an organic cow gets sick, farmers can remedy the sickness with natural treatments, which will usually cure the problem. A farmer said "Our vet bill is higher for our pet dog each year than it is for our entire herd of 108 cows". In rare occasions when homeopathic remedies don't work, drugs will be used to get the cow healthy again. If the cow receives antibiotics, it will no longer be considered organic.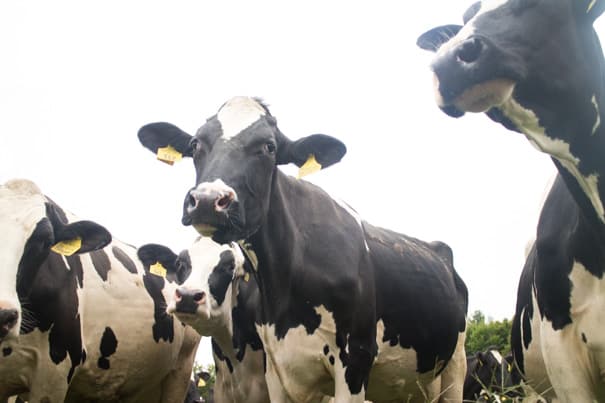 I learned that if all of America's croplands were turned organic, it would have the same carbon reducing effect as taking 217 million cars off the road! WOAH! Think about that clean air! Younger people are turning to organic farming to try to support the health of our failing environment. Organic agriculture can change and fight climate change, every single organic farm, farmer and every organic product bought can make a difference!
I'm not going to tell you that you need to buy organic products, because I understand that every family has a budget. Even our family doesn't buy all organic, but when it comes to specific items, especially dairy, I ask you to give organic products a second look at the grocery store. Knowing that I'm supporting the families I met on the trip doesn't make me think twice about paying a little extra for organic.
Now back to these Moist Banana Muffins!
Healthy Banana Muffins
I would definitely consider these banana muffins on the healthy side due to their lack of oils, and small amount of butter (2 tablespoons) and brown sugar (1/4 cup). I'm not adding any crumble or glaze to the top – these are simple, homemade muffins!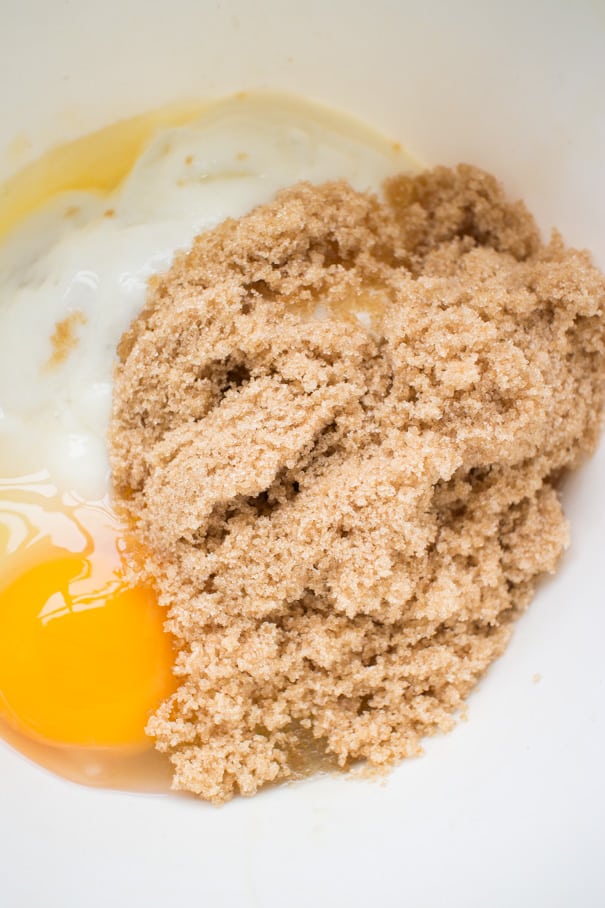 Because of their wholesome ingredients, I don't think twice about giving my daughter one for breakfast, or even eating one for dessert at night.
Fill each muffin pan up about 3/4 of the way to make full, yummy muffins!
Easy Banana Muffins
These muffins are so easy to make, and only takes about 23 minutes to bake. This is a small batch recipe, making 8 muffins, but you could easily double the entire recipe if you want to make more muffins for a larger family (or to freeze!).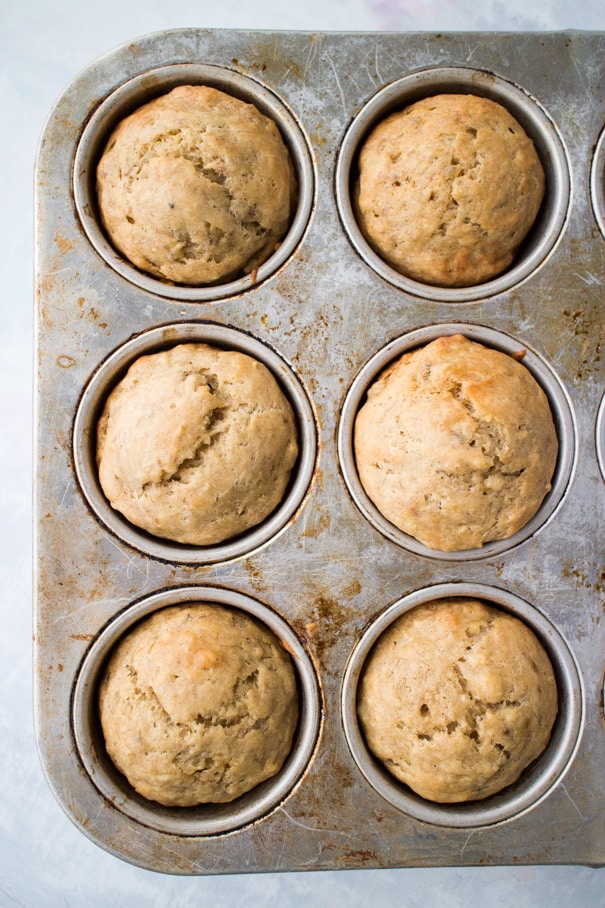 Also, my husband, who is not a banana lover at all, LOVES these muffins! It just cracks me up to hear him asking if he can eat the last banana muffin! I love transforming people into banana muffin lovers, these are really the best muffins!
I hope you give these muffins a taste – I think you will like them!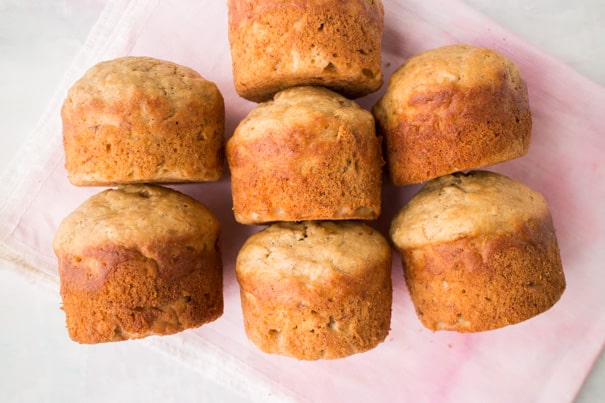 Pin for later:

Moist Banana Muffins Made With Yogurt
Print
EASY Moist Banana Muffins Recipe made with yogurt! These healthy muffins only need 2 tablespoons of butter and 1/4 cup brown sugar! My entire family thinks these are the best muffins for breakfast and dessert!
Prep Time: 10 minutes
Cook Time: 25 minutes
Total Time 35 minutes
Ingredients
1 cup all purpose flour
1 teaspoon baking soda
1/4 teaspoon salt
1/2 teaspoon cinnamon
1/4 teaspoon nutmeg
2 tablespoons butter melted
1/4 cup banana yogurt (can also use vanilla)
1/4 cup brown sugar
2 bananas mashed
1 egg
1/2 teaspoon vanilla
Instructions
Preheat oven to 350 degrees. Spray a muffin pan with nonstick spray.

Combine flour, baking soda, salt, cinnamon and nutmeg in large bowl. Mix to combine everything.

In another bowl mix butter, yogurt, brown sugar, bananas, egg and vanilla until creamy.

Add yogurt mnixture into flour mixture and beat until well combined.

Pour batter into muffin pan, filling up about 3/4 of the way. Bake for 22-25 minutes or until the tops are slightly browned.

Let cool for 10 minutes before removing from muffin pan. Serve warm - enjoy!