Delivery of our first shipping container to build our tiny house in Upstate New York! This post shows pricing and how to get it delivered.
We've been so busy Upstate over the last few months! This weekend we put down the wood for the garden boxes, but before I get there, I have to backup a few months because I have a few posts to catch up on. If you aren't following long, Matthew and I bought land in Upstate NY where we're building a weekend getaway.
First up – the first shipping container arrived!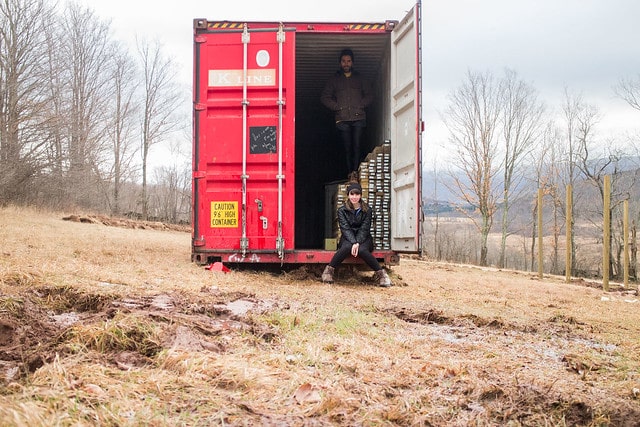 You might have read in the original post but Matthew and I have dreams of building a shipping container vacation home one day. A shipping container home is literally a home made out of recycled shipping containers. Shipping containers travel around the world by ocean delivering all sorts of things. You can buy them used, or one use, and they come wind and water tight so they are pretty strong and long lasting. Shipping containers are a great option in building something environmentally sustainable as you'll be reusing. A bonus is that they look pretty cool. If you've never seen a shipping container home or are confused by what I'm talking about, click here to check out photos. Beautiful, aren't they?
What's the ultimate goal? We're not sure. Will the future home be made out of shipping containers or will it just have that aesthetic? We're not sure, but we wanted to start the wheels turning in the shipping container direction. Since we just have land, and we're building the garden, we needed safe storage for tools, wood and other supplies. It made sense to us to start thinking about getting a shipping container as it could be #1 container for our future Upstate home, while acting as a sturdy storage container in the meantime. If we decide we don't want to do a shipping container home, it will probably end up as extra cool guest house one day. So either way, we'll be giving this container a new life to live.
We stated talking about shipping containers a while ago and I've been pricing them for about a year. Your best bet is buying them off a shipping container company who has direct ties to the ports, since they'll literally be coming off the ocean, on to a flatbed truck and then delivered to wherever you are. I priced around with a few different companies and was surprised to see prices were all so different. I'm glad I did my price check because we ended up saving thousands of dollars. Also, I learned that prices of shipping containers literally change from week to week depending on how many they have at the ports. With that said, availability also changes depending on what size you want. Shipping containers come in all sizes, with the most popular models being 20 or 40 feet long (they're 8 feet wide). We wanted a 40 foot container, but we also wanted a high ceiling container, so we were looking for a 40 foot high cube container which is 9.6 feet tall. Tall containers aren't as easy to find, but they also aren't hard. Most likely a popular port will have some high containers, or they'll be easy enough to track down. We also went the route of getting a used container instead of getting a brand new one to save even a few more thousand dollars. We were worried we were going to regret getting a used one, but in the end it all worked out and I wouldn't have done it differently. The container looks more worn than a brand new one, but once it's fixed up inside and outside, I'm not sure if justifies the extra money if you're on a budget. We bought our container off modalART which was a good choice. If you're looking for a container, I'd recommend them. We'll definitely use them again if we buy a few more (ultimate goal is to have a 2-3 story container house). They were easy to work with, as well as recommending us trusted trailer delivery services. Shipping containers are huge and they're made out of steel, so you're going to need a trailer to deliver them. Keep this in mind when budgeting as this is a significant cost. It cost $1100 to deliver the container from the port in Newark NJ to Upstate NY. If you're going to buying a few containers, then it's that price x container as you need a truck per container.
So no more chatting… here comes the first one!

BEEP BEEP. 7 AM. Look what's waiting for us on the road!

Delivery was fun… I say fun because since our land is in the mountains, everything is sloped. Now try getting a 8,000 pound container delivered by trailer on hilly land that is wet from Winter. Yeah, it's going to be fun. I talked to my Dad, who's a previous truck driver, about delivery and he pretty much confirmed that there was going to be no way the truck was going to be able to get on the land. The driver confirmed this pretty quickly when we met him. By the way, the delivery driver was awesome and super helpful during the entire process. He said that he delivers lots of containers in the Catskill region (mountains) and it's always a battle of getting them to the spot where people want them. If you're getting a container and aren't on hard, flat land, make sure to think about this.
He backed the truck up as far as he could go (his tires were going to get stuck, so he couldn't come any further) and then we loaded some 6×6 wood underneath so he could load the container onto the wood. It was 15 degrees out that morning, and I was shivering, but I was so excited.
So, ok, awesome the container is delivered. High 5s all around.

But because the trailer couldn't get on the land, the container was not where we wanted it. The container was sitting at the very NW side of the land, near the entrance. We wanted the container on the NE side, near the garden. We were going to be storing all of our equipment and power tools there, so it was important that it was close.
You can see the garden in this picture. Also, what a view. <3

So how were we going to be able to move it?
I called around to a few places asking for help, asking if anyone knew anyone who could help us move it. This is why small towns are amazing, within 30 minutes we had a excavator down the road on the land willing to help us out on short notice. The great new is that yes, we were going to be able to move the container where we wanted it that day! The bad news is that it cost us a additional $500. So out came the check book (seriously, a check book!).
After we agreed on it, he left the land and then came back with a big front end loader. This was going to pick up the container and move it to the other side of the land.

By 11AM in the morning, our container was set up and placed near the garden. HOORAY! Eventually the outside of the container will be painted.

Now won't you come in and see what a shipping container looks like? Eventually it will all be cleaned out, the floors will be sealed (to be safe from chemicals), the walls will be insulated, etc. But it's still pretty cool inside raw.

I love the industrial doors on the container!

For locking, we got a heavy duty cargo lock from Equipment Lock that works great.

And how tall is it? It's tall!

So now that we have our container set up on the land, it's time to get building that garden. The inside of the container will start to get remodeled eventually once we figure out what's the next step.
For now, welcome to our container!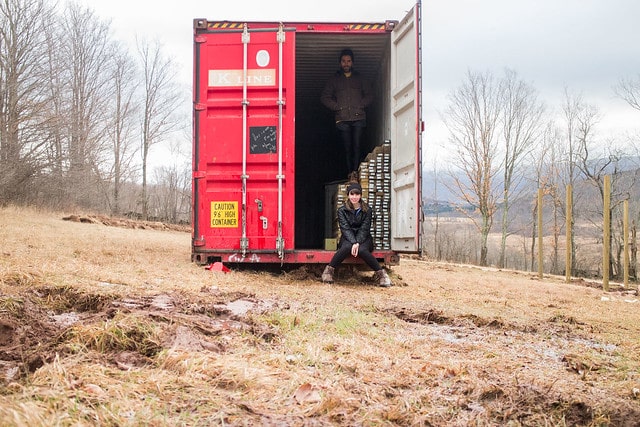 Update: Look at how he remodeled the inside of the shipping container!