I sound like an announcer at a Brooklyn Nets game, but seriously… the 2021 garden season starts NOW!
This year we're growing some of our usual go to vegetables, but we're also trying a couple new varieties that I'm very excited about. Here's a quick seed preview video of everything that we'll be growing in 2021!
Vegetable Garden Plans for 2021
Here's the list, organized in order of season. We like to use a heat mat for optimal seed germination results. Here's my post all about seed germination.
Spring Vegetables for Zone 7
Kale (Nero Di Toscana)
Kale (Thousandhead)
Green Cabbage (Tiara)
Broccoli (Eastern Magic)
Cauliflower (Synergy)
Brussels Sprouts (Dagan)
Sugar Snap Peas
Bok Choy (Hedou Tiny)
Our seed calendar has been updated since we planted the first Spring seeds last weekend. And look at that, they're already popping up!
Summer Vegetables for Zone 7
Pole Beans (Fortex)
Carrots (Bolero)
Cherry Tomatoes (Cherry Bomb)
Paste Tomatoes (Amish Paste)
Bell Peppers (Ninja)
Sweet Peppers (Lunchbox Mix)
Shishito Peppers
Cucumbers (Boston Pickling)
Watermelon (Ali Baba)
Corn (Anthem)
Potatoes (Belmonda)
Onions (Candy)
Garlic (German Extra Hardy)
Marigolds
Sunflowers (Big Smile)
Now let's talk about a couple of things worth mentioning in our plans.
Growing ALL the Shishito Peppers
Last Summer I fell in love with Shishito Peppers. We picked them, I roasted them, and then I was left waiting days for the next batch. This year, it's on. We have 2 packs of Shishito Pepper seeds and I'm going to eat every single one.
This is the brand we grow, they were suggested by a fellow community garden member last year and are super tasty.
New Kale Alert
My name is Pamela and I love kale. This year we're trying 2 new types of kale. We got Nero Di Toscana, a loose leafed kale that produces some gorgeous deep black-green leaves. Supposedly this is one of the most tasty varieties!
And then I saw this seed pack and knew we needed to try to grow this mammoth sized Thousandhead Kale! Hopefully you'll see a picture like this in a couple of months of straight from our garden! Supposedly it's no nonsense since there's no curly leaves for pest bugs (aphids, go away!!) to live in. We'll see.
Other New Garden Plans
We're going to try to grow Ali Baba Watermelon instead of baby watermelons. Although I love those small watermelons, sometimes they don't produce the most melon inside, so we decided to take a walk on the watermelon wild side.

The seed packet says they grow 12-30 lb melons, are sweet and luscious (oh la la) and are resistant to sun burning. Enceladus and I are both SUPER excited about these.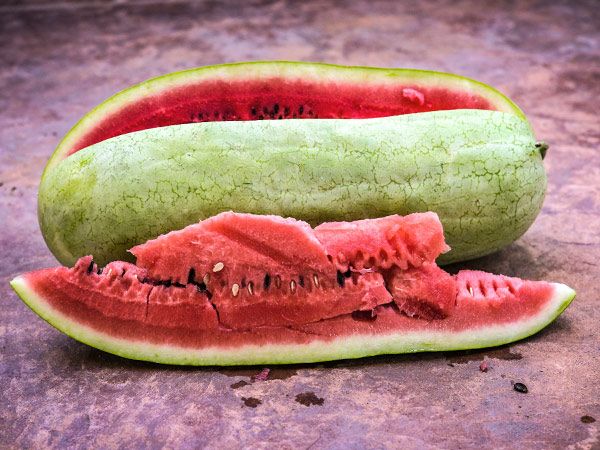 What's Summer without endless cucumbers? Got a packet of Boston Pickling cucumbers which produce crisp cucumbers, perfect for Half Sour Pickles! We love growing cucumbers in our sub irrigated planters, they're great for small spaces.
Although we love San Marzano tomatoes, they didn't grow super big last year, which left us relying on our cherry tomatoes for tomato sauce (which is ok because we love Cherry Tomato Sauce!). This year we're trying Amish Paste tomatoes which, fingers crossed, will leave us processing many tomatoes in the kitchen!
I love bok choy, but sometimes I feel overwhelmed by it because there's only so many that one lady can eat! This year we're trying tiny bok choy, perfect for popping straight into a steamer basket or my mouth! We might try to grow these under grow lights – more about that soon!
We haven't grown corn in NYC in a few years. I bug Matthew every year about adding it to the list, but somehow he always talks us out of it. Well this year, it's on! We're growing Anthem Corn which hopefully will provide big plump ears of corn that we'll be eating for dinner every night! Is there anything better than fresh corn just picked?
Succession Planting
One problem we often find ourselves in is that we have TOO much. It's a good problem to have, but seriously, when I have 10 massive cabbage heads staring at me on the kitchen island I get a little anxious. Garden anxiety is real you guys!
This year we're doing some succession planting with cabbage, broccoli and cauliflower by planting the next rounds 10 days apart.
I hope you liked hearing about our 2021 garden plans. Check back soon for updates!
Tips to Grow Plants from Seed:
How To Grow Broccoli From Seeds
How to Grow Tomatoes From Seed
How to Presprout and Grow Sugar Snap Peas