EASY way to FREEZE Mashed Potatoes! Follow these step by step instructions on how to freeze leftover mashed potatoes and get the magic trick (cream cheese!) to make them taste great! Never throw away leftover Thanksgiving or holiday potatoes again! I always freeze mashed potatoes to serve for quick weeknight dinners!
Ok, it's a few days after Thanksgiving and you're eyeing the mashed potatoes suspiciously that have been sitting in the refrigerator. You don't think they can last another day in the fridge but you don't want to throw them away. Why? They were so good! Why else? Think of all the money in butter you spent! Well I'm here to save the day… yes you can freeze mashed potatoes!
Here's how to do it:
Store them in the freezer in air tight plastic or glass containers with completely sealed lids. You can also keep them in containers and cover with plastic/saran wrap.

These are the glass containers I use. I love these glass containers so much we got rid of all of our plastic tupperware. I'll never look back!
How much should you freeze? That's up to you. I like to do 2-4 servings per container to cover dinner.
If you want to freeze individual servings fill a muffin pan with mashed potatoes and freeze it. Once the potatoes are frozen, remove from muffin cup and then freeze in glass containers as instructed above.

To heat them:
Option 1) *MOST RECOMMENDED WAY* Thaw in the refrigerator. Heat in a shallow baking dish in the oven at 350 degrees for about 25-30 minutes, or until any water is evaporated.
Option 2) Thaw in the refrigerator. Heat on stove in small pot over medium heat, until the potatoes are thoroughly heated, about 5-10 minutes.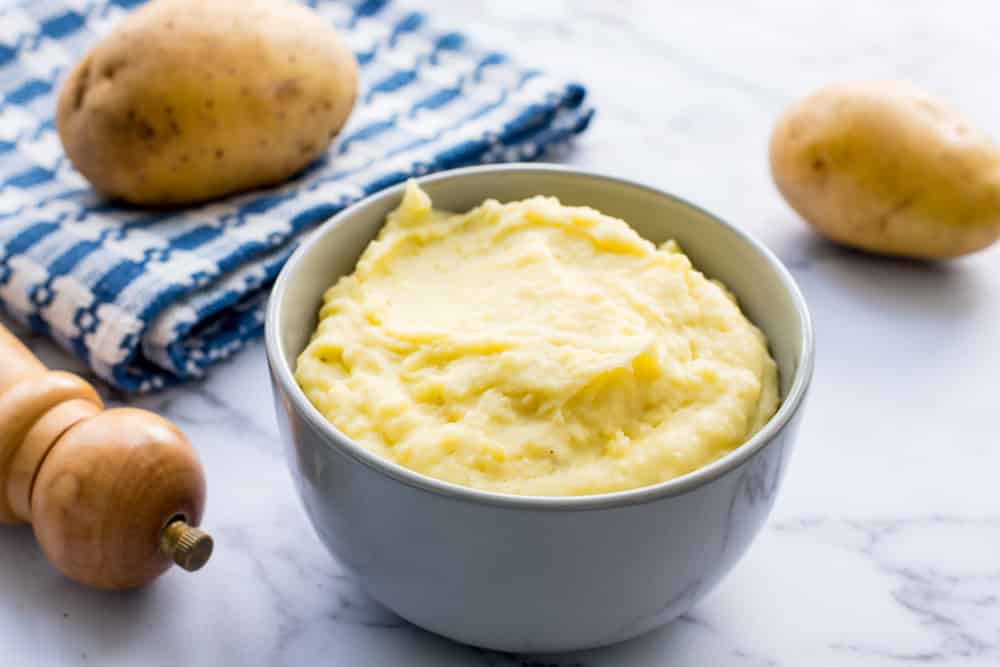 My magic trick: This is 100% optional but it will make your frozen mashed potatoes taste like the best potatoes, even after months of being in the freezer!
Add cream cheese in the mashed potatoes before heating. Stir. Heat per above instructions.
For 2 servings of mashed potatoes – add 2 tablespoons of cream cheese.
For 3 servings of mashed potatoes – add 3 tablespoons of cream cheese.
For 4 servings of mashed potatoes – add 4 tablespoons of cream cheese.
And so on…
What I don't suggest: Don't freeze in plastic bags, they tend to make the potatoes more watery which you don't want!
Pin for later:

Well that's it! It's so easy to freeze mashed potatoes if you follow these instructions! Enjoy!